Talk Money Week 2021
We're getting the conversation going with our Lunch Money talks, giving useful advice and insight on all things money and personal finances.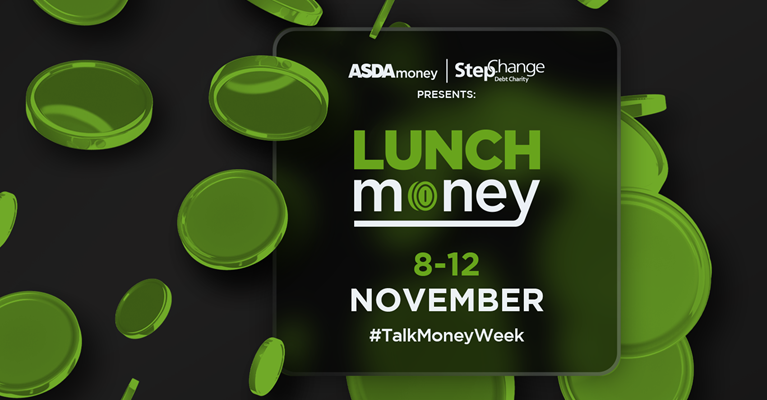 Talk Money Week runs from 8 – 12 November 2021 and is all about opening up and talking about finances. Many of us will worry about money at some time in our lives, whether that's paying bills or building up credit card debt, and it can be hard to talk about. Talk Money Week helps us to get the conversation going to promote mental and financial wellbeing.
We're getting involved at Asda Money with our Lunch Money event, an exciting collaboration with debt charity StepChange. Every lunchtime during Talk Money Week, we'll be releasing a new video on the Asda YouTube channel. Each video will be a talk on everyday money topics with experts from different organisations and charities, hosted by our own Senior Marketing Director, Katie Walley.
Our aim is to share useful advice and information and to help get people talking. The Money and Pensions Service found in a recent study that 55% of people don't feel comfortable being open with others about financial worries, even though nearly half of us say we worry about money regularly. Talk Money Week is the perfect time to help change this.
Each of our Lunch Money talks will offer useful insight and advice on money, and hopefully inspire viewers to think and talk about their own finances and how to make positive changes.


Take a look at the agenda for Lunch Money:
Each talk will be available from 12:30pm over on the Asda YouTube channel.
Where to find help about financial worries


There are lots of places you can go to get help with money worries, whether that's household finances or problems at work, or if you're struggling with stress and anxiety.
As well as the information you'll get in each of our Lunch Money talks, you can look at some online resources right now, such as Money Helper (previously known as the Money Advice Service), which offers all sorts of information and advice around everything from savings to welfare to pensions. It's a public service set up by the government, so will be able to tell you about the latest rules and help available, and send you off to the right websites to find it.
StepChange, who collaborated on our Lunch Money talks, offer free advice and support around debt, and will help you plan and manage your way out of debt if you're struggling. You can use their online tools for advice or talk over the phone with one of their debt experts.
The Money and Pensions Service was also set up by the government to help provide information and support to improve people's financial wellbeing. They also set up and run Talk Money Week!
Money troubles can weigh heavily on our mental health, and it's easy to feel overwhelmed. Mind is a mental health charity that provides lots of great advice around dealing with the stresses of financial worry.
Sometimes money troubles can be because of something called economic abuse. This is where an abuser completely controls their partner's money, their home, and everything about their finances. Surviving Economic Abuse (SEA) is the only charity in the UK dealing with this issue and raising awareness about it. If you think you might know someone at risk, or might be at risk yourself, take a look the SEA's economic abuse guide.
Talk Money Week and Asda's Lunch Money


You can find out more about Talk Money Week here, and don't forget to keep an eye on the Asda YouTube channel all week to catch the Lunch Money talks from top experts. We want to help get the conversation going and help everyone to be more open about their money worries. This is the first step on having a better relationship with your finances and sorting out any problems sooner.