Europe's Best Hidden City Parks and Gardens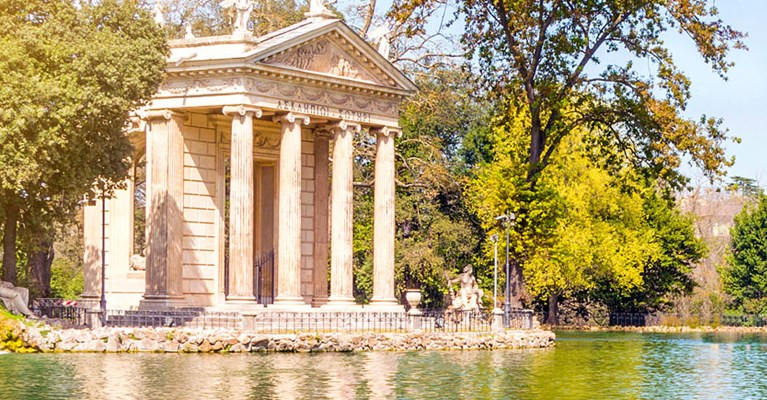 Europe is home to some of the world's most beautiful and cultured cities, which are perfect for those looking for a weekend getaway. However, these cities are usually very crowded, especially throughout the summer months. Luckily, you're often not far from open green spaces where you can relax away from the hustle and bustle of the busy tourist locations.
From secret city gardens to hidden urban parks, there's usually plenty to do aside from just sitting and relaxing in these areas. From Zagreb to Amsterdam, here at Asda Money we've picked some of our favourite places to escape from the crowds across Europe.
Maksimir Park, Zagreb


As Croatia's capital city, it's not surprising that Zagreb is full of things to do. From cultural must-see attractions, to beautiful architecture, and an abundance of bars and restaurants. In recent years, Croatia has started to catch up with its coastal rivals when it comes to tourism, growing in popularity as a go-to city break destination.
Croatia can reach high temperatures during the summer months, so when you need a break from Zagreb's popular sights, it's recommended to head to Park Maksimir. Just a 10-minute tram ride away from Ban Jelačić Square, the park offers 45 acres of meadows, lakes and streams, which are landscaped in the style of English gardens. Walking and running tours are popular ways to see the park, or you can simply sit and relax in the sunshine.
Maksimir Park provides a great habitat for wildlife, and is home to over 100 different species of birds. It's also where you'll find Zagreb City Zoo, which costs just 30 Croatian Kuna (around £3.60)* to enter. Here, you can see all kinds of animals, including seals, monkeys and leopards, in beautiful surroundings.
Croatia is known for being good value for money, and prices in Zagreb are much cheaper than many other capital cities in Europe. Flights in August start from around £100.00, and four-star hotels in the city centre start at just £70.00 per night.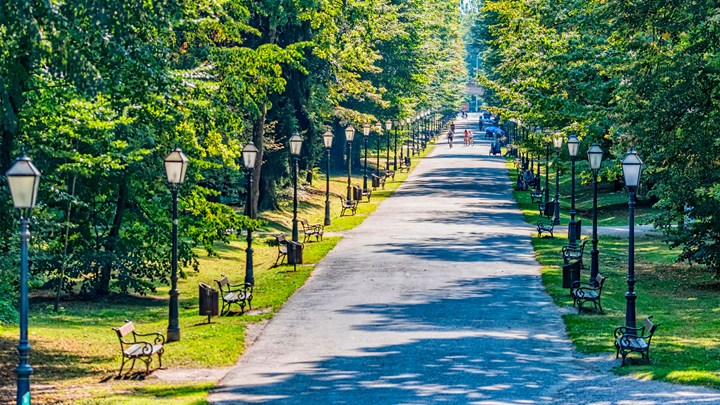 Villa Borghese, Rome


The beautiful city of Rome in Italy has an incredible history, and is one of the most popular tourist destinations in Europe. It's full of fascinating ancient sites such as the Colosseum and the Pantheon, along with having a vibrant artistic heritage that's evident throughout the city. Like most of Italy, the culinary scene in Rome is fantastic, so overall it has all the components for the perfect city break.
Due to Rome being so popular, the crowds can be overwhelming at times, especially near the must-see attractions. Villa Borghese is Rome's largest public park, and provides the perfect escape from the hustle and bustle in the city centre. Here, you can chill out for a few hours and explore the giant landscaped gardens, where you'll find museums, monuments and fountains.
One of the main attractions in Villa Borghese is the Borghese Gallery, located in the main "villa" that the park is named after. The gallery showcases a collection of sculptures, as well as paintings and mosaics, which date back to the 15th century. Afterwards, you can wander around the park and try a delicious Italian ice cream from one of the many vendors, or even hire a bike if you're feeling adventurous.
Rome can be hot in the peak summer months, which can make sightseeing uncomfortable. It's recommended to travel during Autumn, when it's cooler and not quite as busy. Flights in September start from just £40.00, and a stay in a four-star hotel starts from around £90.00 per night.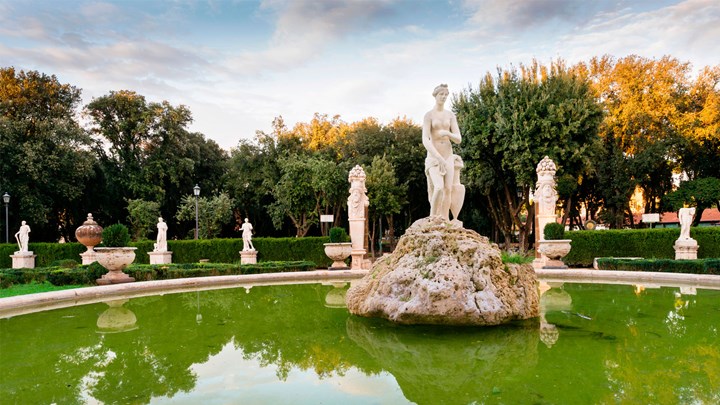 Vondelpark, Amsterdam


Amsterdam is renowned for being extremely picturesque, with canals around every corner, and delightful buildings that line the streets. The Dutch culture is incredibly welcoming, and there is an array of attractions to explore. From the Van Goth Museum and the Rijksmuseum, to the fantastic shops and restaurants, you certainly won't be short of things to see and do in this vibrant city.
Although Amsterdam can feel a crowded maze of buildings, there are several green spaces throughout the city to relax in. The Vondelpark is the largest and most famous park in the area, and is equally as popular with locals as it is with tourists. With beautiful gardens, lakes, and footbridges, you can walk, cycle, or simply sit on the grass and watch the world go by. Although the Vondelpark has over 10 million visitors per year, it's never too busy to find a place to chill out.
The Vondelpark even has its own open-air theatre, where you can catch performances such as dance, cabaret and stand-up comedy, as well as a variety of music genres. From May until September there's plenty going on for free, although donations are appreciated. A great way to see the park is by bike, which is a hugely popular form of transport throughout Amsterdam. There are lots of places where you can rent a bike, with plenty of guided tours available too.
Amsterdam is convenient to travel to from the UK, with flights only taking an hour and starting from £50.00 in August. Alternatively, you can get the ferry from ports such as Hull and Newcastle, where you travel overnight. The cost varies depending on when you go, but it's usually under £100.00. Four-star hotels in central Amsterdam start from around £100.00 per night.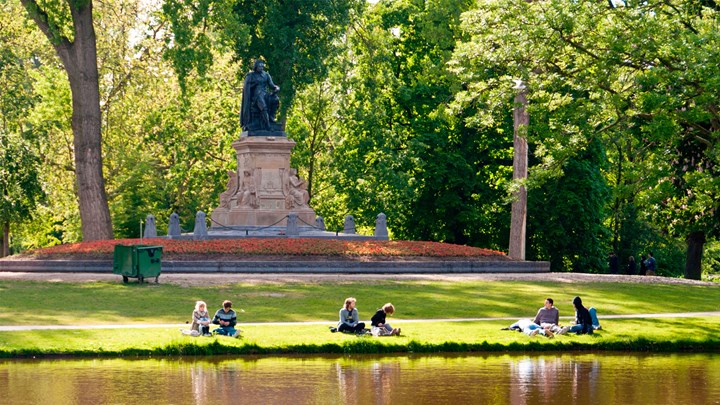 Whichever park you end up relaxing in, remember to keep a close eye on your valuables. Pickpockets can be common in busy European cities, and they tend to target tourists who look more vulnerable and off-guard. However, so long as you're vigilant, you shouldn't have any problems.
Don't forget to buy your travel insurance before you go, so that you're covered for anything unexpected such as delayed flights, medical costs, and of course your valuables. If you have any questions about Asda Money Travel Insurance, then feel free to call us on 0800 138 2373 and we'll be happy to help.
*The above figures are provided for indicative purposes only, and are based on the exchange rate correct as of 17.00 on 31/07/2017.