Compare Motorbike Insurance
The benefits of comparing motorbike insurance quotes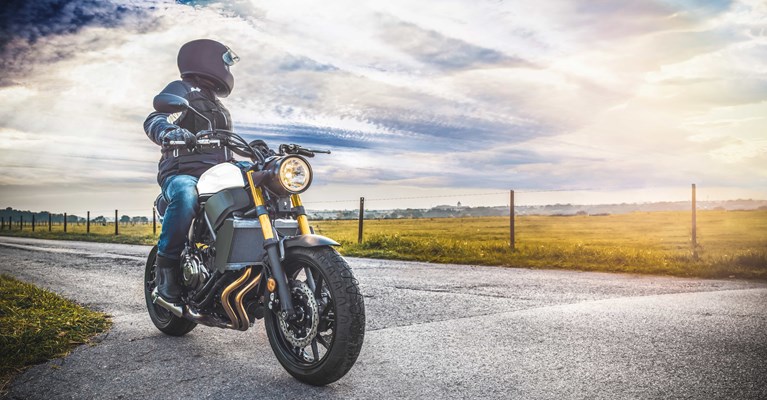 Protecting your motorbike from things like damage, theft and other incidents is probably a priority for every rider out there. Whether your bike is your main way of getting around or a hobby you've spent a lot of time on, you'll likely want to find the right insurance for your motorbike that'll help cover it against the unexpected.
Comparing motorbike cover from different insurers can help you to find the right insurance policy for you and your motorbike that can give you peace of mind.
Why choose Asda Motorbike Insurance?
The Asda Advantage

Known for putting value for money at the centre of everything we do

One simple form...

Over 60 quotes from the UK's leading providers such as AXA, Hastings and Swinton

Asda service, Asda value, expert providers

A car insurance comparison service you can trust
Which motorcycle insurance is the best?

The best motorcycle insurance for you will likely depending on your individual needs, as people typically have different priorities when it comes to insuring their motorbike. If you're looking for a cheap motorbike policy above all else, then you can find lots of third party only policies which will give you the minimum level of cover for your bike that typically costs less than other types of motorbike insurance.
However, if you want the highest level of cover for your motorbike then you'd need to look toward comprehensive motorbike insurance, which can protect your bike against a wide range of incidents. While more expensive, insurers will be able to provide significantly more assistance than with a third party only policy, so it all depends on what's best for your situation. Compare motorbike insurance quotes online to find the cover that fits you best and is in line with your specific needs and requirements, as this will be different for every rider.
How much should motorcycle insurance cost?

There isn't a set cost of motorcycle insurance in the UK. The reason is because lots of different factors go into calculating the cost of your motorbike insurance, from your age, to the type of bike your ride, and even where you plan on storing your bike at night.
All of these things can add or subtract risk from your policy in one way or another, with higher levels of risk resulting in a more expensive insurance policy from almost every insurance provider. Be sure to compare motorbike insurance before making a decision and select what is best suited for you and your needs as a rider.
Motorbike insurance costs are subject to change however and can be reduced due to a number of reasons, such as getting more experienced (riders under 25 are deemed to be high risk and so can have more expensive insurance), securing your bike properly, covering less miles and riding carefully and in compliance with the law.
What type of motorcycle has the cheapest insurance?

Generally speaking, the cheapest type of motorbike to insure is a 50cc bike as the engine size limits the speed of the bike. Because 50cc bikes can only reach 30-40mph, their use is somewhat limited and they're potentially less likely to be involved in a high speed accident, meaning insurers see them as lower risk that motorbikes with bigger engines.
The cheapest 50cc motorcycles to insure are the most common makes and models you'll find on the road at the time. This usually changes from year to year, but the reason is that garages will likely stock plenty of the parts needed to repair the most common motorbike models as standard, meaning it costs less on average to repair these bikes.
If you want to ensure your motorcycle insurance is the cheapest it can be for you and your specific bike, doing a few little things such as covering less miles or securing your bike properly can help to reduce the cost slightly.
How can I get cheaper motorcycle insurance?

If you're looking to bring down the price of your motorbike insurance quotes, there are a few different things you can actively do.
One thing that some insurers can look for is advanced motorcycle training, as this can improve your skills as a rider and make you more aware of hazards on the road. By having this qualification, insurers may see you as less of a risk on the road and therefore bring down the price of your insurance.
Choosing the right motorbike can also help to bring down the cost of motorbike insurance if you're planning on buying a new motorbike. Picking a bike with a smaller engine size and getting a more common motorbike model are just two of the factors which can help reduce your potential motorbike insurance quotes.
It's worth noting that it is possible for the cost of your motorbike insurance to get cheaper the longer you ride your bike, especially if you're able to build up a no claims bonus. This isn't something you can actively do from the get-go, but by being a safe rider and going accident-free year on year, insurers will start to trust you more.
Older, more experienced motorcyclists will typically get even cheaper motorbike insurance as they have proven they're able to ride on the road safely for an extended period of time, provided they've been in a minimal number of accidents. Insurers will likely see experienced and safe motorcyclists as lower risk on the road and offer them cheaper motorcycle insurance policies to reflect this.
How do I find the best motorcycle insurance for me?

Every motorbike rider is different and unique, so the easiest way to get the best motorbike insurance possible for you is by comparing policies for a range of insurers. This lets you see what offer each insurer will put forward to you specifically, meaning you can then select the one you like the look of most.
By filling in an online comparison form, you'll be able to see insurance policies tailored to your details, including information from each insurer on how much the cover will cost, what's included, the rating of the insurer and more. Comparing motorbike insurance policies means you'll have as much information as possible so that you're able make the right decision for you.
Top Motorbike Insurance FAQs:
What factors affect my insurance price?

Just like with car insurance, the cost of motorbike insurance is affected by a range of factors. These include:

Your age
What type of bike is being insured
Any previous convictions or bike insurance claims
How much and how you plan to use your motorbike
What level of insurance coverage you want
Where you park your bike
How can I make my motorbike insurance cheaper?

You can usually reduce your premium by making changes to the level of coverage you have, opting for just third party cover rather than comprehensive, for example. Other factors can also bring down the cost of motorcycle insurance, including reducing how often you ride, adding security locks to your vehicle, and downgrading to a bike with a smaller engine.
Can I transfer car no claims bonus to a motorbike?

This varies between insurers but, generally, you won't be able to transfer your car no claims bonus to a new motorbike insurance policy.
Does motorbike insurance cover me to carry passengers?

Most motorbike insurance policies these days won't include pillion cover, meaning that you're uninsured to carry passengers. However, some insurers might still include it in