Comparing Pet Insurance – What Cover Do I Need?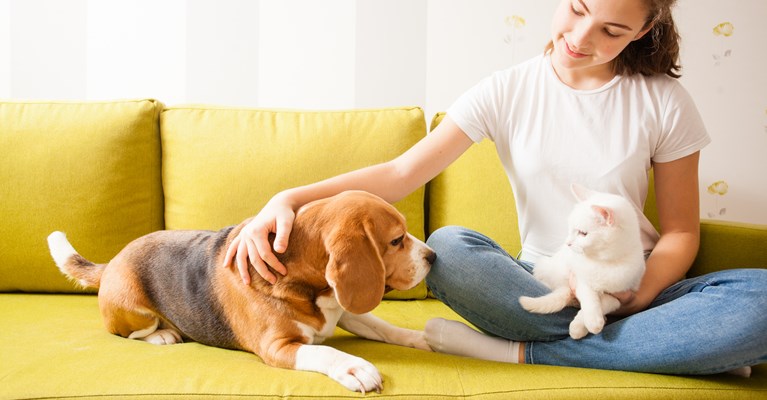 Our pets mean a lot to us. Our cats and dogs fill our lives with hijinks, snuggles, comfort and joy and we're lucky to have them.
That's why a lot of people buy pet insurance, to ensure that in the unfortunate event that anything does happen to their furry or fuzzy best friends, they've got the financial backing to set things right.
If you've never taken out pet insurance before however, there are some things you'll need to know about which insurance package works best for you. To get you the right cover you need for your pet, we're here to help, with our comprehensive guide to pet insurance comparison.
What is pet insurance?

Pet insurance is a form of insurance the deals with your pet's health. The medical bills that your animal friends can accrue over their lifetime can be quite hefty, especially if they're caused by recurring conditions. Pet insurance can give you the financial help to work through those unexpected bills without you having to dip into savings, and for many people, that extra protection is comforting reassurance to have in place.
So what is not covered by pet insurance? This depends entirely on your policy, but most won't cover pre-existing conditions, cosmetic treatments, costs for treatments abroad or regular vet check-ups and vaccinations. Certain policies cover things like compensation in the case of your pet's passing, fees for housing in kennels and catteries in case of a personal health emergency, advertising in case your pet is stolen or lost and more. This is why you should compare pet insurance plans is to ensure you get the cover that works for you.
Is pet insurance a waste of money? No – veterinary bills can cost an awful lot if you don't have insurance plus, many people prefer to pay manageable premiums which they can budget for instead of facing a heavy unexpected bill, like many pet medical bills often are.
How do you compare pet insurance (UK)

To compare pet insurance plans, you'll need to know what to look for in individual policies. There are different types of both cat and dog policies which are available from most providers. They are as follows:
Lifetime pet insurance – Lifetime pet insurance will cover your pet for its entire life, provided you continue to pay the policy, covering illnesses, injuries and accidents that may occur throughout its lifetime. There are often different levels of lifetime pet insurance offering different cover limits.
Annual pet insurance or Time Limited – Annual pet insurance will cover your pet for 12 months from injuries, illness and accidents. Normally, you'll be able to claim up to a maximum amount for different illness and injuries in a year, but once that years' cover has finished cover for that condition will end, even when you renew the policy.
Accident Only – Accident Only pet insurance, as the policy name suggests, only covers injuries resulting from accidents. It doesn't cover things like illness or other health issues that aren't caused by accidents.
Of these three options, lifetime insurance is likely to cost the most but provides comprehensive cover, while accident usually costs the least but offers less cover.
Things to remember

When you're comparing different pet insurance policies for your personal situation, here are some things to consider as you make your choice:
Price variance – Besides cover levels, the cost of your pet insurance policy has a lot to do with the breed, sex and medical history of your pet. Your insurer will need this information to be able to provide you with the policy price.
Cost to cover – It may seem an attractive choice to go for the cheapest policies available but remember, cheaper policies  may not cover as much and could result in a more expensive vet bill later on down the line. 
Older pets – If you have an older pet, you may find it more difficult to take out a policy, and it may be more expensive. This is because older animals are often more vulnerable and more susceptible to injury or illness.
Multi-pet cover – Some providers will offer you discounts if you insure multiple pets at once. This is called multi-pet insurance and can save you money on if you have more than one pet on the same policy.
Added extras ­– Many providers will offer extras that go with their pet insurance, such as a vet advice line with access to a professional vet, bereavement counselling in the case of a pet's passing and theft and straying cover. Consider what extras you may wish to add to your policy.
Asda Pet Insurance

Our pet insurance policies offer multi-pet discounts, access to a 24 hour Vet Advice Line and the option to pay monthly by direct debit with no interest charges. Check out our Pet Insurance page for more details and to get a quote.