Dominican Republic Travel Insurance
Up to three kids go free (per insured adult, subject to medical screening, when you buy direct from us)
with our Double Gold Moneynet Award for Best Provider on Travel Insurance*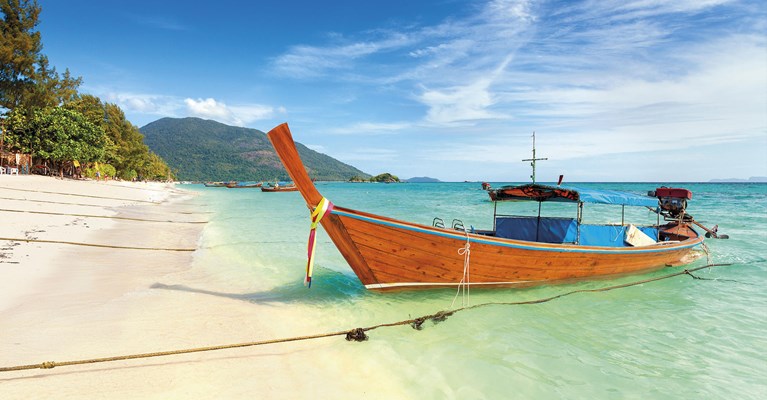 Buy travel insurance to the Dominican Republic  
It was the first island in the New World that Europeans chose to settle on, and the Dominican Republic's legend has only grown since. Here you'll uncover some of the most glorious beaches on the planet. Rum bars that spice up your palette. Coffee that stirs the imagination.
While you're preparing, though, it's essential to sort out Dominican Republic travel insurance. With reliable, competitively priced travel insurance, you just have to concentrate on having a trip to remember. Asda Money's award-winning travel partner can find you the best deals and options for leaving with confidence. Learn more about travel insurance for the Dominican Republic for UK travellers.
Do I need travel insurance when visiting the Dominican Republic?
Although you don't have to have travel cover to enter the country, arriving without it is a big mistake. Who knows what could happen? Many of the Dominican Republic's attractions are outside in the elements, prone to all kinds of risks, dangers and mistakes. Additionally, there's a high rate of petty crime especially in crowded urban areas like Santo Domingo and La Vega. You're throwing a lot to chance if you don't arrange travel insurance before hitting the runway.
Instead, rely on us to introduce some incredible offers for travel insurance to the Dominican Republic. We have three core levels of cover and provide additional purchases to match the unique demands of your visit. Whether you're travelling solo, with friends or family, or returning several times a year, there's a plan for you.
Did we mention that up to three kids get free coverage, per insured adult, subject to medical screening, when you buy direct from us? That leaves even more spare cash for holiday spending when your toes meet the sand. We realise how valuable protecting your children is as they explore somewhere completely unlike the UK. So, get a quote today and tick that box. You'll have much greater peace of mind as the trip gears up.
What's included?
Different insurers and packages will have their own set rules for what's covered and to what extent, whether a limit for replacing items or paying for services and accommodation. However, there are also certain guarantees to your offers across the industry. If you're thinking about Dominican Republic travel insurance for the first time, here are some things you should expect in any plan:
Cancelled flights and missed connections: There are countless moving parts to an airline. It may have to rapidly adjust to an emergency or pause operations while a chink in the chain gets smoothed out from one airport to another. That's why the vast majority of travel insurance to the Dominican Republic covers the cost of cancellations and having to purchase another ticket through a fault that wasn't your own.
COVID-19: Insurers should cover all or some of the expenses of being too sick to travel. Check Ts and Cs for precise obligations on both sides for this coverage to take effect.
Medical care: The Dominican Republic's government lags quite far behind other Caribbean nations for health spending. It's never advisable to rely on the public system if you're injured. You also might have to pay more than you expect for private treatment. Thankfully, Dominican Republic travel insurance will secure you against many of the expenses tied to finding a good doctor.
Petty theft: Take your eyes off bags, jewellery, a purse or a wallet for a second, and a thief can turn your trip into a nightmare. Whether you're seeking to guard the value of your luggage, ID, bank card or more personal items, travel insurance must account for stolen goods and materials. It's one of the most common claims we tend to see from Brits abroad.
Luggage damage: Likewise, you'll typically be insured for any adverse effects on your luggage in transit. As long as you didn't cause the damage yourself or make a poor decision that led to it, you can cover single items or an aggregate value while you're travelling.
What isn't covered with Dominican Republic travel insurance?
While travel protection can be light or extensive depending on what you have in mind abroad, there will be some things you won't be able to claim for. Travel insurance to the Dominican Republic is likely to exclude a few of the following conditions or only cover them with niche or top tier offers. Keep these in mind during your research:
Violating local driving rules: Brush up on your knowledge of Dominican Republic driving laws before you arrive and rent a vehicle. If you break them and damage a car, van or bike you won't be able to use your travel insurance for reparation. From basic rules such as driving on the right side of the road to giving trucks priority over cars, try to brush up on how the Dominicans get behind a wheel.
Undeclared medical conditions: Are you living with an ongoing, debilitating medical issue? Make sure you tell your insurer before signing up for travel insurance. Transparent declarations lead to accurate pricing that reflects the actual state of your health. That means if you do require medical treatment, you haven't been hiding anything, and the insurance can kick in as it should.
Undue reckless behaviour: Some decisions are going to place you further in harm's way. Insurers will analyse what led to theft, injury, illness or missed connections. If they think you were courting risk — for example, by drinking alcohol or refusing to follow safety precautions — your travel protection might be invalid.
Extreme sports and water sports: Sure, you might be desperate to go surfing, kayaking, diving, paragliding or bungee jumping on your visit. Yet your cover plan will likely need an upgrade to accommodate the extra risk at play. The good news is that many insurers have clear offers on these add-ons, so you can stay secure for a little extra.
Leaving belongings unattended: Although almost every travel plan includes stolen property as standard, you have to prove that you didn't needlessly leave it behind or unsupervised for a while. This applies to luggage, clothes and precious single items.
How much does Dominican Republic travel insurance cost?
The price you'll pay for quality cover depends on a number of factors. Age is the starting point. If you're over 50, then you'll probably pay more, and that jumps again for anyone over 60. The medical conditions you declare will add to that too. But the cost is minimal compared to the cover you'll receive if you suffer poor health when travelling to or in the Dominican Republic.
Additionally, you might pay a slightly higher premium for countries that are considered more dangerous. The Dominican Republic can be riskier than many places in Europe and North America, but less so than other Latin American nations. Insurers are well aware of this. So, be mindful of this when searching for Dominican Republic travel insurance. You'll also be considered at greater risk for stays longer than a few weeks.
Do I need a visa to visit the Dominican Republic?  
Are you visiting the country purely for tourism? Then you don't need a visa for the Dominican Republic. There's a small entry tax for UK visitors, but it should be included in your airfare. Just ensure you have proof of return travel.
You can stay here for up to 30 consecutive days. An additional 90 days can be claimed for an extension fee – you can pay for this at the airport or via the Dominican Directorate General for Mitigation website.
Finally, you'll need to display proof of yellow fever vaccination, which will be valid for your entire life.
Healthcare in the Dominican Republic
Since travel insurance for the Dominican Republic includes health cover, you should know what the country's healthcare is like. Thankfully, every city and most towns have a hospital that will welcome Brits abroad. You might find it hard to communicate in English, but the facilities themselves are usually good, with very modest charges for x-rays, stitches and pharmaceuticals.
Private hospitals will provide staff that speak English. Santiago, Punta Cana and Santo Domingo are your best bets for private care. They tend to be as expensive or near enough to similar treatment in the UK.
Travelling with pre-existing medical conditions
Whether you have cancer, heart disease, diabetes or any persistent health condition, you must tell your insurer when settling on cover. Why? Because you won't be supported if you're injured or become ill as a direct or indirect result of something you haven't mentioned to those in charge of your claim.
Declaring a pre-existing medical condition is essential to Dominican Republic travel insurance. It's worth every penny, leaving you free to focus on the trip, not the potential for a hospital stay you can't afford.
Travel tips for the Dominican Republic
Get ready for the waterfall at El Limón, a stroll down the Malecón promenade or a classic Dominican baseball game! The island is packed with one-of-a-kind resorts, clubs and natural attractions. We want you to be as prepared as possible before enjoying these delights.
Read our guidance for how to enjoy the Dominican Republic at your own pace, without worrying what might come next:
Bring plenty of Pesos: It's the national currency. The Dominican Republic also tends to accept U.S. Dollars, but you'll be stung for a poor exchange rate when you arrive. Make sure you exchange GBP or any other leftover currency for Pesos in advance.
Don't be surprised if there's a hurricane: Travel insurance to the Dominican Republic might account for hurricane season, which usually hits throughout August to November. Don't be scared if you're visiting during this period. Storms are rarely disastrous and they're often forecast accurately. Pack waterproofs and check with local travel advice when you're there for planning any itinerary.
Enjoy the slower pace: Caribbean life is very different, in some respects, to the UK. You'll begin to notice that schedules, bookings and opening times for trips, tours and venues might not strictly stick to what's advertised or agreed upon. That's due to the Dominican Republic's relaxed attitude. Which means you might as well fall in sync, accepting there might be more delays than you're used to.
Avoid tap water: It isn't safe for Brits to drink. You should also buy bottled water to brush your teeth in case the Dominican water doesn't agree with you.
Find out more about Asda Travel Insurance
*Best Travel Insurance Provider in the 2022/2023 Moneynet.co.uk awards