Greece Travel Insurance
Up to three kids go free (per insured adult, subject to medical screening, when you buy direct from us)
with our Double Gold Moneynet Award for Best Provider on Travel Insurance*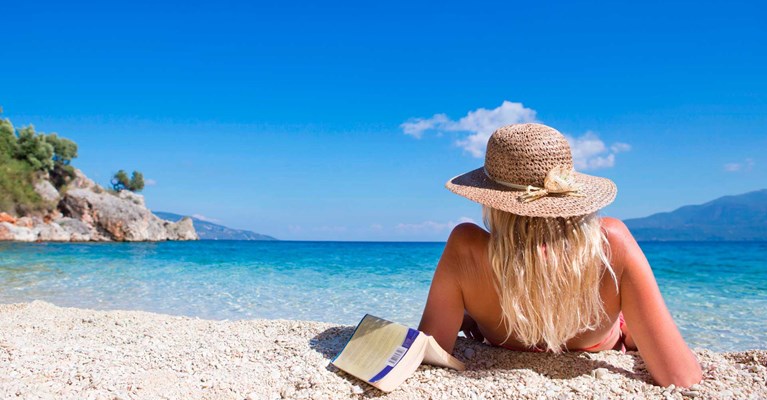 Buy travel insurance to Greece
The Parthenon. Mount Olympus. Drogarati Cave. Greece barely needs an introduction — there are a hundred reasons why it's been a global draw for millennia. And today, there's even more to satisfy the hungry traveller, from fish and wine in a Corfu cove to frantic nightlife in Mykonos.
Before you leave, it's wise to arrange travel insurance to Greece. With the right level of cover, you'll have total confidence for whatever's coming — which is always worth the cost. And we're here to help! Asda Money's travel partner brings more than 20 years of experience protecting millions of visitors in Greece and beyond. Discover some of the best offers anywhere from insurers suited to your trip of a lifetime.
Do I need travel insurance when visiting Greece?
Travel insurance for Greece is never compulsory, but it's certainly one of the top moves you can make for a safe holiday or business trip. Crete, Santorini, Zakynthos and other Greek islands are relatively safe for British visitors — except there are always risks to your health, safety and budget. You might find it hard to relax if you're worrying about potential disruptions and dangers to you or your loved ones. Leave that stress behind on the runway, where it belongs.
Our award-winning insurance partners can cover the cost of many issues with your visit if they arise, offering some of the best Greece travel insurance on the market. There are three basic levels of protection to start your search off. Up to three children go free, and you're fully covered for COVID-19-related health treatment or cancellations.
What's included?
Although various insurers have their own specialisms and preferences for what they can and can't cover — as well as what limits they might place on insured items — there tends to be a list of essentials on any travel agreement. Here are some of the most common:
Medical care: Whether illness strikes you down or a serious injury occurs, Greece travel insurance will cover all or part of your medical bills. This enables you to go private without second guessing your budget. The savings can be enormous, running into hundreds or thousands of pounds depending on the treatment and length of any hospital stay.
Theft and robbery: If you're the victim of petty crime, travel insurance will fulfil some of the costs you can't afford. This is especially useful when you're visiting bars, casinos, nightclubs and train stations — anywhere with a high number of tourists.
Delays and cancellations: Travel insurance covers expenses related to missed flights, broken connections and last-minute, temporary accommodation bookings.
Legal expenses: If you're stuck paying for a dispute, contract hire issue or even criminal defence, our partner's top insurers can pay for it. The stipulations for legal coverage are very specific but might be a lifeline in a difficult situation.
Passport and travel documents: Losing proof of your ID or right to travel is a nightmare for Brits abroad. A good insurance provider seals the deal on reparations for missing or stolen passports, new flight tickets and potentially accommodation while you wait.
What isn't covered with Greece travel insurance?
We always recommend reading the T&Cs for what's included in your travel insurance for Greece. Some providers have higher premiums than others for certain protections — for example, winter sports and locations that are deemed to have a greater level of risk. At a glance, here's what your insurance probably won't cover, either with a basic plan or at the highest level:
Extreme sports: You'll likely find offers that do cover certain risky sports such as hang gliding, mountain biking, kayaking and kite surfing. However, these need to be named in the policy to count for protection. Leaving without your desired activities in the agreement will leave you open to any medical or liability expenses incurred if something goes wrong.
Changing your mind about travelling: While coverage typically extends to delays and cancellations that aren't your fault, simply choosing not to visit Greece after you've booked the trip won't be valid for an insurance claim. The only exceptions are cancellations from bereavement, a serious injury or illnesses such as COVID-19 and a cancer diagnosis.
Natural disasters: Greece is increasingly susceptible to wildfires and flash floods. Our travel partners can't guarantee you'll receive any support for injuries or damaged possessions that result from them. Instead, travel insurance to Greece focuses on the detriments of human action.
Unattended belongings: Coverage will help you recover losses from stolen luggage and other personal property. But it won't apply if you leave items on their own and find them gone when you return. It's an essential part of an insurer's assessment of whether you're due a payout.
Terrorism: Again, Greece is considered fairly safe when it comes to terrorist activity. However, if the worst does happen, your policy might not cover any damages. You can always look at competing offers that do have terrorism protection if you're concerned about it.
How much does Greece travel insurance cost?
Like anyone involved in risk analysis, insurers try to gauge how probable it is that you'll have to rely on them for assistance. This involves a range of factors that can nudge the cost of travel insurance to Greece up or down. So, although the cost of coverage is never fixed, providers will grade you on the likelihood you'll become sick, injured or the victim of dangerous behaviour.
Longer trips or several visits per year, for example, leave you exposed to more risk. Luckily, you're travelling to Europe, which lowers the overall cost because the continent tends to be safer than the Middle East, Latin America and East Asia. Private European healthcare is often also cheaper than comparable services in the USA, Canada and other developed countries outside of the EU. That helps to trim the overall expense.
Additionally, the price depends on how old you are. Middle-aged and elderly people will pay more than anyone below the age of 35. Anyone over 80 is likely to pay the highest premium for their age, since they're more prone to existing health conditions and physical injuries.
Do I need a visa to visit Greece?
Since the UK is no longer in the European Union, you have to be mindful of rules for the Schengen zone — the privileged group of countries that have lenient entry requirements to EU nations.
Essentially, this means you can stay in Greece for 90 days without a visa. It also counts for moving between any EU country, as long as you're in the 90-day timeframe. Then, you can return again in the same year, providing another 90 days have elapsed. Fines await anyone who breaks the Schengen agreement.
From 2024, another requirement will be in place for UK travellers: the European Travel Information and Authorisation System (ETIAS), an electronic pass for British passport-holders. You'll need to pay visa waiver fees when ETIAS comes into effect. Until then, check with ongoing rules and guidance around this waiver. It could make the difference between a trip you can count on and one that springs a nasty surprise.
Healthcare in Greece
British travellers can use Greece's public health service on one condition — you have an authenticated UK Global Health Insurance Card (GHIC). Formerly called the E111, it's an agreement between the EU and other nations for receiving state healthcare during your stay. Therefore, you'll have to apply and get approval before you arrive. Visit the NHS website for more details on getting your GHIC. You'll need to hand over your full name, address and National Insurance number. Applications are free.
Conversely, if you happen to use a private clinic contracted to the state service, you'll have to pay for some of the treatment yourself, as well as up to 25% of the cost of prescription medication.
Your travel insurance should of course cover most or the entire cost of any vital private healthcare you receive while you're away. As ever, check the policy. You'll discover great medical professionals around the Greek islands, most of whom speak excellent English.
Travelling with pre-existing medical conditions
Being honest about what you're dealing with either for chronic pain, disease or rare conditions can determine whether you're able to use travel insurance at all for medical emergencies. Insurers must know how fit and healthy you are before they agree to a cover plan. Keeping something from them hides another risk, which affects the premium, and ultimately means the offer is made on bad faith.
The result? You might not receive any support for medical expenses if you have to claim. That's why staying transparent is crucial from the get-go. Declare your pre-existing medical issues upfront, in sufficient detail, so both you and the insurer benefit.
Travel tips for Greece
We're not done yet helping you get the most from your Greek getaway! Every traveller should have an inkling of what to expect when you're on the beach, road, harbour or city square. These are our favourite tips for settling in and enjoying island life:
Prepare for cats: Furry companions are everywhere in Greece, slinking in and out of tavernas, bars and public buildings. Try not to feed them or you'll invite more than you may be able to handle. And if you have an allergy, bring plenty of nasal spray or oral medication.
Beware the heat: Recent summers have witnessed scorching temperatures in Rhodes, Athens and other tourist hotspots, especially in exposed ruins such as the Acropolis. Pack factor 50 sun lotion (at least) and hydrate regularly, spending 20 to 30 minutes max outdoors before finding some shade.
Drive carefully: Much of Greece features long, winding roads that aren't well maintained. Renting a car is a fantastic idea to get around and reach remote places, but be careful — speeding even slightly isn't wise on a hairpin bend. There are heavy fines for breaking the law too. For example, failing to fasten a seatbelt can cost around €350 if you're pulled over.
Book early: Few European countries welcome as many tourists as Greece does in its peak months. Accommodation and ticket prices can double during July and August compared to, say, February or November. The earlier you book a room, apartment, villa or experience, the more budget you'll have left for shopping and little extras.
Find out more about Asda Travel Insurance
*Best Travel Insurance Provider in the 2022/2023 Moneynet.co.uk awards