Driving Abroad
If you plan to drive abroad, whether in your car or a rental, there are some important tips you need to know to ensure a hassle-free trip. Asda Money has compiled a thorough driving abroad checklist to help you.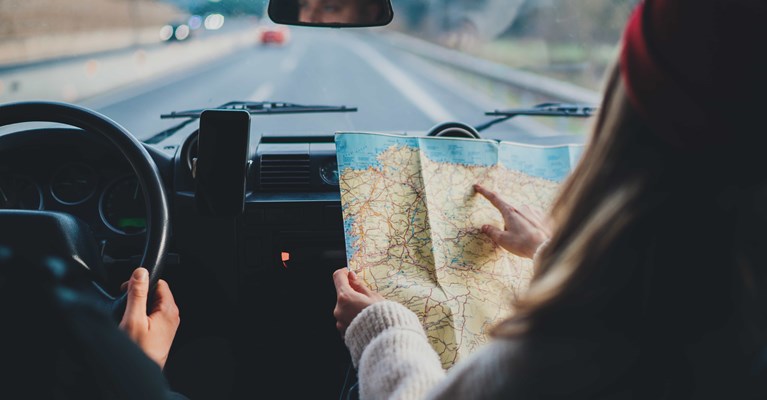 Do I need car insurance to drive abroad?
When driving abroad, you must legally have car insurance. If you're using your car and travelling to Europe, your UK car insurance may offer third-party coverage for this, but it's best to review your policy documents or call your insurer to clarify your coverage specifics.
If your insurance does cover you overseas, it's important to check the finer details to ensure a smooth journey. Check your level of cover as many people assume because they have fully comprehensive insurance in the UK, they also have it abroad, but this is not the case. Also, check for the period of cover, each insurer will differ, but you may only be covered to drive for a certain period abroad in your annual insurance.
What other documents do I need?
You will need the following essential documents:
Both a valid UK driving licence and your national insurance number
Proof of valid UK driving insurance
Proof of ID (e.g., passport)
Your vehicle's V5C registration certificate (log book) or lease agreement
Travel insurance documents
European Breakdown Cover policy number and documents
You will also need additional documents if you're taking a boat or driving a vehicle other than a car or motorbike.
In some countries, you may also require:
An International Driving Permit
A Green Card (when driving outside the EEA)
UK car sticker
And in some European cities, a clean air emissions permit
What's a Green Card and how do I get one?
A Green Card is an internationally recognised document that proves you have insurance to drive in the countries listed.
You can get your Green Card directly from your insurer, but bear in mind it may take up to six weeks to be posted so plan ahead. Some providers will email your Green Card for you to print out yourself.
At the moment, UK residents don't need a Green Card to drive in Ireland or the EU, the same applies in the following countries:
Andorra
Bosnia & Herzegovina
Iceland
Liechtenstein
Montenegro
Norway
Serbia
Switzerland
It is important to double-check if the country you are going to be driving in requires a Green Card before your trip.
What's an International Driving Permit and how do I get one?
An International Driving Permit (IDP) allows you to drive abroad, provided you have a UK driving licence. There are three types of IDPs; 1926 IDP and 1949 IDP, which both last 12 months from the date issued, and a 1968 IDP which lasts for three years or until your driving licence runs out. The most common IDP is 1949, and you will only require a 1926 IDP if driving in Mexico or Somalia.
You can check online to see if you need an IDP.
You won't need an IDP for driving in the EU, Iceland, Liechtenstein, Norway, or Switzerland if you have a photocard driving licence issued in the UK.
It is imperative to remember that having a permit is not the same as having insurance to drive abroad.
Hiring a car abroad
When renting a car abroad, the cost typically includes insurance. However, it's important to confirm the extent of coverage and the amount of excess you'll be responsible for in the event of an accident.
The rental company might request to see your driving licence. To share your licence, you can obtain a DVLA check code, which can be done up to three weeks before your trip.
If you've hired or leased a vehicle in the UK and plan on driving it abroad, you'll require a vehicle-on-hire certificate known as VE103. This document serves as proof that you're authorised to drive a hired or leased car outside of the UK. You may need to pay for this document, so it's recommended to reach out to your hire or lease company for further information before your travels.
Recommended items when driving abroad
What you need to take with you when driving abroad will depend on which country you will be driving in.
If you're driving in the EU, you'll need to be equipped with the following.
Reflective jackets for everyone in the car
Warning triangles which are compulsory in the majority of countries
Headlamp deflector stickers
As previously mentioned, some countries require you to have clean air permit stickers.
UK car sticker
First aid kit which is compulsory in Austria, Germany, and France
If you're travelling in winter months, most European countries require you to have snow chains.
It is also advisable to bring along an emergency breakdown kit, which you should normally keep in your car, in case of any unforeseen incidents.
Breakdown Cover Abroad
When travelling abroad, it is crucial to have breakdown cover, just as it is when driving in the UK. You never know what might happen, and having breakdown cover is a cost-effective way to avoid unexpected expenses that could spoil your holiday.
European breakdown cover can be added to your policy or taken out as a specific policy.
With Asda Money, European breakdown cover gives you all the benefits of your typical UK breakdown cover but extends across the continent. It gives you 180 days of breakdown cover in Europe, meaning you can rest assured you will be covered for your holidays.
Other rules to consider
When driving abroad, it's important to remember that each country will have different driving rules.
Here are some common rules you need to know about when driving abroad:
Most countries in Europe drive on the right, however Cyprus, Malta, and Ireland all drive on the left.
If you need to contact emergency services in Europe, the dial number is 112, rather than 999.
In some European countries, you need to purchase and display a vignette sticker on your car's windscreen to drive on certain roads and autobahns. This pre-paid toll grants you access to these specific routes, so it's important to have one if you plan on driving in these areas.
Top driving abroad FAQs:
What are the requirements for driving abroad?
When driving abroad, there are a few requirements that you should be aware of. Firstly, you will need a full, valid driver's licence that is recognised in the country you are visiting. Some countries may also require an International Driving Permit, so it's worth checking beforehand.
Additionally, you will need to make sure that your vehicle is insured and registered in your home country, and that you have all the necessary documents with you. It's also a good idea to familiarise yourself with the local driving laws and customs, as they may be different from what you're used to.
With these requirements in mind, you should be able to enjoy a safe and hassle-free driving experience abroad.
Do I need to tell my car insurance I'm driving abroad?
If you require a Green Card for the country you will be driving in, you will need to inform your insurance provider as you get a Green Card directly from them.
Can I use my UK driving licence abroad?
Yes, you can use a UK driving licence abroad in most countries, but check the local laws and regulations before driving in a foreign country.
Some countries may require an IDP in addition to your UK driving licence. It's best to do some research and make sure you have all the necessary documents before embarking on your travels.
ASDA Money is a trading name of Asda Financial Services Ltd and Asda Stores Ltd which for Breakdown Cover are Introducer Appointed Representatives of Liverpool Victoria Insurance Company Limited.