5 Savvy Tips for a Cheaper Holiday Abroad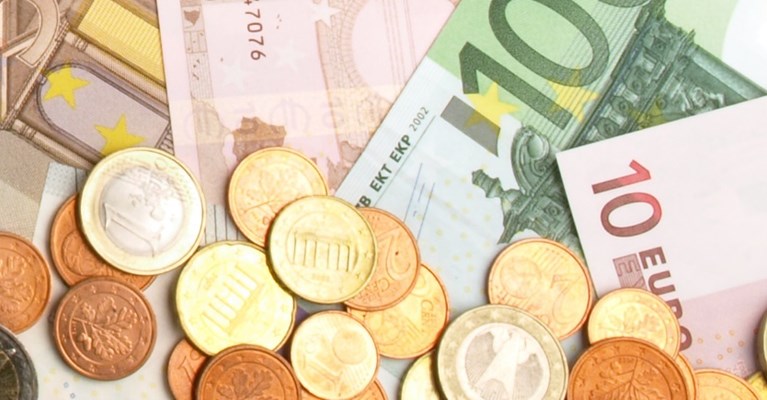 From the minute we start looking for a holiday to the moment we step back on UK ground, we're always on the lookout for new ways to save money when travelling abroad. Whether it be speaking to locals for their recommendations or booking hotels using loyalty schemes, there are plenty of ways that you can spend less and save more on your next holiday!
Here at Asda Money, we've teamed up with five fantastic UK based travel bloggers, to share their secrets and top tips for saving money on your next getaway.
1. Compare package vs DIY holidays


Whether you're booking a last minute holiday or searching for next year's getaway, one of the best ways to save money when booking a holiday is to research, research and research! Samantha, author of The Cost of Travel, advises people to always check the prices of a package holiday in comparison to booking flights and accommodation separately.
Although a package holiday might seem like the easier option, particularly for families, it's always best to explore your options. If you're booking flights and hotels separately, Samantha recommends using comparison sites such as Skyscanner and Trivago to find the cheapest options. Using these types of comparison sites are ideal if you're flexible with dates, and they'll show you the cheapest dates around your chosen time.
As well as flights and accommodation, package holidays also usually include airport transfers too, so it's worth checking the average price of taxis in the area to ensure you're getting the best deal all-round.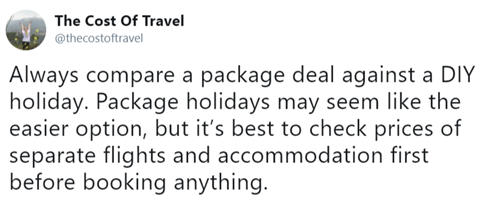 2. Take advantage of loyalty schemes


Leona from Wandermust Family, a luxury family travel blog, recommends booking hotels using loyalty schemes to save money on your next holiday. There are many hotels and hotel booking websites that will offer a hotel loyalty programme, where you'll receive a range of perks if you regularly book accommodation through them.
From free room upgrades to discounts off your next stay, you can potentially save money a number of different ways. For example, Hotels.com offers a reward scheme where you get a free night's stay if you book a hotel using Hotels.com ten times. Another fantastic site to use to save money is Booking.com, where customers can earn themselves a 'Genius' label once they've booked accommodation more than five times through the site. From 10% off to other fantastic freebies, there are a range of rewards to be had, so keep your eyes peeled when booking your next holiday.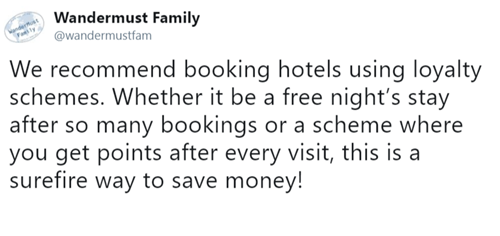 3. Book accommodation in advance … but not too far in advance


Ellie Quinn, writer of the travel and wellness blog The Wandering Quinn, says that one of her top tips to saving money when booking a holiday is to book your accommodation slightly in advance... but not too far in advance! Every year, many people will tell you that booking a last minute holiday will save you money, and in some cases it might, but it's always recommended to book slightly in advance to save money but also avoid disappointment.
Research has shown that the best time to book holidays to many destinations is three to nine months in advance, however, this may change depending on where you're going and who you're booking with.
Once you arrive on your holiday, another one of Ellie's top tips is to decide what your spending priorities are. If you're visiting somewhere with lots of exciting attractions and activities, you may want to see everything, particularly if you're travelling with children. To save money, a good idea is to decide before you get there what you want to see and do. By budgeting your spending money, you'll be sure to spend less whilst you're there!

4. Chat to the locals


Family travel and lifestyle blogger, Jenni from Chilling with Lucas, says that another one of the best ways to save money no matter where you are in the world, is to speak to the locals. Whether it be the staff in your hotel or somebody who works in a shop nearby, locals who live in the area will know about plenty of hidden gems just waiting to be explored!
Residents who live in the area are in the best position to be able to tell you all about the cheaper places off the beaten track too, some of which many tourists might never have even heard of before. Restaurants, bars and shops in popular areas are usually tourist hot-spots, so they tend to be a lot more expensive. Generally, it's the places down the side streets where you'll stumble across cheaper, usually more authentic, finds.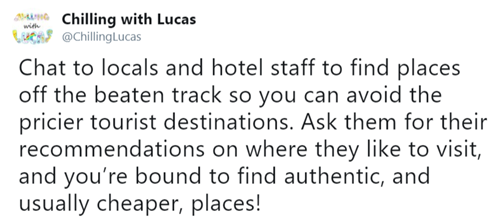 5. Shop at a local supermarket


If you're wanting to save even more money, you can head to a local supermarket for food and drink. Nicole, writer of family lifestyle blog The Little Darlings, advises holidaymakers to create their own DIY lunches to save the pennies.
From loaves of bread and crisps, to fruit and biscuits, you'll find everything you need for a substantial lunch at a supermarket. This tip comes in handy even more so if you're holidaying with younger children, particularly those that are fussy eaters! Kids are bound to find something they like in a supermarket; however, it can be a little more tricky in a restaurant or café abroad.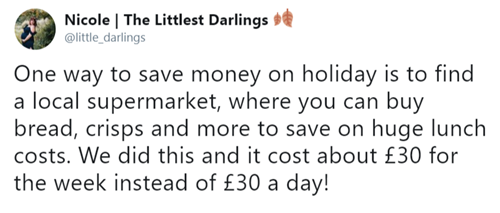 Along with all of these fantastic top tips, don't forget the essentials before you go, such as travel insurance and travel money. Getting travel insurance early will protect you from cancellations, personal accidents, lost luggage and so much more, so it's advised to purchase it as soon as possible. When booking a holiday and once you're abroad, it's also a good idea to pay for large purchases on a credit card, to ensure you're protected if anything was to go wrong.