Cheap, Cheerful, and Charming: Holidays to the Channel Islands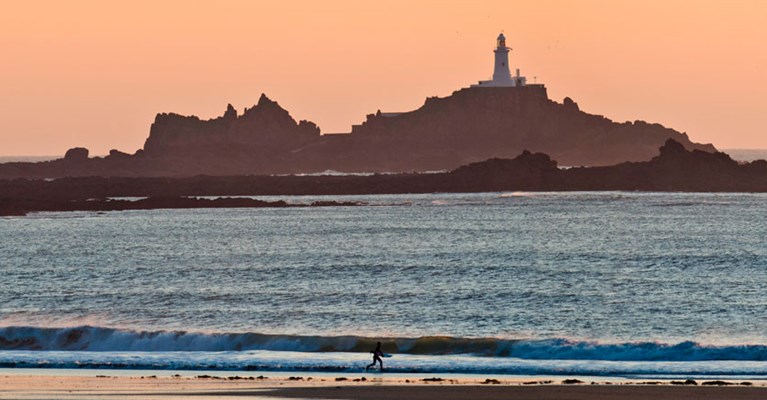 Although holidays in faraway exotic locations are always going to be popular, many people forget that there are many incredible places much closer to home. The Channel Islands are a prime example of this, despite being ideally located in the English Channel, just off the Normandy coast of France. Easily accessible by plane or ferry, and steeped in history, this sunny group of islands have all the essential components for the perfect holiday.
Whilst many overseas holidays are becoming more expensive due to the falling value of the pound, the Channel Islands have never been a member of the EU. They've always kept their own version of our currency, so a pound is still worth a pound. There's no VAT, either, which cuts prices by a further 20 percent. The islands are ideal for those who don't own a passport too, as they're deemed to be in the Common Travel Area, so you simply show some form of identification when you arrive, such as a driving licence.  
If the Channel Islands are starting to appeal to you, then read on to find out more about the three biggest islands, and what they have to offer as holiday destinations.
Jersey


Jersey is the largest of the Channel Islands, and has a great mix of British and French culture. With fantastic, unspoiled beaches, rolling hills, and plenty to see and do, Jersey is the perfect place for a holiday. The people who live here are renowned for being exceptionally friendly, and there's something for everyone, whether you're wanting to relax or get active.
If you class yourself as a foodie, then you'll be pleased to know that Jersey is known for its gastronomic excellence. Along with several Michelin-starred restaurants, there's also a whole host of local produce to enjoy. Given that you're never far away from the sea in Jersey, it's not surprising that there's an incredible range of seafood on offer. The island is also famous for its dairy treats, especially Jersey milk, butter, and of course, ice cream!
For all the culture vultures out there, Jersey's fascinating history means there are plenty of attractions to explore. The Jersey War Tunnels are a great way to learn about the German occupation of the island during World War II, and the Jersey Museum, Art Gallery and Merchant's House reflect 250,000 years of history. If you're simply looking to relax and enjoy the sunshine, there are a variety of beaches, where you can take part in water sports or even try a boat trip.
It's possible to fly to Jersey from numerous UK airports in less than an hour. Alternatively, if you decide to take the ferry, it means you can pack your car full of surfboards, bikes, and anything else you might need! Flights from London start from just £60 in August, which is the best month for weather in Jersey. There's a whole range of accommodation on offer, from high end hotels to fantastic campsites. Hotels start at around £60 per night in peak season.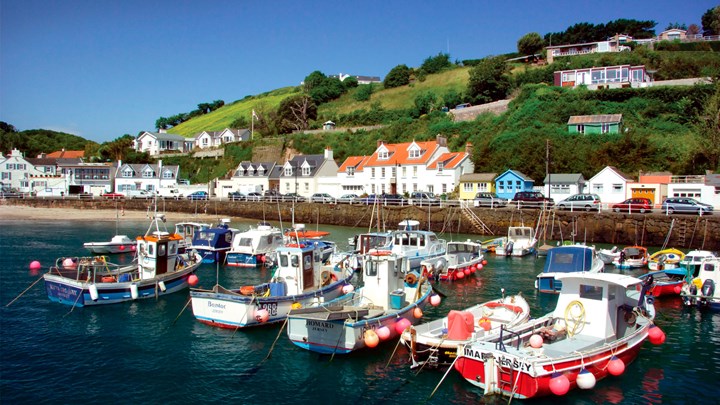 Guernsey


The island of Guernsey has continued to surge in popularity, and it's easy to see why. It has an incredible coastline, with over 27 different bays to choose from, and its capital, St Peter Port, is said to be the prettiest harbour town in Europe. Boasting everything from Britain's cleanest beach, Vazon Bay, to the world's smallest chapel, it's safe to say Guernsey is a small island with a big personality.
Guernsey's biggest attraction for visitors is, without doubt, the diverse coastline, which is home to miles of popular sandy beaches, and tiny, secluded coves which are completely unspoilt. The beautiful south coast cliffs are best explored by foot, where walkers and hikers can take one of the many narrow footpaths that lead to winding routes with unbeatable views. It's also possible to walk all the way from St Peter Port to the islands most southerly point, Pleinmont, by simply taking the steps that lead up from the old Victorian bathing pools.
The hilly town of St Peter Port looks like it has come straight out of a postcard, with its cobbled streets, Regency architecture, and glamorous boats lining the harbour. Here, you can explore Castle Cornet, an 800-year-old fortress which stands guard over the town. To immerse yourself further in the island's history, head to the Guernsey Tapestry at the gallery in St James Concert House, or try visiting Hauteville House, home to French writer Victor Hugo.
To get to Guernsey, you can easily get the ferry from Poole, which takes around three hours. A traditional ferry also operates all year round from Portsmouth, whatever the weather. Alternatively, flights from London Gatwick only take 45 minutes, starting from around £80 in August. Hotels in St Peter Port start from around £85 per night in peak season.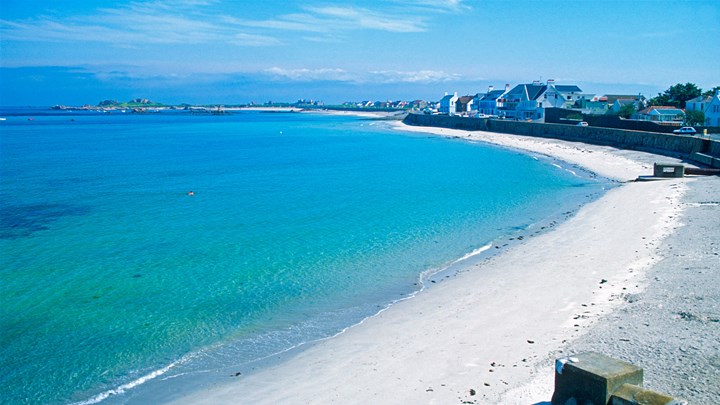 Alderney


If you're looking for a retreat on a completely unspoiled, peaceful and natural island, then Alderney could be the ideal holiday destination for you. Just one and half miles wide and three and a half miles long, this tiny island is a complete oasis with a varied history, beautiful beaches, and an all-round enviable way of life. The maximum speed limit on the whole island is only 35mph, and this says a lot about Alderney as a place.
Although it's small, Alderney certainly isn't short of things to do. There are a whole variety of events held throughout the year, from performing arts festivals, to the Star Party in August, where you can see the Milky Way at its best in Alderney's incredible dark sky. The island's most popular event, Alderney Week, also takes place during August. With a carnival atmosphere all week, there are over 100 different activities taking place.
Alderney is also a haven for wildlife lovers. The island has a rich natural history, which is largely due to the mixture of habitats including coastal grassland, shingle shorelines, and sub-tidal kelp forests. There are many species of wildlife on the island which are rare elsewhere, from gannets to blonde hedgehogs, and much more both on and off shore.  
If you're planning to fly to Alderney, Aurigny Air Services fly direct from Southampton, starting from £140 in August. If you wish to fly from elsewhere in the UK, you'll just have to make a simple transfer in Guernsey, which will often work out cheaper. Although there are a few hotels in Alderney, due to the small size of the island there are a lot more guest houses, B&Bs and self-catering accommodation on offer.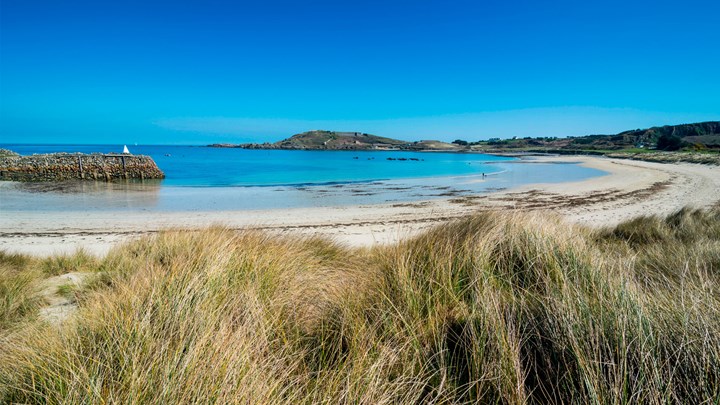 Although the Channel Islands aren't far away, it's still important to make sure that you have comprehensive travel insurance. This way, you're covered in case anything goes wrong, such as cancellations, missing baggage and flight delays. However, when it comes to medical costs, the islands have a Reciprocal Health Agreement with the UK, which means you won't have to pay for certain healthcare charges. Travel insurance is still vital though, as there are certain treatments you won't be covered for.
Asda Money offers three levels of travel insurance, with free cover for kids. If you have any questions about our policies, then feel free to call us on 0800 138 2373 and we'll be happy to help.
The above figures are provided for indicative purposes only, and are based on the exchange rate correct as of 01/06/2017.