Child-Friendly Romantic Getaways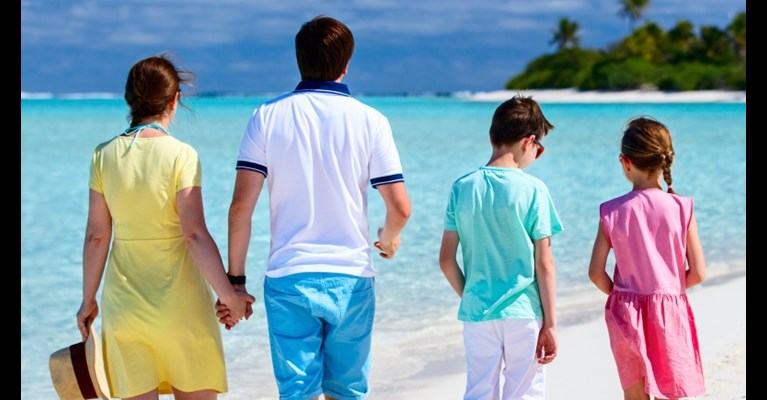 If you're lucky enough for Valentine's Day to fall on half term this year, it's the perfect time to explore new exciting destinations. A romantic trip away with kids in tow might not necessarily sound ideal to some, but there are many places around the world that are great for the whole family.
Here at Asda Money, we want to help you celebrate your love for each other without having to leave your children at home. So, we've put together a list of the most popular romantic destinations around the world, and looked at why they're perfect for the kids to tag along too!
Paris, France


Paris is renowned for being one of the most romantic destinations in the world, and it's easy to see why. Often referred to as the 'City of Love', its charming cobbled streets, sparkling skyline and historic sites make it the perfect city for couples. However, there are also plenty of attractions and activities that are great for your children too.
A great place to start is Jardin d'Acclimatation, which offers nearly 50 acres of fun. This children's amusement park is home to a variety of activities, keeping kids entertained for the full day. From trampolines and quad bikes to fair ground rides and puppet shows, there's something for all ages here. A fantastic activity for children and adults alike is the Enchanted River, where you can sail on a magical journey throughout the beautiful woodland. After an action-packed day, the Garden Terrace is ideal for drinks and delicious meals.
La Cité des Enfants is a fascinating attraction in Paris. It's a children's museum packed full of science and technology, and is only €9.00 (£7.91)* for concessions and €12.00 (£10.55) for adults. Using hands-on exhibitions that are suitable for a variety of ages, you'll have to drag the kids away! There's plenty on offer, such as tv studios and factories where kids will get to take part in a range of activities, including creating their own electricity. For a more romantic day out, set sail along the River Seine on a sightseeing cruise. You'll pass under famous bridges, drift past well-known sites such as the Notre-Dame Cathedral and the Eiffel Tower, and hear all about the history behind this beautiful city.
Flights in February cost as little as £30.00 each way from London Airports, with three-star accommodation costing around €400 (£354.56) for three nights based on a family of four.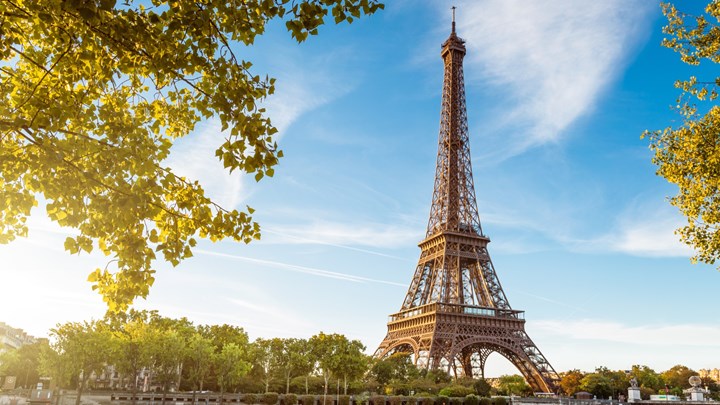 Rome, Italy


No matter where you go in Italy, you'll be greeted by spectacular views at every turn. From Venice and Florence to the Amalfi Coast and Naples, Italy provides never-ending beauty, and Rome is known as one of the most romantic cities in the world. Walk hand in hand through the Colosseum, admire the famous Sistine Chapel and make wishes together at the Trevi Fountain.
Although you might not think that city breaks are very family-friendly, there are plenty of places that kids will love. Aside from the endless amounts of pizza and ice cream that they can indulge in, children will love a trip to Villa Borghese, the largest public park in Rome. Often known as the 'Park of Museums', there are plenty of exhibitions to explore, as well as lakes, fountains, temples and statues.
If you're wanting to see all of the sights of Rome but don't fancy the kids getting tired little legs from walking the streets all day, you can get a hop-on-hop-off bus ticket for around £25.00, taking you on a tour around some of the greatest attractions in Rome. There's also audio commentary on board, so you can enjoy learning all about the history behind these iconic sites.
If you're wanting to explore this fascinating city, flights in February cost around £38.00 each way, with a three-night stay at a lovely city-centre hotel costing from £220 for a family of four.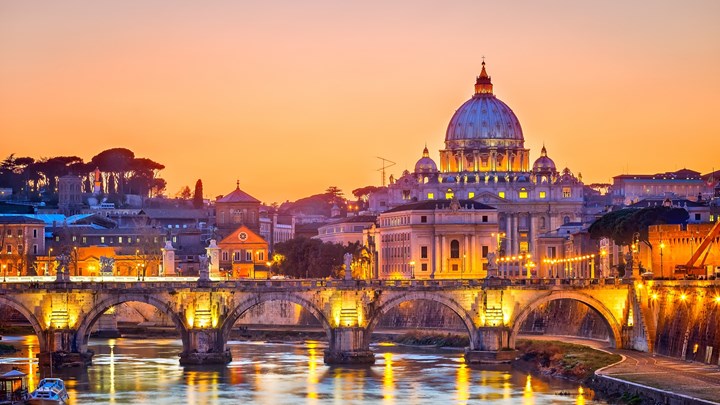 The Maldives, South Asia


Whilst many consider the Maldives as a 'honeymoon' destination, plenty of people are now choosing to take their children there too. If you're wanting to spend a little more and go further afield on your romantic getaway, then despite a common misconception, the Maldives is a great place for kids.
From its shallow waters filled with colourful fish to the white soft sands that are perfect for making sandcastles, it's a haven for the whole family to enjoy. If you're looking to go around Valentine's Day, then even better, as February is one of the best months to go. It's generally the sunniest and driest month of the year, meaning you can escape the wintery conditions of the UK for some hot winter sun. The sea is also a lovely temperature at this time of year, perfect for enjoying a spot of snorkelling. Pop on a pair of googles and explore what the underwater world has to offer.
Plenty of resorts in the Maldives now cater for children, meaning the whole family can enjoy a holiday in this stunning destination. A popular resort with families is Meeru Island Resort and Spa, packed full of activities for all ages. From kid's clubs and a games room for the little ones, to watersports and a relaxing spa for the parents, you won't be stuck for something to do. Also, like the majority of resorts in the Maldives, it's all-inclusive, meaning children and adults alike can help themselves to as much ice cream as they like! These luxurious islands do come at a quite hefty price though, with prices starting at around £1,600 per person for a week's holiday, however, it'll be a once in a lifetime experience that you'll never forget.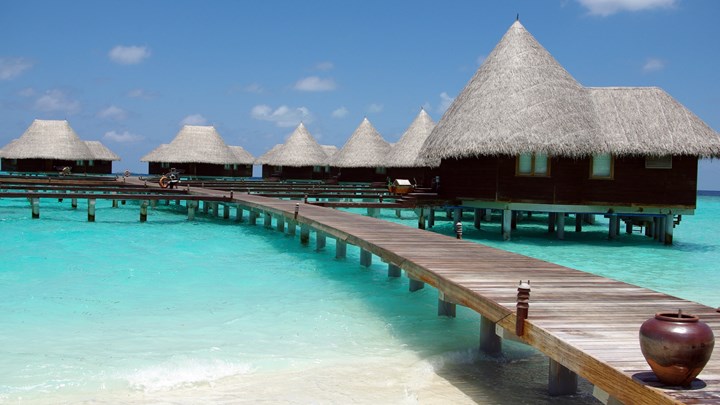 Mykonos, Greece


Mykonos' white washed houses against the bright blue sea sets the perfect backdrop for a romantic getaway. There's something for everyone in Mykonos - from historical attractions to beautiful beaches, this stunning Greek island has it all.
If you want to keep your little ones educated during their holiday, there are plenty of museums on the island to discover, with one of them being the Archaeological Museum of Mykonos. You'll get to see a variety of ancient antiques and findings, including jewellery, figurines and statues. If your children are into nautical adventures, then a trip to the Aegean Maritime Museum is a must. Here, you'll be able to learn more about Greek maritime history, through ancient vessels and sailing equipment. Of course, most kids love the beach, and Mykonos has some of the best, where you'll find a variety of family-friendly watersports available too.
Travelling to Mykonos in February will be quite chilly, at around 12°c, however, it's an ideal time to go to avoid the crowds. If you're after a bit of heat, why not delay your romantic getaway until April or May when temperatures will be much warmer. Flights in April can cost as little as £35.00 each way depending on when you're travelling, with a lovely three-star hotel for a family of four costing from €783.04 (£690) per week.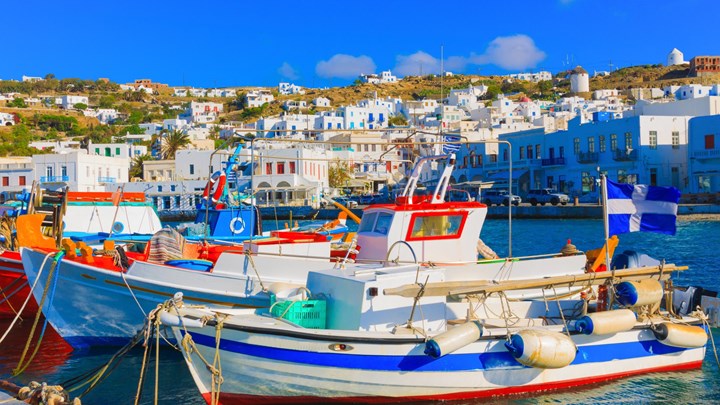 If your kids are lucky enough to have half term over Valentine's Day, then there's a lot to prepare before you jet off. It's essential to get comprehensive travel insurance for the whole family, especially for the children. Also, before you go, don't forget to take out your travel money, as it's generally more expensive to buy currency once you're in a foreign country.
*The above figures are provided for indicative purposes only, and are based on the exchange rate correct as of 16:00 on 18/01/2018.