Influencer Holidays Without the VIP Price Tag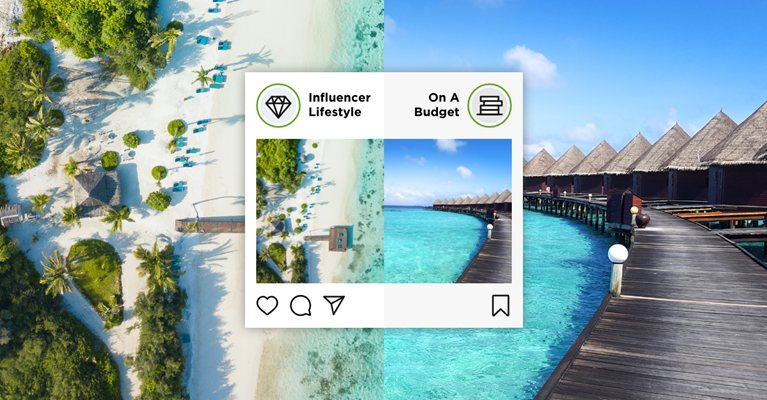 It's no secret that recent times have been difficult for many people and one of the main things we've all missed is being able to jet off on holiday. There are two main reasons for this of course; the first being restrictions put in place due to the pandemic and more recently the rise in travel costs that have come with decreased travel opportunities.
The pandemic has also brought about an increased use of social media, with roughly 1 billion active daily users able to access the lives of countless influencers and celebrities going on holidays abroad and sharing details of their aspirational lifestyles. However, for many of us, these lifestyles can feel out of reach, unless we're being invited to an all-expenses paid trip to post on the 'gram!
But we've put together a little bit of a cheat sheet to help you have your own influencer-level holiday, without the VIP price tags attached. There are plenty of affordable holiday options out there that will have you feeling like an Instagram star yourself. We've listed some of our favourite "influencer locations" below with their 'not so influencer' budgets, as well as money saving tips for holidays from some of the top finance influencers. So go ahead and take your pick; social media will still love to see it!
Amalfi Coast, Italy
Amalfi Coast in Italy is a beautiful, well-loved, and memorable holiday destination. A glittering jewel looking over the Mediterranean, the Amalfi Coast is packed with sandy beaches, fabled cliffs, deep gorges, and jaw-dropping views all around.
The region is a famed and popular tourist destination, home to some of Italy's finest hotels and restaurants; so, it's no surprise that there are plenty of luxury and iconic attractions which can sometimes be quite pricey. However, there are many hidden gems on the coast that are a lot more affordable and budget friendly – take a look at the example below.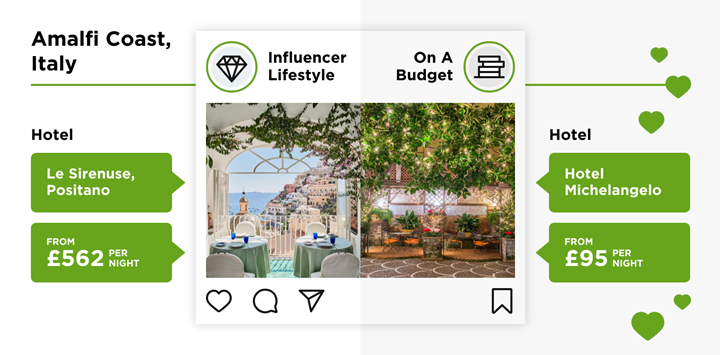 Bali, Indonesia
Sometimes referred to as the "Land of the Gods", Bali is Indonesia's largest and most popular tourist destination, attracting thousands of tourists each year. The island is home to ancient culture and oozes a certain grace and charm that is hard to find anywhere else. With looming volcanoes, lush, terraced rice fields, intricately carved temples, luxurious beach resorts and an exciting nightlife, Bali is a truly enchanting attraction with plenty to do and see.
With both luxurious and budget-friendly options available from accommodation and experiences to dining, Bali is a place for anyone and everyone to enjoy.
Dubai, UAE
Dubai is one the most cosmopolitan cities in the world, and home to over 3 million people. Dubai is one of the seven emirates that make up the United Arab Emirates, known for the iconic Burj Khalifa­, the world's tallest building. With an unparalleled coastline, beautiful deserts, stunning cityscapes, and much more, Dubai is a destination everyone leaves with unforgettable memories.
As luxurious as the city can be, there are plenty of affordable options for those who want to wine and dine in style – but on a budget.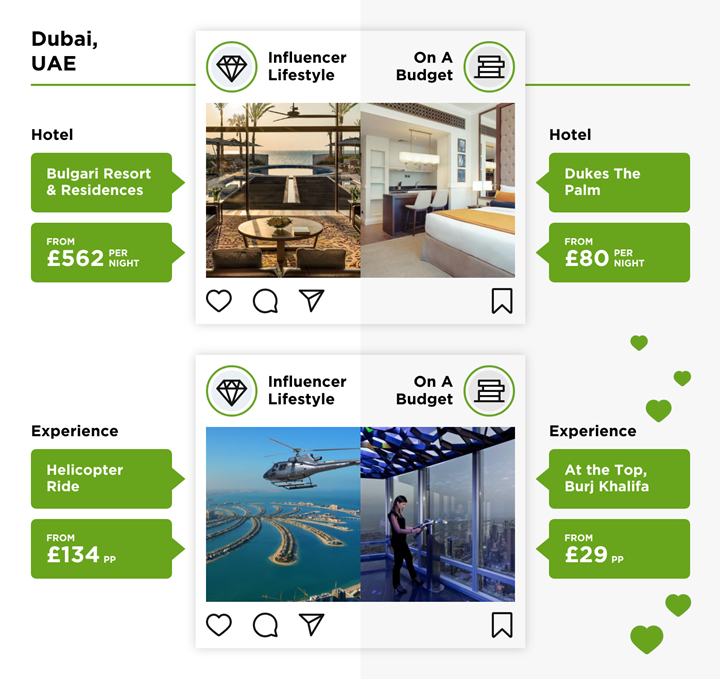 Dubrovnik, Croatia
Overlooking the calm blue Adriatic Sea, Dubrovnik is one of the world's most magnificent walled cities. With glorious rock-and-pebble coasts, gorgeous beaches, botanical gardens, elegant churches and much more, the city is abuzz with history and culture.
Beyond the walls, there are plenty of attractions to visit such as wine bars, classy seafood restaurants and five-star hotels, not to mention the abundance of more budget-friendly options that are available to everyone.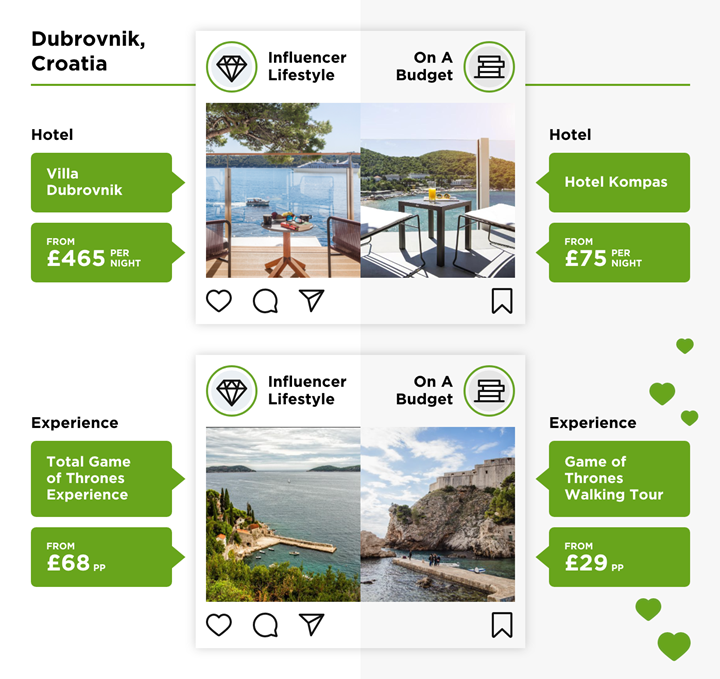 Lisbon, Portugal
The capital city of Portugal, Lisbon is often referred to as the "coolest" city in Europe, full of historical tales and stories to tell. Lisbon is a city where the sun shines 290 days a year, the temperature rarely drops below 15ºC, a city you feel safe wandering the streets day or night, a city full of authenticity and ancient history mixed with cultural entertainment and hi-tech innovation.
The city is also famed for its amazing hospitality and attractions, restaurants and hotels that suit every taste, budget and requirement.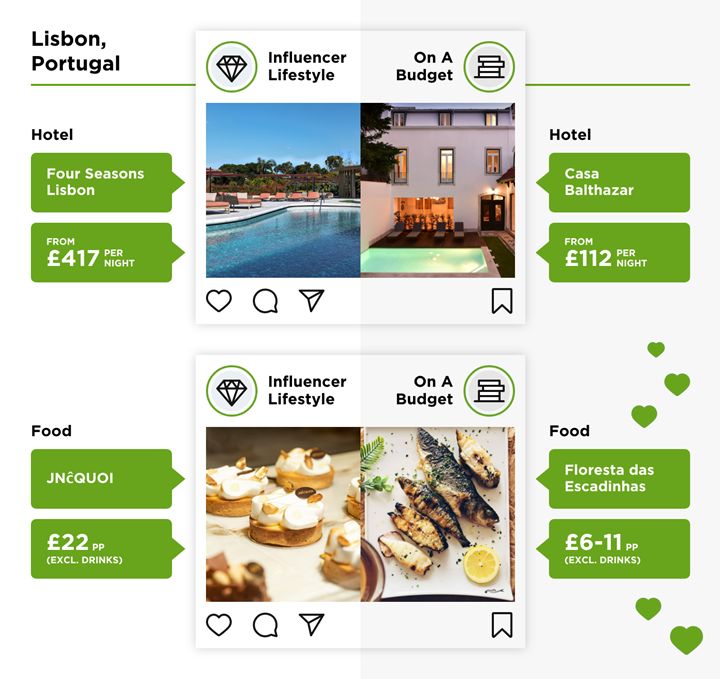 Los Angeles, USA
The famous city of Los Angeles is the entertainment capital of the world, and boasts more than 100 museums, iconic tourist attractions such as the Walk of Fame, magnificent structures, a thriving city life, and so much more.
LA is well known for its Hollywood glamour, cultural icons, distinctive neighbourhoods, and a vibrant nightlife. Explore the city's pop culture, famous nightclubs, gorgeous beach towns, cultural institutions, and plenty more – all whilst staying within your budget.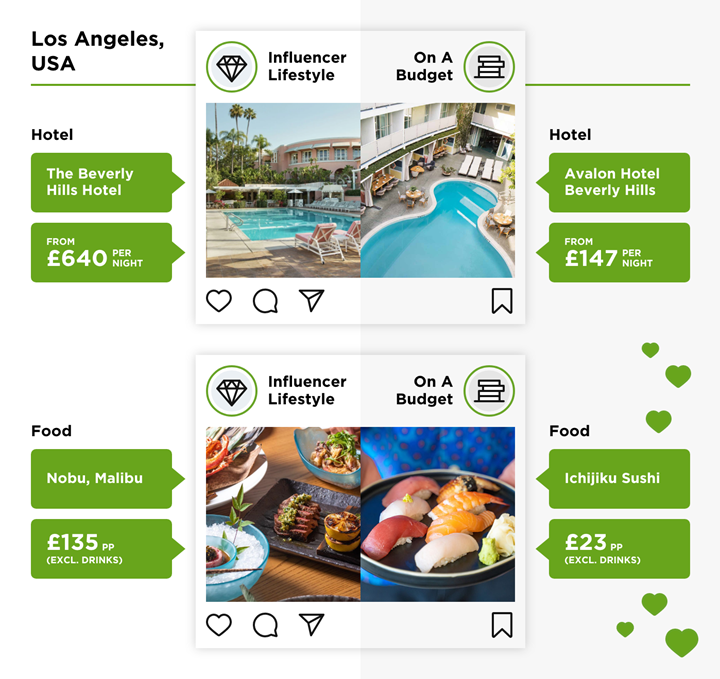 Mallorca, Spain
Mallorca is the crown jewel of Spain's Balearic Islands and is one of the most popular destinations in the Mediterranean. It's known for its beautiful coastline, secluded coves, quaint mountain villages, stunning beaches and much more; Mallorca is a place to experience the finest adventures and enjoy a truly surreal and gorgeous atmosphere.
You'll have no trouble finding adventures that match your mood and liking in Mallorca, and there's plenty to experience and do in this beautiful and popular destination that won't break the bank.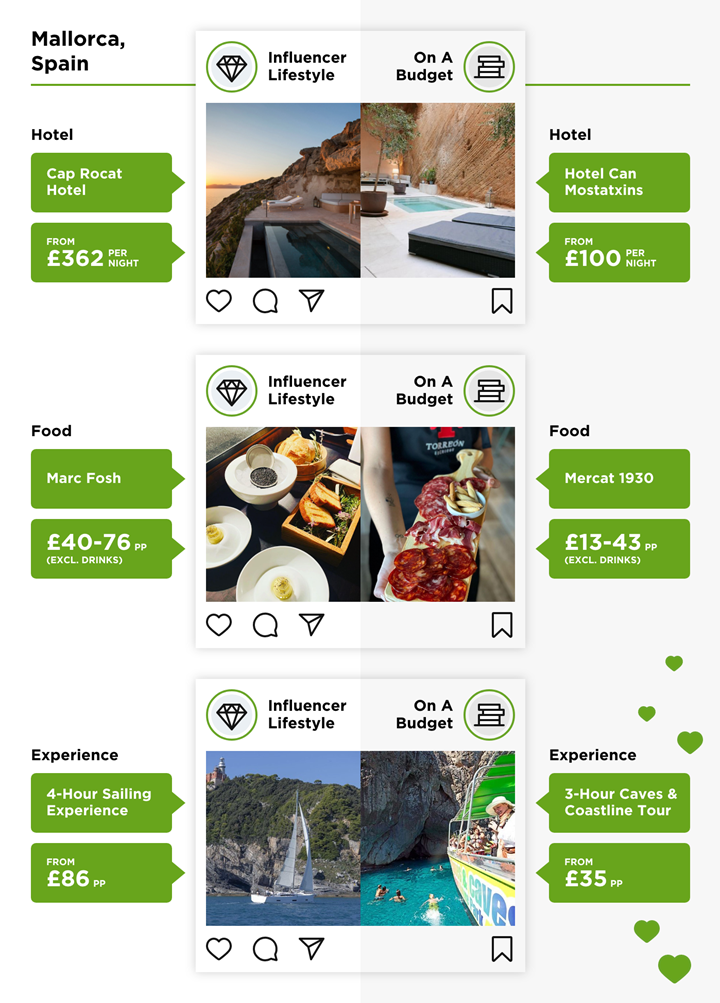 Santorini, Greece
The wild nature and beautiful beaches combined with rich history and traditions is just one of many reasons why Santorini is the gem of Greece. The stunning island attracts thousands of visitors every year for its hot summers, bright sun, lunar landscapes, and plenty of stunning attractions for all to enjoy.
The rare natural beauty of Santorini is loved by many, and the jaw-dropping architecture with  whitewashed edifices, blue domes, candy-coloured houses and paved paths create stunning and picturesque views for miles around. There's plenty for all to do and explore – regardless of what your budget may be.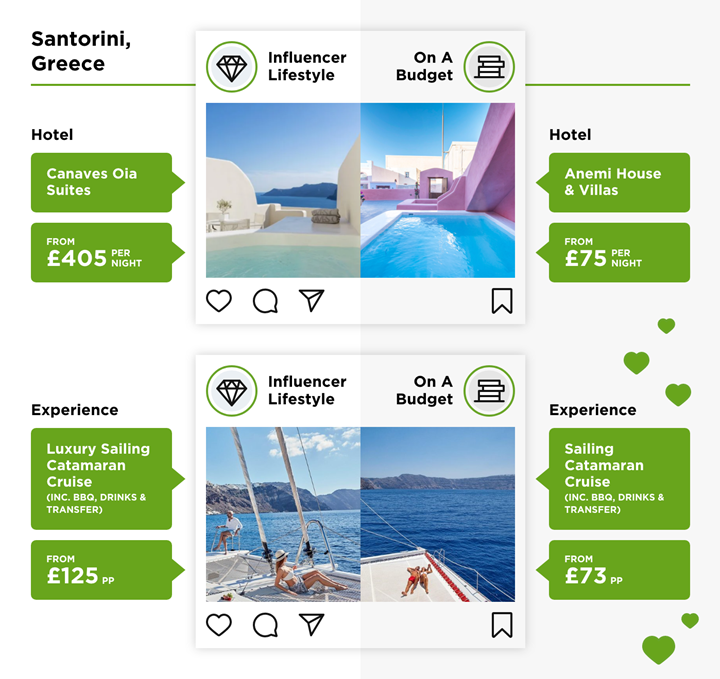 The Maldives
The Maldives is one of the most unique holiday destinations in the world. Located in the Indian Ocean, the Maldives is a remote, tropical paradise that is ideal for adventure seekers and lovers of luxury alike. There's plenty to do and experience for everyone, including kayaking, spa treatments, night fishing, scenic boat trips and even romantic, private picnics on the beach.
The exotic and beautiful island is a real-life fantasy, with its stunning collection of islands and endless list of things to see and experience for all.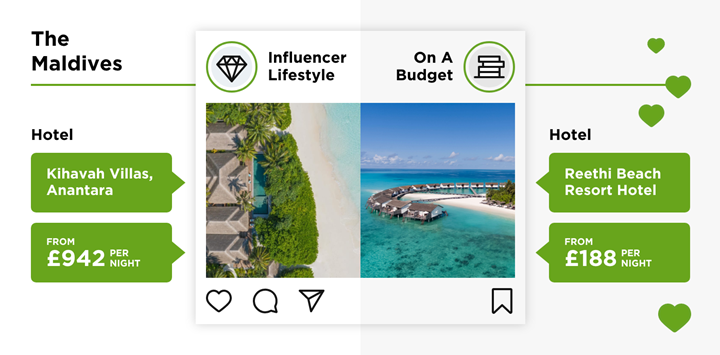 Tulum, Mexico
Tulum is one of the most visited archaeological towns in Mexico, with spectacular coastlines, sandy white beaches, ancient ruins, exotic wildlife and much more to explore and experience.
Situated on the highway for convenient access, the town centre is home to both cheap eats and sleeps. Towards the coast you'll be able to find more lush and tranquil spots and attractions. Tulum boasts excellent cave and cavern dining and a variety of lodgings and restaurants to fit every budget.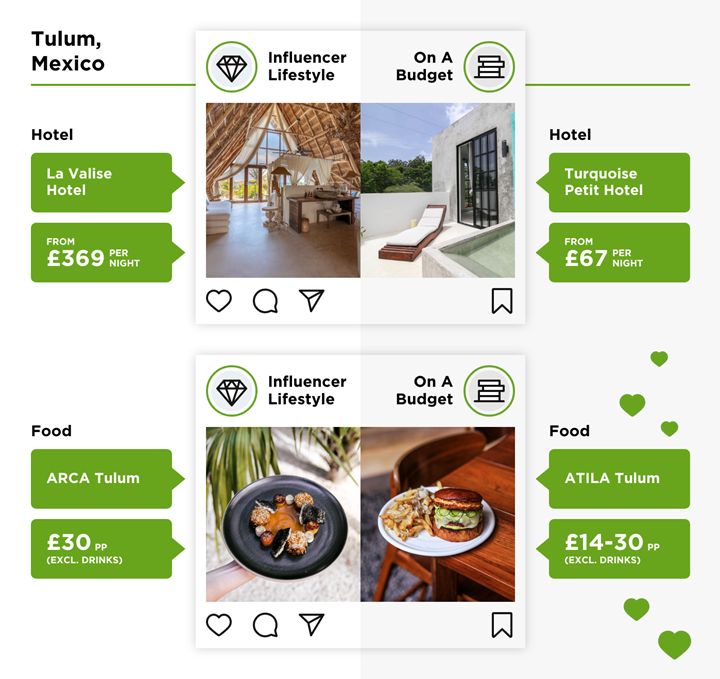 As you can see, there are plenty of stunning destinations available for you to explore that you can share on your own social media pages!
Holiday saving tips
For even more ways to make your holiday funds go further, check out these savvy tips from money-saving social media influencers:
Stephanie @bigworldsmallpockets
#Travel in the shoulder season
"One of my top tips when it comes to saving on holidays is to avoid the peak seasons. Researching when the high season falls in your chosen destination is crucial to grabbing a bargain and also dodging the crowds. Ordinarily, high seasons tend to fall when the weather is best - for example, during July and August across Europe - but travelling in the shoulder season i.e. the months either side of this (like June or September), can often shave a significant chunk off your holiday cost.
Oh, and it's worth remembering that flights mid-week tend to be cheaper than flights at the weekend!"
#Organise a DIY trip
"You can use travel agents or tour companies to sort out your trip, but don't forget that any holiday booking made in this way will involve you paying commission on top of the price of your holiday!
One of my top money-saving trips for travel therefore is to do the organising yourself. I suggest using travel agents and tour companies to get ideas about where to go, where to stay, how to get there, plus possible itineraries, and then replicate these trips yourself using online booking services to bag flights, airport transfers, car hire, day trips and more at a fraction of the cost! I once got a Nile Cruise in Egypt for £40 a day (when it's usually £200+) using this hack!"
Monica @thetravelhack
#Fly hand-luggage only
"One really simple way to save money when travelling (especially on budget flights) is to not check-in any luggage. Even the cheapest airlines allow you to take one small bag on the plane for free and you'd be surprised at how much you can fit in there! Check the dimensions of the bag you're allowed and take the biggest one you possibly can. You can avoid packing toiletries and use the ones in the hotel and just take the bare essentials when it comes to clothes. If you've got a large suitcase, you could be paying £120 just to take your suitcase along with you, and if you're travelling as a family of four that could be £480 just on luggage!"  
Laura @thriftylondonder
#Book directly with the hotel
"Some booking sites may show the best available price online for the hotel. However, if you call directly to book over the phone, you may be able to make a saving by cutting out any middlemen. Remember to also make sure you are getting any additional perks, such as free cancellation, transfers included, and breakfast included. Make a list of any extras you can find on the online listing, and make sure this is confirmed both on the phone and in writing before you pay for your stay."
#Book excursions online for discounted tickets
"Often, when you book any tickets in advance for excursions, you can save 10-20% on the cost of the ticket. It requires a little forward planning, but the saving means it really pays off.
Pre-booking tickets also means you can often avoid the queues and smugly sail through the advanced ticket holder line. "
Laura @laura_ann_moore
# Have a clear 'budget-goal' 
"By working out exactly how much you need to save each month to reach your goal, you won't be left disappointed thinking you'd have more saved by the time you go on holiday!
Decide how much money you need or want to save in total and the date you need the money by. You can then work out exactly how much money you should save every month in the lead up to your holiday to ensure you reach your target by calculating: [the total amount needed] divided by [the number of months to go]."
Fempire Finance @fempirefinance
#Transfer money before you leave
"Avoid exchanging money at the airport - most airport currency exchanges charge (high) fees and have more expensive exchange rates than other places."
#Tell your phone company you are going away
"With roaming charges being introduced by some companies, it is worth calling up your network to understand if they can give you a good option for when traveling abroad. Or it may be cheaper buying a sim card from a network provider in the country you are traveling to and topping it up when needed."        
Start your prep!
If you're ready for a getaway and any of these locations take your fancy to get booking, don't forget to get your Asda Travel Money before you fly so you can save even more pennies for spending when you get there.