Long Haul Holidays for All The Family
People will often stick to what they know when it comes to choosing holiday destinations abroad, with Europe being a popular choice because of its proximity. However, the recent abundance of cheap flights to long-haul destinations has resulted in them becoming a lot more accessible. Many of these faraway locations are fantastic for families, and it's usually cheaper than Europe once you get there due to factors such as lower costs of living and a better exchange rate.
When booking a long-haul holiday, it's important to do some research before you rush into anything. For example, it's usually recommended to stay at your chosen destination for at least 10 days, so that the longer travelling time doesn't affect your time there. Some countries require certain vaccinations before you travel too, so make sure you check with your GP far enough in advance.
Here at Asda Money, we've picked a few of our favourite family-friendly long-haul destinations, including tips on what there is to see and do.
Phuket, Thailand


Thailand is renowned for its beautiful beaches, tropical climate, and of course, the wonderfully welcoming people and culture. The island of Phuket is one of the most family-friendly destinations in Thailand, and there are plenty of resorts to choose from. With a vast selection of activities and attractions on offer, Phuket has the perfect balance of being both exciting for the children and relaxing for the parents.
Due to how close it is to the equator, Phuket is extremely warm all year round. Peak season is from December to March, when it's not too humid and remarkably dry. If you're able to book for the Christmas holidays this would be the perfect time to go, however, this is when prices tend to be at their highest. If you decide to travel in the summer holidays, there'll be a higher chance of rain due to it being the monsoon season, but it's usually much cheaper with fewer crowds. The weather will still be hot and sunny for a lot of the time, but just be prepared for potential sudden showers, thunderstorms, and a few cloudy days.
Phuket benefits from having its own international airport, so unlike many of the other islands, you don't have to transfer from Bangkok. Flights start from around £400 in August, and take around 17 hours, with a stop-off halfway which gives you a chance to stretch your legs. Thailand is notoriously cheap once you arrive, so stock up on Thai baht before you depart, as a lot of places may only accept cash. A meal in a local Thai restaurant will typically set you back just 80 baht* per dish (around £1.80).
There are plenty of family-friendly resorts in Phuket, such as the four-star Sunwing Kamala Beach on the west coast. Just 20 minutes from the busy town of Patong, this hotel is situated right on the beachfront, with a selection of pools to choose from. There are plenty of activities available for the kids at the on-site MiniLand, whilst adults can enjoy a relaxing Thai massage at the outdoor spa. Studios start at just £76.00 per night in August on a bed and breakfast basis, and are the perfect size for two adults and two children.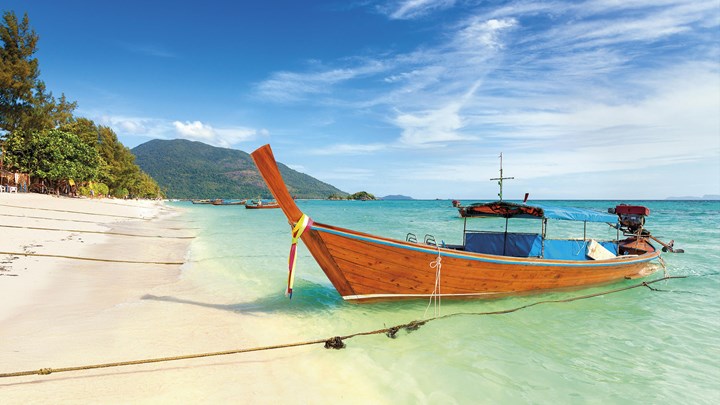 Riviera Maya, Mexico


The Riviera Maya in Mexico is a sun-drenched stretch of coastline that is renowned for being the ideal destination for all-inclusive holidays. The resorts are often designed with families in mind, with plenty of activities going on to keep the kids occupied. This gives parents some well needed relaxing time on the beautiful sandy beaches.
If you're looking to go on a family day out in Riviera Maya, then there are plenty of trips and activities on offer in this diverse region. From zip lining above the Mayan jungle, to snorkelling in the clear blue sea and spotting different types of fish, there's something for every age group to enjoy.
The Riviera Maya enjoys around 10 hours of sunshine each day during the summer holidays, with a temperature of around 28 degrees, which is perfect for sunbathing. Although there's an occasional shower at this time of the year, the sheltered position of the region means it usually avoids the heavier storms and hurricanes.
A lot of the local hotels and resorts tend to be on the luxurious side, but this doesn't stop most of them being family friendly. All-inclusive board is a popular option in many of the hotels, and although it's more expensive when you initially book, you don't have to worry too much about spending money once you get there.  Many all-inclusive packages include your flights and transfers too, so the whole booking process is very convenient.
The Grand Bahía Príncipe Coba resort is great for families, and has its own private beach which is fantastic for watersports. There are plenty of dining options to suit all ages, and daily activity programmes. A superior junior suite for two adults and two children costs around £1,300 per person in July 2018, which includes all of your flights. The nearest airport to the Riviera Maya is Cancun, and the flight takes roughly 10 hours, which is still a long way, but shouldn't cause too much jet lag.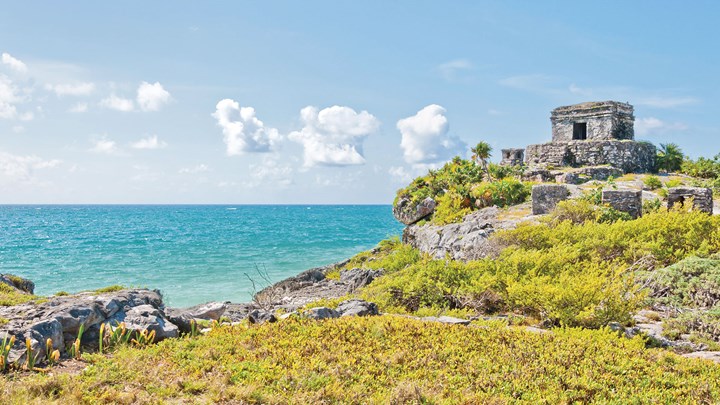 Bali, Indonesia


The beautiful Indonesian island of Bali has long been popular with travellers and honeymooners, but it's a great family destination too. With all sorts of fascinating sites to explore, diverse landscapes, and a friendly culture, you're sure to have a holiday to remember.
Different parts of Bali offer very different experiences, from wild beaches in the south which are great for watersports, to the cultural hub of Ubud, which is famous for its rice fields and ancient monuments. The resort of Sanur in southeastern Densipar is known to be particularly family-friendly, and the sea is lovely and calm for the children to swim in. It's well placed for day trips around the island, where you can enjoy seeing wildlife in the Bali Safari and Marine Park, or discover the amazing culture on a visit to one of the temples.
April through to October are the best months to visit Bali to avoid the wet season, and both July and August are sure to have many sunny days. Flights start from around £400, and usually take around 18 hours, with one stop along the way. Although it takes a long time to get there, the laid-back way of life on this stunning island means you're sure to get plenty of rest and relaxation. Bali also benefits from being very cheap when it comes to cost of living. A meal in a nice restaurant costs roughly 140,000 Indonesian Rupiah (INR) per person, which is around £8.00.
Along with everything else in Bali, accommodation is also great value. A stay in the beautiful Oasis Lagoon Sanur costs £1,456 for two weeks in a duplex room, which is ideal for two adults and two children. As well as having a wonderful pool, it's just minutes away from the beach and the centre of Sanur Town, so there's plenty going on to keep the whole family happy.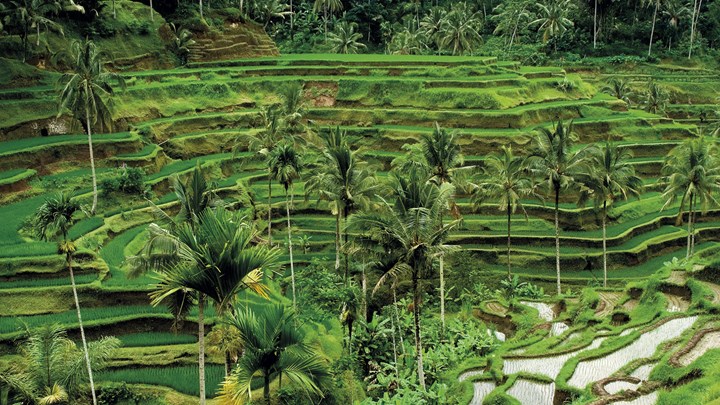 Wherever you decide to jet off to on a long-haul holiday, it's vital to take time to research what you need to prepare for your trip, including any vaccinations you may require beforehand. Some destinations are a risk zone for malaria for instance, which is a serious tropical infection that's transmitted by bites from infected mosquitoes. For advice on all your holiday healthcare needs, pop in to your local Asda Pharmacy who are on hand to answer queries, and offer a wide range of travel medications, as well as a Malaria Prevention Service. 
Remember to also pick up your travel money before you depart. Islands and the more secluded destinations might not have as many cash points, so it's best to go prepared and avoid any expensive charges once you get there. Asda Money offer great rates on travel money, and have over 50 currencies available. If we don't currently stock your currency, we can usually order it in for you too. If you have any questions, call us on 0800 1884 002 and we'll be happy to help.
*The above figures are provided for indicative purposes only, and are based on the exchange rate correct as of 17.00 on 30/06/2017.