Portugal Travel Insurance
Up to three kids go free (per insured adult, subject to medical screening, when you buy direct from us)
with our Double Gold Moneynet Award for Best Provider on Travel Insurance*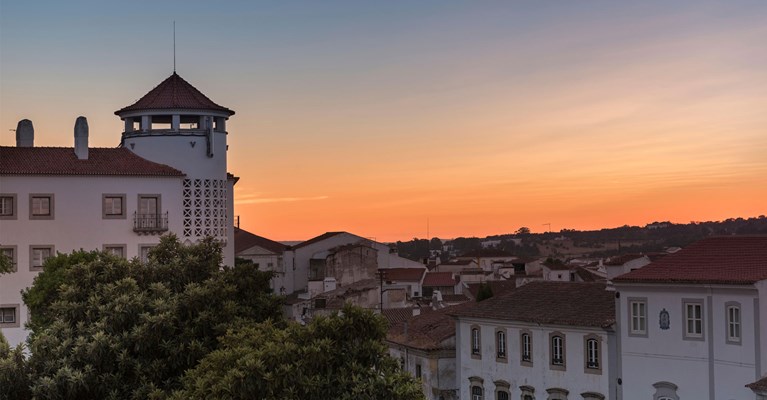 Buy travel insurance to Portugal
A glass of port on a hammock. A yellow tram ride to a seafood platter. Endless days of sun. Whatever you're looking for, Portugal has it. This is one of the oldest countries on the continent, and has been tempting Brits for centuries. From Porto and Lisbon to Aveiro's colourful canals or the golden beaches of Praia da Costa Nova, you'll never run out of places to visit.
Booking travel insurance to Portugal with our award-winning travel partner lets you enjoy every second of your journey without stress. You'll have the cover you require for several trips a year, family holidays, work visits or a week of water sports.
Do I need travel insurance when visiting Portugal?
Travel insurance for Portugal isn't compulsory for travel, but it's essential to make sure you're covered in case anything happens on your trip.
Choose from three basic forms of cover with our dedicated travel partner. They've been insuring millions of Brits for over 20 years. Explore global travel insurance if you're heading to other countries before or after Portugal.
What's included?
Different travel insurance policies offer varying levels of cover. But you're bound to get these guarantees when you book Portugal travel insurance:
COVID-19: If you have to cancel or rearrange a flight or accommodation due to COVID-19, your agreement will cover the cost.
Lost or stolen luggage: Airlines and cruise companies might mishandle your luggage on route to Portugal. Your travel insurance should secure you against the cost of replacements — to a financial limit.
Personal liability: You might have to pay legal fees for a dispute while you're travelling. Renting a car, for example, increases the risk of damaging another person, vehicle or piece of property.
Missing passports and travel documents: Travel insurance will refund you for the direct costs of a replacement as well as potentially the cash for temporary accommodation while you're waiting.
Medical care: Seeking medical treatment abroad could be simple or challenging, depending on where you are in Portugal. Insurers help you able to pay for the best services and recoup the expense. Even cheap travel insurance to Portugal should always have medical cover.
What isn't covered with Portugal travel insurance?
Although most insurers are flexible — with niche areas of risk expertise — they won't all provide the same extended coverage. At the same time, there are certain rules that invalidate an agreement altogether – you must be aware of them. Here are a few common factors that may not be included in your travel agreement:
Needlessly reckless behaviour: There are several examples of behaviour that could make your claim redundant. Chief amongst them is being intoxicated.
Driving illegally: Portuguese road rules aren't quite the same as those in the UK. For instance, you must have a reflective jacket or vest and warning triangle for breakdowns. Vehicles on the right-hand side have priority at squares and junctions. Be mindful of strict drunk driving laws too — it's one of the most common crimes in Portugal. You'll probably be pulled over for a random check.
Water sports and extreme sports: You'll need specialist insurance for these. Review your policy for named activities. Otherwise, they won't count for injury and liability support.
Unattended luggage: While Portugal travel insurance does protect you against any losses during your stay, it'll only be valid if you keep an eye on your things. Insurers will scrutinise the conditions around theft, determining whether you left your possessions on their own.
Vehicle insurance: Typically, travel agreements don't include claims for direct damage to a rental car, bike or van. You'll have to take out a separate policy with the rental agency.
How much does Portugal travel insurance cost?
Our travel partner will present some of the market's top deals for cheap Portugal travel insurance, but other variables will come into play.
Your age will influence some of the premium. Younger travellers are less likely to fall prey to sickness and can withstand injury better than anyone in their 40s, 50s, 60s or beyond. Also, your premium will rise if you're staying in Portugal for more than a couple of weeks. Extended visits leave more room for risks and mishaps. Insurers will take the nature of your trip into context, checking it against an accurate picture of your medical history and age demographic.
Elsewhere, a fair insurer will scrutinise the place you're visiting. The good news is that Portugal's crime rate is low even compared to elsewhere in Europe. You aren't at significant risk of a natural disaster either. On the flipside, Portugal has a lot of fatalities from drunk driving and poor road conditions, so this will slightly tip the scales back against your budget.
Healthcare in Portugal
Portugal's public health system is excellent. Usually, it's only reserved for nationals, but British travellers can access it with a UK Global Health Insurance Card (GHIC) – this replaces the European Health Insurance Card (EHIC). Your EHIC will still be valid until its expiration date. Alternatively, apply for a free GHIC on the NHS website.
Note that public healthcare isn't entirely free in Portugal. You'll have to pay a percentage of the costs, which your travel insurance should cover. Even better, you can use your policy for private care. There are roughly 100 public hospitals and plenty of private clinics across the country. All you have to do is pass your bills and invoices along to the insurer, who will repay them.
Travelling with pre-existing medical conditions
Pre-existing medical conditions contribute to your risk profile, so you must inform your insurer when you take out the policy. If something goes wrong, and it's related to one of these conditions, your coverage won't kick in if you weren't up front about them.
We have plenty of information on pre-existing conditions and how to trim the cost of your travel plan. When you're applying for insurance, you'll be asked the relevant questions, so just be honest about your health issues from the beginning. It means the rest of your coverage won't be undone.
Travel tips for Portugal
Ready to make the most of your experience? From the stunning waters of the Algarve to volcanic hikes on Madeira, there are so many places and pursuits to sample. Researching travel insurance to Portugal wouldn't be the same without grabbing some top tips for the trip. Stay safe and clued in with our advice:
Aim for autumn: Portugal is fairly hot for most of the year. October and November bookings will cut the price of tours and accommodation while still offering warm air and waters. Autumn temperatures tend to hit 18-24ºC. You can swim, cycle and climb without a coat or wetsuit.
Use public transport: As we've said, Portugal's road record isn't great. You can run into trouble with potholes and sharp bends, while tolls are unavoidable on major highways. You'll have fewer headaches and more spare cash if you take the tram, bus, coach or train to wherever you're desperate to go. Porto's public transport network, for example, is exemplary. You should pay for a ticket once you're on there – even if you don't see an inspector, they can board anytime.
Pack good footwear: It might seem like a small point but cities like Lisbon are dotted with cobbled hills. They can wear you down over the day, not to mention cause an accident if there's rain and you aren't totally sure-footed. We suggest packing a sturdy pair of trainers: something with grip and resilience. Save your sandals and boots for the poolside or nightclubs.
Staying mindful of drug laws: Drug possession has been decriminalised in Portugal since 2001 — but this doesn't mean there aren't laws in place. If you're caught with a large amount, you could be arrested for trafficking.
Be careful on the beach: The country is renowned for its surfing culture. Communities such as Ericeira and Peniche are flooded with surfers looking to catch the largest wave. And the waves can be tremendous . . . So stay vigilant if you or your loved ones are in the water. Conditions may turn rougher than you realise.
Accept irregular business hours: You might see a sign for opening times at a bar, cafe or independent store. Occasionally though, they aren't set in stone. Portuguese businesses close early if there aren't many customers or the weather is bad. It's the norm, and you'll have to adapt. Just remember that it's never personal.
Find out more about Asda Travel Insurance
*Best Travel Insurance Provider in the 2022/2023 Moneynet.co.uk awards