Things to do in North East England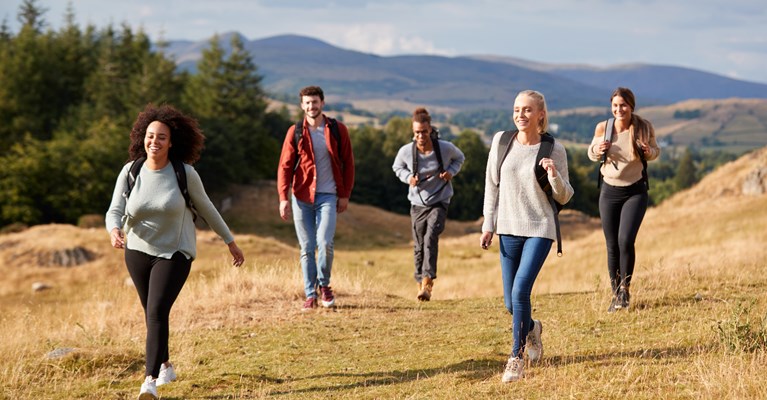 Our guide below on things to do in the North East was researched and written in June 2021. All of the facts and adventures you'll learn about are true to the best of our knowledge and research. We would advise readers to check any specific details on costs or opening times for example before their trip.
Please help to keep yourself and others safe by checking government guidance around COVID-19 for local advice before travelling anywhere as restrictions may differ.
The North East is home to Hadrian's Wall – one of the largest Roman artifacts that is still standing! As well as this, there's many other attractions on offer in the North East that you can plan your adventures around; from completing the High Force and Low Force walk and seeing some of England's most spectacular waterfalls, to seaside adventures on Longsands Beach where it's golden sands stretch for miles, shadowed by striking cliffs and dunes. Or if you are after a city break, twin cities Newcastle and Gateshead form a vibrant tourist attraction and day out. Learn more about these great activities below, as well as other top attractions to visit in the North East.
Newcastle and Gateshead
United by seven iconic bridges across the River Tyne and coming together at the dazzling Quayside, Newcastle and Gateshead are two twin cities forming a vibrant and dynamic visitor attraction. Discover the city's history by exploring the Medieval remains of Newcastle Castle, which gave the city it's name, enjoy the stunning views of the River Tyne, and indulge in some of the finest cuisine in the North East.
Newcastle, NE1
Longsands Beach
One of the many beautiful beaches in North East England, Tynemouth Longsands has become a renowned surf destination – even staging national championships. It's the perfect place to soak up the sun, splash about in the sea, go on scenic walks and many more activities. Not only that, but it's breathtaking beaches and stunning views have been featured in Hollywood movie "Goal!"
Tynemouth, NE30 4JS
Jesmond Dene
Jesmond Dene is a wonderful historic park situated in the heart of Newcastle. It's great for tranquil strolls, bird watching and regular events, including plant stalls and even open air theatre productions. Say hello to animals of all shapes and sizes on your walks – including some magnificent peacocks.
Jesmond, NE7 7DS
Durham
Home to one of the UK's most popular landmarks - Durham Castle, Durham county is a wonderful destination for all to enjoy. Packed with historic attractions, breathtaking scenery, countryside escapes and so much more, it's a lovely city to enjoy a holiday in.
Durham, DH1
Barnard Castle
An English Heritage property, Barnard Castle sits on a high rock looking over the tumultuous River Tees below. It offers fantastic views over the Tees Gorge and the attractive working market town it sits on. There's plenty to do and see in the town, from a "sensory garden" to Richard the Third's boar emblem carved above a window in the inner ward of the castle – see if you can spot it!
County Durham, DL12 8PR
High Force and Low Force Walk
This popular circular walk through the heart of the Durham Dales is a must if you're visiting County Durham. Surrounded by beautiful landscapes and scenic views, your route will take you through gorgeous woodlands, including a national nature reserve, home to the UK's rarest plants and iconic wildlife. The highlight is passing High Force – one of the most spectacular waterfalls in England. A true force of nature, it cascades 21 metres into a plunge pool beneath it – you won't want to miss it!
North Pennines, DL12 0XE
Seaham
Home to one of the oldest churches in the country, Seaham is a cosy and charming seaside town with a truly tranquil beauty. Explore the inviting rock pools, take in the dramatic cliff-top views and visit the heritage and lifeboat centre to learn about the town's outstanding history.
Seaham, SR7
Dunstanburgh Castle and Embleton Bay
Overlooked by the historic 14th century ruins of Dunstanburgh Castle, Embleton Bay is a glorious beach stretching for miles into the distance. It is surrounded by wonderful scenery and gorgeous landscapes, ready to be explored. You could also explore more of the history of Dunstanburgh Castle by going on a walk round the castle then enjoy a picnic on the beach, whilst watching the waves.
Embleton, NE67 3XS
Alnwick Castle
One of Britain's most iconic castles, the beautiful grounds of Alnwick Castle were featured in Downton Abbey and multiple Harry Potter films, and now host a range of events inspired by the famous film series. Learn how to ride a broomstick, enjoy medieval entertainment, explore the castle's extraordinary history and much more!
Alnwick, NE66 1YU
Bolam Lake Country Park
Situated in the heart of the Northumberland countryside, Bolam Lake Country Park is a beautiful and highly accessible area open for everyone of all ages to enjoy. You can enjoy lakeside walks, woodland and open grass areas that are home to diverse wildlife including roe deer; it's a wonderful place to enjoy a relaxing and peaceful summers day.
Bolam, NE20 0HE
Asda Money's tips to get the most out of your adventure

Before you pack up the car, strap the kids into their seats and pick out a road trip playlist, there are a few things to do before you set off that can help ensure that you have as enjoyable and straightforward a journey as possible. To help you get ready for your adventure, here at Asda Money, we've got a few handy tips to get you set and ready for any road trips.
First, check over your vehicle, including checking the oil levels and dashboard for any warning lights, giving your tyres a once over, and if possible, giving your car a quick test drive if you haven't driven it in some time. Next, have a look at the weather forecast, as we all know British weather can be unpredictable, so this way you can be prepared for anything the elements have to throw at you. If you're travelling with kids, consider preparing some entertainment for them before you get on the road – this could be a fun quiz or a children's podcast to play, or perhaps they'll enjoy taking in the surrounding scenery if you've found a quiet B-road! Lastly, check your route on a map and plan in regular pit stops and breaks to avoid tired eyes on the road which can cause accidents – this also helps add in some extra exploring opportunities!
Of course, for all road journeys of any distance, having a comprehensive motor insurance policy that gives you invaluable peace-of-mind while you're on the road is essential – to compare quotes from over 60 of the UK's top insurance providers and find an insurance policy that best suits you, check the links below :