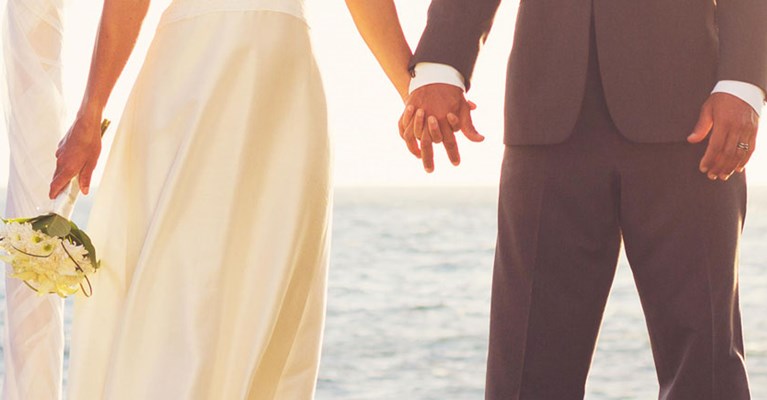 It's becoming increasingly popular for couples in the UK to have a wedding abroad, and with the promise of beautiful weather and a picture-perfect location, it's easy to see why. Huge savings can also be made by tying the knot in countries overseas, with the average cost being between £6,000 and £7,000, compared to a staggering £24,000 back in the UK.
Although there are many positives to having a wedding abroad, it's important to remember that you're likely to make numerous international transactions, paying for all the expenses involved. Whilst it can be tempting to turn to your bank for convenience, there are often hidden charges such as larger fees and poor exchange rates, which can be a costly mistake in the long run.
Alternatively, if you've got friends or family members who live abroad and want to help them out financially, you're also likely to face hidden costs by using your bank to transfer money. Here at Asda Money Transfer, we've put together some top tips on planning a wedding abroad, including choosing your destination, wedding planners, bank charges, and much more.
Start Planning Early


Doing lots of research is key to planning a wedding abroad, especially if you're wanting to save some money. Firstly, you need to choose your destination. When researching the destination, have a quick look at the exchange rate so you can see how far your money's going to go. Remember that you'll make numerous transactions in the run up to the event, and a poor exchange rate could make things a lot more expensive when making international transfers. 
You also need to determine how many guests you're going to invite. Weddings abroad are usually much more intimate and low-key, which is one of the reasons they don't tend to be so expensive. By only inviting family and close friends, it means you don't have to hire a huge venue or provide as much food and drink. 
You'll need to determine whether your guests will pay for their own flights and hotel. This is up to you to decide, and depending on your deal with the venue you might get some rooms included. If you do offer to pay for them, remember this can add a great deal onto the final cost.
Wedding Planners and Package Deals


There's always a huge list of things to organise when planning a wedding, and it's even more challenging when it's thousands of miles away from home. Hiring a wedding planner is worth considering, as they'll be able to negotiate with local venues and suppliers to get you the best deals.
Although they'll come with a price, in the long run a wedding planner's knowledge and advice will be worth it. Remember, you'll be making a series of payments to them in the run-up to the event, so consider using a specialist money transfer service to avoid hefty bank charges with each transaction.
Another option is to book a package deal with a tour operator or wedding abroad specialist, which will include everything from caterers to photographers. With this, you'll often just have one big bill to pay, so you'll avoid getting hit with fees for making several different payments abroad.
Of course, you can always plan your wedding independently, which is usually the cheapest option. However, distance and language barriers will mean this option will include a lot of hard work!
Budgeting and Money Transfers 


Using a specialist money transfer service such as Asda's Money Transfer powered by Ria, can massively cut the cost of your international transactions. It's quick and easy to make money transfers online, and works out much cheaper than if you were to use your bank. If you're going to be making several payments to the same person, such as your wedding planner or family member, your details will be saved ready for the next time, making the process much quicker.
When budgeting for the wedding, it's a great idea to set up a spreadsheet so you know exactly which payments need to be made each month. Although exchange rates do fluctuate, you can use our handy online tool to work out the average cost of your international money transfers.
If you're interested in using Asda Money Transfer Powered by Ria for sending money abroad, then click here to find out more.