World Wanderlust Index: The top 50 bucket list destinations for cost-conscious Brits
From iconic landmarks to top cuisine, find out which countries take the top spots for affordable dream holidays
With a British summer wash-out, and last-minute holiday bookings on the rise, holidaymakers are looking for that last ray of sunshine before the end of summer. A dream holiday may seem unaffordable, but that doesn't always have to be the case.
Naturally, Brits look to a staycation as a cost-saving alternative to jetting off abroad but in some cases, a trip to London could cost you more than jetting off to Rome or Madrid. In fact, the average trip to London for a family of four could cost £798.04!**
According to our brand-new research, 34 per cent would rather staycation but think the UK is too expensive and 77 per cent believe it's more cost-effective to go abroad. It also found the average Brit spends two weeks on holiday per year and would be willing to spend £852.60 per person on a holiday abroad compared to just £622.90 in the UK.
In terms of dream holidays, over half (59 per cent) of Brits have compiled a travel bucket list but aren't currently working through it and 51 per cent don't think they'll be able to afford the holiday of a lifetime until they're 50 years old.
That's why we have conducted in-depth research to create the World Wanderlust Index: the top 50 bucket list
destinations around the world that won't break the bank.
We compiled our index by analysing factors that make a location "bucket-list worthy", such as the number of iconic landmarks, adventure activities and historical exploration, plus overall cost factors for each destination such as flights and hotels.
Our research found that the number one destination for a bucket list trip on a budget was Italy, with Spain in second place and the United States in third.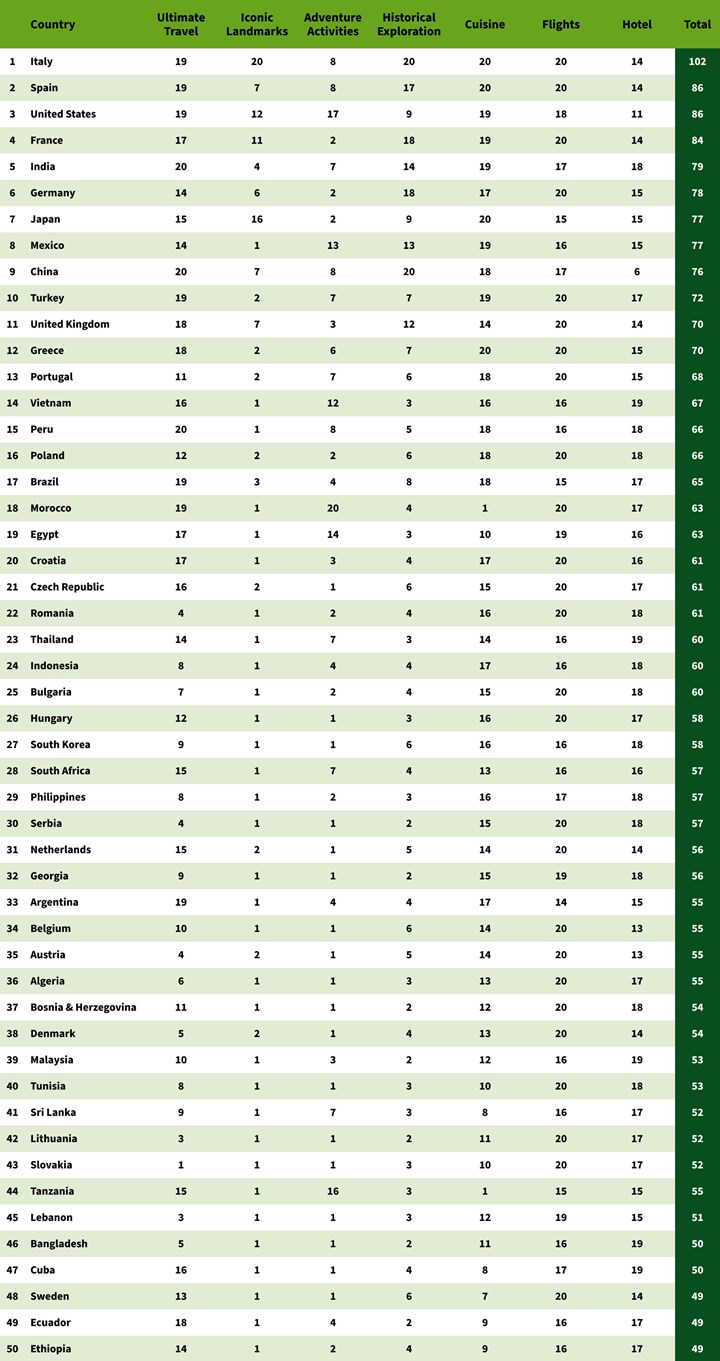 Italy is the fifth most visited country in the world, so it's no surprise it tops our World Wanderlust Index. Known for its art, fashion, and cuisine, Italy is the perfect holiday destination, and with its stunning scenery, there's not much else you could ask for. It topped our index with a whopping 102 out of 140 points, gaining top marks for iconic landmarks, historical exploration, cuisine, and flights.
Italy is home to some amazing landmarks including the Colosseum, Trevi Fountain, Sistine Chapel, Leaning Tower of Pisa, and Duomo Di Milano. Plus. flights to Rome from London can cost as little as £38, which is cheaper than a single ticket to Madame Tussauds in London! It's also home to the number one cuisine in the world, according to Taste Atlas' world rankings.
The top 10 World Wanderlust destinations are:
Italy
Spain
USA
France
India
Germany
Japan
Mexico
China
Turkey
Spain and USA ranked second and third respectively in our index, both with a score of 86 out of 140. Spain scored highest in cuisine and flights, and USA scored highest for ultimate travel and cuisine.
Rich in history and culture, and delicious cuisine, Spain has it all. Perfect for the 40 per cent of Brits that believe trying new food is the most exciting part of a holiday and with flights costing as little as £36 from London, Spain is the perfect holiday destination for a quick getaway on a budget. Spain also has the third largest number of UNESCO sites in the world, home to some beautiful landmarks that include the famous Sagrada Familia in Barcelona.
44 per cent of Brits believe sightseeing is the most exciting part of a holiday and if you're looking to venture beyond Europe, the USA offers an ideal destination to explore history and provide some once-in-a-lifetime experiences. The Empire State Building, The White House, and the Grand Canyon are just a few iconic landmarks with much more to explore in their respective locations. Scoring high for outdoor activities, the USA is perfect for adventure seekers that are looking to hike through Yosemite National Park or go whitewater rafting at Jackson Hole.
The countries that scored top marks for iconic landmarks were Italy, with a top score of 20, and Japan with 16. With many famous landmarks such as the Leaning Tower of Pisa and Mount Fuji both countries attract a lot of tourism, with Japan receiving over 38 million visitors a year!
For outdoor lovers, USA and Morrocco are the best places to visit these countries scored highest for 'adventure
activities' scoring 17 and 20, respectively. With an array of national parks to visit in the USA, and endless hot air balloon and boat rides available in Morrocco, tourists will be spoilt for choice. If you're a food lover, Greece, Italy, Japan, and Spain are the best destinations to visit, all scoring top marks in the cuisine category, with some of the best food in the world. Greece is famous for its Mediterranean cuisine and dishes such as gyros, moussaka, and mezze. In Italy, you can enjoy pasta, fresh fish, and vegetables. Japan offers miso soup and sushi, and in Spain, you can try paella and flavourful fish dishes.
The results by continent:
Best country for a bucket-list holiday on a budget in Africa: Egypt
Best country for a bucket-list holiday on a budget in Asia: India
Best country for a bucket-list holiday on a budget in Europe: Italy
Best country for a bucket-list holiday on a budget in North America: United States
Best country for a bucket-list holiday on a budget in South America: Peru
Best country for a bucket-list holiday on a budget in Oceania: Australia
For any holiday, Brits expect hotels to be the biggest expense, with 68 per cent agreeing they're the most expensive part of a holiday. For those cost-conscious holidaymakers' savings can be made on flights with destinations such as, Bulgaria, Croatia, and Greece amongst some of the cheapest destinations to fly to. From London, flights to Bulgaria cost as little as £25, to Croatia £34, and to Greece £35.
Our index was supported by a survey of 2,000 Brits* which revealed how they feel about travelling abroad or staycationing, and whether they have travel bucket lists.
Top five ideal bucket list experiences for Brits
Viewing the Northern Lights in Iceland (38 per cent)
Seeing the Great Pyramids of Egypt (30 per cent)
Visiting the Grand Canyon (30 per cent)
Sailing around the Greek islands (26 per cent)
Eating a slice of pizza in Naples (26 per cent)
Almost half (47 per cent) are certain that holidaying in the UK is more expensive than going abroad and on average Brits believe you would save £345.40 on a week abroad rather than the UK.
34 per cent of Brits admit there are places they'd love to visit for a holiday in the UK but can't due to the rising costs. London and Cornwall topped the most expensive UK holiday list with 61 per cent and 39 per cent respectively believing a trip to either destination would be too costly.
On average, Brits would be willing to pay £852.60 per person for a holiday abroad, with 18 to 29 year-olds willing to splurge the most, spending as much as £928.20 per person. This was closely followed by Brits aged 30-44 who would pay up to £888 per person. 45–49-year-olds are willing to spend the least spending on average £789.90 per person.
Londoners would spend the most on a holiday abroad, with the average person willing to spend over £1,000 per person. This was followed by Mancunians who would spend on average £959 per person. Those from Leicester and Plymouth are willing to spend the least, on average paying £635 and £679 per person, respectively.
Whether travelling in the UK of further afield, it's usually unlikely there will be any issues, but suitable travel insurance cover can allow you to have peace of mind when enjoying yourself and making memories on your well-deserved holiday. Asda Money offers several travel insurance options to tailor to you and your specific travel needs.
Find more information about Asda Money's travel insurance options here, or feel free to contact us and one of our agents will be happy to help.
*This research of 2,000 Brits was commissioned by Asda Money and conducted by Perspectus Global during June 2023.
** Research conducted by Asda Money during June 2023.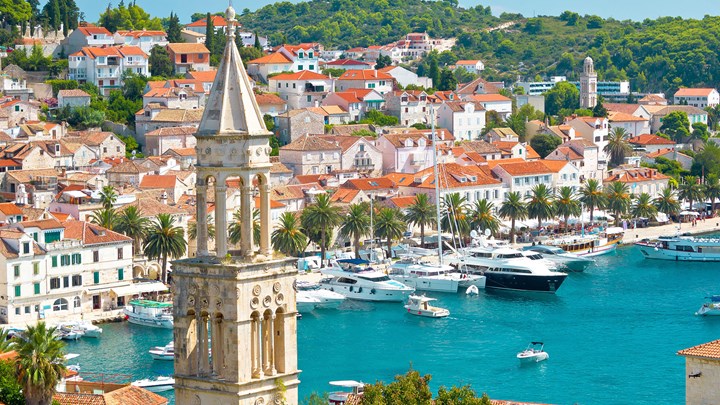 Methodology
 To compile the World Wanderlust Index, we assessed the following factors:
Ultimate Travel
Iconic landmarks
Historical exploration
Cuisine
Flights costs
Hotels costs
For each of the above categories, we scored each country from 1-20 and added these scores to get our final bucket-list ranking score, with a total of 140 being available. We then ranked the countries based on their scores.
The full dataset is available upon request.
Sources