Motorbike Insurance by Engine Size
More power usually means higher premiums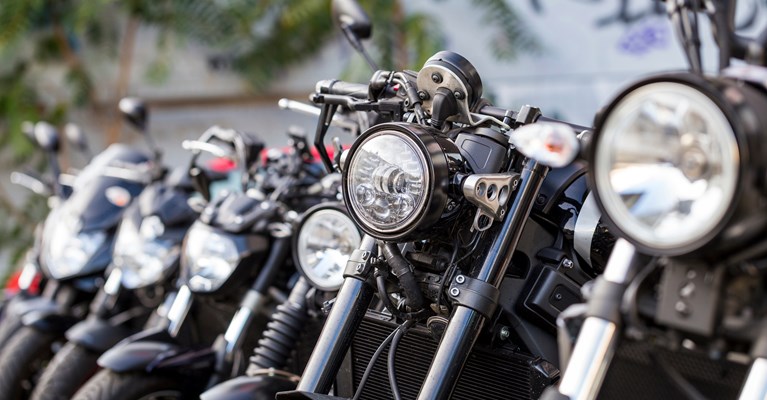 The power of your motorbike's engine and the speeds it can reach will probably factor quite heavily into your decision of what motorbike to buy. Whether you're looking at 50cc scooter for commuting or you're a motorcycling enthusiast riding a 1000cc superbike, the size of the engine on your bike will play a significant role in how much your motorbike insurance will cost per year. To find out what else could affect your insurance, take a look at our detailed comparison overview.
Why choose Asda Motorbike Insurance comparison service?
The Asda Advantage

Known for putting value for money at the centre of everything we do

One simple form...

Over 60 quotes from the UK's leading providers such as AXA, Hastings and Swinton

Asda service, Asda value, expert providers

A car insurance comparison service you can trust
How does engine size affect motorbike insurance?
As with cars, you'll typically find that the more powerful your motorbike is, the greater the cost of your insurance will be. When looking at buying a motorbike, you'll probably encounter a measurement known as "cc" which stands for cubic centimetres and directly relates to the size of the motorbike engine. This means the higher the cc number, the more powerful the motorbike will be.
Insurers typically see powerful motorbikes as more of a risk than ones with a smaller engine size, usually because they're perceived as more likely to be involved in an accident. That means you'll usually find that as you move up the cc brackets, the more it'll cost to insure your motorbike due to the higher speeds the bike can reach. For example, 250cc motorbike insurance and 1000cc motorbike insurance costs will differ greatly as their overall power is different.
There are other factors which can affect insurance for your motorcycle, such as classic motorbike models costing more to insure due to pricier repairs sometime requiring specialists. Insurers will also look at the manufacturer and you as a motorbike rider to work out your insurance premiums.
What type of motorbike has the cheapest insurance?
The cheapest type of motorbike to insure will usually be the most common makes and models found in the 50cc scooter bracket, such as the cheaper end Peugeot and Yamaha bikes. 100cc and 125cc motorbike insurance cost is also considerably low.
This comes down to the fact that their engine size limits their speed, meaning that they're arguably safer bikes, and that the parts needed to repair them are readily available for most mechanics.
Do motorbike modifications affect my insurance?
If you decide to make any modifications to your motorbike then you will need to inform your insurer about these modifications. It is likely that this will result in your motorbike insurance premiums going up, but not telling your insurer about modifications could potentially result in any future claims being invalidated.
The reason that motorbike modifications can cause your insurance premiums to go up is because they can potentially enhance the performance of your bike, meaning the risk of getting into an accident could increase, and cosmetic modifications could see your motorbike become a more appealing target for theft. For example, if you started off with a 50cc motorbike and modified or changed this to an engine size of 250cc, motorbike insurance costs will be significantly different as the power of your bike has increased.
Do you need insurance for a 125cc motorbike?
In order to ride a 125cc motorbike in the UK, you need to have passed a compulsory basic training (CBT) test and be insured. You'll find that 125cc motorbikes can be slightly cheaper to insure than other motorbikes as the engine is smaller, but this can be off-set if you've only completed your CBT test rather than having a full licence.
You must have insurance in order to ride a 125cc motorbike on the road legally, even if you only ride the bike occasionally. 125cc motorbike insurance cost can be a lot lower than models with higher engine sizes, which makes them a popular option with young and new riders. It's also important to note though that you are not allowed to ride 125cc motorbikes, or any bikes with a smaller engine size, on the motorway.
Can I insure a 125 without CBT?
You are legally allowed to ride a motorcycle without taking Compulsory Basic Training or passing your test – however you will not be able to insure your 125cc motorcycle without it.  This isn't correct. You are required to pass a CBT to be able to legally ride a 125cc bike.
How much does it cost to insure a 125cc motorbike?
The average insurance cost for insuring a 125cc motorbike can vary depending on the type of cover you're looking for. You'll likely find that insurance premiums are much higher for someone who's under 25.
If you're looking at comprehensive motorbike insurance policies, you'll find that you pay more than for a third party only policy, but you'll be covered against considerably more events and incidents. The best way to get an accurate idea of how much it costs to insure your motorbike, 125cc or otherwise, is to fill out a price comparison form online and review motorbike insurance policies tailored to your specific motorbike.
To drive down the cost of insurance for your 125cc motorbike, simple actions such as investing in stronger security, covering less miles etc can help you get cheaper motorbike insurance.
Top Motorbike Insurance FAQs:
What factors affect my insurance price?

Just like with car insurance, the cost of motorbike insurance is affected by a range of factors. These include:

Your age
What type of bike is being insured
Any previous convictions or bike insurance claims
How much and how you plan to use your motorbike
What level of insurance coverage you want
Where you park your bike
How can I make my motorbike insurance cheaper?

You can usually reduce your premium by making changes to the level of coverage you have, opting for just third party cover rather than comprehensive, for example. Other factors can also bring down the cost of motorcycle insurance, including reducing how often you ride, adding security locks to your vehicle, and downgrading to a bike with a smaller engine.
Can I transfer car no claims bonus to a motorbike?

This varies between insurers but, generally, you won't be able to transfer your car no claims bonus to a new motorbike insurance policy.
Does motorbike insurance cover me to carry passengers?

Most motorbike insurance policies these days won't include pillion cover, meaning that you're uninsured to carry passengers. However, some insurers might still include it in
ASDA Money is a trading name of Asda Financial Services Ltd and Asda Stores Ltd which for general insurance are Introducer Appointed Representatives of Vast Visibility Limited, 8 Princes Parade, Liverpool, L3 1DL, authorised and regulated by the Financial Conduct Authority. Firm reference number 566973. You can check these details on the FCA Register.
The ASDA motorbike comparison service is arranged by and administered by Vast Visibility Limited.