Dining on wheels – Brit's car eating habits revealed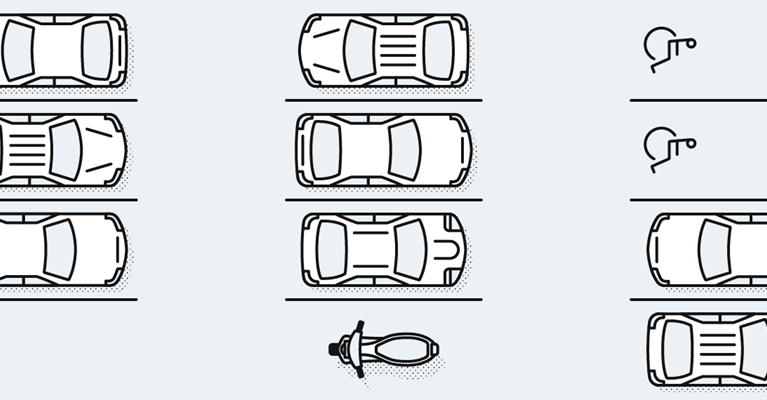 In the UK, we've all got our own rules about eating in the car.
Whether it's no hot drinks in the backseat or a food-lovers free-for-all, everyone has different ideas about what food you can and can't bring along on a car journey.
At Asda Money, we recently carried out a survey which delved down the seat edges, into to the gloveboxes and under the carpets of the UK's cars to uncover the nation's vehicular eating habits. We surveyed 2,000 car owners to find out how many often pull over for a bite to eat, which profession is most likely to be found scoffing away in a layby, and what most people like to chow down on in their vehicles.
Want to find out more? Read on to discover a snapshot of the UK's drivers' eating habits!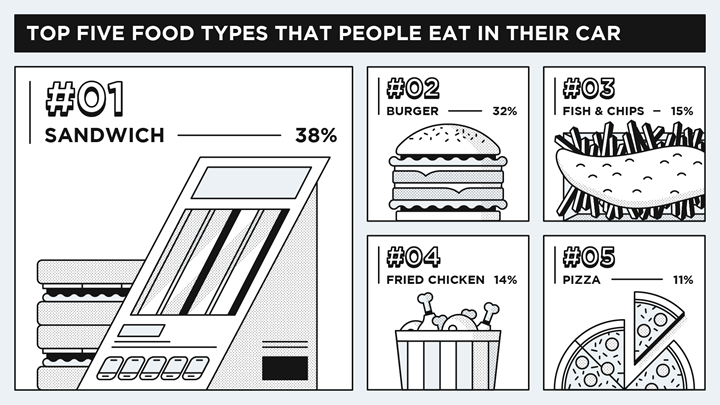 All-you-can-eat car buffets
Of all of the owners we spoke to, over three quarter (60%) said that they'll park their vehicles to tuck into some food with nearly half (42%) saying that lunch was the most likely meal they'd choose to eat in their vehicles. 42% again said that they eat food in their vehicle at least once a week – and most drivers (43%) told us that they were most likely to choose takeaway food over homemade.
So why do they do it? What are the pros and cons? Well, some who eat in their vehicles quote convenience as the main reason (34%), while others give travelling for leisure (30%) or travelling for work (23%) as a reason.
Interestingly, another 13% choose to eat in their car because of COVID – for these drive-and-diners, the nationwide restrictions on eating indoors in restaurants, combined with the temperamental British weather, made sheltering in their vehicles against the elements an appealing alternative to luncheoning out in the wind, rain and cold.
A further 11% dined from their car seats because it's cheaper than sitting down at a restaurant and finally, 7% opted for food on the road because their vehicle is their main place of work.
Other reasons given included the lack of a staff room at a workplace and another driver liked to take the opportunity to take a snack break while their wife was shopping in the supermarket.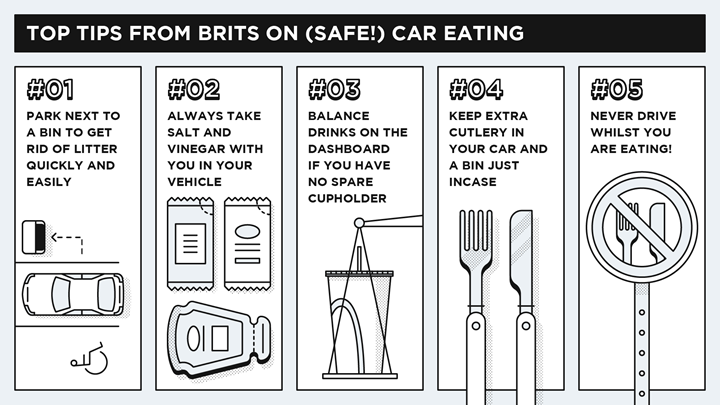 Dining from the à la car menu
So, we know that a good few of us aren't averse to having a few bites in the car – but what are we all eating?
We asked our survey participants what was on the menu for their car meals and here's what we found out:
38% of us are picking up a sandwich to eat in the car, 32% go for burgers and a brave 15% opt for fish and chips and all of the smells that go with it. Fried chicken is up next with 14% of our survey respondents tucking into this delicacy in their vehicle, while another 11% take some Italian inspiration and choose a pizza to go.
If it's a traditional meal you're after, 7% of our respondents love to pack up a picnic hamper full of homemade goodies and head out on the picnic trail. Picnics are a big favourite here at Asda Money too – and a lot of us rolled out the blankets during July, which in case you didn't know, was National Picnic Month!
So much for what we eat, but how do we clean up afterwards? Turns out that we're pretty clued up on post-meal car hygiene – 43% of us have napkins to hand for spillages and 12% have their own bin in their car exclusively for keeping things clean. 9% of us have even invested in a car tray for their steering wheel for a real gourmet experience!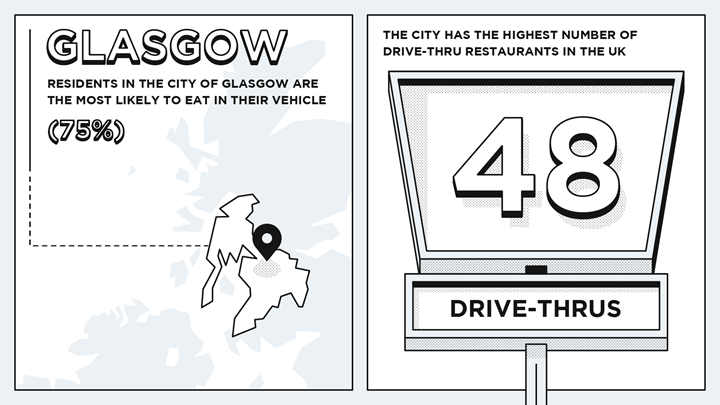 The nation's car eaters
We know how many of us are dining in our cars then, and we know what we're eating, but just who are these car foodies and where do they come from?
To answer the first question, the profession that goes for the most meal-on-wheels are electricians with nearly half of them eating in their car at least once a day. Plumbers are up next with a third of respondents, followed by a surprising number of lawyers and recruiters (one quarter) grabbing a snack in between meetings.
As for where our nation's vehicular diners come from, over 75% of Glaswegian drivers are likely to have food in their cars – not really a surprise considering that Glasgow has about 48 drive-throughs, more than any other city in the UK!
From all of these drivers, we asked for a few top tips on (safe!) car eating –
Never drive and eat! Always park up.
Always stop next to a bin so that you can throw away your rubbish
Always come equipped with cutlery in your car
If you don't have a cupholder to hand, prop your drinks on the dashboard
Salt and vinegar sachets are a worthy addition to any vehicle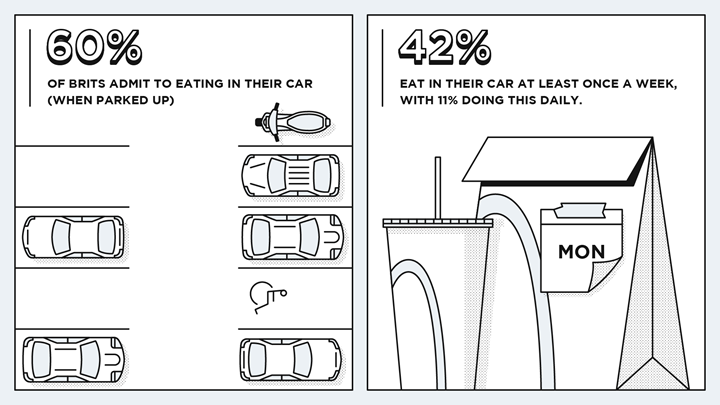 Whatever your car-eating habits, always remember to stay safe on the road while driving. If you've got a hankering to get out your knife and fork and treat yourself to a car meal, always pull over in a safe spot, away from traffic, to tuck in.
For maximum peace-of-mind while driving, a good car insurance policy is essential. Our car insurance comparison gives you quotes from over 60 of the UK's leading car insurance providers. With just one quick online form, you'll get car insurance quotes from providers that are handpicked with value-for-money in mind. Get a quote now.