Christmas Traditions From Around the World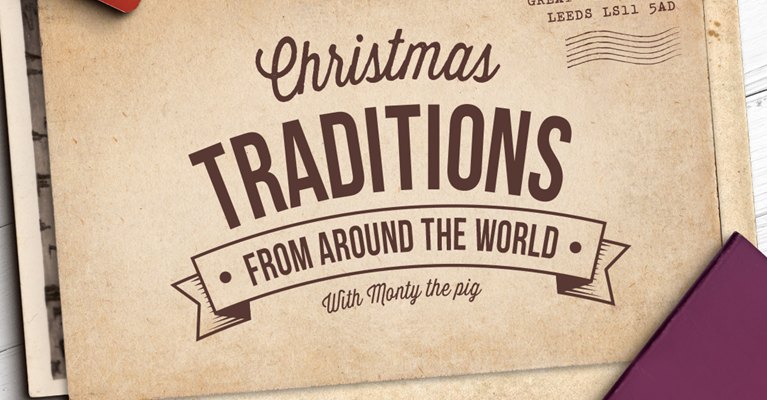 Around two billion people around the world celebrate Christmas in some form every year. We might think we know what a Christmas celebration looks like, but there are so many different traditions and festive cultures around the world, making Christmas special in many different ways.
We did some research to see what people in the UK think about different traditions around the world, and it turns out a lot of people are interested in finding out more about different Christmas traditions, as well as wanting to spend Christmas abroad to experience them.
While that may not be fully possible right now with travel restrictions in place for some countries in 2021, there is still hope to travel again with much more opportunity now than last year, so we've done the next best thing… We've searched the globe for some of the most interesting and diverse traditions, bringing them together for you to discover in one festive swoop!
This might be another perfect year to try something new at Christmas which you haven't tried before: inventing a new tradition inspired by one of the many amazing festive traditions from around the world.
Here are just some of the world's most interesting Christmas traditions we discovered:
Iceland's Christmas traditions

Food: People and families get together to bake biscuits such as gingerbread, or a traditional thin bread called Laufabrauð (snowflake bread), which is decorated with cut or rolled patterns.
Gifts: Thirteen days before Christmas, children put their shoes out so the thirteen jólasveinarnir ('Yule Lads') can place gifts in them. Each of these Yule Lads represents a different kind of trouble-maker, from stealing things to eating candles and slamming doors. They're also the sons of mountain trolls.
Christmas quirk: Another feature of Icelandic Christmas folklore is the Yule Cat, who wanders the snowy mountains and countryside at night to gobble up anyone who hasn't been given new clothes before Christmas Eve. This is why families gift each other warm gloves and hats during the festive period.
Germany's Christmas traditions

Food: Stollen or Weihnachtsstollen is a German Christmas cake that's become popular elsewhere like so many German yuletide traditions. It's a light fruit loaf filled with nuts and spices and sprinkled with icing sugar. Stollenfest takes place in Dresden every year, where Christmas stollen has been baked in various forms for over 500 years.
Gifts: On Saint Nicholas Day, 5th December, children thoroughly clean their shoes and leave them outside the door before going to sleep, so that Saint Nicholas can leave them gifts and sweets.
Christmas quirk: While now held throughout most of Europe and the rest of the world, Germany is still the home and creator of the traditional Christmas market. It's chalets, foods, and gifts still celebrate its German origins, from bratwurst to mulled wine.
Finland's Christmas traditions

Food: The most traditional of Finnish Christmas drinks is glögi, a kind of mulled wine made with cloves, cinnamon, cardamom and other spices, though recipes vary across the regions and other countries. It's drunk on plenty of occasions during the Pikkujoulu season – a time of informal and festive parties with friends, family, and colleagues in the weeks before Christmas.
Gifts: Lapland in the far north of Finland is the home of Father Christmas in many Western traditions, with millions of children addressing their letters to him there every year. There's even an actual Santa Claus Village in Rovaniemi in Lapland where you can meet the man himself!
Christmas quirk: A trip to the sauna might not be the first thing that comes to mind for a Christmas tradition, but it's a must for many Finns. Having a joulusauna is possibly one of the oldest Finnish Christmas traditions there is, with family members enjoying a peaceful and steamy bathe on Christmas Eve.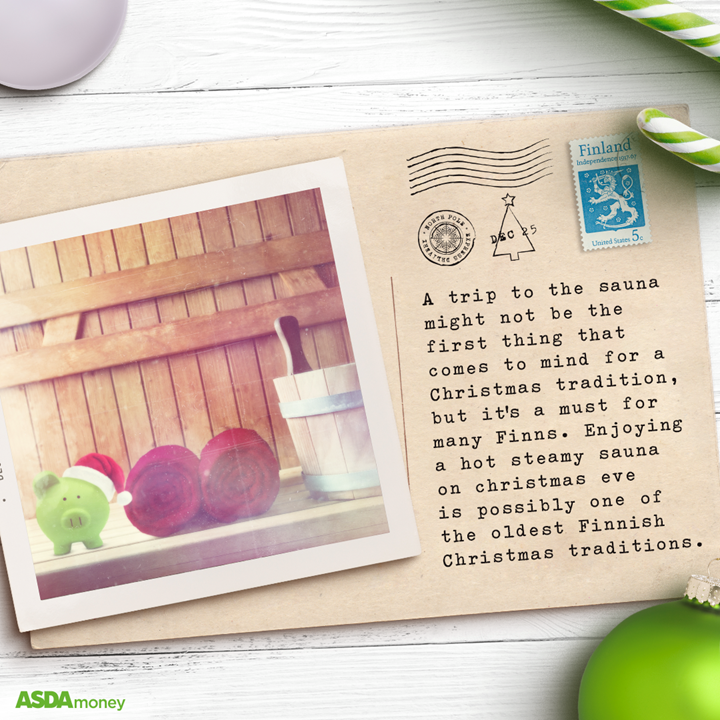 Canada's Christmas Traditions

Food: Due to the wide variety of cultures found across Canada, there are many traditional cuisines you'll find on the table at Christmas time. The classic dinner of roast turkey and all the trimmings will still feature, but you'll just as easily find French-Canadians taking part in 'Réveillon' with tourtière (a meat pie made with pork and beef or veal) and ragoût de boulettes (meatballs in brown gravy).
Gifts: While Christmas Day is seen as the main event by many, some Canadian families are known to open some of their gifts on Christmas Eve. For some, this means opening their stocking and saving their bigger gifts for the 25th.
Christmas quirk: Light festivals are common over the Christmas period in Canada, such as the Toronto Cavalcade of Lights, or Winter Festival of Lights in Niagara Falls. Toronto is also home to the Santa Claus Parade, one of the oldest and largest Santa parades in the world. Plus, Canada is home to modern day Christmas crooner, Michael Bublé, whose tunes have become a festive period staple!
Venezuela's Christmas Traditions
Food: The traditional Venezuelan Christmas dishes include pan de Jamón – puff pastry bread stuffed with ham, raisins, bacon and olives, rolled up like a swiss roll, and hallacas – parcels of different meats, raisins, capers and olives which are wrapped in plantain leaves and steamed.  
Gifts: When it comes to giving gifts at Christmas, many Venezuelans will give their main presents out on Christmas Eve right as midnight strikes. For little ones, it's said that these presents are brought by 'Niño Jesús' and 'San Nicolás' – baby Jesus and Saint Nicholas, which relates back to how faith and tradition are weaved through Christmas in Venezuela.
Christmas quirk: In the Venezuelan capital of Caracas, the roads are closed throughout the city as many take to the streets to rollerblade to early morning church services! These are usually between 16th and 24th December, so you'll usually see people taking part in some Christmas Eve Roller Blading on their way to Mass.
Sweden's Christmas traditions

Food: As you might expect from Sweden, the Christmas dinner table is a julbord (jule smorgasbord) that includes many different dishes, particularly fish. There's pickled herring, an egg and anchovy mixture known as gubbröra, and a dried fish dish lutefisk. You'll also find hams, pork sausage and other accompaniments to be eaten with each part of the julbord.
Gifts: Christmas Eve sees the arrival of Jultomten with his gifts, so long as this small elf-like creature has been respected properly through the year. Traditionally he was a spirit who lived on a farmstead and helped take care of it, checking that the farming family treated their animals and their land well, though these days Jultomten is portrayed more like the common image of Santa Claus.
Christmas quirk: While a more modern tradition, the famous Ice Hotel is a fixture of Sweden's winter festive period. Made new every year from the frozen waters of the Torne River, the hotel is entirely constructed from ice and filled with intricate sculptures and carvings. Another annual Christmas sight to behold is Sweden's Gävle Goat, positioned each year in central Gävle. Since its first appearance in 1966, the structure, made from straw and standing at 13 metres tall, continues to attract attention from visitors to the South and even has its own social media profile!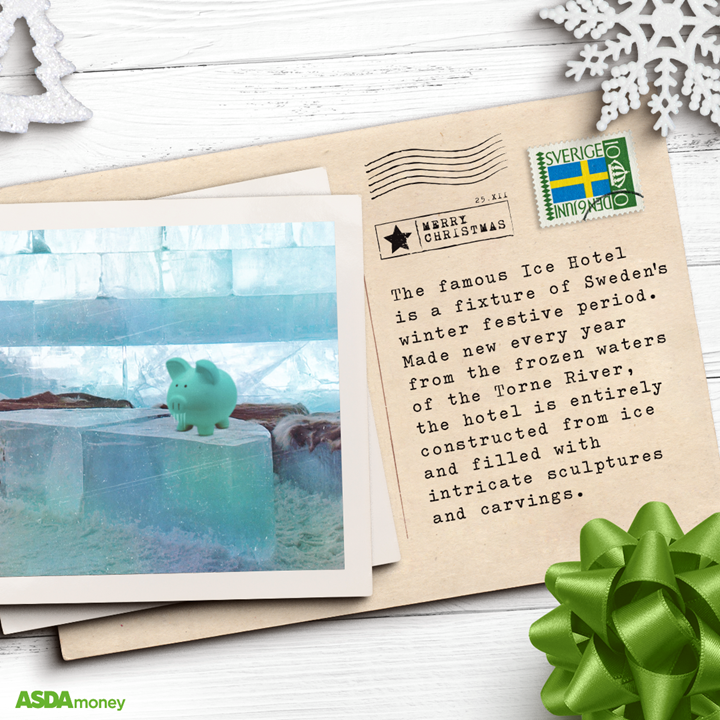 Columbia's Christmas Traditions

Food: Columbian Christmas food is a collection of delicious homecooked dishes rather than just one big centrepiece, with their main Christmas meal happening on Christmas Eve. This is called 'Cena de Navidad', where dishes like lechona (pork filled with rice), ajiaco bogotano (chicken soup), and buñuelos (cheese fritters) are all served and enjoyed.
Gifts: One of the most important decorations in the home in Columbia is 'el pesebre' – the nativity scene. This is in part because children write their carta al Niño Dios (letter to baby Jesus) which is similar to a Christmas list to Santa. Kids will then place their letter within the nativity scene in the hope that baby Jesus brings presents on Christmas Eve.
Christmas quirk: Columbians kick off their Christmas celebrations on December 7th, coming together in the evening to take part in 'Día de las Velitas' – the Day of the Little Candles. This involves decorating homes and streets with candles and lanterns to create streams of light, with firework displays rounding everything out.
Japan's Christmas Traditions

Food: Rather than a homecooked Christmas meal, dinner of choice in Japan is actually KFC and fried chicken, with restaurants around the country selling out of Christmas pre-orders regularly. You'll also find traditional Japanese Christmas cake, but it isn't the stodgy fruit cake you might be expecting. This Christmas cake is a perfect looking sponge cake decorated with fresh strawberries and whipped cream.
Gifts: As Christmas has only been around in more recent time in Japan, Japanese people see Christmas as a time for spreading kindness through spending time together and giving presents, mirroring many customs which have come over from North America. The Japanese people regularly refer to Santa Claus as 'Santa-san', which translates closer to 'Mr Santa'.
Christmas quirk: Christmas Eve is considered a romantic time for couples and is often celebrated more than Christmas Day itself. It's treated a lot like Valentine's Day, with couples taking strolls to admire the Christmas lights and decorations, then going for a candlelit meal. Such is the tradition that competition can be incredibly stiff for booking a romantic table for two, with places filling up weeks in advance!
Switzerland's Christmas traditions

Food: During the build-up to Christmas, you'll start to see little men made from bread appearing in bakery windows, complete with woolly hats and clothes all made from delicious bread. These are the Gritibänz or the Advent bread man, traditionally made at home with the family in the weeks before Christmas, or found in bakeries and supermarkets in all shapes and sizes.
Gifts: On 6th December, Swiss families are visited by Samichlaus, a familiar figure with a sack of sweet treats to dish out depending on your behaviour during the year. Luckily for anyone who hasn't quite made the cut, the recitation of a Christmas song or poem can redeem you in the eyes of Samichlaus, as well as a promise to do better next year.
Christmas quirk: During the Christmas period in some areas of Switzerland, children will carve lanterns out of turnips at school, creating intricate designs that glow when lit from within. These Räbenlichter are a bit like a Christmas version of a Halloween pumpkin, and their carving is a tradition that goes all the way back to medieval times. 
Austria's Christmas Traditions

Food: A typical main course at an Austrian Christmas meal is 'Gebackener Karpfen' (fried carp), which calls back to the Catholic roots in Austria when Christmas Eve was seen as a fasting day. But in more recent times, Austrians are opting for roast goose and roast turkey as an alternative. There are also many delicious desserts, like sachertorte (chocolate and apricot cake) and lebkuchen (honey gingerbread).
Gifts: Although Santa Claus is still recognised as bringing presents in Austria, there's also another based in the Catholic faith who is supposed to bring children gifts at Christmas – Christkind (Christ child). This figure is usually portrayed as a young blonde child dressed in white or gold robes, but both Santa and Christkind are vying for the same position in Austria's Christmas festivities.
Christmas quirk: While Santa and Saint Nicholas are common Christmas icons throughout the world, Austrians also have The Legend of Krampus. Krampus is a large creature with horns who goes around with Saint Nicolas in order to punish the bad children. It even has its own parade every year where people dress up as the creature.
New Zealand's Christmas Traditions

Food: The Christmas barbecue is a recent New Zealand tradition which is growing in popularity in place of a Christmas lunch. Various meats, both common and exotic, might be grilled up for the family alongside shrimp and white bait fritters, offering a range of summer Christmas food to choose from. Pulling a Christmas cracker at the dinner table is still popular though.
Gifts: With the climate in New Zealand meaning that Christmas arrives during summer, the gifts left out for Santa are a little different. Rather than the cookies and milk seen in places where Christmas is a winter tradition, people of New Zealand prefer to leave some pineapple chunks for Santa to keep him fuelled up, and maybe a beer!
Christmas quirk: While New Zealanders will usually have a Christmas tree in their home that resembles the European tradition, they also have their own traditional Christmas tree – the Pōhutukawa. The Pōhutukawa has been linked to Christmas in New Zealand for almost two centuries and is also an important part of Maori culture.
Australia's Christmas traditions

Food: As Christmas takes place at the start of the Australian summer, traditional Christmas foods are often replaced with lighter summer dishes like salads and seafood, though classic features like mince pies and brandy butter often still feature. A very popular Christmas dessert is a pavlova with fresh strawberries, providing a suitably festive-looking dish with a summer twist. 
Gifts: Australia shares many of its Christmas traditions with the UK and the US, and Santa Claus is just as familiar here. However, he sometimes gets to show off a slightly different look with more season-appropriate and Australian-style clothing, from swimwear to the classic Akubra hat.
Christmas quirk: The Adelaide Christmas Pageant is held every year to mark the start of festive season and is the largest of its kind in the world. A myriad of floats and performers, musicians and dancers all parade through the streets of the city, with Father Christmas following as the star of the show. Many other towns and cities around Australia also have their own festive parades to mark the start of Christmas.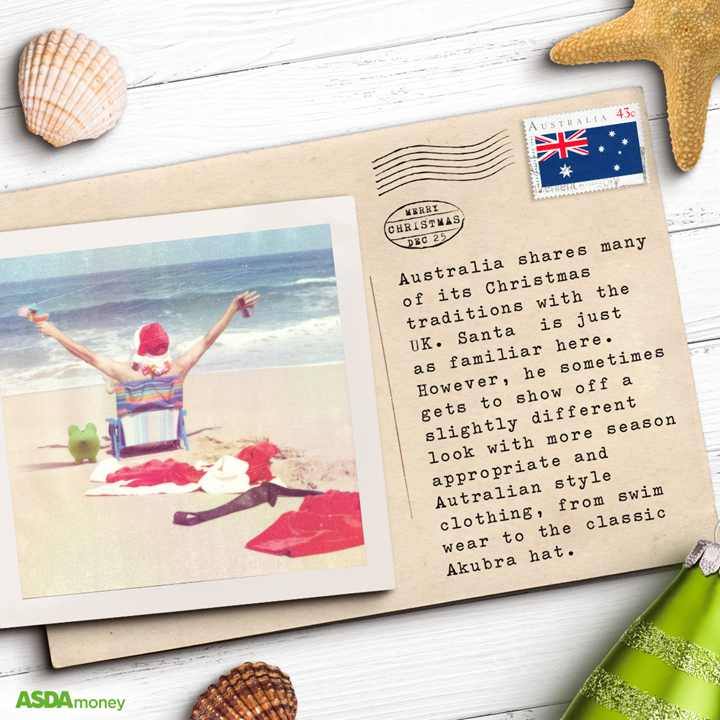 Denmark's Christmas Traditions

Food: Danish Christmas dinner is usually reserved for the evening, with roast duck, goose or pork set out on an ornately decorated dining table alongside all the traditional trimmings. Once the main course has been polished off, many Danish families will have ris á la mande for dessert, a special rice pudding with vanilla, diced almonds and whipped cream. One whole almond is left in, and whoever finds it gets an extra present!
Gifts: Children in Denmark will use a pakkekalender (gift calendar) as a way of counting down to Christmas Day, containing a small gift to unwrap each day in the run up to Christmas. On Christmas morning, children are then able to unwrap their bigger presents brought for them by the 'Julemanden' (the Christmas man) who lives in Greenland and loves rice pudding.
Christmas quirk: After finishing their Christmas meal, Danish families will light up their Christmas trees and gather around it, admiring the silver or gold star at the top. This is when they might dance around the Christmas tree together, singing traditional carols and wish each other a 'Glædelig Jul' – a Happy Christmas.
Philippines Christmas traditions

Food: The main feature of many Christmas dinner tables in the Philippines is the lechon, a roasted pig, with many other dishes and sweet treats to choose from. There's the bibingka, a sweet rice cake made with coconuts, and the puto bumbong that's sweet rice steamed in a bamboo tube and coloured purple. 
Gifts: Many Western Christmas traditions were imported to the Philippines along with Christianity, including Santa Claus, but another word associated with festive generosity is aguinaldo. It's generally used to mean the giving of money or gifts from employers or benefactors to their staff, in the spirit of Christmas generosity.
Christmas quirk: A common sight in the Philippines at Christmas is the paról a colourful lantern usually in the shape of a star. These paper and bamboo creations are made to represent the star that guided the three kings in the story of the Nativity, but can also depict angels, Santa Claus, Christmas trees, and other festive symbols. They're a core part of Filipino Christmas celebrations, with special festivals, events, and performances featuring them held all over the country.
UK's Christmas traditions

Food: Turkey with all the trimmings is still the traditional fare of the British Christmas dinner table, and it incudes some dishes with a long history. Bread sauce is one of the oldest recipes, along with plum pudding (Christmas pudding), dating back to at least medieval times. The turkey replaced older traditions including roast goose, beef, or boar, with the popular idea that it was first eaten at Christmas by Henry VIII in the 16th century.
Gifts: While Father Christmas takes care of presents on Christmas Day, the UK is the origin of Boxing Day, a national holiday also observed in several other Commonwealth nations. While there are lots of possible origins for the tradition, in Britain the name comes from the day when those in service or tradesmen would receive a gift box from their employers containing money or food.
Christmas quirk: One very British Christmas tradition is the royal Christmas address by the monarch, first done on radio in 1932 by George V. The first televised address was made by the present Queen Elizabeth II in 1957, and she's spoken every Christmas Day since then. 2020 saw over 8 million people in the UK tuning in.
If you've enjoyed learning about Christmas traditions from all around the world, why not have a go at our Santa Searcher puzzle below (or download here), showcasing a collection of traditions around the world. Hover over or click each of the traditions to find out more. Also hidden in the puzzle is one of the most famous traditions of the lot - Father Christmas delivering presents. But he's not easy to spot… 
Even though Christmas may be a little different in 2021, we hope these traditions from all around the world inspire you to make it special with something new.

If you are able to travel this winter, don't forget to get your Asda Travel Insurance, which includes medical and cancellation cover for coronavirus.