Discover the New 7 Wonders of the World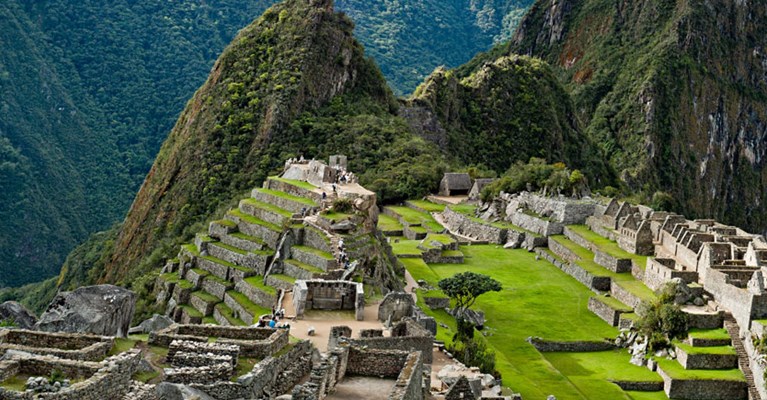 The world is full of spectacular attractions and historic landmarks, offering seemingly never-ending beauty and diversity. In 2007 over 100 million people voted for the New 7 Wonders of the World by choosing what they believed represented global heritage the best, from a selection of 200 monuments.
Despite being in desirable destinations which are renowned for being quite pricey, there are ways to tick these wonders off your travel list when on a budget. From the Taj Mahal in India to Christ the Redeemer in Rio, we've unearthed how you can visit these spectacular sights without breaking the bank.
The Great Wall of China, Beijing


The Great Wall of China is one of the most striking sights in the world. At over 5,000 miles, it's the longest wall in the world, and would take you over 18 months to walk the full length. The winding path over mountains and countryside provides visitors with breath-taking views which are truly unforgettable. Built over 2,300 years ago to prevent invasion, the iconic wall receives up to 70,000 visitors per day.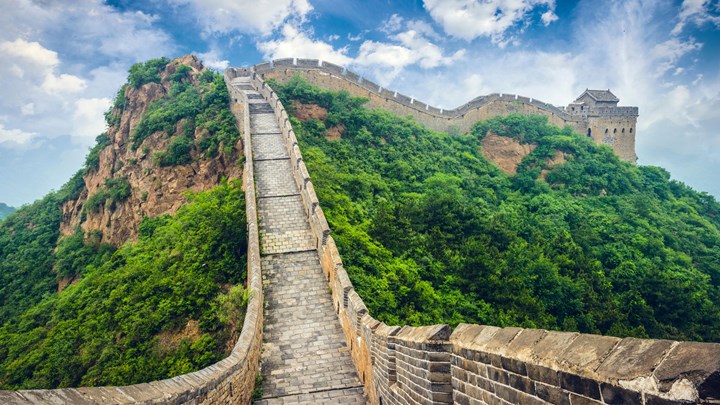 If you want to avoid the crowds and save money, spring would be the best time to go. Despite there being many hostels around, which are perfect if you're travelling on a tight budget, the average three-star hotel in the vibrant centre of Beijing will only cost you around 1283.67 CNY* (£150.00) for a week. March is also a really cheap time to fly to Beijing, with flights costing as little as £139.00 each way. As well as walking along the Great Wall, Beijing is packed with plenty of other attractions worth visiting, including the Forbidden City, Ming Tombs, and Beijing World Park.
Petra, Jordan


If visiting the city of Petra in Jordan isn't on your travel list already, then you should add it to the top. This incredible wonder is one of Jordan's most amazing tourist attractions, and it's not hard to see why. The unique, historic city is carved into a beautiful rose-coloured rock-face, giving it a nickname of 'The Rose City'.
Established around 312 BC as the capital city of the Arab Nabataeans, there's plenty to keep you busy. You can explore the Siq, hike up the 822 steps to the Monastery Building, and take pictures of The Treasury, a rock-cut temple which has set the scene for many films, including Indiana Jones and The Last Crusade.
Wadi Musa is just a 10-minute walk from Petra, and you can get anything from a hostel to a five-star hotel. Although the flights to Jordan will cost around £200 each way in October, you can get a lovely hostel in Wadi Musa for just 48.62 JOD (£55.00) per week around this time! If a hostel isn't for you, then a hotel won't break the bank either, with three-star hotels averaging at just over 132.61 JOD (£150.00) per week. Although Petra gets lots of attention, there are many other activities around the area, including visiting Little Petra, riding a horse, camel, or donkey, or taking a hike up to Aaron's Tomb.
Christ the Redeemer, Rio De Janeiro


Standing 700 meters above the bustling city of Rio De Janeiro is Christ the Redeemer, a 38-metre-tall Art Deco statue of Jesus. Built between 1922 and 1931, this iconic statue is now one of the most popular tourist attractions on the planet.
Inspired by Christianity after Brazil became a Republic at the end of the 19th century, Christ the Redeemer sees nearly 14,000 visitors every day. It's much easier to get up close to this incredible statue these days though, as escalators and lifts are available to help you reach the top.
Flights all year round are relatively similar in price, costing between £200.00 and £300.00 each way. However, hotels are at their cheapest between October and November, with three-star hotels costing around 1162.68 BRL (£300.00) a week.
Once you've seen Christ the Redeemer, there's plenty more to do and see in this bustling city. You can explore Tijuca Forest, visit Maracanã Stadium, or relax on one of the most beautiful and famous beaches in the world, Copacabana Beach.
Machu Picchu, Peru


For anybody visiting South America, a trip to Machu Picchu is a must! This ancient city is one of the best-known archaeological sites on the planet, and it receives hundreds of thousands of visitors each year.
Perched on a mountain ridge nearly 8,000 foot above sea level, the story behind this 15th century Inca citadel is a mysterious one. Many archaeologists believe that the citadel served as a royal estate for Inca emperors and nobles. However, other theories include it being used as a prison, a trade hub, and a city devoted to the coronation of kings.
In September, you can bag yourself a return flight to Cusco for just over £500, and a three-star hotel for an average of 1016.75 PEN (£250.00) a week. Whilst you're not exploring Machu Picchu you can visit the Sacred Valley, take a look around Museo del Pisco, or learn all about Cusco Cathedral.
Chichen Itza, Mexico


Rightfully making its way into the New 7 Wonders of the World is Chichen Itza, meaning "at the mouth of the Itza well". This Mayan City in Mexico is one of the most important temples in the Mayan civilisation. The ancient ruin has become a huge tourist attraction, and its soaring pyramids, large temples, and carved out columns, are what attracts nearly 1.5 million tourists every year. If you're willing to brave an early start, then sunrise is the best time to go, giving you a peaceful experience before the flocks of tourists arrive.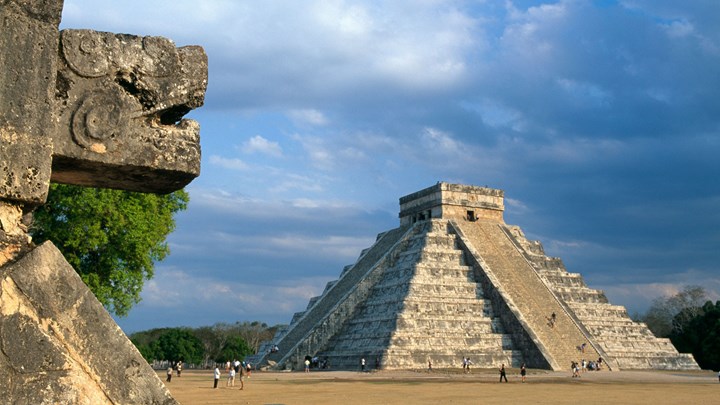 Many people who want to visit Chichen Itza stay in the vibrant tourist hotspot of Cancun and take a day trip to this famous wonder. The cheapest time to visit is from May to November, and in particular September and October, which are the two rainiest months. Flights around this time will cost just under £500.00 return, and despite its reputation for being quite pricey, you can get yourself a three-star hotel from just 4969.97 MXN (£200.00) a week. Known for its beautiful sandy beaches and vibrant night life, there are plenty of activities to do around Cancun. From waterparks to an underwater museum, when you're not visiting the wide variety of historic sights, you won't be stuck for something to do.
Colosseum, Rome


The Colosseum in Rome is one of the most iconic landmarks in the world. This beautiful amphitheatre truly shows off Rome's fascinating past.
The historic amphitheatre, built of concrete and sand in 80AD, was used by gladiators who would fight each other, or animals, to their deaths, and attracted thousands of spectators. Visitors get the chance to take a step back in time, where they can learn all about the medieval era and the struggles the gladiators faced.
There are so many other beautiful sights to discover nearby too, such as the Trevi Fountain, the Spanish Steps, and the Sistine Chapel. The best time to go is in low season, between April and the end of June, as well as September to October. Flights are cheap all year round, costing around £20.00 to £30.00 each way from London Airports, and you can get a lovely four-star hotel for under €117.30 (£100.00) for three nights in the month of April, for example.
Taj Mahal, India


Sitting majestically on the banks of River Yamuna is the Taj Mahal, one of the most beautiful and romantic New Wonders of the World. The love story behind this impressive building in Agra, India, is just as beautiful as the wonder itself.
Constructed between 1631 and 1648, this amazing monument of white marble was built by the order of the Mughal Emperor, Shah Jahan, to hold the tomb of his beloved wife, Mumtaz Mahal. The Taj Mahal, meaning "Crown Palace", sits in a 42-acre complex, surrounded by beautiful gardens and the River Yamuna.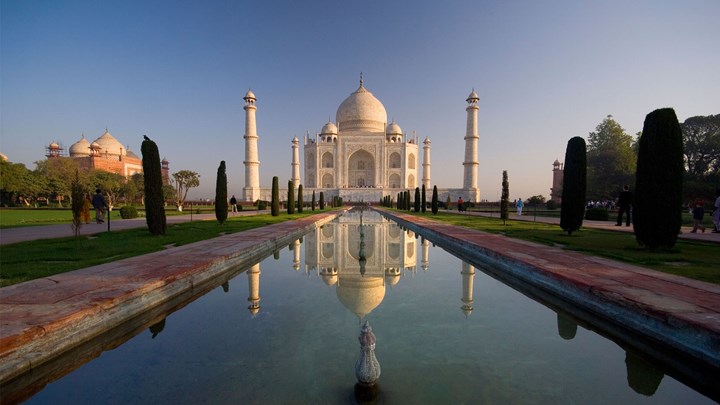 If you want to experience more of India, it's a good idea to stay in a busier and larger city, such as India's capital, New Delhi. The best time to visit is in the comfortable months of February to April, when you can sightsee without battling the blazing heat. Flights around this time will cost around £200.00 each way, and it's possible to get a beautiful three-star hotel for under 24932.41 INR (£300.00) a week. When you're not on your day trip to the Taj Mahal, New Delhi has so many more sights to offer, including India Gate, The Red Fort, and Lodi Gardens.
All of the New 7 Wonders of the World are extremely popular tourist attractions, so be sure to check that your travel insurance covers lost or stolen items. There will also be lots of gift shops for you to buy plenty of souvenirs, so don't forget to collect your currency before travelling.
*The above figures are provided for indicative purposes only, and are based on the exchange rate correct as of 15:00 on 28/02/2017.