Europe's Top 3 Artistic Delights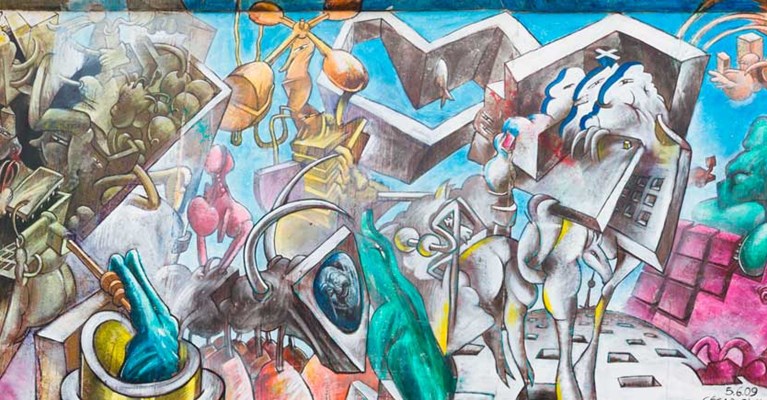 From beautiful beaches to rich history, Europe is well-known for many things, meaning there's so much to see and do around this spectacular continent. One thing that tourists love about Europe, is its fantastic range of artistic delights. From museums and murals to exhibitions and performing arts, wherever you go in Europe you're bound to be greeted by an array of incredible art.
Whether you're holidaying with the family or on a romantic weekend away, there'll be art to suit many different tastes. Here at Asda Money, we've unearthed some of the best places in Europe where you can see wonderful and unique art at its finest.
East Side Gallery, Berlin


Berlin is undoubtedly home to some of Europe's most fascinating and moving history, and its thriving art scene is one of the best in the world. From alternative art spaces to modern galleries, there's something for everyone. One of the most amazing places to visit is the East Side Gallery. Once a part of the Berlin Wall, it's now the longest open-air gallery in the world.
The East Side Gallery is a remaining section of the Berlin Wall that has recently been transformed into a spectacular canvas for modern art. The tremendous display of paintings stretch along the 1.3km long wall to create an incredible mural. From pop art to surrealism, the gallery showcases over 100 different paintings by artists from across the world, and you can see it all during a walk along the tranquil river front.
Whether you fancy a cosy Christmas trip or a beautiful summer holiday, Berlin is the perfect place to visit all year round. September is a great time to go, as you'll miss the crowds of summer tourists whilst still getting a bit of sunshine. Flights around this time of the year can cost as little as £10.00 each way from London Airports, with a fantastic three-star hotel costing about €50.00* (£45.78) per night.
Video sourced from William Ardern
ZOOM Children's Museum, Vienna


If you're holidaying in Vienna and you're looking for something to keep the kids entertained, then a trip to ZOOM Children's Museum is a must. Exploring exciting topics such as the deep sea and natural science, the museum offers a hands-on educational experience for the whole family.
There are plenty of different areas for kids to explore, including the Animated Film Studio, where kids get a chance to take on the role of screen writers, directors, photographers and more, whilst using state-of-the-art technology. Another fantastic area for the little ones to go is ZOOM Ocean, a colourful adventure ground and play area. With a variety of objects and exhibits to play with over two levels, called the 'Underwater World' and 'The Ship', kids can stimulate motor skills as well as social and cognitive abilities. As well as all of these exciting areas of the museum, there's also ZOOM Science, hands-on exhibitions and a section where children can learn all about different artists and their work.
This is the ideal day out for families with children of all ages, but advanced booking is required, so don't forget to book online or over the phone before your trip. Vienna is also home to some of Europe's most prestigious galleries and museums, including the Hofburg Palace and Kunsthistorisches Art History Museum, meaning there's something for everyone in this creative city. Vienna is beautiful all year round, but can get very busy with tourists in the summer months. So, October is a lovely time to visit, as the crowds have gone and you'll get to experience the crisp Autumn weather. You can get a flight around this time for as low as £25.00 each way, and a stylish three-star hotel for around €60.00 (£55.00) per night.
Video sourced from The British International School Bratislava
Kröller-Müller Museum, the Netherlands


The Kröller-Müller Museum in the Netherlands isn't just your average museum. Boasting the second largest Van Gogh collection in the world, the museum has something for all ages. With masterpieces from Gogh, Monet and Picasso for the adults and one of Europe's largest sculpture parks for children to enjoy, this is the perfect place to enjoy art in a variety of forms.
The Netherlands is packed full of art and culture, and the Kröller-Müller Museum showcases some of its finest. As well as nearly 90 paintings and over 180 drawings for you to admire, there are also over 160 sculptures in the 25 hectares of landscaped hills and valleys, by iconic artists such as Jean Dubuffet and Pierre Huyghe. For families with children, there's the Museum Dice Game to enjoy, which takes you on a journey through the entire museum searching for artwork and answering questions along the way. There's also the Detective Games, where the whole family can go on a voyage of discovery around the museum.
The museum is in the beautiful De Hoge Veluwe National Park, meaning you can spend the whole day exploring your surroundings. From walking and cycling routes to architecture and nature, there's so much to see here. The Netherlands is a beautiful destination to visit at any time of the year, and Amsterdam is one of the most popular tourist hotspots. Whether you fancy a summer festival or a winter walk along the canals, you won't be stuck for something to do here. March is a great time to visit this vibrant city, with flights costing as little as £20.00 each way. You can also get a lovely three-star hotel in the city centre for about €90.00 (£82.98) per night, making it the perfect place for a city break with the family.
Video sourced from Studiomde
Whichever destination you choose to visit on your next holiday, don't forget to get your travel insurance beforehand. When walking through the streets of places such as Berlin and Vienna, you'll also see plenty of markets where local artists sell their work, so make sure you collect your travel money before you go.
*The above figures are provided for indicative purposes only, and are based on the exchange rate correct as of 16.00 on 01/09/2017.