Flying High: 4 of the World's Best Cable Car Rides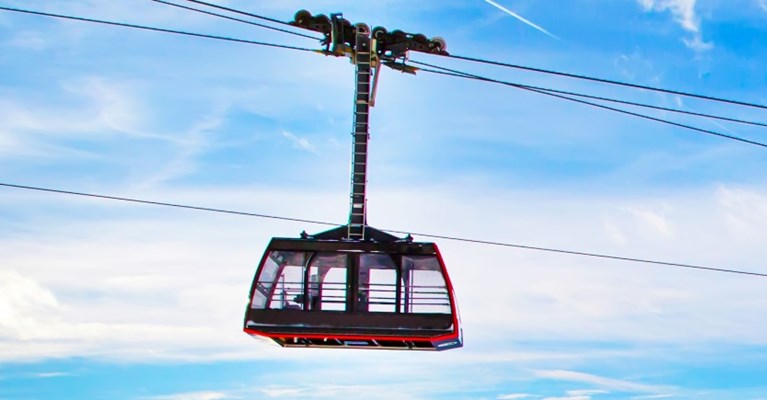 There's no better way to see a place than by hopping in a cable car and taking a ride to its highest point. From what you'll see as you float above these incredible landscapes, to what you'll find at the summit of each journey, cable cars are a great way to explore a destination from a different perspective.
So, whether you're a family wanting a fun-packed holiday, or a couple looking for romantic views, here at Asda Money we've found some of the world's best cable car rides. From Mount Teide in Tenerife, to further away destinations such as Rio De Janeiro, our round-up should give you some high-altitude inspiration for your next holiday.
Mount Teide, Tenerife


At the heart of the popular family destination of Tenerife you'll find Mount Teide, a volcano that stands at 3,718m, making it the highest peak in Spain. Here, a cable car will take you on an 8-minute journey to the upper station at 3,555m. Along the way, you'll get a unique perspective on Tenerife's volcanic landscape, with craters, rivers of lava and intriguing shapes and colours to see.
Once you've arrived at the upper station, you'll have a choice of three paths to take. Two of these paths lead to designated lookout spots, which offer breath-taking views of both the north and south parts of the island, and the third path leads to the peak. However, to visit Mount Teide's peak you'll need to apply for a permit in advance.
Both December to February and June to August are peak seasons in Tenerife, so to save money and skip the cable car queues it's probably best to avoid these months. Flights in May start from £78.00 per person with three-star accommodation for two available for as little as €29.37* (£26.00) per night.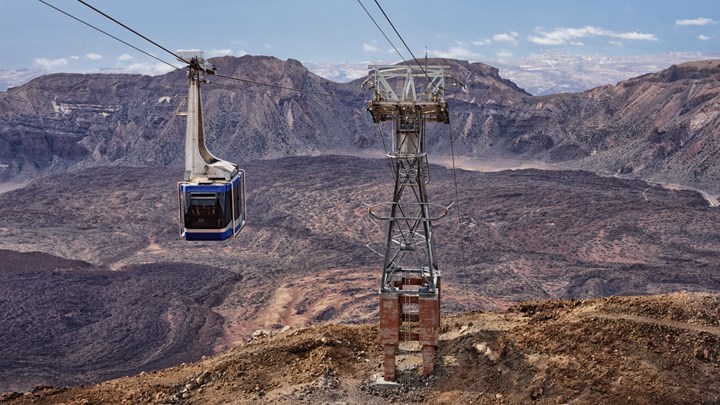 Mount Stanserhorn, Switzerland


If you're thinking of hitting the slopes this year, you'll find that the majority of ski resorts are filled with cable cars. One of the best is CabriO, which can be found nestled between a number of popular Swiss ski resorts in the Canton of Nidwalden. Allowing people to ride 1,900 metres high up to the top of Mount Stanserhorn, CabriO is unique because it's the first cable car in the world to have an open top.
Like a London bus, this double-decker contraption features a roofless upper tier, giving those on-board a spectacular sky view to complement the 360-degree view of the surroundings. On the way up, it's possible to see Lake Lucerne, as well as the 120-year-old funicular railway, which was the longest of its kind worldwide when it opened in 1893.
In keeping with the modern comforts of the CabriO cable car, at the summit there are a whole host of amenities in a fantastic location. These include a revolving restaurant offering further panoramic views, meeting and dining rooms, a souvenir shop, and even a sun terrace with an observation deck.
The cable car runs daily from mid-April to mid-November, so to catch both ski season and the CabriO experience, April is recommended as the best time to go. Flights to Zurich start from just £84.00 per person, with three-star accommodation for two from just €41.80* (£37.00) per night.
Tianmen Mountain, China


Located in China's Hunan province, the Tianmen Mountain is home to the world's longest cable car ride. This spectacular 30-minute journey travels across seven kilometres of mountainous terrain and forest-covered valleys, providing amazing views along the way.
First you'll pass over city suburbs and farmland, then, as the cable car begins its ascent, you'll see spectacular views of the famous 99 Bends road. This winding pathway leads to Tianman Cave, better known as Heaven's Door - a stunning natural arch in the mountainside.
If you're feeling brave, once you've reached the upper station you can take a stroll on one of the three glass skywalks, or check out the Tianmenshan Temple. Built during the Tang
Dynasty in the 9th century, it was destroyed by war during the Republic of China, but has now been rebuilt and restored to its former magnificence.
As you'd expect, flights to eastern China are a little more expensive than our pan-European suggestions, with return flights starting at £404.00 per person in November. However, three-star accommodation for two is available for as little as 326.02 Chinese Yuan* (£19.00) per night in Zhangjiajie, which is better if you're on a budget.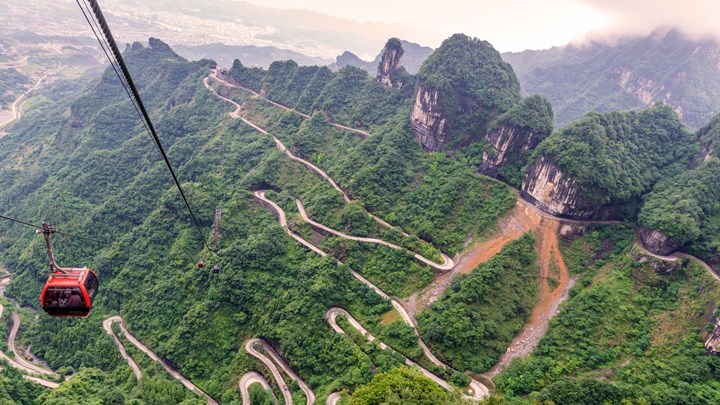 Sugarloaf Mountain, Rio de Janeiro


The Rio de Janeiro cityscape is iconic. Shaped around an ocean bay, its distinctive urban neighbourhoods and brightly-lit favelas provide a stark contrast against the backdrop of forest-covered mountains.
So, it comes as no surprise that this city is home to one of the world's best cable car rides. Here, a glass-walled pod will take you on a two-leg journey from a ground station at Praia Vermelha to the wealthy neighbourhood of Morro da Urca. From there, it heads to the top of Sugarloaf Mountain, a 396m summit on the banks of Guanabara Bay.
The 360-degree view from the cable car encompasses everything that Rio de Janeiro is famous for. You'll see the beaches of Flamengo, Botafogo, Leme and Copacabana, as well as downtown Rio, the Rio-Niterói Bridge and Dedo de Dios (God's Finger), a distinctively shaped mountain range just outside the city.
As well as the cable car experience, there are a host of other attractions that have made Rio such a popular family holiday destination in recent years. Flights are cheapest in March, with a typical return from London costing just £469.00 per person and three-star accommodation for two starting from just 108.92 Brazilian Real* (£25.00) per night.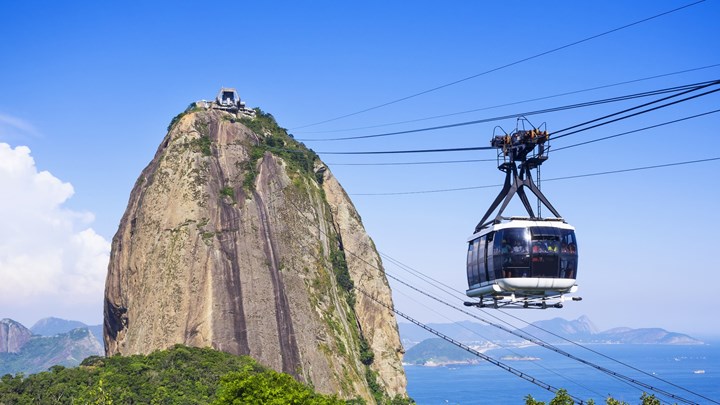 Before you take off…


If you do decide to book a trip to one of these spectacular destinations, or any other for that matter, don't forget to buy your travel insurance and collect your currency before you go.
*The above figures are provided for indicative purposes only, and are based on the exchange rate correct as of 16:30 on 12/10/2017.