Going Underground: The World's Best Underground Attractions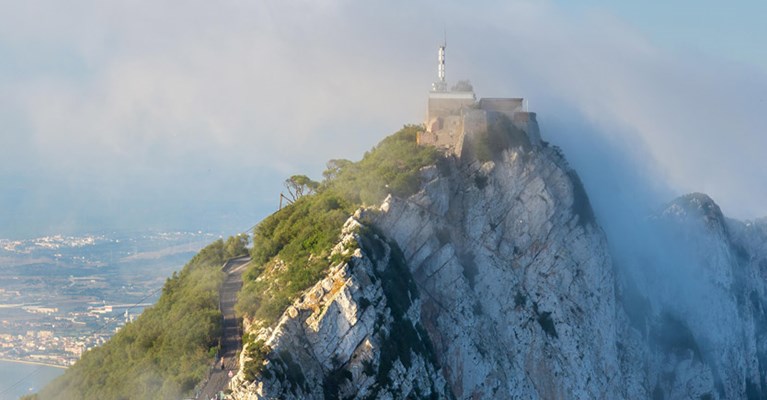 It's no secret that the world is full of incredible attractions, with exciting things to see and do everywhere you look. When visiting a new country, it's always a good idea to explore as much as you can, but many people don't realise that some of the most unique experiences lie beneath their feet.
From a salt mine which is home to an underground theme park, to a theatre located deep in a limestone cave, there are a whole host of underground attractions all over the world to enjoy. Here at Asda Money, we've picked some of our favourites for you to explore on your next trip abroad.
Salina Turda Salt Mines, Romania


Salina Turda is a salt mine in Romania that dates back to the 17th century. As well as producing table salt, in the past the mine had all sorts of uses, from a cheese storage centre, to a bomb shelter in World War II. Today, it's a popular tourist attraction that's not only a history museum dedicated to salt mining, but also a halotherapy centre which makes use of the medicinal bath salt. However, the most exciting part of Salina Turda has to be its fascinating theme park, which is located 400 feet underground.
To get to the theme park, visitors head deep into the mine, where there's a 20-metre-high Ferris wheel, a bowling alley, and an underground lake complete with six gondolas to paddle across the water. There's also a mini golf course, table tennis tables, and a sports ground which is perfect for activities such as handball and badminton if you fancy a game whilst you're down there. If visiting with the family, this underground wonderland has something for all ages.
Salina Turda is open Monday to Sunday, and costs 30 Romanian Lei* per adult (£5.70), and 15 per child (£2.85). Additional small charges apply to use the different rides and activities in the theme park, but they are still very cheap, especially compared to attractions back in the UK. For example, an eight-minute ride on the Ferris wheel only costs five lei (95p), and a 20-minute boat ride in the underground lake will set you back just 15 lei per person (£2.85), with a maximum of three people to a boat.
The nearest international airport to Turda is Cluj-Napoca, where flights start at around £108 in August from the majority of UK airports. Once in the country, the cheapest way to get there is by bus, or alternatively, a taxi journey will take about 40 minutes. Romania uses its own currency rather than the Euro, so there's a good exchange rate, meaning your money will go further when you get there.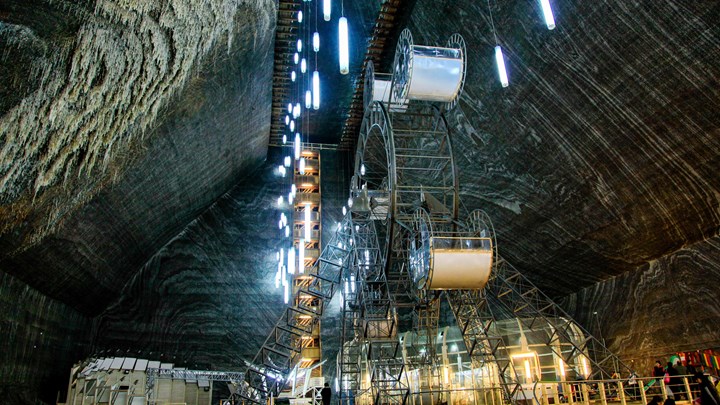 Snorkelling in Cenotes, Mexico


The Yucatán Peninsula in Mexico is renowned for its cenotes. These large, natural sinkholes are formed from limestone bedrock which has collapsed, exposing the groundwater underneath. The caverns are usually filled with fresh water that has been filtered slowly through the ground, and back in Mayan times they were used as a fresh water supply, and in religious ceremonies. These days, they're the perfect spot for swimming, snorkelling, and scuba diving in a unique, underground environment.
If you're planning a holiday to Mexico, then the cenotes offer a snorkelling experience that you're unlikely to find anywhere else in the world. Since the water is so clear, the visibility is incredible, and you'll feel like you're in a secret underworld of bright turquoise pools. In some, you get the chance to swim amongst stalactites and stalagmites (icicle shaped formations), where the sunlight glimmers through the cracks in the ceiling, creating incredible displays of light.
There are many of these caverns located around popular holiday resorts such as Cancún, Playa Del Carmen and Tulum. Although you don't have to be a particularly strong swimmer to enjoy swimming in a cenote, many are up to 45 feet deep, so you should be confident floating out of your depth. However, many of the popular cenotes offer lifejackets and snorkelling equipment hire, as well as guided tours if you wish. If you're travelling with the family, swimming and snorkelling in cenotes is great fun for the kids, but remember to do some research beforehand to check that your chosen cenote is suitable.
The best time to visit the Yucatán Peninsula is from December to April, when you can expect near perfect weather. If you're looking to go on a family holiday to Mexico it's best to travel in the Christmas or Easter holidays as the climate during the summertime is extremely hot, with a much higher chance of rain. Although flights to Mexico can be on the expensive side, generally starting around £400, there are some great all-inclusive package deals to be found, with a variety of hotels and resorts to choose from.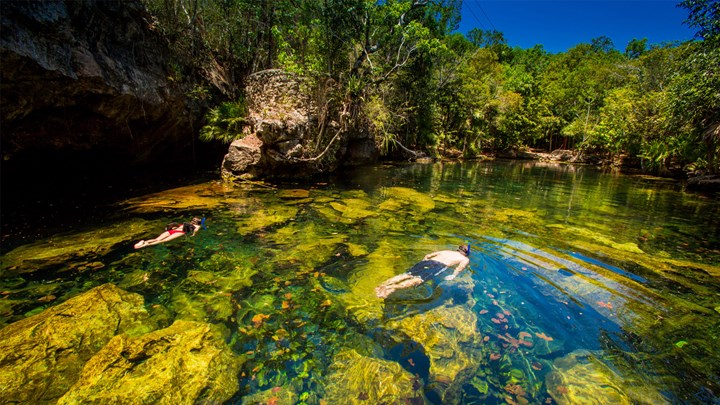 St. Michael's Cave, Gibraltar


St Michael's Cave is a network of limestone caves which are found in the famous Rock of Gibraltar. This incredible cave is thought to date back to the Ancient World, and was first created by rainwater seeping through the limestone, gradually dissolving the rock. The incredible stalactites and stalagmites in the cave are evidence of this process, showing the fascinating geological history. St Michael's Cave has become extremely popular with tourists, especially since the early 1960s, when the largest chamber started to be used as a theatre.  
This chamber, known as the Cathedral Cave, is home to an auditorium that is used for concerts, ballet, and drama. It's set up with a concrete stage and seating, and has hosted everything from light shows and orchestras, to plays, rock bands, and even beauty pageants. The Gibraltar World Music Festival is held in the cave every year, and it's easy to see why. Due to the natural acoustic properties of the cave it's especially good for music, and provides a completely unique and exciting experience for anybody watching or listening.
Even if you don't get the chance to see the auditorium in action, St Michael's Cave is open daily to the public. The formations are colourfully lit, and you can find out all about its fascinating history. Tickets start from £12.00 , which includes entrance to the two other major attractions on The Rock, the Moorish Castle and the Great Seige Tunnels.
Gibraltar is found to the south of Spain and is classed as a British Overseas Territory, which means they use both Pound sterling (GDP) and the Gibraltar pound (GIP). Some businesses accept Euros, but due to the poor exchange rate we would recommend just taking sterling with you. Flights start at around £113 in August, and it's only a couple of hours away by plane, making it an extremely popular holiday destination for Brits.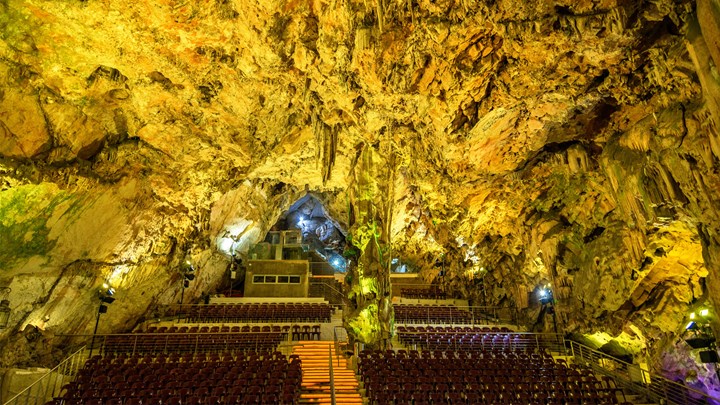 If you're thinking of visiting any underground attractions whilst you're on holiday, don't forget to buy your travel insurance before you go. Although most of the attractions will be safe, there are slightly more risks associated with these activities, so it's really important to make sure you're covered in case anything unexpected occurs.
Don't forget to collect your travel money, so that you avoid expensive charges when you're abroad. If you do head to Gibraltar and end up with lots of loose change in their currency, we'll be able to change it back for you when you return to the UK.
*The above figures are provided for indicative purposes only, and are based on the exchange rate correct as of 16:00 on 18/04/2017.