How the Euro Exchange Rate Changed Over 2020 and What it Looks Like Now
By now, in 2021, the full picture of the effect the Covid-19 pandemic had on our world is becoming clearer. As we look back at 2020 we can see exactly how the crisis impacted our lives and the wider society and how it unpredictable and unprecedented the year really was.
Perhaps one of the sectors of our society that felt the pandemic the most keenly was the travel industry. Across the globe, travel came to a standstill – holidays were cancelled, business trips were called off and flights were grounded. In short, the large majority of people stopped going abroad, choosing to stay at home in line with regulations.
Despite this, the exchange rate markets that govern how much you can buy foreign currency for still reacted to major events and economic shifts through the year, and now in 2021, we're still seeing similar movement. If you've got a trip planned in the new future, and you want to take advantage of the way that Euro rates in particular are at the moment, we're here to answer your questions about how the Euro reacted over 2020, and where the rate is at in the first few months of 2021.
Is the Euro rate going up or down?

Over the course of 2020, the euro rate has been constantly moving in response to new economic changes brought about by the COVID-19 pandemic. Back in March 2020 when the crisis took hold, the value of the Euro plummeted, before recovering quickly as markets readjusted. After a steady decline in value against the pound for the summer, the autumn saw the euro dip to as low as €1.05 to the pound before a rise to €1.09, and then another dip to around €1.06 across Christmas.
Currently, the Euro value is rising again from €1.06 to the pound on Christmas Day back up to around €1.11 by the start of February. Currently, we are still seeing that rise on a day to day basis, possible in response to positive news of vaccinations from a range of countries. 
(Figures and graph below based on the historic conversion rates of our travel money partner Travelex. Historic figures found here).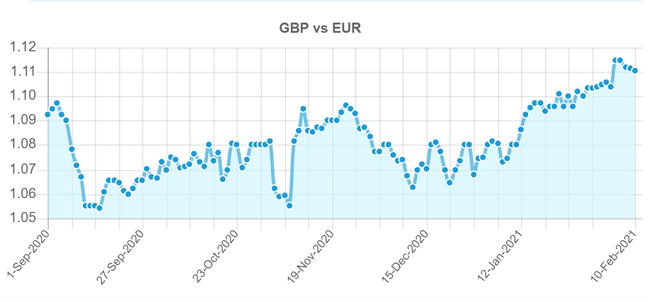 Is it a good time to get Euros?

The question of whether now is a good time to buy euros depends on a range of factors, both with regards to yourself and your plans, and the changes in the global economy that can affect exchange rates.
As you can see on the above graph, the rates for Euros are the best they have been since September which means that now could be a good time to buy so that you can benefit from the higher rates. It can be exceptionally hard to predict the way the rates will increase or decrease, and with the COVID-19 pandemic still causing uncertainties in the global markets, things can easily change at the drop of a hat. With that in mind, it can be a smart move to buy when you know the rate is good so that you don't miss out if the value drops.
However, on the other hand, the graph does show a slow and steady rise, meaning that the rates could continue to go up, especially as more and more people get vaccinated and the potential for travel increases. Waiting could see you exchange your pounds at a better rate if the current trend continues, so it is a viable option that is open to you.
Ultimately, you should make the decision of whether to buy your Euros now or later by taking yourself, your financial situation, and your travel plans into consideration. Research your options and consider the current trends to ensure you're getting full value for your money.
One of the great things about buying Euros with is Asda is our Price Promise, which means if you find a better exchange rate within 5 miles of one of our travel money bureau, we'll beat it.
What is the Euro buy back rate?

The Euro buy back rate is the amount of Euros you will need to sell to a travel money provider in order to get it changed back to GBP, usually shown as the amount of Euros to secure £1. So, if you have leftover Euros you want to turn back into Pounds then you have an easy, straightforward way of doing so.
As with all exchange rates, the buy back rate is constantly changing depending on what's happening in the world. Despite the turmoil, this still happened throughout 2020 and it's still going on as we start making our way through 2021. The buy back rate also varies depending on which travel money provider you opt to sell your money through, as some can offer better rates than others.
If you buy your Euros with Asda, you can purchase a buy back guarantee which allows you to sell your unused Euros back to Asda at the original exchange rate you bought them from us. You'll need to take this out at the same time your buy Euros from Asda, but it gives you 45 days to take advantage of the guarantee.
What is the Euro rate at Asda?

For up to date euro rates please see our travel money page.
You can get this online rate either as cash or using our travel money card, which can be used anywhere Mastercard is accepted and can withdraw money at ATMs as well. Plus, as mentioned before, if you find a better exchange rate on Euros within 5 miles of one of our travel money bureaux then we'll beat that rate. If you're interested in purchasing Euros or looking at the exchange rate of other currencies then you can find more information here.