Laid Back Lakes: Family Holidays by the Water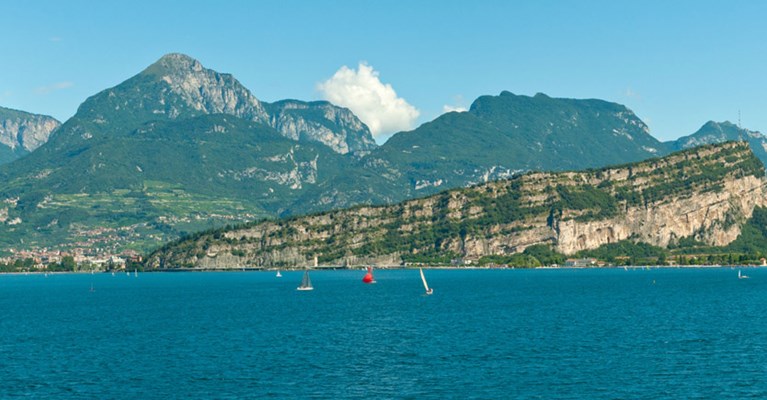 Europe is renowned for its dramatic and varied landscapes, with beautiful countryside regions which are home to forests, mountains, and of course, lakes. Many people underestimate what Europe's most beautiful lakes have to offer, especially for families looking for a holiday destination with a difference.
Whether you're wanting to take part in fun-filled activities, such as water sports, cycling, or fishing, or simply wish to relax and sunbathe, lake holidays have something to keep every age-group happy. There are plenty of locations to choose from across Europe, so here at Asda Money we've selected some of our favourites. From Italy to Switzerland, we've looked at what you can expect from a family holiday by the lakes.
Lake Garda, Italy


Lake Garda is the largest of the Italian lakes, and is the ideal location for a family holiday. There are a variety of resorts to choose from in the area, and a whole host of things to do to keep the children occupied. The stunning mountainous backdrops provides incredible scenery, and there are lots of pretty towns to explore if you're looking to go on a day trip.  
If you're interested in water sports, Garda is renowned for its windsurfing, sailing, and canoeing. In the area surrounding the lake, there are medieval castles to explore, treetop adventure courses, and many exciting walking and cycling routes. Lake Garda even has its own theme park, Gardaland, which is full of rides and activities, making it a great day out for all the family.
When it comes to choosing where you're going to stay, there's plenty of choice around Lake Garda. Riva Del Garda is a 19th century resort with picture-perfect pastel hotels, amazing views, and lots of pizza restaurants to keep any fussy eaters happy. If you're interested in seeing some sights and exploring Italian culture, the small resort of Sirmione comes complete with a castle and Roman ruins.
Accommodation varies in price depending on your resort, but self-catering apartments or lodges can work out as great value for families. Self-catering gives you the option to cook your own meals, rather than having to eat out every night, or pay extra for full or half board in a hotel.
There are various ways to travel to Lake Garda, but the easiest way is flying to the city of Verona, which is around 15 kilometres away. Alternatively, you could hire your own car, which would give you the freedom to explore the area throughout your holiday.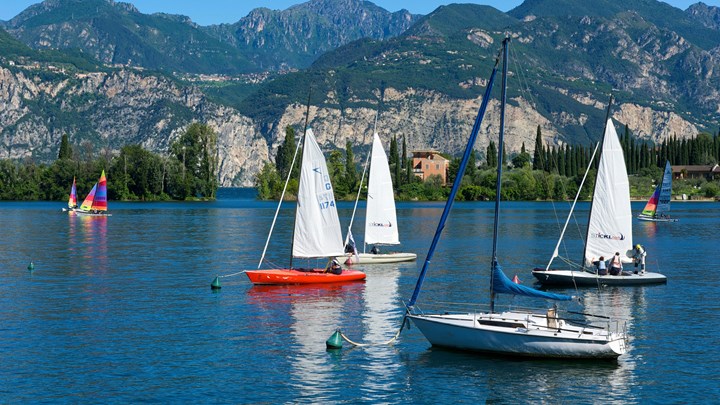 Lake Thun, Switzerland


Surrounded by the Bernese Alps, Lake Thun sits alongside the well-known town of Interlaken. The other main town is Thun, which is located at the opposite side of the lake and has a medieval old town that dates back to the 12th century. This stunning alpine area is perfect for both summer and winter holidays, with lots of activities going on to keep the whole family entertained.
If you're looking for different ways to explore Lake Thun, sea kayaking is the perfect way to glide across the water whilst admiring the spectacular scenery. It's also a great way to get some exercise into your holiday, and the children can have a go at rowing too. There are plenty of organised boat trips on offer, and three fairy-tale castles to explore on the shores. The 'Strämu', Switzerland's largest outdoor swimming pool, provides direct access to the lake and has a 10-metre diving platform, perfect for a fun day of swimming.
If you're wanting to stay right on the banks of Lake Thun, Merligen and the surrounding area are great options. However, the accommodation around here tends to be chalets and small apartments. There are a few hotels, but they tend to be on the expensive side. If you're looking for somewhere with more going on which is still within close proximity of the lake, Interlaken has a great variety of places to choose from, including hotels, guest houses, and B&Bs.
The closest major airport to Lake Thun is Bern Airport, which is around half an hour's drive away. This area is stunning all year round, and the beginning of September or the winter months tend to be cheaper if you're looking to visit during the school holidays.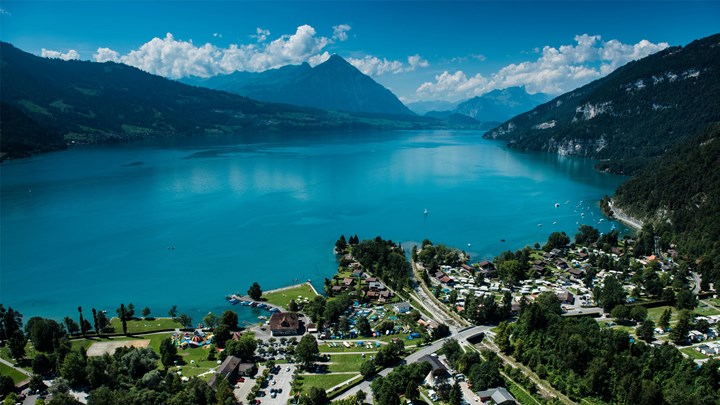 Lake Annecy, France


The magnificent Lake Annecy is known as Europe's cleanest lake, and is a popular tourist destination that's renowned for water sports. Nestled away in south-eastern France, the crystal-clear waters are overlooked by snow-capped mountains, so the whole setting is very picturesque. There's lots going on for all ages, both in and around the lake, making it the ideal location for a family holiday to remember.
Due to Lake Annecy being so clean, it's fantastic for swimming in, with children's sections for the younger ones in the family. There are also some beautiful lake beaches, which are great for relaxing and sunbathing, some also featuring toddler pools. There's a huge list of activities on offer, such as sailing, windsurfing, diving, rowing, and water skiing, not to mention the cycling routes around the perimeter of the lake.
The town of Annecy itself is known as the "Venice of the Alps", with its canals, winding streets, and pastel coloured houses. There are also various markets held throughout the week, and plenty of places to sit in the sunshine and enjoy a croissant. If you get the chance to visit Palais de l'Isle it's definitely worthwhile. Dating back to the 12th century, it's one of France's most photographed landmarks and was previously used as a prison, courthouse, and Lord's residence. 
There's a great variety of accommodation available around the shores of Lake Annecy, so you should be able to find something to fit your needs, from cheap and cheerful family-run hotels, to self-catering chalets. The closest airport to Annecy is Geneva, but many people choose to drive to France from the UK. 
If you do decide to go on a lake holiday in Europe, don't forget to buy your travel insurance before you go, just in case anything unexpected happens whilst you're abroad.
Asda Money Travel Insurance is free for kids, covering up to three children for every adult travelling. There are three covers available depending on your needs, but it's always recommended to read the small print of the policy and check what you're covered for especially if you're planning on taking part in activities such as water sports on your holiday.