Protecting Your Money Whilst Travelling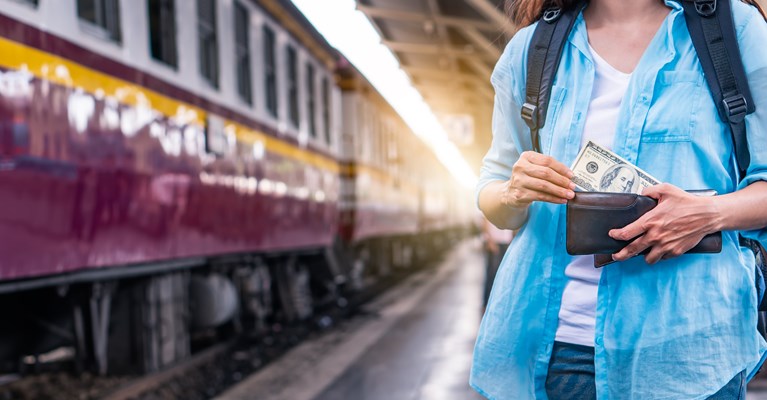 Travelling is a rewarding, fulfilling and endlessly intriguing hobby, expanding your view of the world and its inhabitants, and handing you unique experience that are full of colour, life, sounds, tastes and smells. No matter where you go, you're sure to find destinations that dazzle and impress in equal measure.
Of course, you won't get very far in your adventures if you don't have the money for food, accommodation and travel and so you'll need to bring the right amount of money in the right currency, and most important of all, you'll have to take real care of it when you're on the move. Keeping it safe from loss or theft should be your number one priority; losing it or having it stolen can derail your holiday very quickly indeed.
You'll need to know how best to protect your money on your travels, so we've written this useful blog with our three golden rules on how to keep your money safe abroad.
1. Consider using a currency card or a credit card as well as physical cash

When choosing whether to use a currency card or credit card abroad or to take physical cash in the correct currency, there's benefits to all.
One possible solution is to use a combination of payment methods to get the best from each while having a backup in place in case things go wrong.
Using a credit card to make larger payments can keep you safe from fraud and scams with the card provider's protection. However, it's worth checking with your card provider if they will charge you any fees for using your card abroad. If you don't have a credit card, but don't want to carry around large sums of currency, using a currency card is a great alternative. However, it's worth keeping in mind you may need some cash in the right currency too, as a solution for places where your card isn't accepted.
With all these options, you'll still need to keep safe – always consider hiding your travel cash and if you think you've been the victim of fraud or your card is lost or stolen, contact your card provider as soon as you can.
2. Give your bank the heads up

The last thing you'll want is to be stuck in a foreign country where you may not speak the language and have no access to your money to get you transport or accommodation. Avoiding a situation like this is paramount and it can easily happen even if you have credit available or money on your card.
If you bring your everyday credit or debit card, or even a travel credit card, and make lots of payments on it, as you tend to do on holiday, your bank may become suspicious that you aren't the one making those payments. A number of payments, all made in a foreign country, follows a pattern that scammers, hackers and fraudsters normally leave behind, so to prevent your money being stolen, the bank may freeze your account, leaving you unable to withdraw or pay for anything.
This why it's important for you to get in touch with your bank before you head off. Most banks have an online feature where you can register your holiday plans with them so they'll be prepared for any payments that come from another country. This will prevent your account being frozen and leave you to get the most out of your time away.
3. Stash your money safely, securely and in multiple places

If you're taking cash away, you'll need to keep the physical money safe at all times. That means the money you have on you, the money you have in your luggage and the money in your walking bag.
The first thing to know is that you should divide your money up and keep it in different hidden places. This is to ensure that in the unlikely event someone does find and take money, they'll only have access to part of it, and you'll still have a fair amount left. As well as the money you take around in your wallet, purse or handbag, split up the money in your hotel room too, leaving some in the safe and other parts in your spare shoes for example, or in the lining of your suitcase. You can never be too careful with your funds.
When you head out and about, it's also a good idea to invest in ways to keep your money secure on your person. The most common way of doing this for example is using a money belt. Money belts are belts that go under your clothes and around your stomach, with compartments for valuable stuff. These keep your essentials safe from pickpockets. Other ways to stay safe are to wearing clothes with zipped pockets, keeping your wallet or purse on a chain or string, and trying not to be too obvious when handing cash over.
Those are our three golden rules for keeping your money safe when you're travelling abroad – a great deal of travelling safely is common sense but it always pays to take the extra steps whenever money is involved.
Asda Travel Money

We offer a handy travel money service where you can buy your travel money online or in-store. Order online and get your currency delivered to your door, or use our Click & Collect service, or head to your local Asda Money bureau. Check out our Travel Money page for more details and to see the latest travel money rates.