Staycation Alternatives to your Overseas Holiday Destinations
As warmer weather sweeps in, many of us might be dreaming of sun-drenched Spanish beaches, glasses of wine on the French Riviera or the gentle whites and blues of Grecian roofs over the Aegean. For the first time in two years, these adventures are more than just daydreams; with the COVID pandemic finally easing up, Brits are starting to set their sights a little further abroad.
However, although most of us are looking forward to a trip this year, not everyone feels comfortable travelling just yet, which is why here at Asda Money, we've been busy diving into the treasure trove of spectacular holiday destinations on offer right on the shores of good old Britain, picking out some of our favourites to share with you as some of the best places to staycation in the UK!
And to make sure no one is missed out, all of our UK suggestions have been twinned as direct alternatives to international classics, giving you the best of both worlds.
We've paired them up with side by side pictures too, so you can see them in all their glory (in case it's been so long you've forgotten), and we'll also be sharing some top travel photography tips from our favourite travel influencers to keep your 'gram looking fresh!
Read on to discover whether you're staycation-ing or travelling abroad in 2022 with our alternative holiday guide!
Portmeirion, Wales and Portofino, Italy
You'd be forgiven for perhaps not immediately making the connection between Wales and Italy as holiday destinations, but, nestled away in the rolling hills of mid-Wales is the beautiful town of Portmeirion, a colourful collection of houses sat on the banks of the River Dwyryd. Portmeirion is built in the style of classic Italian towns, hence the connection, and nowhere does it resemble more than the brilliant hues of Portofino, an iconic spot in northern Italy, close to the Cinque Terre.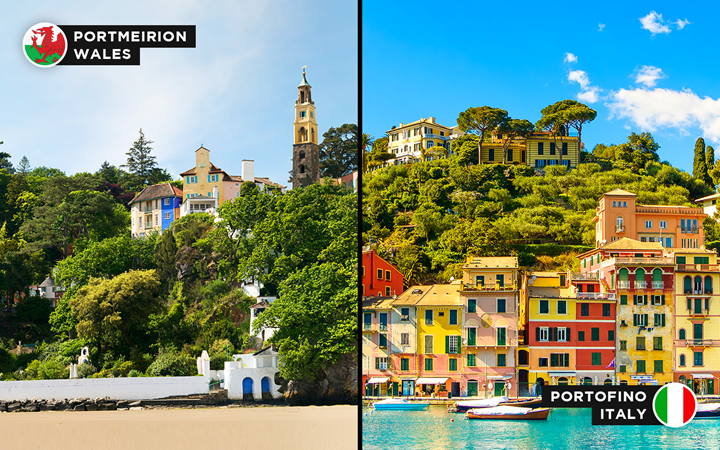 Norwich, England and Rothenburg, Germany
Half-timbered houses, beer halls, cathedrals – Rothenburg ob der Tauer is one of Germany's favourite towns, poised at the end of the Romantic Road in Bavaria. You can't get much more German than this fantastic place, but its curling streets and overhanging buildings do recall the historical roads and bustling squares of Norwich. The iconic cathedral here, along with the special architecture make it a staycation destination well worth visiting.
Liverpool, England and New York, USA
Looking for the reflection of glittering skyscrapers reflected in the waters of the Atlantic? Shopping opportunities at some of the biggest brands on the planet? A history of intrigue, maritime excellence and unforgettable musical giants? New York might be off the menu for now, but Liverpool can step up to take its place as a worthy substitute, offering a touch of big city life for a fraction of the travel costs and price to New York.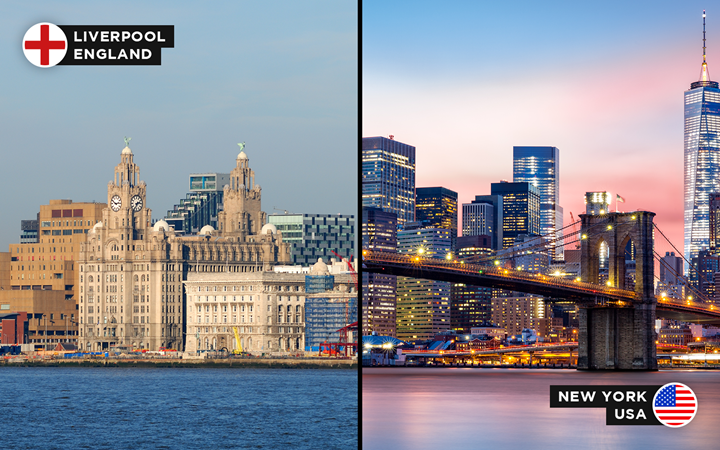 The Cotswolds, England and Burgundy, France
Speaking of wine, how could we not mention the pretty villages and hills of the Burgundy region of France? Pre-COVID, thousands of visitors from across the world flocked here to get a taste of la vie en rose. But do you know where else has pretty villages and hills? That's right – the Cotswolds! Down in the South-West, the Cotswold stretches for miles with charming pubs dotting the roads and fantastic walks.  Castle Combe is regularly voted the prettiest village in the UK, so there's that too!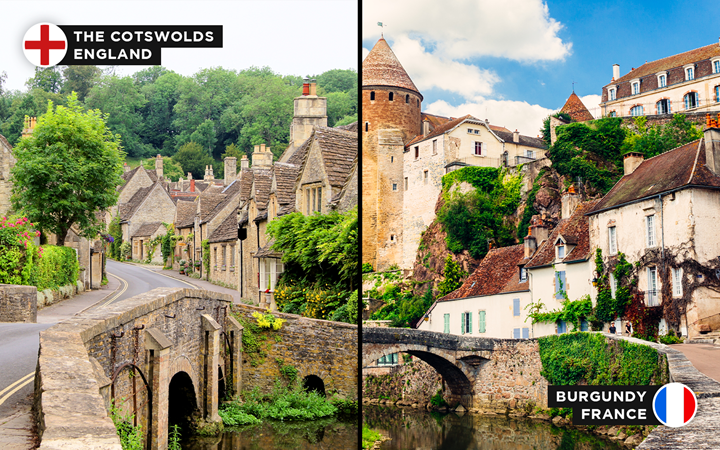 York Minister, England and Barcelona Cathedral, Spain
The Barcelona Cathedral, is a magnificent collection of spiky towers and resplendent decorative arches that echo the illustriousness of Barcelona and the centuries of history that have shaped it into one of the major European cities. So what could possibly match that? Well, we think the equally impressive York Minster is in with a shout – with a similarly stunning façade, York Minster is one of the most striking cathedrals in the UK, with its foundations stretching back to 627!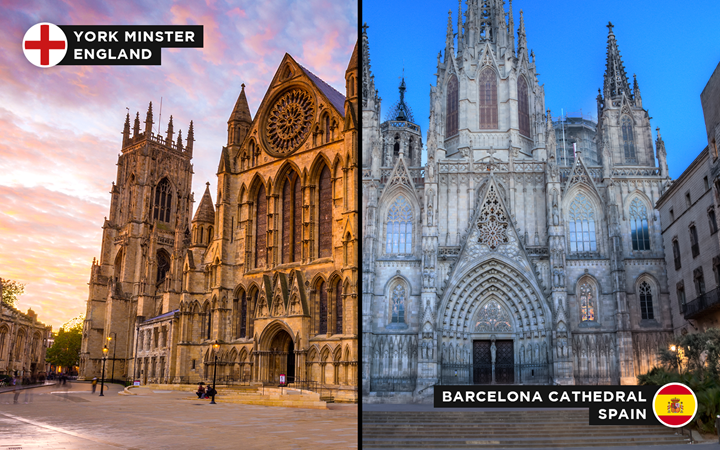 King's Lynn Tulip Fields, England and Keukenhof Tulip Fields
The Dutch are really into their tulips, and rightly so. Their spectacular tulip fields are the envy of the botanical world, unfurling in a kaleidoscopic explosion of colour in the springtime. The Keukenhof Gardens have some of the best tulip displays around, but over in West Norfolk, the King's Lynn tulip fields are also a pilgrimage for the horticulturalists everywhere. This corner of England is host to glorious fields of tulip varieties that are parallel rivals to the mighty exhibitions of Keukenhof. If you're looking for staycation ideas for couples, UK spots don't come much better than this!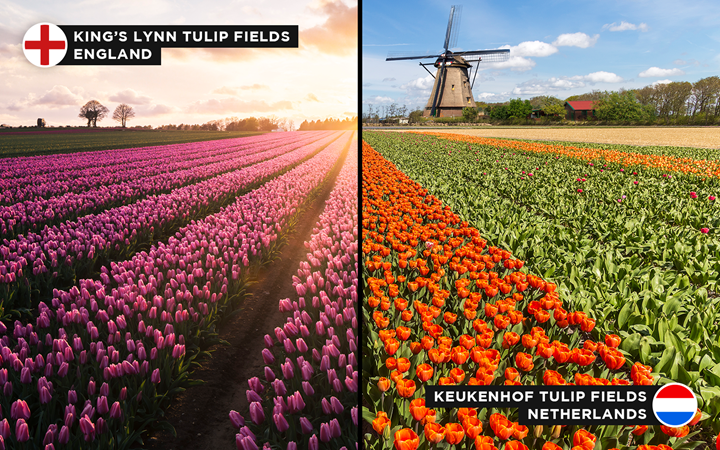 Isle of Skye, Scotland and Kirkjufell, Iceland
North Atlantic cousins Scotland and Iceland are home to some of the world's most incredible scenery, from weirdly shaped mountain formations to sweeping plains, and rugged coastlines to dramatic highlands. Kirkjufell is one of Iceland's most iconic sights, a pyramidal peak the rises into the aurora-laden skies; similarly the Isle of Skye is made up of staggering natural sculptures, whipped up against the storms of the mighty northern oceans.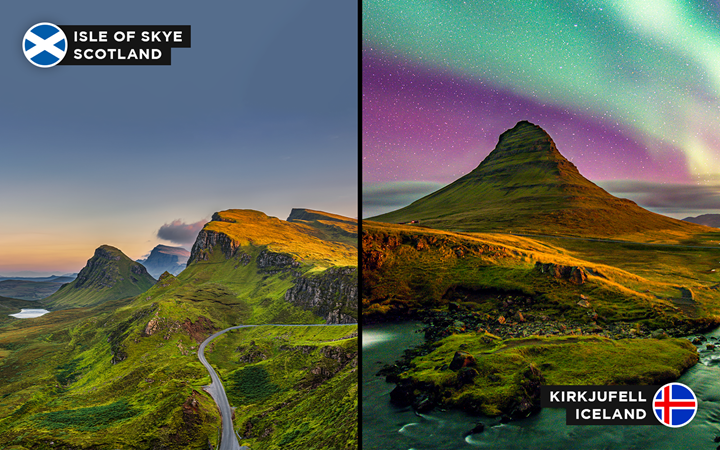 Minack Amphitheatre, England and Odeon of Heroes, Greece
Rising higher from an ancient stage, the Odeon of Heroes in Atticus, Greece, will have hosted musical concerts back in the first few centuries AD. It was built by politician Herodes Atticus in memory of his wife and even today, its condition is so well-preserved that events are still held within the walls. Not quite so old, the Minack Theatre in Cornwall was built in the first half of the 20th century, but its unforgettable oceanic backdrop is more than a dramatic match for the Odeon of Heroes.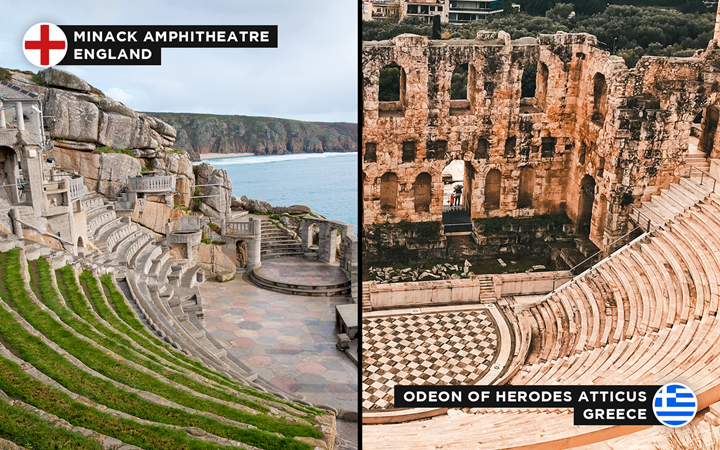 The Needles, England and The Twelve Apostles, Australia
Snaking like the tail of an underwater stegosaurus into the English Channel, the Needles of the Isle of Wight are a sight to behold. Like pale alabaster blades, these impressive chalk natural landmarks are an iconic image of the south English coast, and a good alternative to the Twelve Apostles, the famous limestone stacks off the Great Ocean Road in Australia. Standing tall out of the ocean, these stunning natural beauties are one thing Australia's visitors will be missing this year.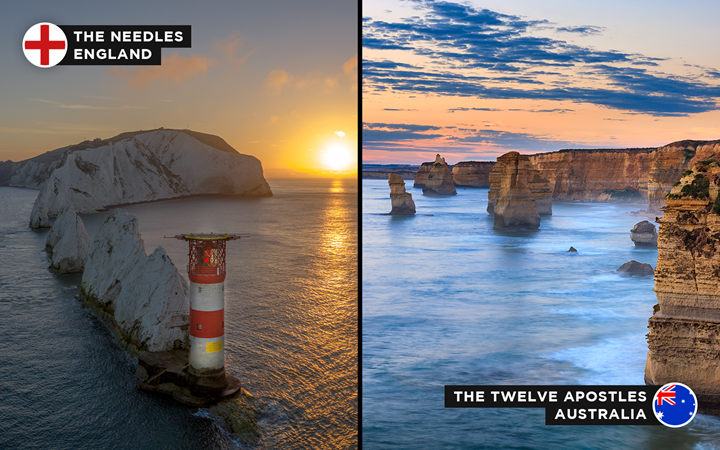 Brighton Pavilion, England and the Taj Mahal, India
One built as a mausoleum for a favourite wife, the other as a seaside retreat for a British prince, the Taj Mahal and Brighton's Royal Pavilion share a dedicated architecture style that finds its roots in Indian history and culture. While the Taj Mahal, as one of the wonders of the modern world, is perhaps the more striking, the Royal Pavilion is still more than worth a visit for its glorious domes, its distinct blending of architecture and its impressive art collection.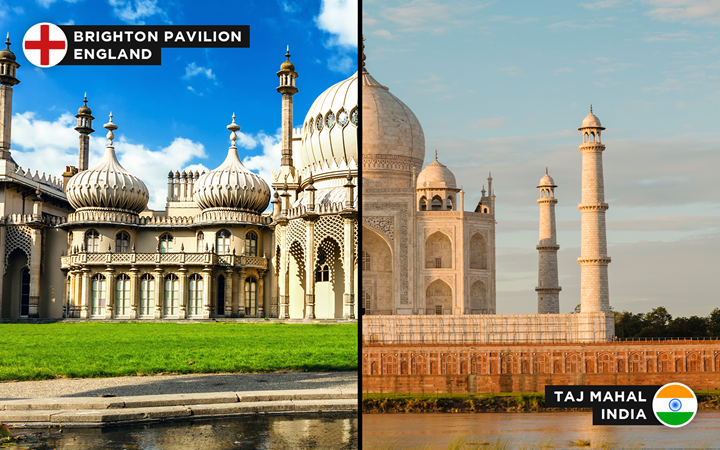 Pembrokeshire Coast, Wales and Monterey, USA
Sweeping coastal vistas, fascinating wildlife, excellent surf, timeless oceanic walks and rambles – the Pembrokeshire Coast in Wales and Monterey in the USA share an unending love for all things naturally beautiful. With their golden beaches, stark cliffs and crystalline bays, both of these unforgettable regions offer something special for their visitors, whatever their tastes and inclinations are, and wherever their road takes them.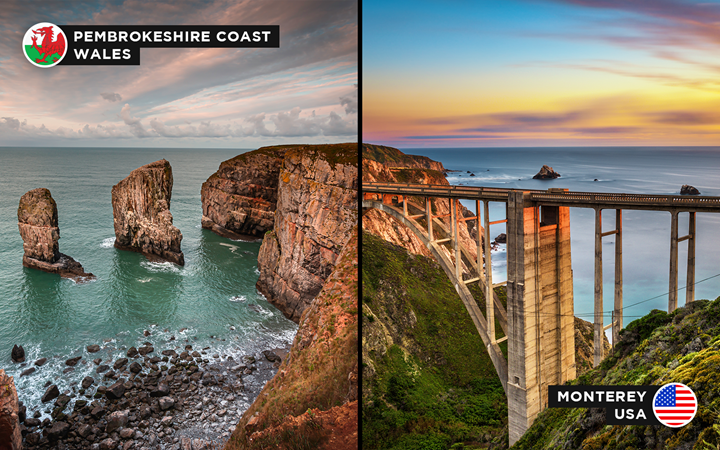 Windsor Castle, England and Ashford Castle, Ireland
It's tough to beat the rustic charm and restrained elegance of somewhere like Ashford Castle on the Mayo-Galway border of Ireland – but Windsor Castle in Berkshire can certainly provide an excellent replacement. Both of these castles are set in idyllic countryside, with full green lawns and gardens preceding some fantastic examples of Victorian and Georgian architecture built on much older foundations. Both castles offer a full, fun and engaging day out, whichever you visit.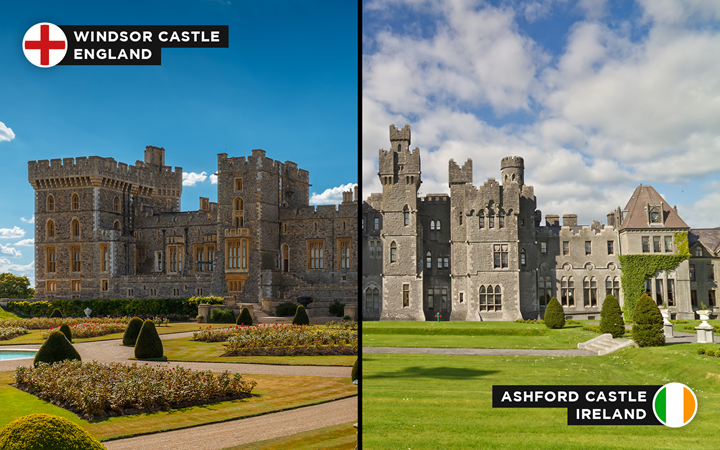 Salcombe Harbour, England and Kalkan Harbour, Turkey
Kalkan Harbour sits in a grand Mediterranean bay, full of small fishing boats and waterfront restaurants. Surprisingly similar, Salcombe Harbour is surrounded by the natural beauty of blue water and lively countryside, all sitting across a dramatic coastline and creating the perfect seaside holiday destination right here! Both harbours feature opportunities for sailing, boat fishing and water-sports across the stunning bright blue waters.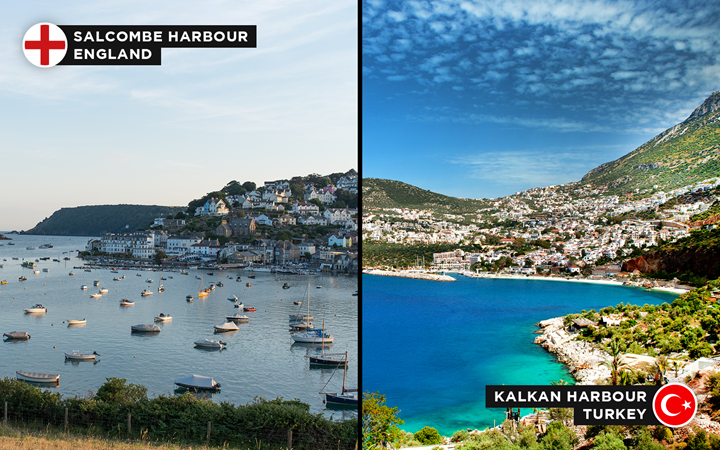 Those are our some of our best staycations UK spots! Of course, visiting and exploring is only part of the fun. If you're anything like us at Asda Money, you'll want to be taking loads of photos to catch these incredible places on your phone or camera, up close and personal or further away for those picturesque landscape pics.
But getting those shots right is another story entirely! For help on getting that perfect photo lined up, we've reached out to some of our favourite travel influencers to get the lowdown on how to take pictures of the top staycations UK destinations while you're on your holidays: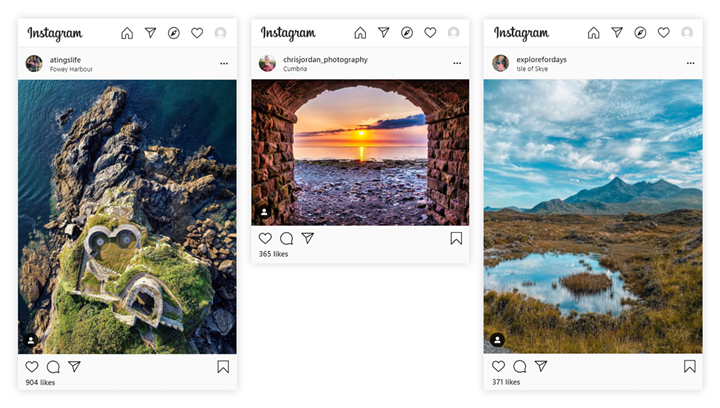 "When it comes to travel photography, I try to imagine how many people have stood where I am to capture the view I'm looking at, especially if it's a well-known view. Thinking like this makes me look for different angles and my interpretation of the scene. This is easier with a drone of course but that's not always possible, sometimes it's just about angles, getting high or low, focusing on a detail or bringing an object into the foreground to help create depth and interest.
"The other thing is timing; do you want people in the shot or not and when is the best time of day to get what you want?
"And let's not forget about light! Shooting just after sunrise is always a winner for light. I rarely shoot with the sun in front of me if shooting midday and prefer the contrast and definition from shooting with the sun to the side or behind me."
"1. Make sure your lens is clean - this might sound obvious, but there has been many a time I return home from a trip to find that when I put my pictures on my computer there's a spot in every single one!

"2. Shoot in the early morning and evening - when shooting landscapes, using the sunrise or sunset light can give your photos a tranquil feel with its glow and the long shadows the sun casts. Of course, the golden hour is not the only time you can get great outdoor photos, but it does make it easier.

"3. Move your feet - don't fall into the trap of getting stuck in one place while you're taking pictures. Move your feet, climb on top of things, change the height of your camera, walk forward and backward, do whatever you need to do, but keep moving! Moving around is the only way to change the sizes and positions of objects in your photo. If your subject is too large and the landscape in the background is too small, stand back and zoom in. If a tree is distracting, move around until it's out of your composition."
"My main photo tip might seem obvious, but it's one I'll stand by time and time again; take photos all the time.  It's so easy whilst travelling to become spoilt by great scenery that you can end up taking it for granted. It's only once you're back home that you wish you'd taken just a few more photos. If you end up with a dozen photos of the same mountain or lake, so be it.
"My second tip is that not every photo needs to be monumental.  Sure, you're going to want to take photos of the great sights and scenery around you, but it's the small moments we often forget too. Don't forget to photograph those memories too; sweaty faces after reaching the peak, curbside dinner whilst wild camping, freezing ocean dips and flat tyre misadventures. My favourite thing when looking back on my photos are the small moments I've captured. Often moments I've forgotten about completely until I flick through my photo album and the memories come flooding back. Trust me, it's the best souvenir!"
Wherever you're off to on your holidays this year, whether our top staycations (UK) are on your list or not, having the right travel insurance policy in place can keep you protected from any problems while you're out and about enjoying yourself. At Asda Money, our UK travel insurance covers you for a range of scenarios, including cover for coronavirus cancellations, luggage loss and more.
Find out more about how our travel insurance can give you that all important holiday peace of mind here.