The Best Christmas Markets in Europe 2023
Europe is a truly magical destination at Christmas time – let's take a look at 10 of the best Christmas markets in Europe in 2023.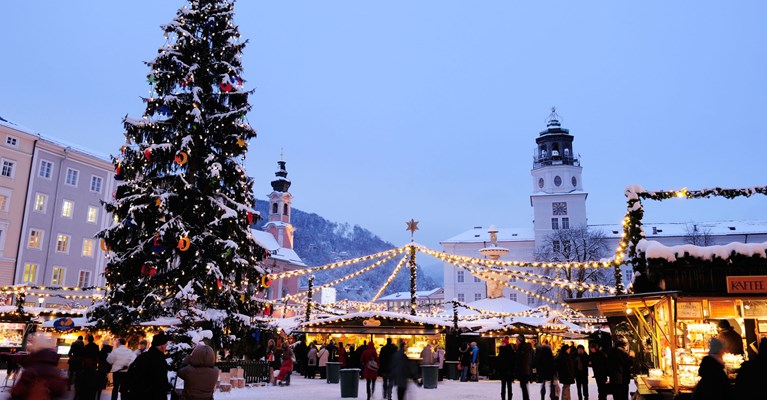 10 of the Best Christmas Markets in Europe 2023
Christmas markets are a popular European tradition, with the first ones dating back to the Late Middle Ages. Since then, they have become a firm festive favourite and a highlight of the holiday season. Let's take a look at 10 of Europe's most enchanting Christmas markets to visit in 2023.
1. Cologne, Germany
Running for just over a month, from November 20th to December 23rd, Cologne's magical markets attract millions of visitors from all around the world. The largest of Cologne's Christmas markets – possibly the biggest Christmas market in Europe – is the Markt der Engel (The Angels' Market) which is held in Neumarkt Square, a little way outside the bustling city centre. Markt der Engel is the number one Christmas destination in Cologne and one of Germany's most beautifully decorated Christmas markets, famous for its stunning views, beautiful stalls selling delicious treats and festive gifts, and even a dazzling outdoor disco that carries on late into the night.
2. Budapest, Hungary
The Advent Feast at the Basilica is one of Budapest's most beautiful Christmas fairs, open from November 17th until January 1st 2024. Previously voted the "most beautiful Christmas market in Europe", this spectacular event has over 150 stalls selling a variety of delicately handcrafted Hungarian items and gifts, including ceramic trees, Russian dolls, and gemstone jewellery, as well as traditional snacks such as the popular "flodni", a delicious sticky apple, walnut, and poppy-seed cake.
Every evening, there is a stunning light show for visitors to enjoy, heart-warming musical performances and a glorious, almost 12-metre-tall Christmas tree that will take your breath away.
3. Prague, Czech Republic
The picture-perfect city of Prague hosts a festive Christmas market in the heart of the city at Old Town Square. Open from December 2nd until January 6th, this beautiful marketplace hosts dozens of charming wooden stalls selling all types of festive goods, from traditional Czech glass balls to hand-embroidered tablecloths and wooden toys.
The food at Prague's Christmas markets is a real treat, with vendors selling roasted chestnuts, traditional Czech Christmas biscuits, grilled sausages, fresh pancakes, and, to top it all off, a mug of "svarak" – the local citrussy take on mulled wine.
Those travelling as a family can keep the kids entertained with a visit to the animal stable in the Old Town Square.
4. Strasbourg, France
Often referred to as the French "capital of Christmas," Strasbourg transforms during the festive season, looking like a nativity scene that's come to life. Held in the city's grand Cathedral Square and Place Broglie alongside the picturesque canals lined with half-timbered houses, Strasbourg's Christmas markets run from November 24th until December 24th.
Around 300 traditional market stalls are set up in Cathedral Square, selling Christmassy goods, such as handmade decorations, blown-glass candles and artisanal gifts. Strasbourg Christmas markets are also a foodie's paradise, with stalls selling a variety of aromatic mulled wines, gourmet pretzels, and traditional Christmas biscuits.
5. Vienna, Austria
Vienna's Christmas markets are an age-old tradition dating back to the Middle Ages. With countless Christmas markets filling the city's pretty squares, there's plenty for visitors to explore and enjoy.
One of Vienna's most well-known and loved Christmas markets is the Viennese Dream Christmas Market, which transforms the City Hall Square into a fairy tale location from November 10th to December 26th. There are over 145 stalls selling festive gifts, tree decorations, delicacies, and plenty of hot drinks to warm you up. The trees surrounding the square are beautifully decorated with twinkling lights, creating a stunning view you won't want to miss! Plus, there's an ice rink too.
6. Bruges, Belgium
The romantic city of Bruges is home to one of the most beautiful Christmas markets in all of Europe. From November 24th until January 7th, this historic city will be transformed into a giant Christmas market.
There's a wonderfully festive atmosphere in the air as you make your way through the bustling streets, visiting all the different stalls selling beautiful Christmas decorations, gifts and delicious food and drinks, including home-made hot chocolate, Belgian beers, spiced gluhwein (mulled wine) and cheese. There really isn't a better place for a Christmas fairytale in 2023.
7. Krakow, Poland
Located on Rynek Glowny, the city's 13th-century square in the centre of the old town, Krakow's Christmas market is easily one of the most popular Christmas markets in Poland. With dozens of charming little stalls set up between the famous Cloth Hall and iconic St Mary's Basilica, you'll find local merchants selling wooden Christmas decorations, handmade gifts, sizzling kielbasa (sausage), smoked cheeses and sweet vodka-based hot drinks.
Running from November 25th until December 26th, Krakow's Christmas market is a magical destination with plenty for all to enjoy.
8. Riga, Latvia
If you're after a real traditional Christmas market experience, Riga Christmas Market should be right at the top of your list. Held in Dome Square and running from December 3rd until January 8th you can sample some delectable and classic Christmas treats, including gingerbread, roasted almonds and smoked meat. Plus, you'll find plenty of Latvian homemade goodies to pick up as Christmas gifts for your nearest and dearest – think Latvian honey, handcrafted wooden candlesticks and amber and silver jewellery.
9. Madrid, Spain
The Christmas market has been going in Madrid since the 17th century. Traditionally, sellers would offer fruit, veg and Christmas gifts at Plaza de Santa Cruz, then people would move on to Plaza Mayor to pick up their turkey.
Now held at Plaza Mayor exclusively, visiting the Christmas market is one of the most beloved traditions for the people of Madrid. From November 24th to December 31st, 104 stalls call the square home, with local traders selling Christmas decorations, joke gifts and figurines to make your own nativity scene.
10. Gothenburg, Sweden
Make your way to Liseberg, the most popular amusement park in Sweden for a snowy fairytale landscape and a beautiful Christmas market. There's plenty of kids' entertainment – although you do need to pay an entrance fee – including bumper cars and a half-hour ice show. You can meet Santa in his workshop and feast on smoked reindeer and glogg (traditional Scandinavian mulled wine). There's also a gift hunt and the chance to meet the famous Liseberg rabbits in Rabbit Land. It runs from November 18th to January 7th and is a real experience.
If you're planning on jetting off this holiday season to enjoy some of the best Christmas markets in Europe, make sure you're properly protected and covered with Asda Money travel insurance.