The World's Most Intricate and Impressive Buildings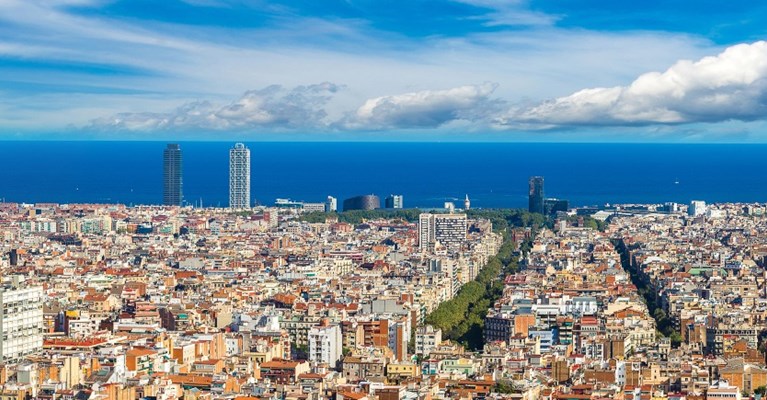 The world is filled with an array of beautiful buildings, many of which took hundreds of years to build. From colourful murals and Gothic towers, to unusually-shaped roofs and striking light features, there are so many structures around the world that are spectacularly eye-catching.
As well as providing perfect photo opportunities, many of these buildings offer a rich insight into the destination's history, meaning you can often learn about a city's heritage from these unique structures. From Brazil to Barcelona, here at Asda Money we've taken a look at some of the most intricate and impressive buildings around the world that are worth visiting on your next holiday.
Niterói Contemporary Art Museum, Brazil


Sitting on a cliff, overlooking the sea, is the Niterói Contemporary Art Museum, also known as MAC Niterói. Built in 1996, the museum is renowned for its spectacular UFO-like shape, and is now one of Brazil's most popular landmarks. This modern structure, which is located in Niterói, is a must-visit attraction when holidaying there.
The museum was designed by architect Oscar Niemeyer, and it took five years to build. The four-storey structure is 16 metres high, and offers picturesque views of Sugarloaf Mountain, Guanabara Bay and much of Rio de Janeiro. To enter the spaceship-like building, visitors must walk along a winding 98-metre, red, concrete ramp. Once inside, you'll find the second-largest collection of contemporary art in Brazil, as well as a bar, restaurant, and an auditorium where conferences are regularly held.
When you're not admiring the art museum, Rio de Janeiro has an array of exciting sights to explore. From Copacabana Beach to the famous Christ the Redeemer statue, there's so much fun to be had in this vibrant city. Rio is warm all year round, so there's no bad time to visit. However, it's best to avoid holidays in February and March if you're not a fan of crowds, as the biggest carnival in the world is held here over two weeks during this time. December is one of the cheapest times to visit, with flights starting from around £250 each way, as well as a stunning hotel next to Copacabana Beach for as little as 207.86 BRL* (£42.00) per night.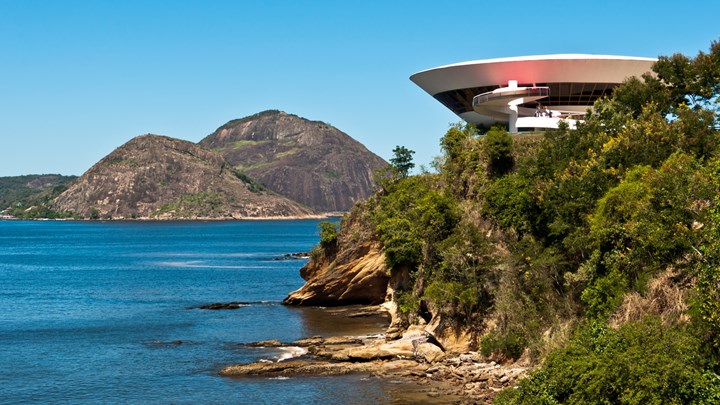 Sagrada Família, Barcelona


The Sagrada Família, in Barcelona, is undoubtedly one of the most famous buildings of all time, and it's easy to see why. Despite construction starting on this Roman Catholic church in 1882, this Spanish landmark is still not yet finished! Work is not expected to finish until 2030, but even now, you'll be able to see it towering above the city wherever you are in Barcelona.
The building was designed by the famous Spanish architect, Antoni Gaudí, who worked until his death, in 1926, to create this masterpiece. Every part of the church's exterior is designed to combine all symbols of Christianity. One of the best examples of this is the Nativity Façade, which symbolises the birth of Jesus. Finished in 1930, this is the only section which was almost complete whilst the Spanish architect was still alive. When finished, the Sagrada Família will have 18 spires. The two tallest spires will tower above the rest, representing Jesus and the Virgin Mary.
The Sagrada Família isn't the only building that Antoni Gaudí is known for in Barcelona either. Scattered around the city, you'll find plenty more incredible buildings designed by the established architect, including Casa Batlló, Colonia Güell and La Pedrera. September is a fantastic time to visit Barcelona, as the summer rush of tourists has died down, but you're still greeted by beautiful weather. Flights during this month can cost as little as £27.00 each way from London airports, whilst a stunning city centre hotel with a rooftop pool will set you back around €91.99 (£80.00) per night.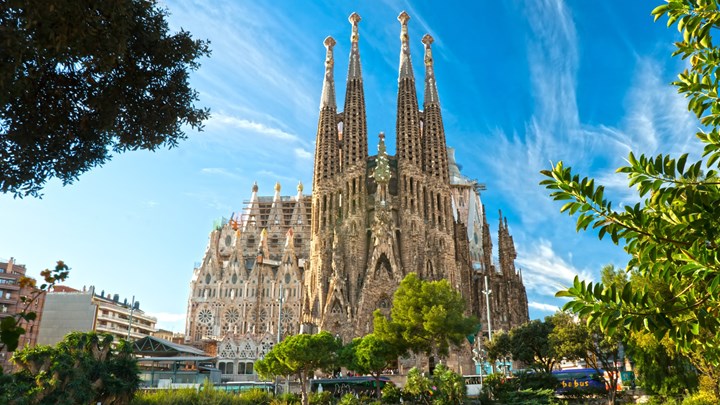 Sydney Opera House, Australia


The Sydney Opera House, in Australia, is one of the most photographed buildings in the world. Many tourists and locals alike stand proudly in front of it every day, as they pose for the perfect holiday snap.
The Sydney Opera House first opened in 1973, and is considered one of the most distinctive buildings of the 20th century. It was designed by Danish architect Jørn Oberg Utzon, who won the chance to design this beautiful building by beating over 200 other designs. The building is made up of six pointed arches, which are often compared to shark fins, covering two performance halls and a restaurant. The Opera House is so big that there are over one million tiles covering the roof! It was expected to take just four years to build, however, it ended up taking 14 years to finish. Now, more than 8 million people visit this landmark every year, and in 2007, it became a UNESCO World Heritage Site.
Once inside the Sydney Opera House, you'll find a concert hall, two drama theatres, a playhouse, recording studio, and so much more. From music shows to drama plays, there are more than 1,500 performances held here every year. However, you don't have to watch a show if you want to see inside the landmark. You can also enjoy a tour of the Opera House, or simply sit and enjoy a meal in the café. If you want the sun on your side when you visit Australia, visit during the spring and summer seasons, lasting from September to February. On average, flights during these months will cost around £300 each way, with a city centre hotel costing approximately 176.10 A$ (£100) per night.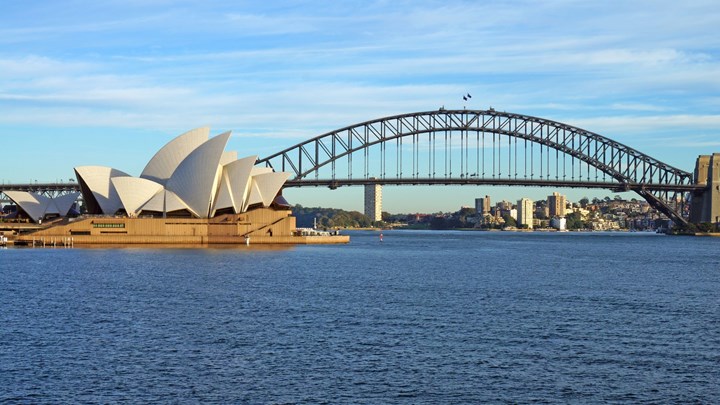 The Dancing House, Prague


The Dancing House, in Prague, is one of the most distinct buildings in the city. Created by Canadian-American architect, Frank Gehry, in 1996, the building is located on the edge of the Vltava River, and its eye-catching design makes it hard to miss. Prague is famous for its Baroque, Gothic and Art Nouveau-style buildings, so the non-traditional, modern design of the Dancing House really stands out from the crowd.
The Czech name for the building is Tančící dům, however, it's more commonly known as 'the Dancing House' because of its resemblance to a pair of dancers. Originally, Gehry named the house 'Fred and Ginger', after the world-renowned dance duo Fred Astaire and Ginger Rogers. The structure of the building is supported by 99 concrete panels, and on top of the building there is a large, twisted piece of metal, known to the locals as 'Medusa'.
As well as having an interesting appearance, the building also holds a lot of history, as it's built on top of a house that was destroyed in 1945 during World War II. At the top of the Dancing House is one of the city's best eateries; the Ginger and Fred Restaurant. As well as a delicious international menu, your meal will also be accompanied by spectacular views over the city. From the restaurant, you'll see plenty of Prague's famous landmarks, such as Prague Castle and Charles Bridge.
Flights are relatively cheap all year round, so even if you want to visit during a busy period, like the summer holidays, you can do it on a budget. Flights in August cost as little as £18.00 each way, and a beautiful four-star hotel at this time of year will cost from around 1188.35 CZK (£40.00) per night too.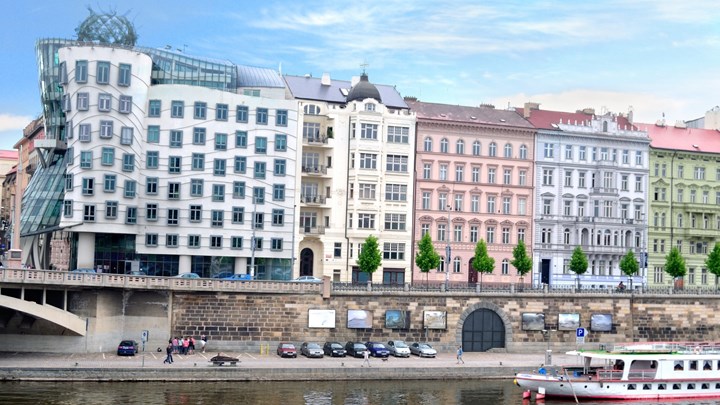 Wherever you visit on your next holiday, be sure to take out comprehensive travel insurance before you go. If you are visiting any popular tourist attractions, such as some of these impressive buildings, they can be extremely busy at times, so it's always good to be covered for any loss of items or theft. Also, some tourist attractions may only accept local currency, so don't forget your travel money too.
*The above figures are provided for indicative purposes only, and are based on the exchange rate correct as of 11.00 on 29/05/2018.