Things to do in East of England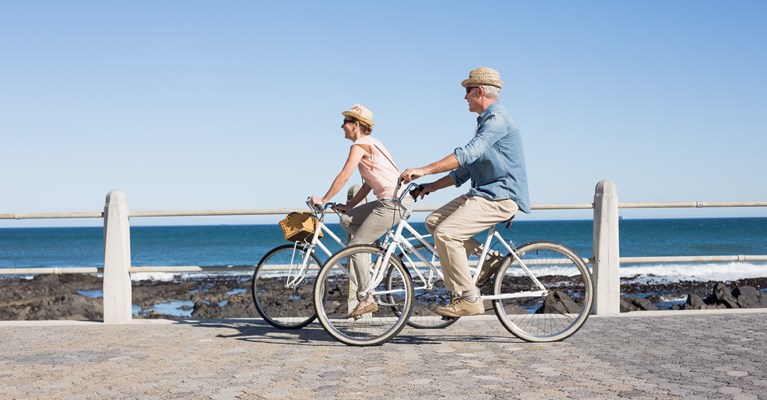 Our guide below on things to do in the East of England was researched and written in June 2021. All of the facts and adventures you'll learn about are true to the best of our knowledge and research. We would advise readers to check any specific details on costs or opening times for example before their trip.
Please help to keep yourself and others safe by checking government guidance around COVID-19 for local advice before travelling anywhere as restrictions may differ.
The East of England is filled with seaside towns, lush green spaces, and is home to the flattest county in the United Kingdom! With lots on offer, you might enjoy jump starting your adventure with a trip to the historic town of Colchester – the Capital City of Roman Britain, or a relaxing day out at Ashridge Estate, where you can stroll through the 5000 acres of unspoiled woodlands and parkland; or perhaps you fancy some old fashioned fun in the classic seaside town of Cromer. Carry on reading to find out more about these great attractions, as well as other activities to enjoy across the region.
Southwold
Southwold is one of the most popular spots to visit in Suffolk, and for good reason! The beautiful and quaint seaside town is located on the Suffolk Heritage Coast in East Sussex. It's long sandy beach is lined with bright, colourful beach huts, with a wonderful restored Victorian Pier at one end. Make sure to check out the famous Water Clock on the Pier every half an hour, for the two piddlers cheeky performance – kids will especially love it! Southwold is also great for your furry friends, with Denes Beach being open all year for dogs.
Southwold, IP18 6BN
Westleton Heath National Nature Reserve
Westleton Heath National Nature Reserve is perfect for the nature lovers among us, with an abundance of species of flora and fauna to discover. Stretching along the stunning Suffolk coastline, Westleton Heath is the best remaining area of heathland in Suffolk. Have a great day out with your family or friends and see if you can spot harebells, white admiral butterflies and tree pipits!
Westleton, IP17 3DB
Maldon Promenade Park
Maldon Promenade Park is an Edwardian Promenade Park, sat on the Blackwater Estuary, with so much to do. There's a play area and splash park for kids to enjoy, as well as boat rides on the estuary in traditional boats, mini golf, a mini zoo and a model boat lake. If those don't take you fancy, you can also just walk round the beautiful park and along the estuary, preferably with an ice cream or portion of chips in hand!
Maldon, CM9 5JQ
Hylands Estate
Located just southwest of the City of Chelmsford, the elegant neo-classical villa that is Hylands House, sits in over 570 acres of lush parkland. Take a stroll round the parkland, grab a bite at the café, visit the Victorian gardens and ancient woodlands or play in the award-winning Adventure Playground – there's something for everyone at Hylands Estate. The estate is also dog-friendly and open to the public, so everyone is free to wander.
Chelmsford, CM2 8WQ
Southend-on-Sea
Southend-on-Sea is the home of the world's longest pier, that extends 1.33 miles into the Thames Estuary – either walk it or catch the pier train! If you're a thrill seeking, Adventure Island theme park is the place for you, with over 40 rides and attractions. If nature and wildlife is more your thing, check out the Sealife Aquarium or Cliff Gardens. No matter what you choose to do, Southend-on-Sea is a great day out for everyone!
Southend, SS1 1EE
Cambridge
This historic University City is sat on the stunning River Cam and is home to the prestigious University of Cambridge, which dates back to 1209. The city is full of beautiful historic buildings, many of which belong to the University, as well as museums, galleries and gardens. For a relaxing day out, take to the water and see Cambridge from another perspective by punting on the River Cam. You can also eat and shop your way around Cambridge, with a good mix of independent restaurants, boutiques, brands and a seven-days-a-week market.
Cambridge, CB
Wandlebury Country Park
Wandlebury Country Park will not disappoint anyone who loves the outdoors, no matter whether you love to hike or prefer a relaxing stroll. The wildflower meadows are a stunning sight to see, and they are home to numerous buildings that date back centuries, including an Iron Age Fort. There's an onsite café to grab a bite, or have a picnic in one of the many picnic areas in the park. One activity that should be a must, is viewing the fluffy Highland Cows!
Cambridge, PE2 5UU
Cromer
Cromer is a great seaside town choice for anyone in search of a more old-style holiday, with Cromer having one of the few remaining traditional Victorian piers left in the country, which is also home to the Pavilion Theatre and a lifeboat station. The Pavilion theatre holds the last remaining end of the pier variety show in the UK during summer and winter. You can also explore Cromer's seaside stores, local art galleries and museums, where you can learn more about Cromer's tradition of lifeboatmen.
Cromer, NR27 9AR
Sandringham Estate
This iconic and beautiful country house is the beloved country retreat of Queen Elizabeth II. The house stands in a 20,000 acre estate of gardens and parklands, which are waymarked to explore either by bike or foot. The Royal Park is also home to a fun play area for kids and is dog friendly, so you can bring your furry friends with you on your great day out! If you fancy learning more about the royal history of Sandringham, take a visit to the Estate Museum, then grab a bite of some delicious Norfolk produce at the Sandringham café.
Sandringham, PE35 6EN
Ashridge Estate
Ashridge Estate is simply one of the most stunning places to visit in Hertfordshire, with its 5000 acres of unspoiled woodland and luscious green land, where every part of the estate has its own special kind of tree. You can take your furry friend along for the walk or explore the wonderful scenery Ashridge Estate has to offer on bike. Then, once you're finished and are feeling peckish, there are many spots where you can choose to take a picnic or even a BBQ in the summer with family and friends.
Ringshall, HP4 1LT
St Albans
St Albans is a charming historic city, just north of London, and is the home of the St Albans Cathedral – the oldest site of continuous Christian worship in Britain. Have a look inside this beautiful building, at the 13th century medieval wall paintings. You can also take a scenic stroll along the serene River Ver, as well as eating your way round all the independent restaurants, cafes, pubs and shops. There is also a traditional street market and Roman theatre, which are worth the visit when on your wonderful day out in St Albans.
St Albans, AL
Asda Money's tips to get the most out of your adventure

Before you pack up the car, strap the kids into their seats and pick out a road trip playlist, there are a few things to do before you set off that can help ensure that you have as enjoyable and straightforward a journey as possible. To help you get ready for your adventure, here at Asda Money, we've got a few handy tips to get you set and ready for any road trips.
First, check over your vehicle, including checking the oil levels and dashboard for any warning lights, giving your tyres a once over, and if possible, giving your car a quick test drive if you haven't driven it in some time. Next, have a look at the weather forecast, as we all know British weather can be unpredictable, so this way you can be prepared for anything the elements have to throw at you. If you're travelling with kids, consider preparing some entertainment for them before you get on the road – this could be a fun quiz or a children's podcast to play, or perhaps they'll enjoy taking in the surrounding scenery if you've found a quiet B-road! Lastly, check your route on a map and plan in regular pit stops and breaks to avoid tired eyes on the road which can cause accidents – this also helps add in some extra exploring opportunities!
Of course, for all road journeys of any distance, having a comprehensive motor insurance policy that gives you invaluable peace-of-mind while you're on the road is essential – to compare quotes from over 60 of the UK's top insurance providers and find an insurance policy that best suits you, check the links below :