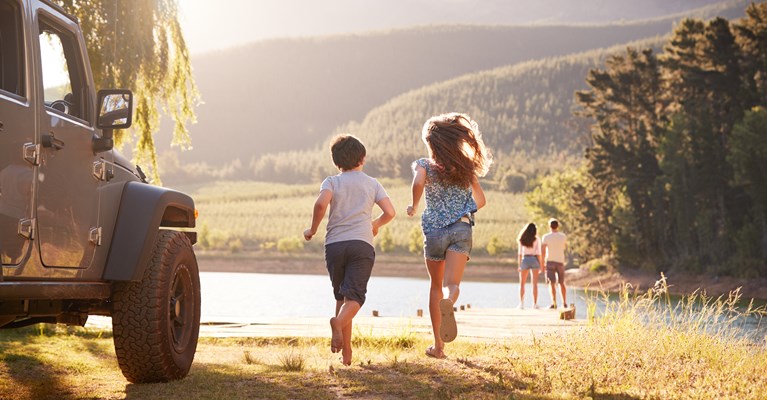 Our guide below on things to do in Scotland was researched and written in June 2021. All of the facts and adventures you'll learn about are true to the best of our knowledge and research. We would advise readers to check any specific details on costs or opening times for example before their trip.
Please help to keep yourself and others safe by checking government guidance around COVID-19 for local advice before travelling anywhere as restrictions may differ.
Home to stunning cultural attractions, ancient heritage and endless countryside landscapes, Scotland is a great tourist destination. From the internationally famous Loch Ness, to majestic historical castles such as Edinburgh Castle, and plenty of attractions in beautifully cultural cities, Scotland is a vibrant country with plenty to offer for everyone. There's a world of unique music, language, arts, and fascinating heritage to explore in some truly unique spots. Keep reading below to learn more about the country's most famous and special destinations and the countless adventures and activities you can get involved in.
Horgabost Campsite
The Horgabost Campsite is a beautiful grazing land set opposite the castaway island of Taransay. Situated on the west coast of the dramatic island of Harris in Scotland, the Horgabost Campsite is perfect for exploring and enjoying a beautiful sunset. Loved for it's total remoteness and popular stargazing views, it's ideal for anyone looking for a peaceful getaway. Don't miss the chance to catch a glimpse of the Northern Lights over the stunning night skies!
Isle of Harris, HS3 3HR
National Museum of Scotland
The National Museum of Scotland is home to a wealth of stunning Scottish antiquities, culture and history. To guide their visitors and help them to make the most of their time, the Museum has created three specific trails that you can choose based on your personal interests. Explore multiple galleries hosting fascinating artefacts from science and technology to art and fashion.
Edinburgh, EH1 1JF
Edinburgh Castle
Edinburgh Castle is a historic fortress dominating the skies of Edinburgh, and is one of the most exciting historic sites in Western Europe. The Castle is alive with captivating secrets and tales ready for you to discover, from the Royal Palace to the Scottish National War memorial. Pick your chosen route specific to your interests.
Edinburgh, EH1 2NG
Edinburgh
The City of Edinburgh is home to Scotland's crown jewels, boasting a breathtaking skyline, historic monuments, charming cobbled streets, and much more. There's plenty to do and enjoy from dazzling musical shows to fascinating exhibitions, and of course, an endless list of diverse sights and destinations to explore.
Edinburgh, EH1, EH2
Glasgow
Famed for its artistic Victorian architecture, Glasgow is Scotland's national cultural hub and home to the friendliest of people. A vibrant and dynamic city, it's packed with stunning attractions, distinct neighbourhoods, lively nightlife and much more. Discover the city's energetic arts scene with cutting edge productions and high profile exhibitions catered to all individuals alike.
Glasgow, G1, G2
Logan Botanic Garden
Scotland's most exotic garden hosts a remarkably beautiful collection of plants from all over the world, including Southern Africa and Australasia. With a subtropical climate and tranquil atmosphere, the Logan Botanic Garden is perfect if you're looking to enjoy a peaceful stroll amongst a colourful array of plants and greenery. Don't miss out on the breathtaking views across the Rhins of Galloway hills from the highest point of the garden.
Port Logan, DG9 9ND
Loch Ness Tour
The famous Loch Ness is a must for all to see. A beautiful loch shrouded in mystery with tales of a large monster lurking beneath the water, Loch Ness is one of those rare attractions that truly engages and captivates everyone of all ages. Explore this diverse destination that beautifully combines stunning natural landscapes and picturesque villages with the vibrant city life of Inverness.
Inverness, IV3 8LA
The Falkirk Wheel
The Falkirk Wheel is the world's first rotating boat lift, connecting the Forth and Clyde Canal with the Union Canal to allow navigation across central Scotland. Standing at a magnificent 115ft tall, this remarkable feat of engineering is now an iconic Scottish landmark for all to admire. Enjoy a 60-minute boat trip in which you can ride the Wheel and take in views of Central Scotland from above!
Falkirk, FK1 4RS
Loch Lomond
The world famous Loch Lomond is a mesmerising loch located in the heart of Loch Lomond and The Trossachs National Park. Surrounded by charming villages and picturesque countryside, it's the perfect place for any trip. Choose from a range of adventurous and soothing activities as you explore this stunning and romantic park.
Balloch, G83 8QL
Strathclyde Country Park
There's something for everyone to enjoy at the proud host venue of the Glasgow 2014 Commonwealth Games. An iconic country park surrounded in miles of scenic countryside, Strathclyde country park is one of the most popular family attractions in Scotland. Boasting a diverse range of amenities and attractions throughout the year including music festivals, rowing competitions, watersports adventures, fireworks events and much more; there's plenty to do as you enjoy this iconic landmark.
Motherwell, ML1 3ED
Isle of Arran
This stunning island is famed for being a "mini Scotland" with everything you could ever possibly want to enjoy from the stunning country it resides in. With an ever changing coastline, dramatic mountain peaks, sheltered beaches and of course, a wealth of tasty local produce packed with flavour, a short break on the Isle of Arran is the perfect way to enjoy a lovely break away from busy life. Don't forget to pack your binoculars and outdoor gear – there's plenty of wildlife to explore and thrilling outdoor adventures to get stuck into!
Isle of Arran, KA27
The Great Glen Way
Stretching for 118.5km from coast to coast across the Highlands, the Great Glen Way is one of Scotland's greatest trails. The route follows the Caledonian Canal and features forestry, feats of engineering, and stunning views over various lochs and villages. Although it's mainly used as a walking trail, you can also go cycling and mountain biking if you want to be more adventurous.
Inverness, IV3
Galloway Activity Centre
A family friendly outdoor activity centre situated on the delightful shores of Loch Ken, Galloway Activity Centre is the perfect destination to enjoy both adventurous and tranquil activities. The centre offers professional water sports sessions, archery, mountain biking, combat games and much more for all to partake in and enjoy. If adventure's not your thing – don't worry, there's plenty of natural surroundings to explore and appreciate.
Loch Ken, DG7 3NQ
Age restrictions may affect some areas - please check before visiting.
Asda Money's tips to get the most out of your adventure

Before you pack up the car, strap the kids into their seats and pick out a road trip playlist, there are a few things to do before you set off that can help ensure that you have as enjoyable and straightforward a journey as possible. To help you get ready for your adventure, here at Asda Money, we've got a few handy tips to get you set and ready for any road trips.
First, check over your vehicle, including checking the oil levels and dashboard for any warning lights, giving your tyres a once over, and if possible, giving your car a quick test drive if you haven't driven it in some time. Next, have a look at the weather forecast, as we all know British weather can be unpredictable, so this way you can be prepared for anything the elements have to throw at you. If you're travelling with kids, consider preparing some entertainment for them before you get on the road – this could be a fun quiz or a children's podcast to play, or perhaps they'll enjoy taking in the surrounding scenery if you've found a quiet B-road! Lastly, check your route on a map and plan in regular pit stops and breaks to avoid tired eyes on the road which can cause accidents – this also helps add in some extra exploring opportunities!
Of course, for all road journeys of any distance, having a comprehensive motor insurance policy that gives you invaluable peace-of-mind while you're on the road is essential – to compare quotes from over 60 of the UK's top insurance providers and find an insurance policy that best suits you, check the links below :