Things to do in South East England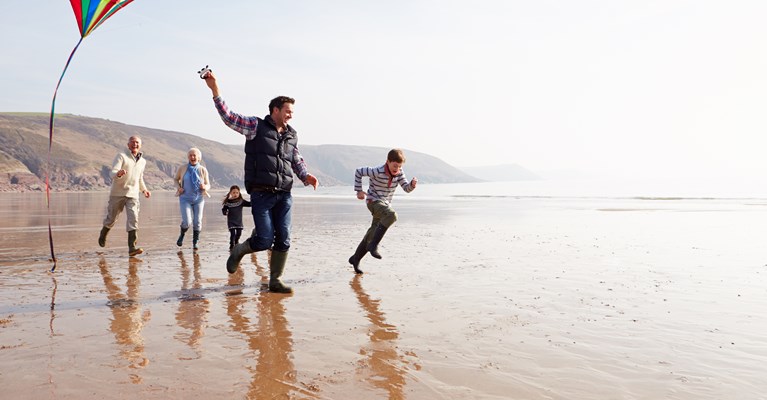 Our guide below on things to do in the South East was researched and written in June 2021. All of the facts and adventures you'll learn about are true to the best of our knowledge and research. We would advise readers to check any specific details on costs or opening times for example before their trip.
Please help to keep yourself and others safe by checking government guidance around COVID-19 for local advice before travelling anywhere as restrictions may differ.
The South East of England is the highest populated region in England, and is full of lots of fantastic attractions and things to do. Brighton is a great spot if you want all the best bits of a city break and a seaside holiday rolled into one, or you could venture off the mainland and head to the iconic Needles Landmark attraction on the Isle of Wight, where there's holiday activities for everyone to enjoy. Or if you are a fan of the Royal Family, you may enjoy a trip to the Historic town of Windsor, home of Windsor Castle - a popular royal residence of over 1,000 years. If you want to find out more about the wonderful attractions on offer in the South East, as well as some of our other top picks, keep reading below.
Broadstairs
Broadstairs is a charming seaside town on the Kent coast, where it's long sandy beach is sheltered by low chalk cliffs and lined with colourful beach huts. It is full of old-fashioned seaside fun, with a mix of retro and more modern shops, cafes, and restaurants. Grab a sweet treat from Morelli's – the first Morelli's Ice Cream Parlour in the UK. You could also go for a lovely scenic hike along the cliff top paths that link to beautiful bays in the area. Broadstairs was also the favourite holiday spot of Charles Dickens; it was in the stunning Bleak House where he penned David Copperfield.
Broadstairs, CT10
Leeds Castle
Once named the "loveliest castle in the world", Leeds Castle is a stunning stone castle set on an island in the middle of a lake. The castle that was built back in 857AD was once the royal palace of King Henry VIII, when he was married to his first wife, Catherine of Aragon. Leeds Castle is a great day out for everyone as there's so much to do - from adventure golf, a maze and the Knights' Stronghold playground, to museums and exhibitions. There is also over 500 acres of gardens and parkland to explore as well.
Maidstone, ME17 1PL
Brighton
Brighton is a beautiful and fun city sat by the sea. The shingle beaches are overlooked by the remains of the beloved West Pier, and the Palace Pier, which has rides and attractions at the end. If you want stunning views of the city and the sea, take a trip up the British Airways i360 Viewing Tower. A must see is the Royal Pavilion, a wonderfully distinctive Asian-style Palace that was built for King George IV. If you fancy a bit of food and shopping, the South Laines are a great place to start – full of independent cafés, restaurants, and boutiques.
Brighton and Hove, BN1, BN2, BN3, BN41
Oxford
Oxford is an elegant City, whose past dates all the way back to the stone age. It is the home to England's oldest university – the University of Oxford, which has beautiful buildings dotted around the city to see, as well as all the other visiting spots of historical interest. Take in the views from the Carfax Tower or the 13th century Tower of the Virgin St Mary. For nature lovers, a visit to the Oxford Botanic Garden, the UK's oldest botanic garden, is a must! Oxford is also full of great spots to shop and eat, with lovely independent cafés and restaurants.
Oxford, OX1, OX2, OX3, OX4
Highclere Castle
If you are a fan of Downton Abbey, then Highclere Castle is a must visit, as this was where the show was filmed! This is a very popular attraction, so one must be organised when booking – but this is all for good reason, as the castle itself is stunning and sits within a 6,000-acre estate. There is also lots to see, with the guided tours of Highclere Castle, an Egyptian exhibition and the beautiful castle gardens and parklands. You can also then recharge yourself with some delicious tea and scones.
Newbury, RG20 9RN
Windsor
Windsor is a beautiful town sat on the River Thames, just west of London, and is the home of the world's oldest and largest inhabited Castle – Windsor Castle. The castle, which has been a home of the Royal Family for over 1000 years, is full of classic antiques and unique artifacts to discover throughout a guided tour. For a fun day out with the kids, Legoland Windsor is only a stones throw away from the centre. You can also enjoy a day sat on the River Thames, either in a rowboat/motorboat or at one of the many lovely riverside restaurants.
Windsor, SL4
Leith Hill Tower
Take in the gorgeous views of the Surrey countryside from the top of Leith Hill Tower, once you have climbed the 74 steps to get there. The tower is actually the highest point in southeast England and on a clear day, you can even spot the London Eye when gazing through the telescope at the top of the tower. It is surrounded by woodland and parkland, which has lots of marked trails, so great for a day out with friends, family and furry friends!
Surrey Hills, RH5 6LU
Cliveden Estate
An elegant Italian-style mansion overlooking the River Thames…what more could you want? Cliveden House was also featured in the 2015 Live action Cinderella, as the Royal Palace. There is so much to do at Cliveden, from its beautiful gardens to the woodlands, its spring flower trails to boating on the River Thames – there's something for everyone! You can go for tours around Cliveden House to learn about it's history, as well as staying in the house itself, as it now holds a luxury 5-star hotel.
Maidenhead, SL1 8NS
The Needles
The Needles are a landmark attraction on the Isle of Wight, consisting of 3 chalk stacks that rise about 30m out of the sea. To get a closer look at them, you can take a boat ride round them from Alum Bay. There is also an iconic chairlift nearby, which takes you down to the beach, as well as lots of other fun activities for everyone to enjoy. There are rides to go on, a glass blowing factory, sand shop and sweet manufactory to visit during your day trip.
The Needles, PO39 0JD
Age restrictions may affect some areas - please check before visiting.


South Downs National Park
The South Downs National Park spans across the three counties of Hampshire, East Sussex and West Sussex and is loved for its stunning panoramic views of the sea and countryside, as you travel the 100-mile length between Winchester and Eastbourne. It's ideal for all outdoorsy types, whether you prefer to explore the vibrant flora and fauna, or visit the beautiful towns and quaint villages in the area. If you're interested in a little history, you can discover Iron Age forts and monuments dotted around the national park.
Hampshire, West Sussex and East Sussex, GU29 9DH
Asda Money's tips to get the most out of your adventure

Before you pack up the car, strap the kids into their seats and pick out a road trip playlist, there are a few things to do before you set off that can help ensure that you have as enjoyable and straightforward a journey as possible. To help you get ready for your adventure, here at Asda Money, we've got a few handy tips to get you set and ready for any road trips.
First, check over your vehicle, including checking the oil levels and dashboard for any warning lights, giving your tyres a once over, and if possible, giving your car a quick test drive if you haven't driven it in some time. Next, have a look at the weather forecast, as we all know British weather can be unpredictable, so this way you can be prepared for anything the elements have to throw at you. If you're travelling with kids, consider preparing some entertainment for them before you get on the road – this could be a fun quiz or a children's podcast to play, or perhaps they'll enjoy taking in the surrounding scenery if you've found a quiet B-road! Lastly, check your route on a map and plan in regular pit stops and breaks to avoid tired eyes on the road which can cause accidents – this also helps add in some extra exploring opportunities!
Of course, for all road journeys of any distance, having a comprehensive motor insurance policy that gives you invaluable peace-of-mind while you're on the road is essential – to compare quotes from over 60 of the UK's top insurance providers and find an insurance policy that best suits you, check the links below :