Things to do in South West England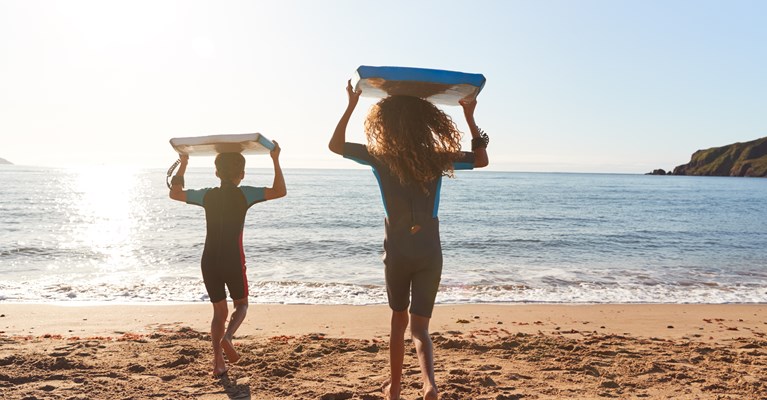 Our guide below on things to do in the South West was researched and written in June 2021. All of the facts and adventures you'll learn about are true to the best of our knowledge and research. We would advise readers to check any specific details on costs or opening times for example before their trip.
Please help to keep yourself and others safe by checking government guidance around COVID-19 for local advice before travelling anywhere as restrictions may differ.
The South West is home to the beautiful Jurassic Coast World Heritage Site, among other amazing attractions. With lots of activities on offer, you could choose to start your adventure with a trip to the historic city of Bath, where you can relax in the Roman Baths that helped give the city it's name; or you may want to visit the scenic coastal town of Salcombe, with it's bright blue water that might just teleport you to the Mediterranean. If you fancy more nature on your adventure, you may enjoy a relaxing walk through Haldon Forest Park, where you can immerse yourself in 3,500 acres of woodland - bliss! Read on below to find out more about these unique attractions, as well as what else is on offer in the South West.
Stonehenge
This world famous pre-historic monument, which dates back around 5000 years to the Bronze Age, is a World Heritage Site and a wonder to see in person. Take a trip to the visitor's centre, where there are Stonehenge exhibitions, and you can discover over 250 archaeological objects and treasures. For a truly unique experience, you can also book the Stone Circle Experience, which allows you to go inside the stone circle itself. The stone circle is also surrounded by remains of historical structures – stroll around the ancient landscapes and take it all in.
Salisbury, SP4 7DE
Castle Combe
Castle Combe is a quintessentially English village that is full of charm and sat within the Cotswolds Area of Outstanding Natural Beauty. The charismatic village has often been referred to as the prettiest village in England, and is a great place to visit if you love natural beauty and tranquillity. The village has also been used as a filming location on quite a few high-profile films, including Steven Spielberg's War Horse. If you like pretty historical buildings, the 13th century St Andrews Church is a must see during your trip.
Castle Combe, SN14
St Michaels Mount
St Michael's Mount is a stunning historic castle set on a tidal island, connected to the mainland by a man-made causeway, about 3 miles east of Penzance. Timing is important when visiting St Michaels Mount as you can only cross the causeway during low-mid tide – you have to pay to get across by boat if it's high tide! Take a stroll round the gardens that have a truly beautiful view of the sea and the mainland, then have a look round the ancient castle built back in the 1100s.
Marazion, TR17 0HS
St Ives
St Ives is a beautiful seaside town in Cornwall, with a beach that has been voted as one of the top ten in Europe. If you like surfing, or want to try it out, St Ives is the place to go to. The town itself has quaint little streets that are lined with boutiques, art galleries, cafes to get your tea and scones fix and charming historic buildings. For a fun trip out, take a boat trip to see St Ives from another perspective and Seal Island – an island off the coast where a seal colony lives.
St Ives, TR26
Land's End Cornwall
Land's End is one of Britain's most loved landmark attractions and is the most south-westerly point of England. This legendary Cornish destination has inspired people since ancient Greek times, when it was referred to as 'Belerion' – Place of the Sun. Take in the breathtaking coastal views whilst strolling along the cliff top trails. Once you have finished walking and taking in the stunning views, maybe go for a spot of shopping or a bite to eat – there are plenty of shops with artisan gifts nearby, as well as great restaurants and cafés.
Penzance, TR19 7AA
Bath
Bath is a historic city named after it's famous Roman Baths, where people for centuries flocked to bathe in it's healing waters and is still a big pull for visitors today. For those who want to relax, take a trip to Britain's only natural thermal springs – Thermae Bath Spa. Make sure you take in all the gorgeous Georgian architecture Bath has to offer, from The Royal Crescent to the beautiful parks and promenades that were built for the most fashionable in society. Bath is also a great city for a spot of shopping and is full of delicious cafés and restaurants.
Bath, BA1
Durdle Door
Durdle Door is a natural limestone arch that makes up part of the Jurassic Coast World Heritage Site. It is one of Dorset's most photographed beauty spots, but for good reason – this iconic landmark is a stunning sight to see. Let your furry friends know that that can come with you on your day trip to Durdle Door, as the beach itself is dog friendly all year round! The shingle beach makes for a great day out, why not take a nice little picnic? You can also bathe in the water, just be careful though as the beach shelves are steep in places and there are no lifeguards on duty.
West Lulworth, BH20 5PU
Puzzlewood
Inside Gloucestershire's ancient Forest of Dean lies the magical world of Puzzlewood, which has inspired storytellers for years. If you are a nature lover, who loves discovering the great outdoors, walking and tree-bathing, Puzzlewood is the place for you. Experience the beautifully twisted trees and enchanted woodlands that have been the filming spot for many films and tv shows, including Star Wars, Doctor Who and The Huntsman – just to name a few! Have a great day out walking around a mile and a half of trails, lookout points and bridges.
Forest of Dean, GL16 8QB
Nothe Fort
Built in 1872, Weymouth's iconic sea fort, that was built to protect Weymouth and Portland harbours, is full of history to explore. It's placement in Weymouth also gives the fort stunning views of the Jurassic Coast, which are a must see! Spanning across 3 levels of the fort, you can learn about Nothe Fort's history in the museum, grab a bite to eat at the café and maybe pick up a souvenir in the gift shop. Nothe Fort is buzzing throughout the year with exhibitions, themed events, and a popular local mouse-hunt, so everyone can have some fun.
Weymouth, DT4 8UF
Salcombe
Salcombe is a lovely coastal town sat on the Kingsbridge Estuary, where you feel like you've been teleported abroad, as the water is as blue as the Mediterranean. It is often called one of the prettiest places to visit in Devon, and for good reason! Rolling hills of green, great views of the coast and a beautiful estuary, where the water is quite shallow and serene. Due to it's placement on the Estuary, Salcombe is a haven for all things water sports, why don't you try some paddle boarding, sailing or kayaking. Then enjoy some alfresco dining, whilst taking in your stunning surroundings.
Salcombe, TQ8
Haldon Forest Park
With 3,500 acres of woodland on offer, Haldon Forest Park is the perfect place to immerse yourself in nature. Bursting with lush greenery, pine trees and gorgeous views, you can cycle, hike or just stroll along the trails of natural beauty. To add some extra fun into your day, why don't you book a Segway tour of the forest or visit the Go Ape within Haldon Forest Park. Haldon Forest is also dog friendly, so let your furry friends know that they're coming along on a great day out! Then, once you've finished all your activities, or just need a break in between – relax and have a bite to eat at either the café or one of their picnic areas.
Exeter, EX6 7XR
Asda Money's tips to get the most out of your adventure

Before you pack up the car, strap the kids into their seats and pick out a road trip playlist, there are a few things to do before you set off that can help ensure that you have as enjoyable and straightforward a journey as possible. To help you get ready for your adventure, here at Asda Money, we've got a few handy tips to get you set and ready for any road trips.
First, check over your vehicle, including checking the oil levels and dashboard for any warning lights, giving your tyres a once over, and if possible, giving your car a quick test drive if you haven't driven it in some time. Next, have a look at the weather forecast, as we all know British weather can be unpredictable, so this way you can be prepared for anything the elements have to throw at you. If you're travelling with kids, consider preparing some entertainment for them before you get on the road – this could be a fun quiz or a children's podcast to play, or perhaps they'll enjoy taking in the surrounding scenery if you've found a quiet B-road! Lastly, check your route on a map and plan in regular pit stops and breaks to avoid tired eyes on the road which can cause accidents – this also helps add in some extra exploring opportunities!
Of course, for all road journeys of any distance, having a comprehensive motor insurance policy that gives you invaluable peace-of-mind while you're on the road is essential – to compare quotes from over 60 of the UK's top insurance providers and find an insurance policy that best suits you, check the links below :