Things to do in Yorkshire and the Humber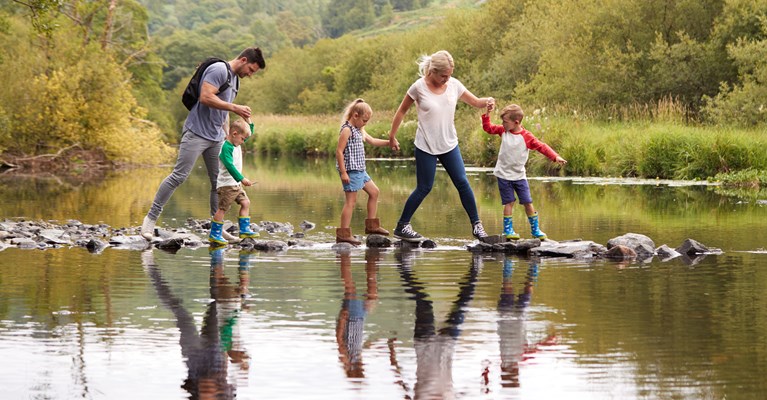 Our guide below on things to do in Yorkshire and the Humber was researched and written in June 2021. All of the facts and adventures you'll learn about are true to the best of our knowledge and research. We would advise readers to check any specific details on costs or opening times for example before their trip.
Please help to keep yourself and others safe by checking government guidance around COVID-19 for local advice before travelling anywhere as restrictions may differ.
There is a lot more to Yorkshire than just its tea! (you can't beat a cup of Yorkshire Tea though) This guide is here to help you plan your Yorkshire adventure, so buckle up and get ready to hit the road to lots of great attractions. You could enjoy the spectacular scenery and culture of the historic seaport town of Whitby, while munching on some delicious seaside chips, or go for a picturesque walk around Malham and Gordale Scar in the Yorkshire Dales. Art lovers could enjoy a day roaming around the Yorkshire Sculpture Park, with it's ever-changing exhibitions. Find out more about these activities, as well as other great attractions to visit in Yorkshire below.
Fountains Abbey
Fountains Abbey is home to some imposing ruins and beautiful landscaped gardens, woods, and parkland. It's history goes back a long way to 1132 and was once a very wealthy monastery. Today it's a World Heritage Site, and very popular with visitors. You can explore the water gardens and the mysterious Serpentine Tunnel; discover the cave near the abbey ruins, or just stroll along the river and take in the picturesque views. It's the perfect day out for everyone, with playgrounds for kids and plenty of space to run around in the great outdoors.
Ripon, HG4 3DY
Bolton Abbey
From the impressive priory church ruins to the imposing Barden Tower, there's lots to see at Bolton Abbey. Near the abbey itself, you can skip (very carefully) across the stepping stones that cross the river, before heading out to the moors through the Valley of Desolation. There's the beautiful waterfall to see before heading to Simon's Seat with its breathtaking views. You can also explore the ruins of Barden Tower - once a grand hunting lodge in the 15th century, as well as the impressive aqueduct bridge with its castle-like turrets spanning the River Wharfe. Bolton Abbey is ideal for anyone who loves exploring the great outdoors, or who loves a bit of history. There's plenty to see and do for adults and kids alike.
Skipton, BD23 6EX
Harrogate
Harrogate is a pretty Victorian spa town with some great shopping spots and places to eat, as well as making a good base for exploring the surrounding countryside. The town has many picturesque shopping streets and some beautiful parks, including the open green space known as The Stray, and the popular Valley Gardens. You can see some of the town's spa history at the Royal Pump Room Museum and the Turkish Baths, or indulge in some afternoon tea at the famous Bettys Tea Rooms around the corner. Harrogate is a great day out for some elegant shopping and relaxation, with picturesque streets and boutique shops to explore.
Harrogate, HG1
Whitby
If you fancy a day at the seaside, Whitby offers all sorts of fun things to do and see. Surrounded by the North Yorkshire Moors National Park, Whitby stands on the North Sea coast with some spectacular scenery and a popular beach. There's the imposing Whitby Abbey standing on top of the East Cliff, famous for its part in the tale of Dracula. Explore the winding streets of the town to find great shops and cafes, and fascinating stories in the Captain Cook Memorial Museum. If you love a picturesque seaside town with some amazing scenery, Whitby is a great place to go for a day out.
Whitby, YO21
Ingleton Falls Trail
The Ingleton Waterfalls Trail takes you on a 4.5 mile walk through some enchanting woods and sweeping scenery, with several spectacular waterfalls along the way. From deep glens out into open moorland, it's a rewarding hike for those who love the outdoors, and this landscape even inspired famous artists including William Turner. As you travel along the circular walk you can enjoy the changing scenery and plant life, from lush woodlands to rocky moors and the tumbling waterfalls. It's the perfect day out for nature lovers and anyone who loves a good view.
Ingleton, LA6 3ET
York
The historic City of York is full of exciting things to discover on a day trip, with plenty for people of all ages to enjoy. There's the impressive cathedral - York Minster, which towers over the picturesque medieval streets full of unique shops and eateries. Take a look down the famous Shambles to see a real-life Diagon Alley (there's even a wand shop). Head to the Jorvik Viking Centre to see what York was like during Viking times, including the smells! There's also the York Castle Museum where you can see all sorts of fascinating exhibits, including a recreated Victorian street. York is sure to make a perfect destination for a day out for all the family, with things to see and do that should please everyone.
York, YO1
Malham and Gordale
The beautiful Malham and Gordale Scar walk takes you through some stunning scenery in the Yorkshire Dales. There are enchanting woods, tumbling waterfalls, dramatic cliffs and valleys to explore. Gordale Scar is one of Yorkshire's most amazing features, with steep cliffs and waterfalls running down between the boulders. Above the tranquil Malham Cove you'll find the limestone pavement, which was a filming location for the 7th Harry Potter film. The Malham and Gordale Scar walk is a great day out for keen hikers, with plenty of natural beauty to admire and rocks to scramble over for adventurers.
Malham, BD23 4DG
Saltburn-by-the-sea
Saltburn offers a great day out by the seaside, with a picturesque town and some unique attractions. You can find some great shops, pubs, and places to eat in the town itself, before heading to the sandy beach and its fantastic pier. The beach even hosts one of the UK's biggest surf competitions each year. One thing to not miss is the Saltburn Cliff Tramway, taking visitors up the steep slope from the beach to the town. There's also the Saltburn Miniature Railway and other traditional seaside delights to explore along the seafront. It's a great day out that the whole family can enjoy.
Saltburn,  TS12 1HQ
Harewood Estate
Harewood Estate features a grand 18th century house filled with stunning rooms, beautiful gardens and vast landscapes around it. You can explore the state rooms of the house, and walk out onto the terrace that looks over a breathtaking landscape designed by the famous Lancelot "Capability" Brown in the 1700s. There's also the gardens to explore, as well as lots of exotic birds and other animals to see and even pet. The gardens offer a relaxing trail to follow along winding pathways, with some great spots to stop for a picnic or to buy an ice cream. There's also a large adventure playground that'll keep kids entertained for hours, ideal for family days out with lots to see and do, and entertaining for adults just as much as for children.
Harewood, LS17 9LG
Yorkshire Sculpture Park
Yorkshire Sculpture Park offers something new and exciting on every visit, with changing exhibitions from different artists, as well as some amazing permanent displays. Set amongst beautiful landscaping, the park delights and surprises guests with all sorts of sculptures around every corner. It's great for a day out where everyone is free to explore and discover in the open air. There's also a visitor centre with a restaurant and shop, as well as some indoor galleries with changing exhibitions.
West Bretton, WF4 4LG
Royal Armouries Museum
The Royal Armouries on the Leeds Dock is full of amazing objects relating to war and weapons, from medieval jousting to Japanese archery. From the earliest days of bronze swords to shining armour and modern weapons, the collection covers many different eras and cultures. There are absorbing talks and even live displays of sword fighting, as well as some incredible artefacts such as elephant armour and jewelled swords. There are even weapons from films such as Lord of the Rings, and a crossbow range for kids to test their skills. The Royal Armouries museum is sure to offer a great time for any visitor, with many different exhibits and themes to explore. It's also free to enter.
Leeds,  LS10 1LT
Wentworth Castle and Gardens
Explore the open parkland and woods of Wentworth Castle Gardens in South Yorkshire, a perfect destination for a day out. The Grade I listed gardens are filled with magical features and buildings, such as Stainborough Castle, the Sun Monument, and the grand house itself. There are also plenty of great picnic spots and parkland to run and play in, as well as a café to grab a cold drink from on a hot day. Seasonal events also take place throughout the year, such as nature trails with scavenger hunts and rewards, making it a great place to visit again and again.
Barnsley, S75 3EN
Sheffield Botanical Gardens
Set on a south-west sloping hill, the 19th century botanical gardens are home to over 5,000 species of plants in over 19 acres of land. Dating back to the 1800s, the gardens were created by a leading Victorian horticulturist and landscape designer. Today, the gardens house a diverse variety of plants from many different regions and are surrounded by beautiful herbaceous borders. There's plenty of nature and wildlife to explore in the multiple gardens - so take your pick and bask in the natural glory of it all!
Sheffield, S10 2LN
Bridlington
Nicknamed "the Lobster Capital of Europe", Bridlington is one of the UK's most perfect staycation destinations. With it's golden sandy beaches, historic harbour and variety of traditional entertainment, this beautiful seaside town offers a leisurely experience for all. Visit the funfair, enjoy donkey rides and other amusements, explore nearby Sewerby Hall and Gardens, and pamper yourself at the Bridlington Spa to enjoy a truly relaxing and peaceful visit. For the more adventurous types, there's a host of outdoor activities to get stuck into, from fishing expeditions to speedboat rides.
Bridlington, YO15 2PL
Asda Money's tips to get the most out of your adventure

Before you pack up the car, strap the kids into their seats and pick out a road trip playlist, there are a few things to do before you set off that can help ensure that you have as enjoyable and straightforward a journey as possible. To help you get ready for your adventure, here at Asda Money, we've got a few handy tips to get you set and ready for any road trips.
First, check over your vehicle, including checking the oil levels and dashboard for any warning lights, giving your tyres a once over, and if possible, giving your car a quick test drive if you haven't driven it in some time. Next, have a look at the weather forecast, as we all know British weather can be unpredictable, so this way you can be prepared for anything the elements have to throw at you. If you're travelling with kids, consider preparing some entertainment for them before you get on the road – this could be a fun quiz or a children's podcast to play, or perhaps they'll enjoy taking in the surrounding scenery if you've found a quiet B-road! Lastly, check your route on a map and plan in regular pit stops and breaks to avoid tired eyes on the road which can cause accidents – this also helps add in some extra exploring opportunities!
Of course, for all road journeys of any distance, having a comprehensive motor insurance policy that gives you invaluable peace-of-mind while you're on the road is essential – to compare quotes from over 60 of the UK's top insurance providers and find an insurance policy that best suits you, check the links below :