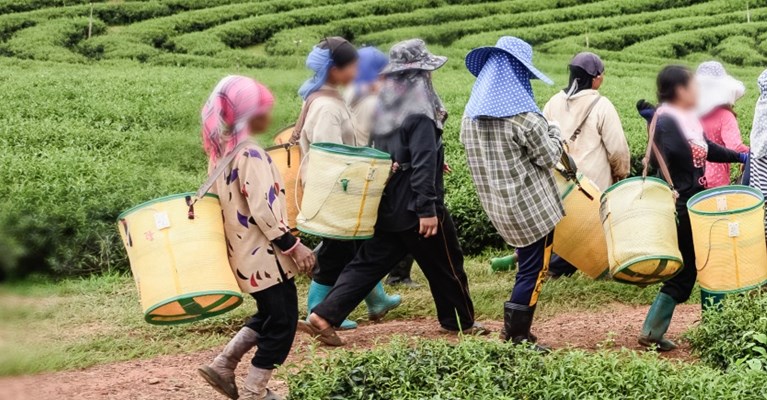 Volunteering holidays are often associated with students on a gap year, however, they're now becoming increasingly popular with adults and the recently retired. These types of vacations are rewarding, fun, and give people the chance to do things they might not have had chance to do in their younger years. From marine conservation in India to working on an organic farm in France, there are hundreds of different opportunities for you to make an impact on lives around the world.
Whether you want to volunteer for a week, a few months, or even a year, there are plenty of organisations set up to help you along the way. Here at Asda Money, we've unearthed some of the best volunteering holidays abroad, so you can see a beautiful part of the world whilst putting your skills to good use.
Organic Farming, France


If you're a fan of the outdoors and don't mind getting your hands dirty, volunteering on an organic farm in France could be perfect for you. Lots of farms welcome people to come and work for them, and in return, you're usually rewarded with delicious free food, cosy accommodation, and an experience you'll never forget.
From milking cows and collecting eggs, to ploughing fields and harvesting fruit, you're sure to find yourself busy on a farm in France. One of the most popular organisations that specialise in this kind of holiday is WWOOF, World Wide Opportunities on Organic Farms. WWOOF provides volunteers with hands-on farming experience in beautiful rural settings, and operate in many different countries. As well as improving the environment around you, you'll come home with a set of valuable skills and lifelong friendships.
Once you've become a WWOOF member, you just need to decide where to volunteer and how long you want to do it for. Whether you fancy a few days or a year, you and your host can decide depending on what suits you both best. You can work on a farm in France any time of year, but there will be more hosts who need help during the summer months. WWOOF hosts are scattered across France, so flight prices will vary depending on where you're going. Many hosts are located in Southern France, and a flight to Marseille in the summer months will cost on average about £40.00 each way from London.

Video sourced from Les Costils
Teaching and Orphanage Work, Kenya


One of the most rewarding and unique volunteering experiences can be giving your time to an African orphanage or school. Seeing a child smile is one thing, but knowing that you're making a difference to disadvantaged children is another.
Agape, an incredible organisation providing aid to millions of people all over Africa, offers fantastic opportunities to work in schools and orphanages in Kenya. With Agape, you'll get the chance to assist in lessons, play with children, help with lunch, and make friends with other volunteers also wanting to make a difference. As well as helping in the classroom, you can also look after younger children in the orphanage, reading them stories, playing games and helping with day-to-day chores. You'll stay with a host family who'll provide you with breakfast, dinner and a place to stay in a loving family home. It'll be a home away from home experience where you can learn all about different cultures and traditions.
Whether you want to stay for a week or a year, Agape can provide the programme for you. Prices start at £475 for a week, which includes accommodation, two meals a day, airport pick up and registration. You'll also need to consider flights, vaccinations, visas, and any extra spending money you think you'll need. You can volunteer in Kenya all year round, however, if you're wanting to get out and spot some of the local wildlife on your days off, you're best going during the dry season, from late June to October. During this time, flights will cost you on average around £200.00 each way from London Airports.

Video sourced from Beth Adams
Protecting Brown Bears, Romania


If you're an animal lover, what better way to spend your volunteering holiday than by protecting brown bears in Romania. You'll head to Eastern Europe's biggest bear sanctuary, where you'll get the chance to protect and look after these furry animals, as well as taking care of the home they live in.
Once hunted for entertainment, these amazing animals haven't always been safe in Romania, so in 2006, the sanctuary was set up to save them. Travel organisation, Oyster, specialising in voluntary work around the world, offers the opportunity to work with these brown bears in the sanctuary. From food preparation and watching the bear's feeding process, to conservation work around the sanctuary and looking out for the bears' welfare, there's so much to do here. You'll get to see bears climbing trees, swimming, and playing in their natural habitat, all whilst soaking up the mountain views.
Volunteers are needed at the sanctuary all year round, although it can only cater for 4 volunteers at a time, so be sure to book in advance. One week at the sanctuary costs £995, and an extra £175 per week after that. With this you'll get airport transfers, accommodation, daily transport to the sanctuary and a couple of half-day trips for you to enjoy too. Flights to Bucharest in Romania are relatively cheap all year round, but in November you can get a flight for as little as £14.00 from London Airports.

Video sourced from Oyster Worldwide
The Great Turtle Project, Sri Lanka


For those of you wanting to volunteer with a marine conservation scheme abroad, the Great Turtle Project in Sri Lanka is a must. Aiming to protect and monitor sea turtles, as well as to conserve the local nesting sites, you can get involved in some of the key jobs that make this happen, whilst being surrounded by spectacular island views.
Set up by The Great Projects, you'll get the chance to look after the turtles and the home they live in. From keeping the beach and project area clean to burying the eggs and keeping them safe, there are so many rewarding jobs for you to do. You'll even get to come face to face with these fascinating reptiles whilst cleaning their shells. One of your daily tasks will also be to cut up and prepare the food, before feeding it to these amazing creatures. The volunteers' most unforgettable experience is usually the turtle release, where you'll get to help release the babies back into the sea.
Prices start at just £599 for 7 nights, including accommodation, meals, drinks whilst you're on site and airport transfers. Although the most popular time to volunteer here is peak hatching season, between February and April, you can visit at any time of year. Flights to Colombo during the hatching season will cost around £200 each way.

Video sourced from The Great Projects
Before you head away on your volunteering vacation, check with your GP to find out if there are any vaccinations you will need. Some organisations might not include travel insurance either, so make sure you check beforehand and buy the right insurance before you go. You might end up volunteering in a remote location, away from the convenience of cash machines, so make sure you're stocked up on travel money too.
The above figures are provided for indicative purposes only, and are based on the exchange rate correct as of 01/12/2017