Wild Destinations: Holidays for Animal Lovers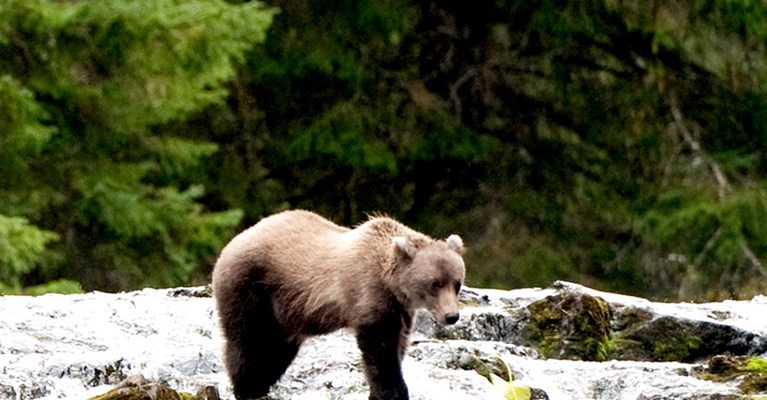 If you're a wildlife lover, then a holiday abroad wouldn't be complete without a trip to see some of the world's most incredible species in their natural habitats. There's no better feeling than watching an animal roam free and have fun in the wild, and there are many destinations around the world that you can experience this.
Whether you want to visit Pig Island in the Bahamas or look for brown bears in Finland, the options are endless. You'll get the chance to come face-to-face with remarkable wildlife on some of the world's most beautiful beaches, fantastic forests and mysterious woodlands. Here at Asda Money, we've picked our favourite 3 destinations to see animals enjoying life in their natural habitats.
Brown Bears, Finland


Well known for its saunas, the Northern Lights and of course, Santa Claus, Finland is a popular tourist hotspot. Whether you're there for a short city break or a two-week holiday, there's so much to see and do in this breath-taking country. Around 65 percent of Finland is covered in forest, and if you look closely in these areas, you might even get to catch a glimpse of the beautiful brown bear in its natural habitat.
Finland's fantastic forests are home to around 1,500 brown bears, and if you're travelling between April and September, there are several excursions you can go on to see them. The best place to spot these furry creatures is the Finnish-Russian Border, a wonderful wilderness of dense forest and wildlife.
Natural Wonders Photography offer a 6-day trip, where you'll get to see, hear, and learn all about this incredible animal. You'll be based at a family-run wilderness centre, but spend the nights in fantastic bear hides, watching brown bears and cubs foraging, playing and climbing trees in the Taiga Forest. A guide will be there throughout to tell you all about the bears and their behaviour, as well as helping you to photograph them. The 6-day tour costs just over £1,000 per person, and flights around these dates will cost under £200.00 return from London Airports.
Explore.co.uk can provide you with a 4-day bear watching tour, if you're just looking for a short break. From just £499 without flights, or £765 including flights, you can head to the Wild Brown Bear Centre just next to the border for a bear-watching experience you'll never forget.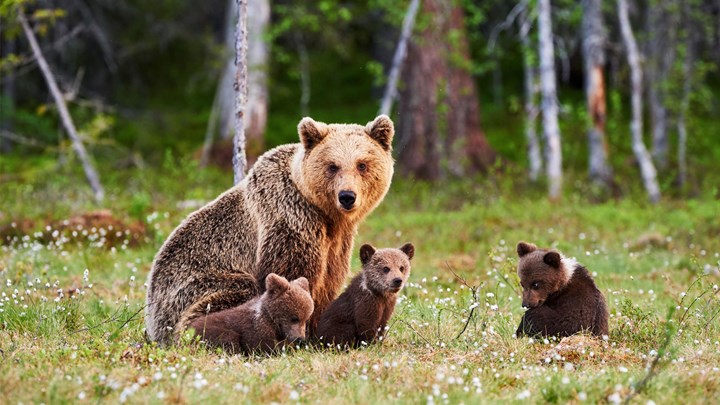 Pig Island, the Bahamas


When you think of the Bahamas, your mind may wander into a world full of white sandy beaches, sparkling blue waters and coconut trees swaying in the breeze. What you don't usually think of is pigs. Usually found on a farm in the UK, this cute animal can also be found thousands of miles away in the tropical paradise that is the Bahamas.
Big Major Cay, home to Pig Beach, is an uninhabited island in Exuma. During your visit, you'll be greeted by over 20 pigs and piglets swimming in the shallows, enjoying the high life on the island. This cute colony eat, sleep, and swim here, whilst enjoying the attention from Bahamians and tourists. The story of how the pigs ended up living here remains a mystery. Some say they were left by a group of sailors, and others say they swam over from a shipwreck nearby. Wherever they came from, a holiday in the Bahamas wouldn't be complete without seeing them.
If you're staying in Nassau, the capital of the Bahamas, you can get a small plane from there to Staniel Cay or Great Exuma, then a boat over to Pig Island. Though Big Major Cay is beautiful year-round, the pigs are usually away from the beaches and seeking shelter between June and November, the area's hurricane season. April to May is a great time to go, and a return flight from London Airports will set you back just over £500. Despite a common misconception, you can stay in the Bahamas without breaking the bank. Although there are a wide variety of 5-star luxury hotels available, you can grab yourself a lovely hotel in Nassau in April for about £70.00 per night.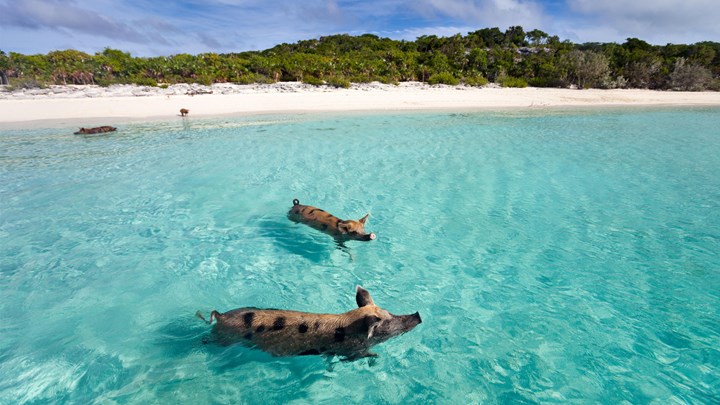 Monkey Beach, Thailand


Thailand has some of the most famous beaches in the world, and it's easy to see why. This tropical paradise has crystal-clear waters and bright white sands, giving the millions of tourists a reason to visit each year. However, it's not just palm trees you'll find on the beach. On the island of Ko Phi Phi Don, you'll be greeted by hundreds of cheeky monkeys wanting to play.
Though they live in the mountains, the monkeys know to head for the beach when they're hungry, feasting on both the islands natural produce and what tourists leave behind. The monkeys are very mischievous and will try to snatch anything available, so make sure you keep your valuables in a bag that can't be stolen. These cute monkeys play on the sand, paddle in the sea, and aren't shy to come for a picture with you either. As well as the monkeys, the beach is also the perfect place for snorkelling, and under the water you'll find an array of beautiful fish such as parrot fish and clownfish, as well as colourful coral and giant clams.
Depending on where you're staying, there are quite a few options when it comes to how to get to Monkey Beach. You can take a boat trip from Ko Phi Phi Centre, Phuket or Krabi, that often stop at other neighbouring snorkel spots such as Maya Bay and Bamboo Island. If you're a fan of water sports, you can also rent a kayak in Loh Dalam Bay and travel over to the beach. Or, if the tide is low, you can walk to the beach, taking a stroll along the shoreline about 500 metres. However, this can be risky as the rocks are slippery and you'll have to be sure about tide times.
A great time to visit Thailand is at the start of peak season during November. The weather around this time is lovely, and you can get a return flight from London airports to Phuket for under £400. If you're staying in Ko Phi Phi Don, the ferry ride from Phuket takes around 2 hours. Accommodation varies in Ko Phi Phi Don, meaning you can either get a £21.00 per night hostel, or a gorgeous 4-star hotel from about £50.00 per night. So, whatever your budget, you'll be able to find something perfect for you.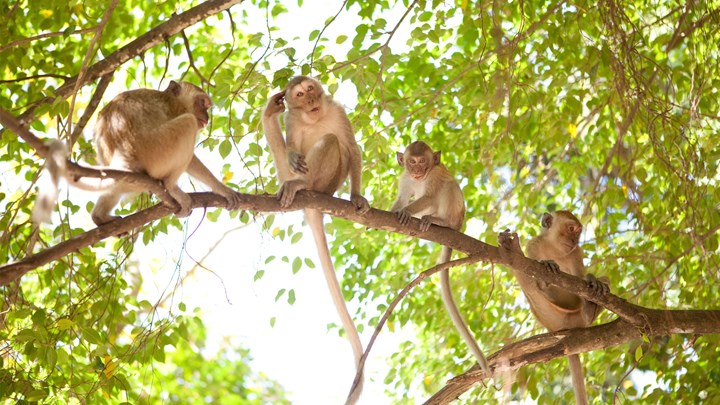 Wherever you decide to go on your next holiday, it's important to get travel insurance before you go. Also, some excursions to see this wonderful wildlife might only accept cash, so don't forget to pick up your travel money beforehand.
The above figures are provided for indicative purposes only, and are based on the exchange rate correct as of 03/08/2017