Dog's Christmas Dinner
Introducing Asda Christmas Dog's Dinner: a paw-fect Christmas feast for your pup.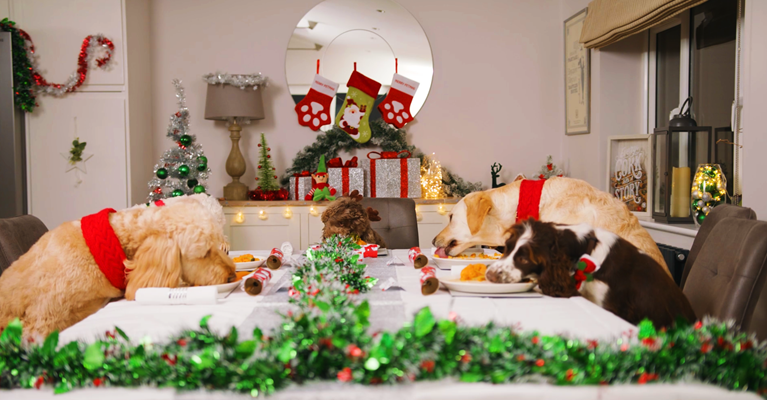 This Christmas, why not make your dog's dreams come true by creating a specially designed canine-friendly Christmas dinner to involve them in the festivities?
Show your furry friend how much they mean to you and that they are truly a part of the family by creating a bespoke, doggy-friendly Christmas dinner just for them and including them in all your festive traditions and celebrations.
We teamed up with former MasterChef contestant and proud doggy owner Max Davies to create exactly that, a paw-fect Christmas dinner for your pups. Truly delicious, but don't just take our word for it…
Our beloved four-legged (or sometimes less) friends shouldn't have to miss out on the fun and all the delicious food, especially when we know those wet noses will be picking up every scent and the chomps will be drooling for a taste – and we're not the only ones who think that! In fact, 80% of UK based dog owners agreed that our furry pals should be made to feel like they're part of the festive celebrations as much as any family member!
Our survey of 1,000 pup owners also found that almost three quarters (73%) would prepare a special meal for their dogs during Christmas and feed them festive food and snacks, including turkey, carrots, beef, pigs in blankets and more. 3 in 10 even enjoy pulling a Christmas cracker with their furry companions!
Nothing quite compares to a homemade Christmas dinner, sat around the table surrounded by your family, passing around dishes filled to the brim with the most delicious food - and your dog should for sure be a part of this. Almost a quarter (23%) of the dog owners we surveyed said they like to set a place at the Christmas table for their pooch, whilst almost a fifth (19%) of them admitted they would do the same if their family were okay with it.
That's not the only way us Brits tend to spoil our pups rotten. Almost a third (31 percent) of those surveyed admit that their dog gets more exciting and interesting presents than themselves and other family members, including Dad, and 23% have even spent more on presents for their dog than on family members!
With 64% of us believing it's completely acceptable and to encourage some to make your dog feel like part of the festivities on Christmas Day, we're here to help with ideas on how. Especially when it comes to involving your pup in the most important festive tradition of all – the heavenly Christmas dinner.
Let's take a look at the unique, doggy-friendly Christmas dinner recipe we helped put together when teaming up with MasterChef contestant and proud doggy owner Max Davies last year.
So, if you're looking to go that extra mile for your four-legged (or less!) friends this Christmas and show them how much they mean to you, then keep on scrolling…
Prepping for Christmas
Preparing and getting ready for the Christmas period can feel a little overwhelming with everything to do, from the decorations to the gift shopping, and getting the house ready for visiting family and friends. Don't worry though, as we've got this one covered…
Fine dining chef Max Davies, puts his creative chef skills to the test by working to create a delicious festive meal for the dogs in his family, says, "Combining my love of food with my love of dogs was a really exciting way to end the year.
"All the dishes have been prepared to be suitable for a healthy dog diet which was a bit of a challenge as it's different to the guests I usually cook for, but it was so much fun putting it all together for them. The dogs might not have appreciated the presentation of the dishes, but by the look of the clean plates, they certainly enjoyed the taste!"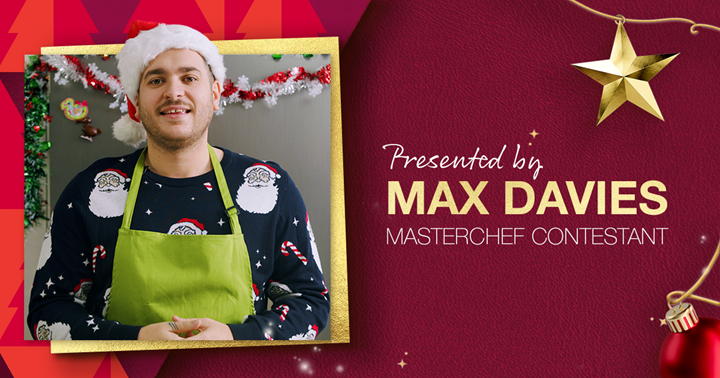 All ingredients and dishes have been fully approved by Asda Money's Pet Insurance specialist vet, Joii, so the dishes are fully safe for them to dig into (do make sure any peanut butter is xylitol free and avoid sharing any of the turkey bones and skin to keep everything dog friendly).
To further put your mind at ease, you'll be happy to know that we also put these recipes to the test with Pepper the spaniel, Nala and Stanley, who are both miniature Goldendoodles, Buckles the cockapoo, and Carrie the Labrador retriever. Let's just say the following recipes went down a treat, with every plate licked completely clean!

First Course - Christmas Dog's Dinner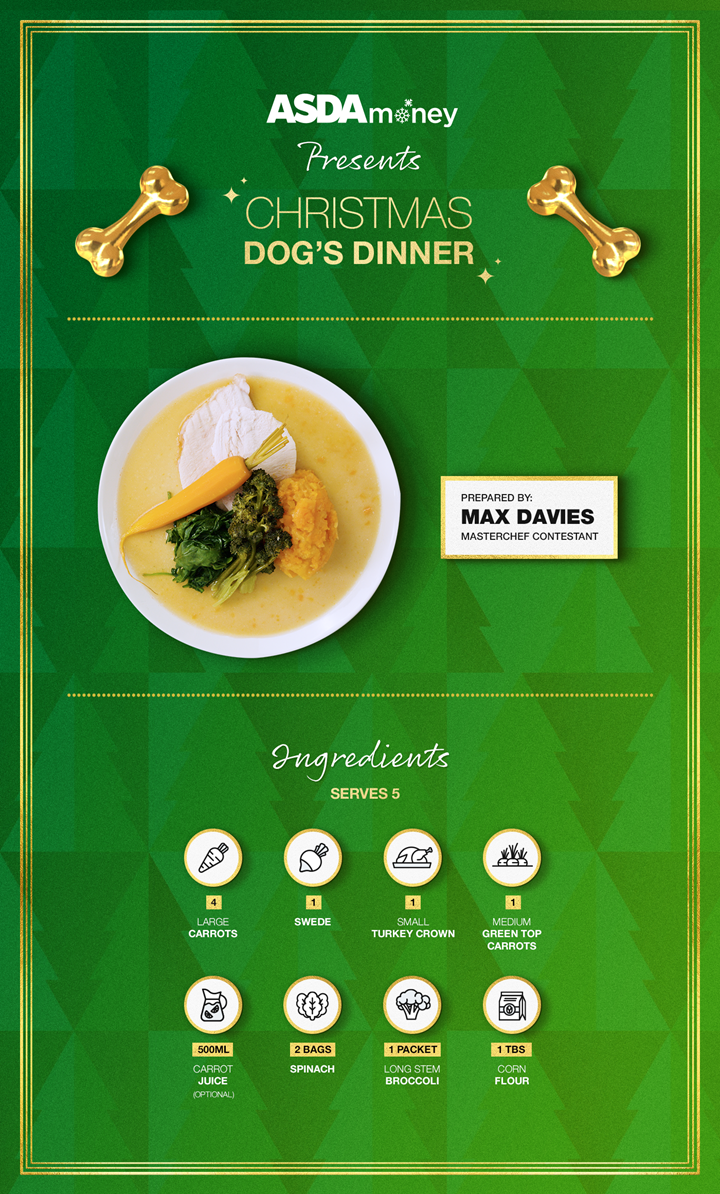 This Christmas Dinner for Dogs recipe will serve approximately 5 dogs – let's hope they invite some of their furry pals along! If not, the recipe can always be adjusted to accommodate the number of pups that will be feasting on the dinner.
You will need the following ingredients:
Before you begin this doggy Christmas cooking adventure, be sure to take out the turkey crown the day before so that it can defrost.
When the day of the festive feast arrives, start by cooking the turkey. This should take you around 70 minutes for a 1.5kg turkey crown, placed at 180ºC in the oven. If the turkey crown you are using is bigger, just add an extra 20 minutes for every additional 1kg. Place the defrosted turkey crown in a roasting tray and add around an inch of water to the bottom of the tray and cover it with foil before you place it in the oven to cook. After about 40 minutes, remove the foil and let it cook for around another 30 minutes, allowing the skin to become a delicious golden colour. Once it has cooked and turned golden brown, remove it from the oven, so it's ready to serve.
Whilst the turkey crown is cooking away in the oven, boil some water in a pan on your hob. Peel and dice the swede and the 4 large carrots (not the 5 medium carrots) and boil them in the water until they turn soft. While boiling, steam the long-stem broccoli until it's slightly softened. Once the swede and carrots have been softened, remove from the hob, drain the water, and mash them together.
Next, peel the 5 green top carrots (keep the green tops to one side and leave about an inch on the top of the carrots) and add them to a pan with the pressed carrot juice and a cup of water (the carrot juice is optional here, so if it's not your thing you don't have to use it), and bring it to a boil.
Add the spinach to a frying pan with a splash of water - this will help it wilt quickly within 1-2 minutes.
For the gravy, use the cooked juices from the turkey pan and add to a jug with the corn flour and 100ml water - mix this together until you reach your perfect gravy thickness – we know it's different for everybody!
Finally, it's time to serve our doggy Christmas feast… Lay the turkey slices in the middle of a plate with a large spoonful of carrot and swede mash at the side (this is your quenelle for the fine-dining pups out there), lay the spinach next and then arrange the broccoli and carrots on top to create extra height, and then pour the gravy on top. If you've kept your green carrot tops, chop, or tear them into rough pieces and sprinkle across the top to add a pop of colour.
Bon Appétit! That's the paw-fect Dog's Christmas Dinner ready to dish out – that's if they'll sit down at the dinner table of course…
Second Course – Doggy Bone Dessert recipe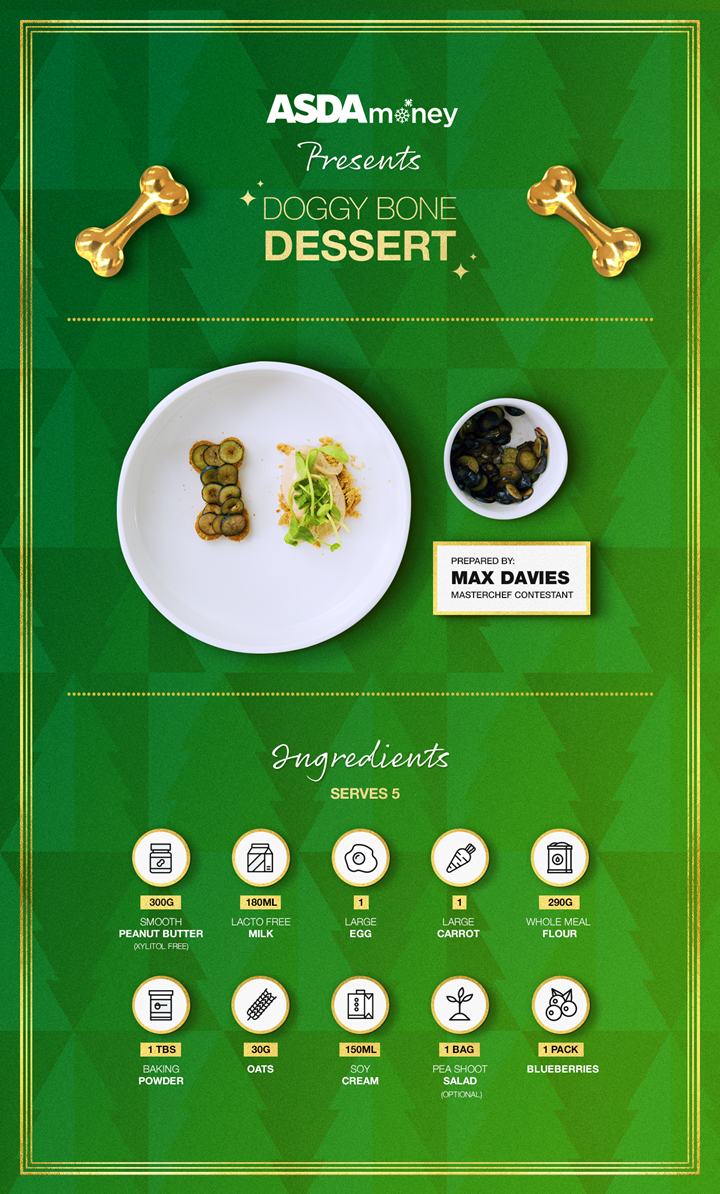 What's dinner without dessert? This scrumptious doggy dessert will satisfy the sweet tooth of any pup.
To make this dessert, you will need the following ingredients (serves 5 dogs, adjust where needed):
To begin, turn your oven on to around 165ºC and line a baking tray with greaseproof paper.
Grate the carrot into a bowl and add in the peanut butter, milk, egg, and oats and mix well. Slowly add in the flour and the baking powder until it's well combined and form this into a dough – it can get a bit messy so doing this on a floured worktop may help.
Once the dough has been formed, use a rolling pin to roll it out until the dough is around half a cm thick all round. Use cookie cutters to cut the dough into fun shapes, or if you don't have any just use a cup to get round cookie shapes and then place onto the baking tray and let them bake in the oven for around 20 minutes until they're golden brown.
Whilst the cookies are baking, thinly slice your blueberries, then slowly mix in the remaining peanut butter with the soy cream until you have a thick peanut butter cream (did we just hear a yummy bark?!).
Once the cookies have cooled down, place one on one half of a plate and create a layer of blueberries across the top. Then crush up another biscuit, placing the crumbs on the other half of the plate, and add a spoonful of your peanut butter cream onto the crumbs. To top it off, add a small handful of pea shoots on top for the "pièce de resistance"!
So, there you have it – a woofing sweet treat for your doggy's Christmas dessert that they'll definitely enjoy!
Fancy treating your pup? Indulge a little this festive season and get the full Dog's Dinner recipe all in one place on the Asda site.
A quick note…
Cooking a special Christmas dinner for your dogs can be super rewarding, especially when you watch them tuck into the feast and see how they enjoy it. But always be really careful with the ingredients you use though, as not everything we eat is suitable for our furry friends.
For example, things like parsnips, turkey, and thoroughly cooked, unseasoned potatoes are generally safe for them to eat in small amounts, but mince pies, stuffing, gravy, Brussel sprouts and alcohol can cause problem for your dog if consumed, so best to keep them out of reach.
Furry Families
We all know that Christmas is most enjoyable when shared with those closest and dearest to us, and of course that definitely includes your furry companions too. So what better way is there to show them how much they mean to us with a bespoke meal created just for them?
Neil Foster, Senior Commercial & Product Manager at Asda Money, commented, "These recipes are so fun to make and it's great to be able to share some Christmas cheer by helping show our furry friends how much we care, especially as we know they've been so important to people in recent times. Pets really are part of the family, and that's why it's vital that owners have access to affordable insurance to keep them well looked after with the right cover, so they can be with us for many more Christmases!"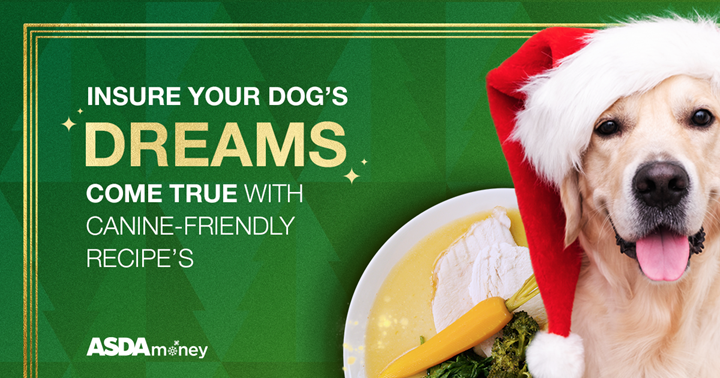 Here at Asda Money, we strive to ensure all of our customers furry friends are happy and healthy at all times and are always covered and protected with our pet insurance offerings.