Iceland Travel Insurance
Up to three kids go free (per insured adult, subject to medical screening, when you buy direct from us)
with our Double Gold Moneynet Award for Best Provider on Travel Insurance*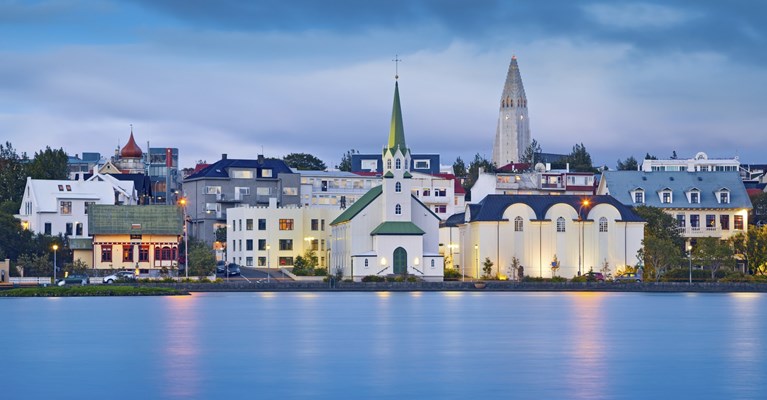 Buy travel insurance to Iceland
From smouldering volcanoes and hot springs to glaciers that seem to pierce the Northern Lights, the Land of Fire and Ice is one of the world's most magical places to visit. Around 260,000 Brits land in Iceland every year for road trips, nightclubs and bracingly natural ways to relax.
Travel insurance to Iceland gives you more freedom for enjoying this country on your terms, protecting you and your loved ones from any costly risks that may occur. Whether you're hiking in the Westfjords, bar crawling in Reykjavik or exploring the jagged coastline, there's always the chance something might go wrong. And if it does, you need to know you're covered for the expense.
Do I need travel insurance when visiting Iceland?
There's no legal requirement to have travel insurance for Iceland. You can always leave things to chance and risk a trip without coverage. But we strongly advise against it.
Iceland's wild landscape means that physical injury may be more likely than you realise. A slip, trip or accident in the water is easily made. You could also be driving or ferrying for long stretches of the day, exposing yourself to incidents on the road.
Our award-winning travel partner selects and presents a range of deals for Iceland travel insurance. Up to three children go free for each adult, while you can start from several levels of cover including the option for winter sports. Arrange insurance for a single trip or several return visits through the year. You'll save on premiums and have more cash left over for great experiences. This extends to worldwide travel insurance too.
Is Iceland in Europe for travel insurance?
Although it's not a member of the EU, Iceland is in the European Economic Area (EEA) along with Liechtenstein and Norway. It counts as a country covered by European travel insurance. You can take out a wider package for the continent and visit other nations with the same level of protection you'll enjoy here.
What's included?
When it comes to specific insurance agreements, there's always variance in what some insurers are willing to cover and how much of the total cost they'll support you with. Review the small print before signing anything. You should look for these basics in any travel insurance for Iceland:
COVID-19: Iceland travel insurance now covers cancellations or delays due to coronavirus. You'll be completely or partially compensated for tickets and emergency accommodation.
Medical care: Requiring treatment in a foreign country is scary enough — never mind the anxiety of paying for it. Thankfully, our travel partner will ensure you're protected for medical care in Iceland. You can seek private aid without worrying about the bill. This may also extend to pharmaceutical treatment, which can be more expensive here compared to the UK.
Stolen money or possessions: Losing your cash or luggage can throw the whole trip into disarray. Whether you're taking camping gear, high-value personal items, half a wardrobe or a hefty amount of Icelandic Krona, insurers will be able to pay back anything that's stolen from you. This includes items that your airline or travel provider loses in transit.
Legal expenses: Disputes often occur out of the blue — particularly when you're claiming compensation for damages or injury. If you're forced to pay for legal fees in Iceland, an insurer will cover them, as long as the incident wasn't your fault. This may also involve a claim relating to faulty goods or services you've paid for during your visit.
Missing passports and travel documents: Travelling to or from another country demands the right paperwork and ID. If these are lost or stolen, you'll be able to claim for the cost of a replacement. Sometimes, an insurer will also pay for temporary accommodation while you're waiting for the new ID to arrive, although that's never a guarantee. Again, check the conditions of your agreement.
What isn't covered with Iceland travel insurance?
It's worth exploring the things that may fall outside of your chosen Iceland travel insurance deal. Here are pointers to refine your shortlist:
Reckless behaviour: While medical, theft and legal claims may be covered, they rely on proving you haven't courted risk in a meaningful way. For example, you probably won't be supported if you were drinking or taking drugs while an injury occurred. The same applies to reckless driving for damage to yourself, someone else, property or a vehicle.
Winter and extreme sports: Our travel partner provides a full winter sports option when they compare and choose the best travel insurance to Iceland. If you're planning to ski, skate or snowboard, it's worth the additional expense. Further options will be available for extreme sports like caving, hiking and mountain biking. Yet core health coverage won't be valid for any injuries, replacements or legal expenses caused by these activities. Your policy has to name them.
Leaving belongings unattended: Putting your possessions in harm's way — either negligently or wilfully — betrays the conditions of your agreement. Insurers want to be sure that you're taking every precaution for luggage, cash, electronics and other personal items while you're away. If you don't keep a close eye on your things, you won't be able to claim for them if they're lost or stolen.
Undeclared medical conditions: Are you recovering from an illness or treating it? Is it chronic, urgent or malignant? Let the insurer know before you travel. Hiding an existing medical condition may invalidate your coverage, because it may cause or contribute to the risks you're facing in Iceland.
Natural disasters: There's a slight chance that nature will take a turn for the worse while you're visiting. Iceland has 32 active volcanoes that can cause disruption to communities and flight paths. Additionally, you may be affected by earthquakes, landslides or avalanches. These events are unlikely to be covered in your travel insurance agreement.
How much does Iceland travel insurance cost?
Seeking a rough price estimate? It's tough to say without accounting for you. Travellers are assessed on their health and risk appetite before a premium is calculated. Equally, insurers will look at typical dangers associated with the country in question. In Iceland, you'll be at lower risk of violent crime and theft, but more exposed to dangers from the wild landscape – especially if you want to explore caves, mountains and glaciers.
In general, you'll pay slightly higher rates if you're over the age of 35. Middle-aged and senior citizens are placed in greater risk categories due to the increased danger of physical injury and sickness. It won't be much, but it could add another third or half of the base cost onto your offer. Insurers will charge more for extended stays too. Multi-trip travel plans may bring the cost down but it will still be higher than securing a single visit.
Finally, there'll be some consideration paid to the price of medical care. Iceland has a fantastic health system, but like all Nordic countries, expenses often outstrip those in the UK. This will bump up the rates you'll see.
Healthcare in Iceland
Unlike the UK, state healthcare in Iceland isn't totally free. Patients are expected to contribute to the cost of diagnosis, treatment, surgery and hospital stays. There's a monthly cap – once you've paid a certain amount, the state will cover the rest.
To access public healthcare, you'll need a UK Global Health Insurance Card (GHIC) which replaces the European Health Insurance Card (EHIC) used pre-2021. If you have an EHIC, it should still be valid until the expiration date. Otherwise, apply for a GHIC on the NHS website. There isn't a charge, but you'll have to submit your full name, address and National Insurance number.
Travel insurance to Iceland, of course, covers all or some of the cost of private healthcare as well. These facilities are rarer than you'll find in other countries – Iceland is a very small nation, and doesn't have much demand for private treatment. As such, there are no private hospitals.
Travel insurance for Icelandic activities
Winter sports cover for Iceland safeguards more than an accident on the slopes. You'll receive specialist compensation for stolen equipment, delayed hires, personal liability fees and resort closures forced by inclement weather. Our insurance partner can reveal the cheapest offers for full coverage.
Travelling with pre-existing medical conditions
Good insurance thrives on transparency. If you're hiding any pre-existing medical conditions (diabetes, asthma, cancer, a heart condition, chronic pain for example), you're at risk of violating the conditions of your agreement. We urge you to tell the insurer everything they'll want to discover about your personal health and wellbeing before moving forward.
Wondering what counts as a pre-existing condition, or how to trim the cost of your premium if there is something to declare? Learn more about physical and mental health coverage for your Iceland travel insurance.
Travel tips for Iceland
There's so much to see and do. But we want you to stay safe and prepared for Iceland — not only in terms of avoiding risk, but also to enjoy the local culture. Consider our top tips for getting the most of your experience:
Buy a lopapeysa: It's the traditional Icelandic wool jumper, and is more than mere memorabilia. Lopapeysas are both warm and waterproof, coddling you against the elements during spring, autumn and winter. Look for a second-hand garment in Reykjavik to keep the price down.
Plan for long drives: Iceland's extravagant ring road takes up to two weeks to conquer. Many British travellers love to head out in a car for at least several days of their trip, but be warned — driving conditions can become icy and snow-blind in minutes. We recommend leaving several hours spare in your itinerary for delays or hiring a driver in the winter months.
Budget for tours: While you might try to reach a cave or glacier on your own, it's generally inadvisable. Tour guides are mandatory for a fair portion of Iceland's wild scenery. So, budget £100 or more for extra tour money.
Find out more about Asda Travel Insurance
*Best Travel Insurance Provider in the 2022/2023 Moneynet.co.uk awards