Spain: A Wine Lover's Paradise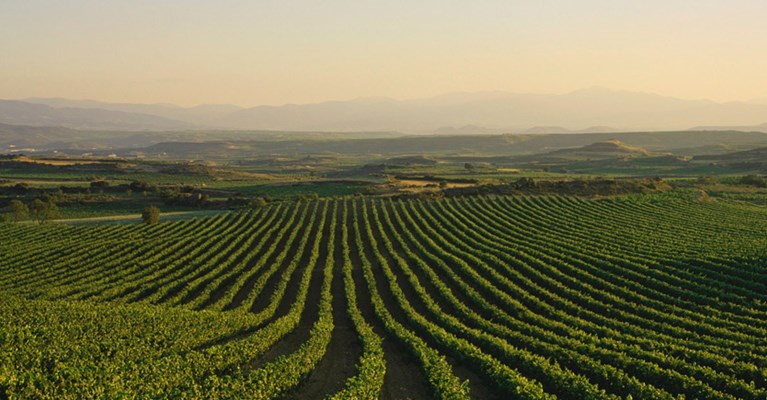 When you're on your holiday, there's no better way to relax and unwind than by visiting a beautiful vineyard and tasting some of the destinations delicious wines. There are many vineyards and wineries around the world, with the most common ones being in France, Italy, and California. However, as recently reported, cava could soon be giving champagne a run for its money, and the perception of these Spanish bubbles being 'a poor man's champagne' is changing.
Spain has the largest surface area of vineyards in the world, producing nearly 250 million bottles of cava every year. Although cava is made in a similar way to champagne, the differences between the two are simple. Champagne can only be given its title if it's made in the Champagne region of France, using the grapes pinot noir, chardonnay, and pinot meaner. Cava, however, is made in Spain, generally from xarello, macabeo, and parellada grapes, and many are aged for longer than the champagne grapes.
From the rich reds, to the refreshing whites and sparkling cavas, there are hundreds of delicious Spanish wines for you to try. Here at Asda Money, we've taken a look at some of the best wine regions in Spain, to help you choose which vineyard to visit on your next holiday.
Penedès, Catalonia


Less than an hour from Barcelona resides one of the most exciting wine regions in Catalonia; Penedès. Considered to be the birthplace of cava, the region has a long winemaking history dating back to the Ancient Romans. Although most famous for its cava, Penedès also produces some delicious red, white, and dessert wines.
There are many tours around this region, where you can sample some of the best wine's in the country and uncover the secrets behind the wine making process. A popular trip is the eight-hour group bus tour around three of the region's best wineries. Departing from Barcelona and costing from €66,00* (£56.52), you'll be taken to three different wineries; Jean Leon Vineyard, Bodegas Torres, and Freixenet Winery. Along the way, you'll receive guided tours of the wineries, and you'll also get to take part in a special cheese and wine pairing session. You can enjoy cava tastings, and then sit back and try some traditional tapas too. As well as the tasting sessions, each winery offers something unique. You'll get the chance to visit a wine museum at Torres, enjoy the stunning landscapes surrounding Jean Leon, and discover the ancient tunnels at Freixenet.
September is a great time to visit any vineyard in Spain, as this is when the wine harvest season usually takes place. Flights around this time to Barcelona will cost as little as £17.00 each way, and a three-star hotel around €81,75 (£70.00) per night. When you're not exploring the Penedès wine region, Barcelona is full of fantastic things to do and beautiful sights to see, including the Sagrada Família, Park Güell, and the Gothic Quarter.
La Rioja, northern Spain


The wines of Rioja are some of the most famous in Spain, and it's not hard to see why. This area of Spain has over 500 vineyards, and is well-known for producing some of the best red wines in the country.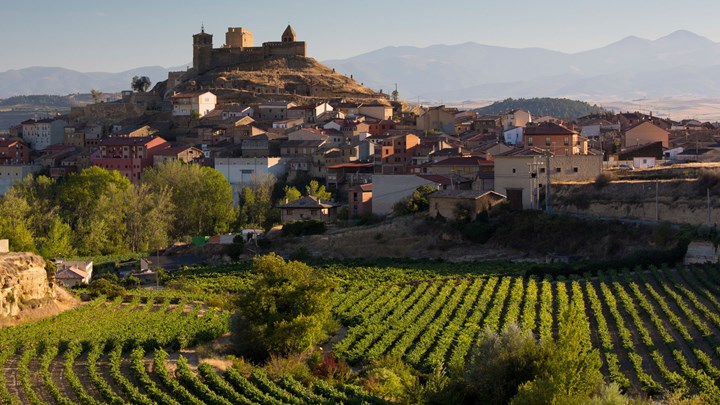 It was the Romans who made wine a part of La Rioja's culture, and there are many ancient sites of Roman wineries that still exist today. You can uncover some of La Rioja's secrets for yourself, on a tour of some of the best wineries in the region. Whether you fancy a short half-day trip or a full day excursion, the tour is packed with plenty of information and wine tasting to keep you entertained. The tour begins with a bus journey from Bilbao, where you'll be given the perfect introduction into the region's wines. From here, you'll get the chance to stroll from one of the best wineries in Haro to another, whilst enjoying a tipple or two along the way. The full-day option also includes a quality Riojan meal at a local restaurant, as well as extra free time to explore the traditional town of Haro.
You can get a flight to Bilbao from as little as £30.00 each way during peak grape season, and a three-star hotel will set you back around €70,05 (£60.00) per night. When you're not tasting and learning about some of the region's finest wines, you'll be surrounded by green mountains and plenty of activities to keep you entertained, such as the Titanium and Glass Museum, the Plaza Nueva, and Mount Artxanda.
Ribera del Duero, Castilla y León region


About an hour away from Spain's buzzing capital of Madrid, you'll come across one of the country's best wine producing regions; Ribera del Duero. The region is home to over 200 wineries, and more than 20,000 hectares of vines that produce red wines, which are renowned for their high quality and elegance.
It's Ribera del Duero's continental climate which helps with the high quality of wine making. The high plains are perfect for producing the Tempranillo grape, creating the full-bodied, rich red wines that we all know and love. There are plenty of tours around the area, many of which are self-driving, meaning you can take your time and enjoy the spectacular surroundings. From just €69,00 (£59.10), you can enjoy an unforgettable wine and food experience for yourself. The package includes visits to two of the best wineries in Ribera del Duero, with guided tours, wine tasting, and a gourmet meal.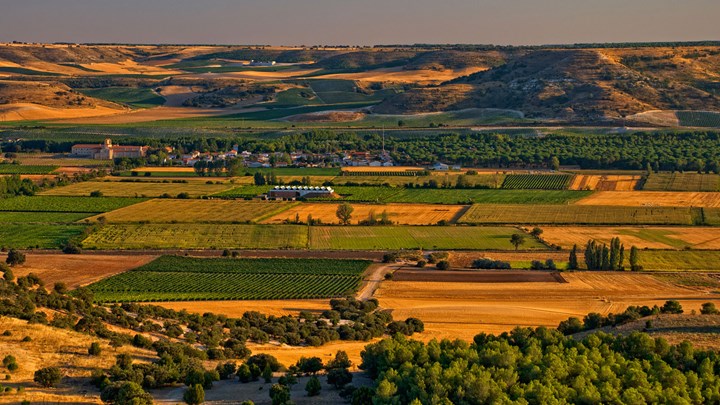 As well as producing some of Spain's finest wine, Ribera del Duero also offers beautiful landscapes, castles, and medieval fortresses, so there will be plenty of stunning views to enjoy whilst you're wine tasting. If you're taking a trip from Madrid, you can get a hotel for around €46,70 (£40.00) per night, with flights costing from as little as £22.00 each way.
Valencia, eastern Spain


Valencia's wine region is one of the oldest in Spain, and grapes have been growing in this area since the Neolithic Era. Whilst Valencia is situated on the east coast of Spain, most of its vineyards are deep inland, and the rich-soil of the region is what helps to produce its famous wines, which are then exported around the world.
Valencia's wine industry is huge, and there are many vineyards and wineries that you can take a tour around. From just €70,00 (£59.95), you can take a bus trip through some of the greatest wine hotspots of Valencia. The Valencia Wine Bus Tour will take you to one of the best vineyards in the Utiel-Requena region. You'll learn all about the growing and harvesting of the grapes, as well as the secrets and techniques behind how the wine is produced. And of course, once you've learnt all about the wine, you'll get to try some too. Afterwards, the bus will take you to the incredible caves under the town centre of Requena, where you'll be told all about how they were man-made in the 9th and 13th centuries as spaces to store wine. You'll then get the chance to enjoy lunch at a top local restaurant, where all food, drink, and coffee are included, and of course, more locally produced delicious wine.
Flights to Valencia will cost from £28.00 each way from London Airports, and you can stay in a gorgeous three-star hotel for about €52,54 (£45.00) per night. When you're not getting a taste of the local wine, you can enjoy Valencia's unspoilt beaches, go shopping in the city centre, or take in the history of this beautiful city.
If you want to get a taste of Spain without breaking the bank, then Asda have a huge range of Spanish wines available, from red and white, to cava. Before visiting, don't forget to buy your travel insurance, and collect your currency beforehand, as some vineyard and winery tours may only accept cash.
*The above figures are provided for indicative purposes only, and are based on the exchange rate correct as of 16:00 on 04/04/2017.