Business Travel Insurance
Make sure you have the right travel insurance to cover you and your business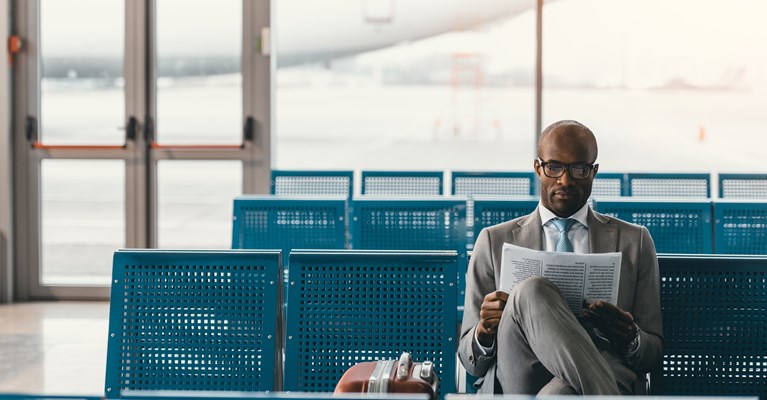 Businesses are becoming increasingly connected across the globe, meaning that making a business trip abroad is more common. Whether you're heading on a one-off trip or will be making regular business trip overseas, you'll need the right travel insurance to cover you and your business.
Our single-trip and annual travel insurance policies offer business cover as an optional extra. This means you can tailor your travel insurance to suit the needs of your intended business trips.
What is business travel insurance?
A business travel insurance policy works in the same way as any standard travel insurance policy and offers similar protection, but with additional cover catered towards those who frequently travel abroad for work.
Business travel insurance provides you with additional cover for expensive business equipment and can also help with costs related to flying out colleagues to replace you in case of an emergency. It gives you that added peace of mind when you're travelling for business in case things don't go to plan and takes out any unnecessary worry so you can focus on your work.
Whether you're going on a single trip or even multiple trips throughout the year, travelling to Europe or somewhere far beyond, our business cover will provide you with the protection you need for your travels.
What does business travel insurance cover?

When travelling for work, usually you will need to take a few extra things with you in order to be able to do your job, as well as your normal travel items – clothes, toiletries, etc. Our business travel insurance extra is designed to take these extra things into account, as well as helping to rectify issues you might have while away on business:
Business equipment (computer, mobile phone, etc.)
Hiring business equipment
Business money
Extra personal accident benefits
Extra baggage delay benefits
Covid-19 related incidents – you can now get business travel insurance with covid cover.
Limitations and Exclusions
We've covered what will be included in travel insurance for business – but you also need to be aware of what you will not be covered for. Here are the limitations and exclusions when it comes to business travel insurance:
Undisclosed pre-existing medical conditions – your policy will cover you if you fall ill or sustain injuries whilst travelling and require healthcare, but you will not be covered for any issues that arise due to pre-existing medical conditions that you have not already disclosed.
Alcohol and drugs related incidents – it's unlikely you will be able to claim for damages, injuries, lost or stolen goods if this occurred due to you being under the influence of drugs and/or alcohol. Business travel accident insurance is unlikely to cover those incidents that have occurred due to alcohol or drug related activities.
Risky activities – taking part in risky and dangerous activities such as water sports etc may require you to take out additional cover, as any injuries you sustain when taking part in these activities will not be covered by your standard business travel insurance policy.
Valuable possessions – whilst your valuable business equipment will be covered, the same may not apply for your personal possessions, so you may have to take out additional cover to ensure they are protected.
Reckless behaviour – you may not be able to claim for anything that happens due to a result of your own reckless behaviour, such as losing your luggage by leaving it unattended.
Travelling against government advice – if the Foreign, Commonwealth & Development Office (FCDO) has advised against travelling to a certain country and you still go, your insurer may not cover you for these destinations.
How much does business travel insurance cost?

Like any standard travel insurance policy, there are a number of factors which can affect the cost of business travel cover. These include:
Your age
The destination or destinations
Length of your trip
This is because they can change how likely it is that you'll need to make a claim.
Single Trip vs Annual Business Insurance
The type of business travel insurance you need will depend on a few factors, such as how often you travel and where you're going. You can choose between different levels of coverage depending on your needs, which will help you decide whether you need to take out single-trip business travel insurance or annual multi-trip business travel insurance.
For those who may only be travelling once a year for work on a one-off occasion, business travel insurance for a single- trip may be the best option for you as you'll only need cover for that one single trip. However, if you're likely to travel multiple times throughout the year, or travelling to a country that may not be covered by a standard single-trip business travel insurance policy, an annual business travel insurance policy is likely to be a much better option for you.
Do I need business travel insurance?

If you're planning on regularly going abroad with work for business, then taking out an annual multi-trip travel insurance policy with the business travel add-on can be a good idea as it can cover unlimited trips throughout the year.
If you're travelling to more than one destination on your trip, make sure you select the appropriate cover for your destinations, from European cover to Worldwide cover including the USA, Mexico, Canada and the Caribbean, so you're covered for all the sites or offices you need to visit for your business.
FAQs
What is business cover in travel insurance?
Business travel insurance is essentially a travel insurance policy that provides you with extra cover if you ever need travel for work. It provides protection for things like expensive business equipment, medical expenses, and the cost of flying out colleagues, that wouldn't be included in a standard travel insurance policy.
Is business travel insurance a legal requirement?
Travel insurance for business is not a legal requirement, but it's highly beneficial for you to invest in it to make sure that you are covered. It's always a good idea to travel with business insurance when going away for work as a standard travel insurance policy may not cover for specifics related to business.
What happens if you don't have business insurance?
Without business insurance, you will have to pay out of your own pocket for any legal or compensation claims you make as you will have no insurance policy to cover and help you out. Travel insurance for business trips is always a good idea in case anything goes wrong whilst you are away.
How much does business travel insurance cost?
How much you pay for your business trip travel insurance will depend on the following factors:
Age – the older you are, the more you pay for your business travel insurance, as older people are more likely to claim for medical and healthcare costs.
Activities – if you take part in any activities that insurers see as risk or dangerous you will most likely have to pay more for your insurance.
Destination – where exactly you'll be travelling to will affect how much you pay, as cover is more expensive when you travel to certain countries such as Canada or the USA due to higher medical treatment costs.
Duration of stay – the longer you stay away, the more you will have to pay for your insurance.
ASDA Money is a trading name of Asda Financial Services Ltd and Asda Stores Ltd which for travel insurance are Introducer Appointed Representatives of Insure & Go Insurance Services Ltd. Asda Travel Insurance is arranged by AllClear Limited, which is registered in Gibraltar company number 117274. Registered Office: 1st Floor, Portland House, Glacis Road, Gibraltar, GX11 1AA. AllClear Limited is licensed and regulated by the Gibraltar Financial Services Commission number FSC25393 and trades into the UK on a freedom of services basis, FCA FRN 824283. Asda Travel Insurance is administered by Insure & Go Insurance Services Limited. Insure & Go Insurance Services Limited is authorised and regulated by the Financial Conduct Authority, firm reference number 309572.
*Offer valid between 24/04/23 to 31/12/23. Discount applies to the base price of AsdaMoney branded travel insurance policies purchased through our website and Contact Centre only and does not apply to any premium generated to cover medical conditions or optional extras.
** Up to three kids go free per insured adult, subject to medical screening, when you buy direct from us.