Our guide to business van insurance
For many businesses across the UK, the company van represents a lifeline, one of the most important resources for taking on new work and delivering services and products.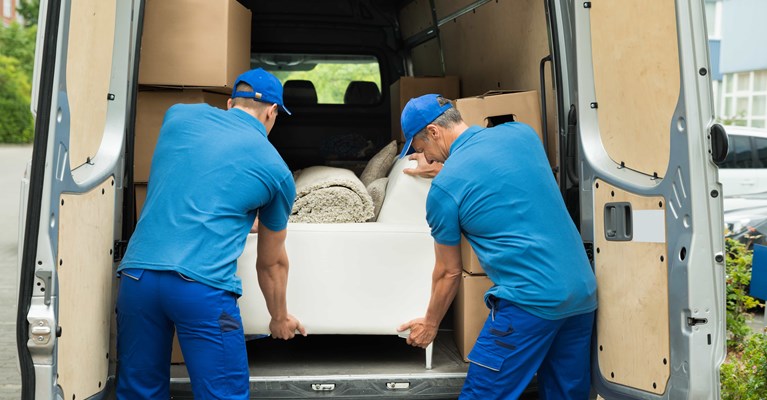 So, when things go wrong, an out-of-action van can be a real blow to a business.
Fortunately, business van insurance can help owners turn things around, getting the van up and running and back on the road in no time at all to save you from losing out on missed opportunities. These policies are tailored to companies, providing that all important peace-of-mind while out and about on business.
In this blog, we're going to take a look at what exactly business van insurance is, what it normally covers and what you should look for in a policy when finding the right provider for your work:
What is business van insurance?*
Business van insurance, sometimes called commercial van insurance, is a kind of vehicle insurance for vans that are used for commercial purposes.
It is a legal necessity for anyone driving an LCV (or Light Commercial Vehicle) for business purposes, including commuting to work. An LCV is classed as anything that weight up to 3.5 tonnes, whereas a vehicle over that weight is regarded as a HGV (or Heavy Goods Vehicle) which will need another kind of insurance altogether
You can get three different types of business van insurance, with each one corresponding to different business needs – they are as follows:
Carriage of goods for hire or reward – This business van insurance is what you'll need if you use your van to get paid for transporting items, equipment or produce to a client, making it ideal for those who deal with logistics.
Haulage – Similar to the carriage for goods policy, haulage van insurance is for transporting those same goods, but over a long distance. The specifics of this kind of policy vary from provider to provider so be sure to research your options before you buy.
Carriage of own goods – For those who use their van to transport their own tools for work, a carriage of own goods policy is the right option for you. This insurance is designed for contractors like electricians or builders who need to take their tools to every work site and job.
*https://www.parkers.co.uk/vans-pickups/advice/business-van-insurance/
What does business van insurance cover?
Business van insurance is designed to cover you and your van in case anything goes wrong. What exactly is covered by your policy will be outlined in the policy documents – you should carefully read these before making your decision on which provider and policy to go with. Often, very cheap business van insurance might not offer the cover that's right for you.
Here are some examples of things that your business van insurance can cover you for:
Damage to your van in the case of a road accident
Damage to third-party possession in your van at the time of a road accident
You and your passengers' medical fees after a road accident
Damage to or loss of your van from theft
Damage from vandalism
Damage from fire
Legal fees in case a claim is brought against you after an accident
There are other bonus things your insurance policy can cover you for – these include things like breakdown cover to get your van back to rights after a breakdown, and courtesy vehicles in case you need a van for your work while yours is getting repaired. These extras can often be found when you compare business van insurance online.
All of these cover points are brought together under three levels:
Third party only – This policy covers your van for any damage you cause to anyone, any vehicle or any property.
Third party fire and theft – This policy covers damage your van causes, as well as costs incurred from damage or loss from theft or fire.
Comprehensive – This policy covers all of the above, along with any repairs needed for your van after an accident, even the accident was your fault. They'll also replace a wrecked van too.
How much does business van insurance cost?
Business van insurance is essential for your van and your business, but how much will a policy set you back?
The cost of your van insurance depends on a number of factors including:
Your age – Similar to other forms of vehicle insurance, your age and therefore your experience as a driver can make a difference. Generally, up to a certain age, the older you are, the cheaper your insurance can be.
Your business – The manner of your business can alter the price you'll pay for insurance. Some fields of work, and the goods you transport can see you pay more, or less, for your policies.

The type of insurance – Depending on which of the three kinds of business van insurance you go for (outlined above), you may pay more for the type of work you intend to carry out with your insured van.
The van you drive – Some vans cost more to insure than others. Insurers will check out the age, the repair history, the model and any modifications you've made to your van to give you their price for your vehicle's insurance.
Your van's security – Insurers like to see vans that are properly secured and protected from theft, especially when possession cover is part of the policy. Ensuring your van has sturdy locks and protective internal fixtures for storage can lower your policy price.
Always be sure to carefully research the best business van insurance policy for you, reading up on policy documents to get the full picture before you invest.
If you're looking to insure your business van with value-for-money insurance that always goes the distance, be sure to visit our van insurance page to compare cheap van insurance quotes from the UK's leading providers – and for more tips and guides on vehicle insurance, visit our Asda Money blog here.
ASDA Money is a trading name of Asda Financial Services Ltd and Asda Stores Ltd which for general insurance are Introducer Appointed Representatives of Vast Visibility Limited, 8 Princes Parade, Liverpool, L3 1DL, authorised and regulated by the Financial Conduct Authority. Firm reference number 566973. You can check these details on the FCA Register.
The ASDA van comparison service is arranged by and administered by Vast Visibility Limited.