Kuwaiti Dinar
We want your Kuwaiti Dinars to go further. We'll beat competitors within five miles with our Price Promise. Just head to your nearest Asda Travel Money bureau.
Home delivery
FREE!
on £500+ orders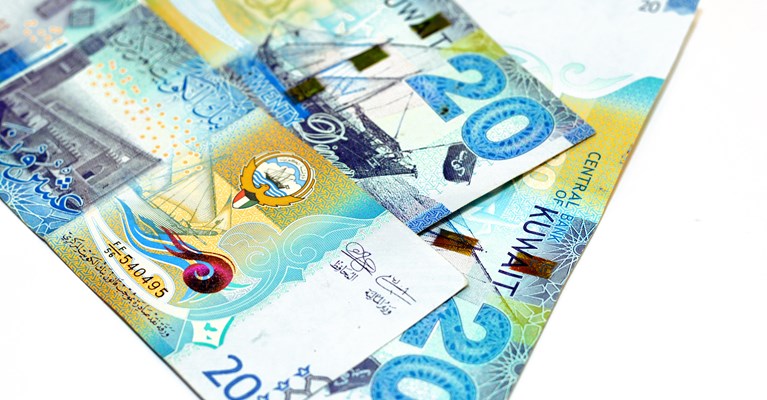 Promising shimmering skyscrapers, shopping malls and cultural centres on the Persian Gulf coast, Kuwait is a treat for every traveller. This small Middle Eastern state is a melting pot of leisure and industry, backed by the strongest currency in the world[1]. From camel racing and beach trips to the Grand Mosque, you're never short of things to do.
Kuwaiti Dinar (KWD) is the official currency of Kuwait. You'll find competitive GBP to Kuwaiti Dinar exchange rates with Asda Travel Money.
Click & Collect your Kuwaiti Dinar
Save time as well as cash with our easy Click & Collect service. Choose a pickup date for any of our nationwide Asda Travel Money bureaux, and you can change British Pound to Kuwaiti Dinar quickly and efficiently (subject to availability).
Find selected stores

Click & Collect for free

Convenient collection whilst shopping
Learn more about our Click & Collect service. 
Pound (GBP) to Dinar (KWD) exchange rate Price Promise
Searching for the best Kuwaiti Dinar to Pounds exchange rate? We can help you get it with our Price Promise. We're committed to beating any other offer within five miles of our travel money bureaux.
Should I buy Kuwaiti Dinar now or wait?
There's never a perfect time to buy KWD. Relative currencies always rise and fall – you could be stuck waiting for the right moment and lose out on a higher rate. If you change GBP to Kuwaiti Dinar now, you'll lock in a great rate before you travel. Plus, Asda Rewards members get even better rates.
Buy Kuwaiti Dinar now to avoid fees for card transactions abroad.
Which countries use the Kuwaiti Dinar?
Kuwait is the only country that uses the Dinar[2].
KWD is one of the most robust currencies on the planet[3], surpassing even Dinar from Bahrain and Jordan. You can't spend KWD elsewhere, not even in neighbouring states like Dubai or Saudi Arabia.
Dinar coins and banknotes
Coins
A single Dinar consists of 1,000 Fils[4]. Here are the coins[5]you'll be carrying around:
5 fl
10 fl
20 fl
50 fl
100 fl
Banknotes
Kuwait banknotes depict an iconic building in Kuwait City, including the National Assembly, Seif Palace and the Central Bank[6]. You can order them in denominations of:
0.25 KWD
0.5 KWD
1 KWD
5 KWD
10 KWD
20 KWD
Three reasons to love Asda Travel Money:
Price Promise

If you find a better exchange rate within 5 miles of one of our travel money bureaux, we'll beat it with our Price Promise.

2. We Buy Back Your Travel Money

Stop by our travel money bureau and we'll buy back your unused travel money. Even if you didn't buy your travel currency from us, we'll exchange it back commission free.

3. Same Day Travel Money Service

Left it till the last minute? Don't worry, simply swing by one of our travel money bureaux and take advantage of our same day travel money on popular currencies, subject to availability.
Common Kuwaiti Dinar questions 
How much is 1 GBP to 1 KWD?
Exchange rates are always subject to change but for the 1 UK Pound to Kuwaiti Dinar exchange rate you should be able to get around 0.36 KWD for every GBP*.
*Rates taken from Asda foreign exchange calculator. At time of publishing - November 2023.
How much cash do I need for a week in Kuwait?
It all depends on what you're planning to see and do but you're looking at around £1,260 for a week in Kuwait for two people.
You'll need about £890 for a week's accommodation, based on the average price of a double room in Kuwait City (£127 per night[7] or 44.9 KWD). You'll also want around 20 KWD per day for food and drink[8] (approx. £57).
What else do I need before I leave?
Let's get the rest of your trip covered. Explore Travel Insurance with Asda for complete peace of mind, covering one trip or several through the year.
1.59 KWD for a cup of coffee

0.17 KWD for a Coke

16KWD for two three-course meals in a mid-range restaurant

0.8KWD for a non-alcoholic beer

1.00 KWD for a taxi ride per kilometre
Before you run off to Kuwait, remember to pick up your holiday money at Asda
[1] Sourced: forbes.com. November 2023.
[2] Sourced: gov.uk. November 2023.
[3] Sourced: capital.com. November 2023.
[4] Sourced: investopedia.com. November 2023.
[5] [6] Sourced: cbk.gov.kw. November 2023.
[7] Sourced: kayak.co.uk. November 2023.
[8] [11] Sourced: numbeo.com. November 2023.
[9] Sourced: mylifeelsewhere.com. November 2023.
[10] Sourced: timeskuwait.com. November 2023.
The Asda Rewards price for Asda Travel Money will be preferential compared to the standard rate advertised at your chosen place of purchase (being either online via https://money.asda.com/travel/travel-money/ (Website) or in-store at an Asda Travel Money bureau) on the date of purchase. Asda Rewards prices are only available on the sell rates of currencies in stock on the date of your purchase. When purchasing online, you must enter a valid Asda Rewards number found in the Asda Rewards App or Website to obtain the Asda Rewards price rate. When purchasing in-store, you must show the Asda Rewards barcode found in the app. Asda Rewards pricing available for Asda Travel Money purchases only offers you a more preferential exchange rate, you will not receive or be entitled to any Asda Rewards on your purchase. We reserve the right to withdraw this offer at any time and without prior notice.
Please note that Asda Travel Money Online Services Terms and Conditions are available at https://travelmoney.asda.com/asda/page/termsandconditions.
Asda Travel Money is provided by Travelex Agency Services Limited, registered number: 04621879. Registered Office: Worldwide House, Thorpewood, Peterborough, PE3 6SB