South African Rand
Make your South African Rand go further with Asda Travel Money. We'll beat competitors within 5 miles with our Price Promise. Just head to your nearest Asda Travel Money bureau.
Home delivery
FREE!
on £500+ orders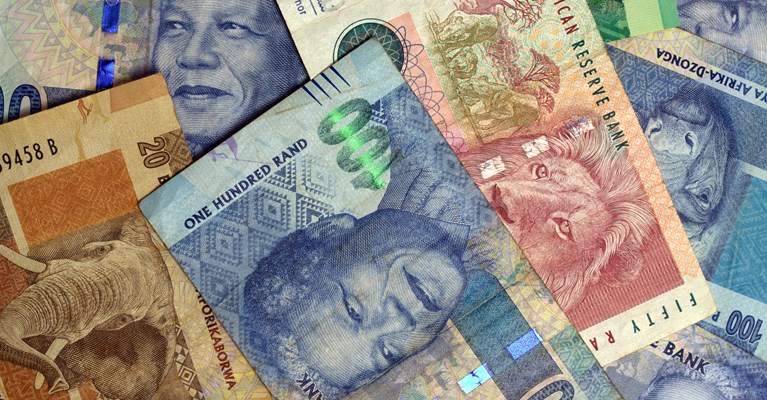 Travelling to South Africa? Whether you're heading to Johannesburg, Cape Town or a national park, we want to help you make the most of your trip. Find competitive rates for GBP to South African Rand with Asda Travel Money. We've made it simple and convenient to sort your cash in advance.
Click & Collect your South African Rand
Buy South African Rand with Click & Collect online and pick up from selected Asda stores. We have dozens of travel money bureaux across the UK. Just order, choose a date and stop by for your currency. Exchange British Pounds to South African Rand with competitive rates. 
Find selected stores

Click & Collect for free

Convenient collection whilst shopping
Find out more about Asda Travel Money Click & Collect, and see why we're an award-winning foreign currency service.
Pound (GBP) to South African Rand (ZAR) exchange rate Price Promise
If you manage to find a better exchange rate on the Pound to South African Rand within 5 miles of any Asda Travel Money bureau, we'll beat it with our Asda exchange Price Promise
Should I buy South African Rand now or wait?
The British Pound to South African Rand exchange rate is constantly changing. But ordering ZAR before you travel reduces the need to pay transaction fees on your bank or credit cards abroad. You'll also have what you need, without rushing to an ATM at the airport and settling for a poor exchange rate.
Which countries use the South African Rand?
South African Rand is the official currency of South Africa. You can also use Rand in Eswatini (previously called Swaziland), Lesotho and Namibia, as South Africa is part of the Common Monetary Area (CMA), a financial union. The unique currencies in these countries carry the same value.
South African Rand coins and banknotes
Banknotes
The South African Reserve Bank has stopped minting new 1c, 2c and 5c coins. However, you can still use any banknotes and coins issued since 1961 as legal tender[2].
The most recent editions of South African Rand banknotes feature a portrait of Nelson Mandela[3] on the front. You can change Pounds to South African Rand in denominations of:
Three reasons to love Asda Travel Money:
Price Promise

If you find a better exchange rate within 5 miles of one of our travel money bureaux, we'll beat it with our Price Promise.

2. We Buy Back Your Travel Money

Stop by our travel money bureau and we'll buy back your unused travel money. Even if you didn't buy your travel currency from us, we'll exchange it back commission free.

3. Same Day Travel Money Service

Left it till the last minute? Don't worry, simply swing by one of our travel money bureaux and take advantage of our same day travel money on popular currencies, subject to availability.
Common South African Rand questions 
How much is 1 GBP to 1 ZAR?
Exchange rates are always subject to change. Over the last 180 days, the rate has fallen between 22-24.6 ZAR for every 1 GBP*. 
*Rates taken from Asda foreign exchange calculator. At time of publishing - October 2023.
How expensive might a week in South Africa be?
This is highly dependent on your budget and spending habits. A three-star hotel in South Africa typically costs around £51 per night[4], so you're looking at £357 for a week's accommodation. Then you'll likely need at least another £150-200 for meals[5], plus any activities you want to do.
What else do I need before I leave?
Let's get the rest of your trip covered. Explore Travel Insurance with Asda for complete peace of mind, covering one trip or several through the year.
How much do things cost in South Africa?
Searching for a budget-friendly trip? You're in luck. South Africa is very reasonable[6] for basic living costs such as food, drink and accommodation.
Take a look at some common expenses[7]:
r600 for two three-course meals in a mid-range restaurant

r35-40 for a beer

r16 for a cup of coffee

r15 for a taxi ride per kilometre
Before you run off to South Africa, remember to pick up your holiday money at Asda
[1] [2] [3] Sourced: resbank.co.za. October 2023.
[4] Sourced: tripadvisor.co.uk. October 2023.
[5] [6] [7] Sourced: numbeo.com. October 2023.
The Asda Rewards price for Asda Travel Money will be preferential compared to the standard rate advertised at your chosen place of purchase (being either online via https://money.asda.com/travel/travel-money/ (Website) or in-store at an Asda Travel Money bureau) on the date of purchase. Asda Rewards prices are only available on the sell rates of currencies in stock on the date of your purchase. When purchasing online, you must enter a valid Asda Rewards number found in the Asda Rewards App or Website to obtain the Asda Rewards price rate. When purchasing in-store, you must show the Asda Rewards barcode found in the app. Asda Rewards pricing available for Asda Travel Money purchases only offers you a more preferential exchange rate, you will not receive or be entitled to any Asda Rewards on your purchase. We reserve the right to withdraw this offer at any time and without prior notice.
Please note that Asda Travel Money Online Services Terms and Conditions are available at https://travelmoney.asda.com/asda/page/termsandconditions.
Asda Travel Money is provided by Travelex Agency Services Limited, registered number: 04621879. Registered Office: Worldwide House, Thorpewood, Peterborough, PE3 6SB