Thai Baht
Convert GBP to Thai Baht with competitive currency offers in the UK at Asda. Our award-winning service includes our Price Promise and Buy Back services. Just head to your nearest Asda Travel Money bureau.
Home delivery
FREE!
on £500+ orders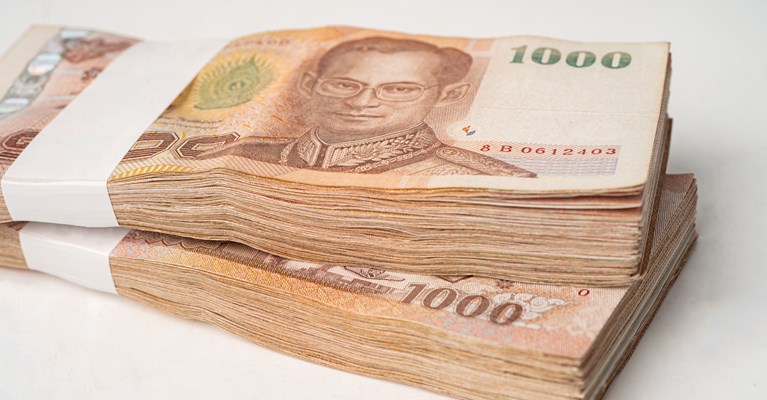 Explore Thailand's festivals, beaches, islands, mountains, temples, diving schools and nightlife. Get competitive Thai Baht exchange rates from Asda for a trip to remember.
Click & Collect your Thai Baht
Save time as well as money. Order and collect Thai Baht from our nationwide travel money bureaux (subject to availability). Just tell us what you need and when you'll pick it up. Changing Pounds to Thai Baht couldn't be simpler.
Find selected stores

Click & Collect for free

Convenient collection whilst shopping
Find out more about Asda Travel Money Click & Collect, and see why we're an award-winning foreign currency service
Pound (GBP) to Baht (THB) exchange rate Price Promise
We guarantee a competitive Pound to Thai Baht exchange rate with our Price Promise. We'll beat any better offer you're able to find within 5 miles of our travel bureaux.
Should I buy Thai Baht now or wait?
There's never a perfect time to convert Sterling to Thai Baht, as exchange rates constantly rise and dip. It can be a good idea to change GBP to Thai Baht sooner rather than later, so you can lock in your rate and get on with planning your trip.
When you exchange your travel money ahead of time, you won't have to search for an ATM or deal with poorer exchange rates when you arrive. You'll also avoid foreign transaction fees on your card.
Which countries use the Thai Baht?
THB is issued by the Bank of Thailand[1] and remains a sole currency you can't use elsewhere. However, some of Thailand's neighbours accept Baht in cities and tourist hotspots. These include Malaysia, Laos and Cambodia.
Baht coins and banknotes
Coins
Thai Baht is one of the world's oldest currencies, dating back to the 13th century. It's one of the most stable units of exchange on the Southeast Asian market, making it particularly desirable for foreign trade[2]. A single Baht is divided into 100 satangs. Since the satang is so small, relative to other currencies, only 25 and 50 satang coins are currently in circulation. 1, 5 and 10 satang coins do exist, but are only used for the accounting system within banks. When you're converting Pound to Thai Baht, count these coins:
Banknotes
Paper money — or "mai" — features striking green, blue, red, purple and pink etchings. Most notes carry a portrait of former King Bhumibol Adulyadej[3] as well as historic figures and locations[4]. Newer polymer bills depicting the new king, Maha Vajiralongkorn, were released in 2022[5]. Thai banknotes include:
Three reasons to love Asda Travel Money:
Price Promise

If you find a better exchange rate within 5 miles of one of our travel money bureaux, we'll beat it with our Price Promise.

2. We Buy Back Your Travel Money

Stop by our travel money bureau and we'll buy back your unused travel money. Even if you didn't buy your travel currency from us, we'll exchange it back commission free.

3. Same Day Travel Money Service

Left it till the last minute? Don't worry, simply swing by one of our travel money bureaux and take advantage of our same day travel money on popular currencies, subject to availability.
Common Thai Baht questions 
How much is 1 GBP to 1 THB?
The UK Pound to Thai Baht exchange rate is very healthy. Exact amounts will always differ depending on the day you exchange, but the rate has fallen between 41-45 THB to 1 GBP over the past 180 days*.
*Rates taken from Asda foreign exchange calculator. At time of publishing - October 2023.
What else do I need before I leave?
Let's get the rest of your trip covered. Explore Asda's Travel Insurance for complete peace of mind for one visit or several through the year.
How much do things cost in the Thailand?
Thailand's affordability makes it a year-round attraction for Western tourists. You can likely visit for several weeks or even months without feeling the pinch. View typical prices below for your essentials[6]:
800 THB for two three-course meals in a mid-range restaurant

70-110 THB for a beer

66 THB for a cup of coffee

39 THB for a taxi ride per kilometre
Before you run off to Thailand, remember to pick up your holiday money at Asda
[1] Sourced: bot.or.th. October 2023.
[2] Sourced: corporatefinanceinstitute.com. October 2023.
[3] Sourced: reuters.com. October 2023.
[4] Sourced: britannica.com. October 2023.
[5] Sourced: keesingtechnologies.com. October 2023.
[6] Sourced: numbeo.com. October 2023.
The Asda Rewards price for Asda Travel Money will be preferential compared to the standard rate advertised at your chosen place of purchase (being either online via https://money.asda.com/travel/travel-money/ (Website) or in-store at an Asda Travel Money bureau) on the date of purchase. Asda Rewards prices are only available on the sell rates of currencies in stock on the date of your purchase. When purchasing online, you must enter a valid Asda Rewards number found in the Asda Rewards App or Website to obtain the Asda Rewards price rate. When purchasing in-store, you must show the Asda Rewards barcode found in the app. Asda Rewards pricing available for Asda Travel Money purchases only offers you a more preferential exchange rate, you will not receive or be entitled to any Asda Rewards on your purchase. We reserve the right to withdraw this offer at any time and without prior notice.
Please note that Asda Travel Money Online Services Terms and Conditions are available at https://travelmoney.asda.com/asda/page/termsandconditions.
Asda Travel Money is provided by Travelex Agency Services Limited, registered number: 04621879. Registered Office: Worldwide House, Thorpewood, Peterborough, PE3 6SB