Explore 4 of Europe's Most Beautiful National Parks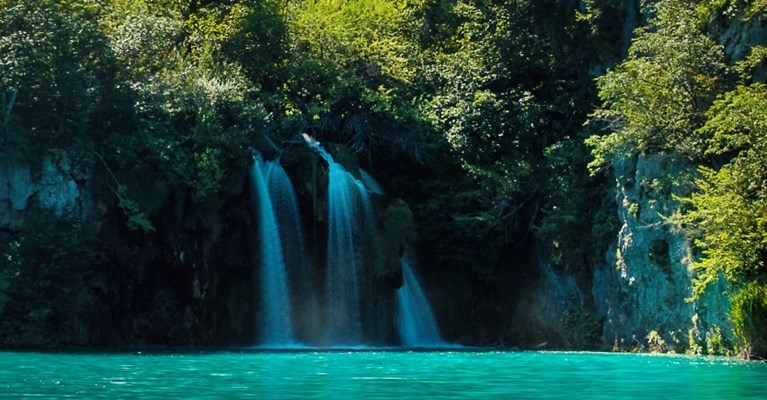 With spring now in full swing, there's no better time to visit some of Europe's most beautiful national parks. From dense forests and wonderful woodland to peaceful lakes and dramatic waterfalls, there are so many areas of natural beauty to explore around Europe.
Whether you like walking and cycling, or you're interested in fishing and wildlife, there are plenty of activities to keep all ages entertained at Europe's spectacular national parks. As well as offering a space to pursue a variety of outdoor activities, these parks provide visitors with some of the world's most breath-taking views too. Here at Asda Money, we want to take you on a journey through some of the most beautiful places in Europe, so here are four of our favourite national parks for you to explore on your next holiday.
Plitvice Lakes, Croatia


Located in the heart of Croatia is the Plitvice Lakes National Park. Famous for its 16 beautiful lakes, these are all connected by incredible waterfalls and towering green pine trees. It's one of Croatia's most visited attractions, and is the perfect backdrop for a holiday snap.
Plitvice Lakes is a truly special place, and in 1979 it was awarded UNESCO World Heritage status. You'll be amazed by the distinctive colours of each lake. The colours vary depending on the time of year and the minerals in the water, so you could walk past a turquoise lake one day and then find it to be deep blue the next. Zig-zagging through the colourful lakes and beautiful forests are wooden pathways and bridges, making your stroll through the national park easy and enjoyable.
As one of Croatia's most popular tourist hot-spots, the park is always busy, no matter what time of the year you visit. Whether you're holidaying when the sun is glistening off the water or when the lakes are frozen, you'll be amazed by the spectacular scenery. However, the busiest months are July and August, so if you fancy a summer holiday, it's best to avoid these months. If you're visiting in September, which is a fantastic month to go due to the smaller crowds and lovely temperatures, you can get a flight for as little as £61.00 each way, as well as a four-star hotel in Zagreb for around 426.92 HRK* (£50.00) per night.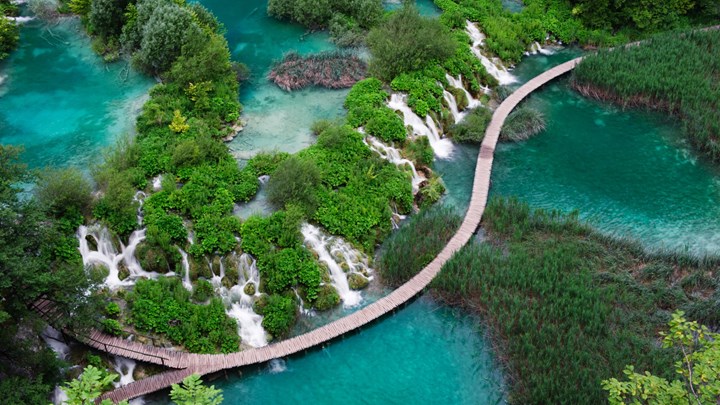 Saxon Switzerland National Park, Germany


Despite its confusing name, the Saxon Switzerland National Park is actually located in eastern Germany, not too far from the capital of Saxony, Dresden. Known for its distinctive natural rock formation that was created over one million years ago by water erosion, it's the perfect place to visit for an adventure-filled day out.
One of the most famous rock formations in the national park is Bastei, towering nearly 200 metres high. In 1851, the sandstone Bastei Bridge was constructed to link these incredible rocks, offering visitors panoramic views over the mountains. If you enjoy climbing then you're in luck, as there are over 700 peaks around the park, offering over 12,000 fantastic rock climbing routes.
If you want to keep your feet on the ground though, don't worry, because there are around 250 miles worth of hiking and walking trails just waiting to be explored too. One of the most beautiful hiking trails in Germany is the Malerweg Trail, running through the park for nearly 70 miles. Whether you decide to break it up and complete the trail over a few days, or you just fancy strolling a section of it in one day, you'll be greeted by some of the most picturesque views in the country.
May is a great time to visit the national park, particularly if you're planning on doing a lot of walking, due to the ideal temperatures at this time of the year. If you're staying in Dresden, you can get flights from as little as £70.00 each way during May, whilst a hotel in the city centre will cost from around €63.18 (£55.00) per night. You're also just a couple of hours away from Berlin, so why not make the most of your holiday and explore Germany's historic capital before you leave?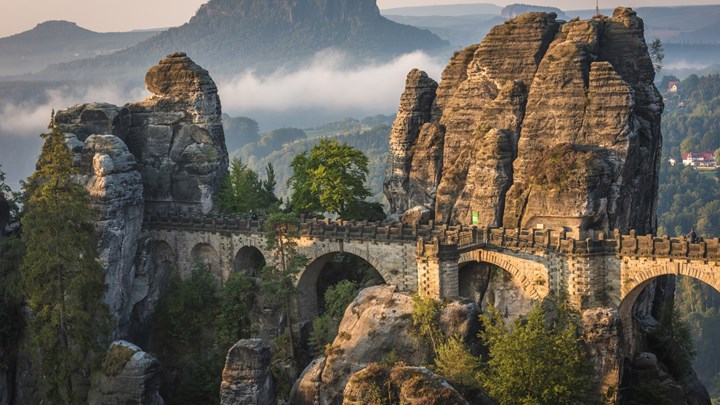 The Peneda-Gerês National Park, Portugal


When you think about Portugal, the first thing that probably comes to mind is its glorious abundance of white-sand beaches and crystal-clear waters. But, as beautiful as the beaches are, Portugal is also home to the Peneda-Gerês National Park, where you'll find stunning natural landscapes, charming villages and historic landmarks.
One thing that the area is particularly well-known for are the wild Garrano ponies that call the park home. Whether you just want to admire these majestic animals, or fancy saddling up and enjoying a ride through the mountains, the Peneda-Gerês National Park is the place to go. You'll also find plenty of other species of wildlife around the landscapes, including wolves, foxes, wild boars, deer, otters and bats.
There are also many areas of the park that are filled with historic ruins. One such village is Castro Laboreiro, renowned for its 16th century castle remains. Here, you'll also find windmills, ancient bridges and a medieval church. Vilarinho da Furnas is another village not to be missed if you're fascinated by the local history. The village was intentionally submerged in 1972 by the Portuguese State to accommodate the construction of a dam, however, the remains of this underwater village can still be seen today during dry season.
The national park is just over an hour from the popular seaside city of Porto, so it's easy to visit for a day trip, especially if you're hiring a car. April and May are the cheapest times to fly to Porto, and you can get a flight for as little as £20.00 each way from London airports. A hotel in the city centre will cost around €68.92 (£60.00) per night at this time of the year. Of course, there are plenty of accommodation options within the Peneda-Gerês National Park too, which are perfect if you want to spend a few days exploring. These cost a similar price, and you'll be surrounded by peaceful mountains, lakes and wildlife.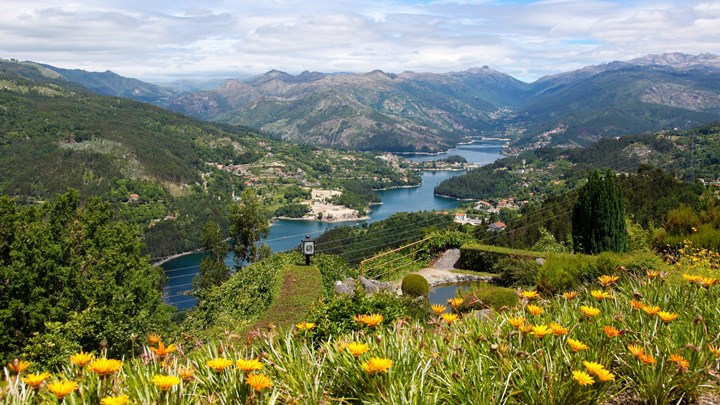 Triglav National Park, Slovenia


Slovenia is filled with beautiful landscapes, so it's hard to believe that it's only home to one National Park; Triglav. It's one of the oldest national parks in the world, and is named after Slovenia's highest mountain, located in the centre of this spectacular area; Mount Triglav, which soars 2,864 metres into the sky.
The park is set within the Julian Alps, so it's not just Mount Triglav that you'll catch a glimpse of when visiting. Whilst you're there, you might see an array of other beautiful mountains, depending on the weather, including Mount Mangart, Mount Jalovec and Mount Špik.
As well as towering mountains, the national park is also home to a range of impressive lakes, such as Lake Krn and Lake Bohinj, and these deep waters make the area a fantastic place for water sports. From swimming and rafting to kayaking and canoeing, the lakes give you a chance to cool down in the water after exploring the surrounding landscapes. In the colder months, some areas of Triglav National Park turn into incredible ski destinations, transforming into a winter wonderland. Just above Lake Bohinj is Vogel Ski Resort, offering up breath-taking views and fantastic slopes to suit all abilities.
Ljubljana Airport, in Slovenia, is only half an hour from the outskirts of the national park, so you don't have to travel too far once you step off the plane. If you want to visit during winter to take part in the range of winter sports on offer, flights in December will cost around £80.00 each way, whereas flights during May, which is a great time to visit for a warmer holiday, can cost from £36.00 each way. From houses and chalets to apartments and hotels, there's a range of accommodation available in Triglav National Park. A charming guest house, not far from Lake Bohinj, will cost from around €68.95 (£60.00) per night no matter what time of the year you visit.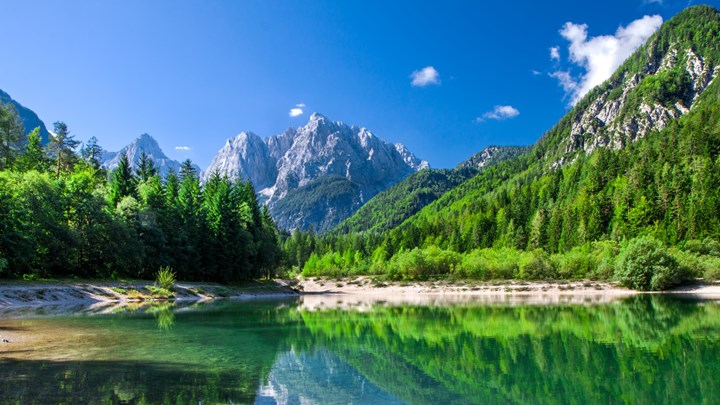 Will you be visiting any beautiful national parks in Europe on your next holiday? If so, don't forget to pack the essentials before you go, such as comfortable shoes and suitable clothing for exploring. Also, be sure to sort out travel money and comprehensive travel insurance. National parks are popular tourist attractions, meaning they can get busy at certain times, so it's best to be covered in case of any loss of valuables or theft. Here at Asda Money, we have a variety of different cover types available, including Value, Premium and Superior.
*The above figures are provided for indicative purposes only, and are based on the exchange rate correct as of 11:30 on 10/04/2018.