Mexican Peso
We want your Mexican Pesos to go further. We'll beat competitors within 5 miles with our Price Promise. Just head to your nearest Asda Travel Money bureau.
Home delivery
FREE!
on £500+ orders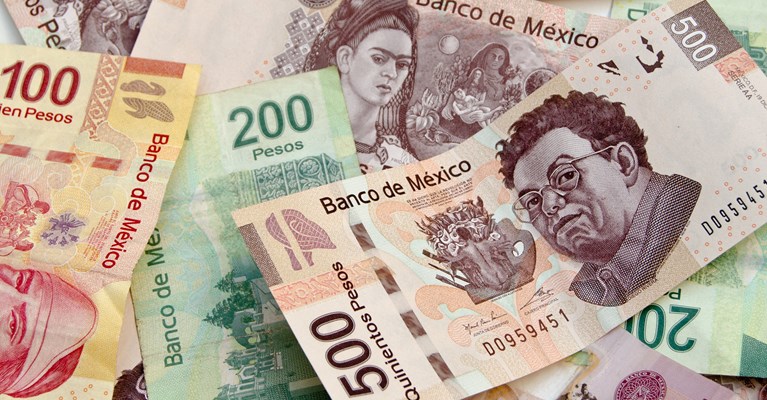 Mexico truly has it all – from historic marvels and beautiful beaches to incredible food and festivals. Make the most of your trip with a competitive exchange rate for GBP to Mexican Peso. Enjoy Asda Travel Money's award-winning travel money service today.
Click & Collect your Mexican Peso
With Asda Travel Money, we'll give you competitive Mexican Peso exchange rates and prepare your funds at any of our Asda Travel Money bureaux (subject to availability). Just tell us what you need and when you need it.
Find selected stores

Click & Collect for free

Convenient collection whilst shopping
Find out more about our Click & Collect service.
Pound (GBP) to Peso (MXN) exchange rate Price Promise
We commit to giving you competitive Mexican Peso exchange rates. If you can find a better rate within 5 miles of our nationwide travel bureaux, we'll beat it. That's our Price Promise
Should I buy Mexican Peso now or wait?
If you buy Mexican Pesos now, you'll be ready to go when you land. You won't have to pay overseas fees for card transactions or suffer a bad exchange rate at the airport.
What's more, if you're an Asda Rewards member, you'll get an even better rate. Tick your currency off your to-do list, so you can focus on planning your travel itinerary.
Which countries use the Mexican Peso?
The Mexican Peso (MXN) is the official currency of Mexico. 
Many countries have their own version of the Peso — notably Argentina, Cuba, and the Dominican Republic[1]. However, you can only use MXN in Mexico.
Peso coins and banknotes
Coins
A single Peso is split into 100 'centavos[2]', or cents. Coins in circulation are:
5 ¢
10 ¢
20 ¢
50 ¢
$1 
$2 
$5 
$10
$20
Banknotes
Due to the relative low value of individual Pesos, Mexican banknotes climb into triple digits. Notes include:
$20 
$50 
$100 
$200 
$500 
$1,000 
Three reasons to love Asda Travel Money:
Price Promise

If you find a better exchange rate within 5 miles of one of our travel money bureaux, we'll beat it with our Price Promise.

2. We Buy Back Your Travel Money

Stop by our travel money bureau and we'll buy back your unused travel money. Even if you didn't buy your travel currency from us, we'll exchange it back commission free.

3. Same Day Travel Money Service

Left it till the last minute? Don't worry, simply swing by one of our travel money bureaux and take advantage of our same day travel money on popular currencies, subject to availability.
Common Peso questions 
How much is 1 GBP to 1 MXN?
The exact exchange rate will vary, but over the last 180 days £1 has worked out between $20.3-22.6*.
*Rates taken from Asda foreign exchange calculator. At time of publishing - November 2023.
Is 10K Peso a lot?
10K Peso is not as much as you might think. If we divide 10,000 by 20 for the Pound, it works out as under £500.
What else do I need before I leave?
Let's get the rest of your trip covered. Explore Travel Insurance with Asda for complete peace of mind, covering one trip or several through the year.
How much do things cost in the Mexico?
Mexico is affordable compared to the UK, with lower everyday costs[3]. That's good news for your Pound to Mexican Peso exchange rate.
However, some areas have higher prices than others – restaurants in Cancun are more expensive than in Mexico City[4], for example – so bear this in mind when budgeting for your trip.
Here are some typical travel costs in Mexican Pesos[5]:
$150 for two three-course meals in a mid-range restaurant

$40-70 for a beer

$52 for a cup of coffee

$22 for a taxi ride per kilometre
Before you run off to Mexico, remember to pick up your holiday money at Asda
[1] Sourced: worldpopulationreview.com. October 2023.
[2] Sourced: banxico.org.mx. October 2023.
[3] [4] [5] Sourced: numbeo.com. October 2023.
The Asda Rewards price for Asda Travel Money will be preferential compared to the standard rate advertised at your chosen place of purchase (being either online via https://money.asda.com/travel/travel-money/ (Website) or in-store at an Asda Travel Money bureau) on the date of purchase. Asda Rewards prices are only available on the sell rates of currencies in stock on the date of your purchase. When purchasing online, you must enter a valid Asda Rewards number found in the Asda Rewards App or Website to obtain the Asda Rewards price rate. When purchasing in-store, you must show the Asda Rewards barcode found in the app. Asda Rewards pricing available for Asda Travel Money purchases only offers you a more preferential exchange rate, you will not receive or be entitled to any Asda Rewards on your purchase. We reserve the right to withdraw this offer at any time and without prior notice.
Please note that Asda Travel Money Online Services Terms and Conditions are available at https://travelmoney.asda.com/asda/page/termsandconditions.
Asda Travel Money is provided by Travelex Agency Services Limited, registered number: 04621879. Registered Office: Worldwide House, Thorpewood, Peterborough, PE3 6SB