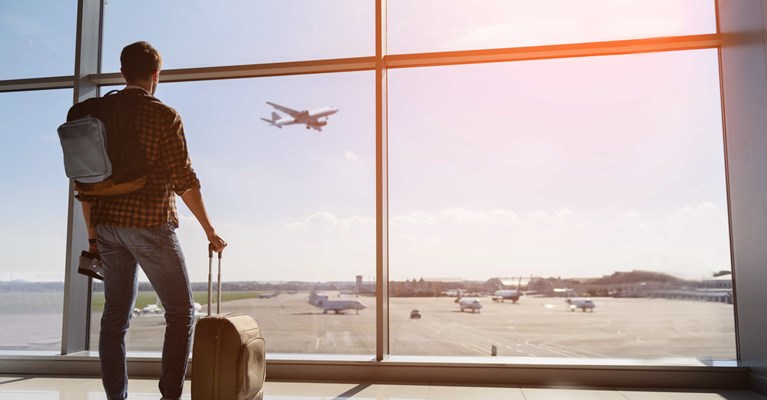 Egypt is truly a unique holiday destination, offering tourists a chance to experience their rich history, sandy beaches, beautiful desert – and not forgetting the breathtaking Pyramids of Giza.
Asda Money can provide you with cheap travel insurance to Egypt, so you will have total peace of mind while you are away and extra money to spend while you're there!
Does Egypt come under Europe for travel insurance?
Although Egypt spans the continents of Africa and Asia, many insurers will include Egypt as part of their Europe insurance cover. Some insurers, however, classify Egypt under their Worldwide cover as it's not actually in Europe.
So, when you are looking for travel insurance quotes, make sure that you specify that you need travel insurance for Egypt so that your insurer can provide you with the correct quotes for where you are travelling to.
With Asda Money travel insurance, Egypt is included under European cover.
Do I need travel insurance for Egypt?
During the COVID-19 pandemic, Egypt made it mandatory for international travellers to have travel insurance to Egypt. As you may be asked to show proof of your insurance upon arrival, it is recommended to take a printed copy of your policy and certificate with you. Make sure you check the Foreign, Commonwealth & Development Office (FCDO) travel advice before you travel, as entry requirements can change quickly.
As there is no public healthcare in Egypt and no reciprocal healthcare agreement in place with the UK, if you fall ill or sustain an injury during your trip, you will have to seek private medical care, which can be costly. Organising travel insurance to Egypt will help cover the cost of any emergency medical treatment you may need.
Travel insurance will also cover you for other unplanned events, such as lost or stolen luggage and flight cancellations. 
Do I need a visa for Egypt?
If you're a British passport holder, you'll need to apply for a visa to enter Egypt. You can apply for a visa online before you travel, which, once approved, will be valid for three months.
Visas are also available to buy from authorised kiosks at Egypt airports before you go through immigration and passport control. However, these visas are only valid for 30 days.
If you're planning on travelling to resorts in Sharm El Sheikh, Dahab, Nuweiba or Taba, you will receive a free permission stamp when you arrive. However, this is only valid for 15 days. If your holiday is longer than 15 days, you will need a visa to stay in the country.
Visa and entry requirements for Egypt can change at short notice, so it's always best to check the latest advice on the FCDO website before travelling.
How much is travel insurance in Egypt?
There are various factors that can impact the cost of travel insurance to Egypt, such as:
Your age –the cost of travel insurance tends to go up as you get older, as insurers feel you are at greater risk of needing medical treatment while on holiday.
The duration of your stay in Egypt.
The activities you plan on taking part in.
Any pre-existing medical conditions you may have / your medical history.
The specific level of cover you may need, as well as any add-ons you might require.
Asda Money offers a range of options for cheap travel insurance to Egypt.If this will be your only holiday this year, our single-trip travel insurance may be the best option for you. On the other hand, if you are planning multiple trips, taking out annual multi-trip cover may be cheaper.
If you are travelling as a family, Asda's family cover will insure up to 3 kids for free. *
No matter which type of insurance policy you take out, Asda Money offers three levels of cover: Value, Premium and Superior. Each level provides different amounts you can claim for unforeseen events, such as lost luggage, cancellations, medical bills, legal expenses, personal money, and delayed departures.
For example, Asda's Value cover will pay up to £20 million for medical expenses, £1000 for lost luggage and up to £1000 per person if you need to cancel or cut your trip short. **
With Asda's Premium cover, you will be covered up to £25 million for medical expenses, £1300 for lost or stolen personal belongings, and up to £2000 per person if you need to cancel or cut your trip short. **
Alternatively, Asda's Superior cover offers unlimited protection for medical costs, £2000 for lost luggage and up to £5000 for cancelling or cutting short your holiday. **
You may also need to take out additional cover for any extreme sports or adventure activities that are not included in your standard policy.
If you are going to Egypt on business or taking expensive personal belongings with you, it may be beneficial for you to consider taking out additional gadget cover or business travel insurance to make sure you have adequate protection in place for expensive items.
To check which policy is best for you, compare travel insurance options to Egypt to make sure you get the level of cover that's right for you.
*Up to three kids go free per insured adult, subject to medical screening when you buy direct with us.
**Exclusions and restrictions apply so check your policy documents for full details.
What should Egypt Travel Insurance cover?
When it comes to travel insurance for Egypt, your insurance policy should cover the following:
Having to cancel your trip for any valid reason that is specified in your insurance policy, such as having to head home earlier for an emergency.
Repatriation – cover for the cost of bringing you back to the UK.
Any emergency medical costs or expenses associated with this.
Lost, stolen, damaged or delayed personal belongings and luggage.
Personal accident cover.
Delayed or cancelled flights.
Lost passport – this can come in quite handy as ordering a replacement for a lost or stolen passport when abroad can be quite complicated and costly.
Personal liability cover – this provides protection for you in case you cause injury or damage to another person or their possessions.
Legal expenses.
The details of each insurance policy will differ between insurers, so be sure to check the fine print and read your policy documents carefully to see what exactly you will be covered for.
What won't Egypt Travel Insurance cover?
As with most other travel insurance policies, your Egypt travel insurance will come with some exclusions, such as:
Any pre-existing medical conditions are unlikely to be covered by your standard travel insurance policy, so you may have to take out additional cover for this.
Cover for unexpected incidents that may occur whilst you are abroad that impact your holiday such as civil unrest, war, earthquakes and/or any other natural disasters unless you've taken out additional cover for this.
Cover for injuries or accidents that take place whilst you are under the influence of drugs or alcohol.
Cover for travel to any specific areas within Egypt that the FCDO has advised against – you can find the full list here.
Cover for accidents or injuries that take place when taking part in any dangerous activities or extreme sports that are not covered in your policy.
Egypt Healthcare
As Egypt sees hundreds of visitors all year around and has a thriving tourist industry, they take the healthcare of their tourists very seriously. Many resorts and hotels will have some sort of doctor or pharmacy nearby – if not on-site – in case you need to purchase any medication over the counter.
Most hospitals will provide you with emergency medical care if you have valid travel insurance. However, the FCDO advises you to travel to Cairo or your nearest town if you need urgent medical treatment, as places outside of major cities and towns will usually only provide very basic healthcare.
Egypt Travel Tips
To make the most of your holiday, here are some of our top Egypt travel tips:
Take medication with you – whilst it may be available over the counter, some medicines, including prescriptions, are considered controlled substances in Egypt, so you may not be able to purchase them. If you are bringing medication with you, make sure you have the permission and appropriate documentation from your doctor to do so.
Check you're up to date with your vaccinations – The Travel Health Pro website currently recommends that all travellers from the UK are up to date with their routine vaccinations and boosters, such as the measles-mumps-rubella (MMR) vaccine and diphtheria-tetanus-polio vaccine. Rabies, tetanus, typhoid, and Hepatitis A and B vaccinations may also be required for at-risk travellers, so check with your doctor at least eight weeks before you travel to make sure you have all the vaccinations you need.
Organise your currency in advance – You will need to exchange your British currency for Egyptian Pounds before your holiday, organise this early and shop around for exchange rates to get the best deal.
Be aware of local laws and customs - It is illegal to drink alcohol anywhere in Egypt that isn't licensed. So, drinking on the street, for example, could potentially get you arrested. Local cultural customs also include dressing modestly in many public places, so keep this in mind when you're out and about.
Tipping is customary - It is customary in Egypt to tip hotel staff, wait staff, and tour guides, so be prepared, and have some spare cash on hand.
Keep photo ID on you – The FCDO recommends that you keep some form of photo ID with you at all times.
Egypt Travel Insurance FAQs
Is travel insurance needed for Egypt?
Yes – you must have travel insurance for Egypt in place before you enter the country. Your travel insurance policy should cover you for the entirety of your stay in the country and must have medical cover as part of it.
Is Egypt classed as Europe for travel insurance?
'Is Egypt in Europe for travel insurance?' is a common question many travellers ask. The answer is that it depends on your insurer. Some providers include Egypt under their Europe cover, whilst some may have it as part of their Worldwide cover, so always be sure to check. With Asda Money travel insurance, Egypt comes under European cover.
What documents do I need to enter Egypt?
You will need a passport that is valid for six months from the date you arrive in Egypt, and you will also need a visa. You can apply for a visa online which is valid for three months, or you can apply for a visa when you arrive at the airport in Egypt, but this will only be valid for 30 days. If you're taking medication with you, you will also need documentation from your doctor to show you are legally allowed to have this. You should also take a copy of your travel insurance document to prove you have the appropriate medical cover in place.
Do GHIC cards work in Egypt?
No – unfortunately, the European Health Insurance Card (EHIC) and the Global Health Insurance Card (GHIC) are invalid in Egypt. This is why it's important to make sure you have medical cover included in your travel insurance for Egypt. Otherwise, you will be responsible for all unexpected medical bills, expenses, and repatriation back to the UK if required.
Can I use GHIC in Egypt?
No, you can't – the Global Health Insurance Card (GHIC) is not valid in Egypt.
If you are looking for cheap travel insurance to Egypt, head to the Asda Money website. We can offer you award-winning travel insurance to provide the cover you need at an affordable price.