Christmas Dog Treat Recipes
Your furry friend deserves to join in the festive fun – so this Christmas, make some festive themed treats for them to enjoy.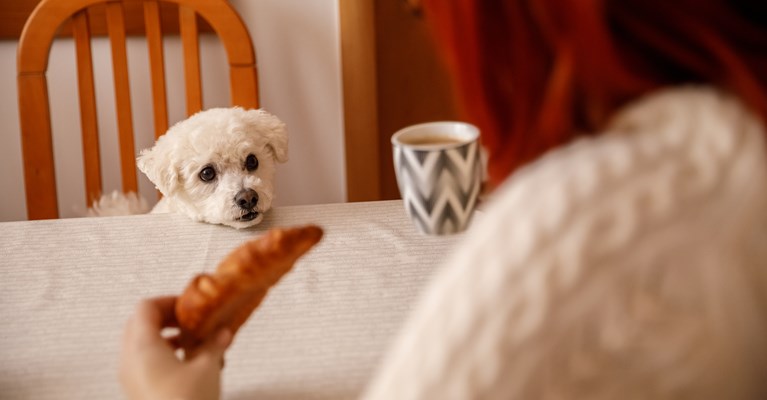 Nothing beats the joy of spending Christmas surrounded by family and friends, tucking into delicious festive food. Everyone deserves delicious treats at this time of year – and that includes your furry friends too.
To help include your pet in the festive fun, we've put together a list of some of our favourite homemade dog treat recipes you can make for your four-legged pal this Christmas – check them out down below:
Christmas treat recipes for dogs
Christmas cookies
Christmas cookies are a simple but well-loved festive treat – so why not make some for your pooch? This simple Christmas cookie recipe for your dog is easy to make, and you will probably find that most of the ingredients are already in your kitchen.
Ingredients:
400 grams of wholemeal flour
200 grams of plain non-fat Greek yoghurt
1 tablespoon of baking powder
200 grams of natural peanut butter
Water
Directions:
Preheat your oven to 190 degrees Celsius
Line a baking tray with greaseproof paper
Mix all the ingredients together to make a dough and add water as it's needed
Once the dough has formed, roll it out and cut out cookie shapes of your choice
Bake for approximately 15 minutes and let them cool on a rack
Bacon treats
All dogs love a bit of bacon – and who can blame them? Make your dogs Christmas morning with some delicious bacon nut treats they can enjoy for breakfast. Here's the recipe.
Ingredients:
100 grams of almond flour
100 grams of rice flour
100 grams of wheat flour
45 grams of natural peanut butter
1 tablespoon of natural maple syrup
3 tablespoons of water
1 egg
3 bacon rashers, chopped into small pieces
Directions:
Preheat the oven to 150 degrees Celsius
Line two baking sheets with parchment paper
Fry the bacon in a pan and set aside once it's done
Combine the peanut butter, egg, maple syrup, water together with the slightly cooled bacon fat and stir
Add in all of the flours and cooked bacon, and stir well until the dough is formed
Roll out the dough and cut out the cookies into shapes of your choice
Bake for 15 minutes until golden brown and cool on a wire rack
Chicken dog treats
These tasty chicken treats are guaranteed to go down well with your pup – and they're super simple and easy to make too. Plus, if your furry friend doesn't enjoy chicken, you can always substitute it with meat you know they will love.
Ingredients:
200 grams of chicken, finely diced
100 grams of rice, cooked and mashed
3 tablespoons of rice flour
1 tablespoon of parsley
1 egg
Directions:
Preheat oven to 180 degrees Celsius
Mix all the above ingredients together and stir well until combined
Spoon into silicone moulds of your choice
Bake for 20-30 minutes until golden brown
Allow to cool and enjoy!
Frozen apple treats
These easy to make frozen apple treats are the perfect Christmassy snack for your furry little friend. Apples are super healthy for your pup too, as they're full of fibre, vitamin A, and vitamin C. Here's how to make this healthy yet delicious treat for your dog:
Ingredients:
2 apples
200 grams of zero-fat plain Greek yoghurt
Water
Directions:
Slice the apples into small pieces, removing the seeds and the core
Blend the apple slices, yoghurt, and a splash of water until you get a liquid consistency
Pour the mixture into an ice cube tray and freeze until it's fully solid
Once frozen, your dog can chew on them and enjoy the yummy goodness!
Christmas dinner cookie
Nothing beats a traditional Christmas dinner, and with this fun recipe, your dog can enjoy all the mouth-watering flavours of our favourite meal. This clever recipe combines the key features of a Christmas dinner and fits them into a cookie for your pup to enjoy – here's how you can make them:
Ingredients:
700 grams of wholemeal flour
1 teaspoon baking powder
1 egg
200 grams of vegetable of chicken stock
200 grams of cooked, shredded white meat turkey
200 grams of dried unsweetened cranberries
1 tablespoon olive oil
Directions:
Preheat the oven to 180 degrees Celsius
Line a baking sheet with greaseproof paper
Combine the baking powder and flour in a large mixing bowl
Add in the turkey and cranberries
Mix in ½ cup of the vegetable or chicken broth, the egg, and the olive oil
Mix together until a dough is formed, adding more broth if needed
Roll out the dough and cut out the cookies
Bake for around 25 mins and cool on a wire rack
What to consider when cooking for your dog
Cooking for your little pooch is an exciting and rewarding task, but there are some things to keep in mind for their health and safety. Certain foods and ingredients can be harmful to dogs, so always make sure to buy products that are dog friendly.
Peanut butter: Peanut butter is generally safe for dogs unless your furry friend has an allergy to it. If your dog is allergic, you could use pumpkin or sweet potato as a substitute.
Flour: Unless your dog is allergic to gluten or certain grains, flour is generally considered safe for dogs. You'll usually find that most dog treat recipes use whole wheat flour, which is incredibly nutritional for dogs.