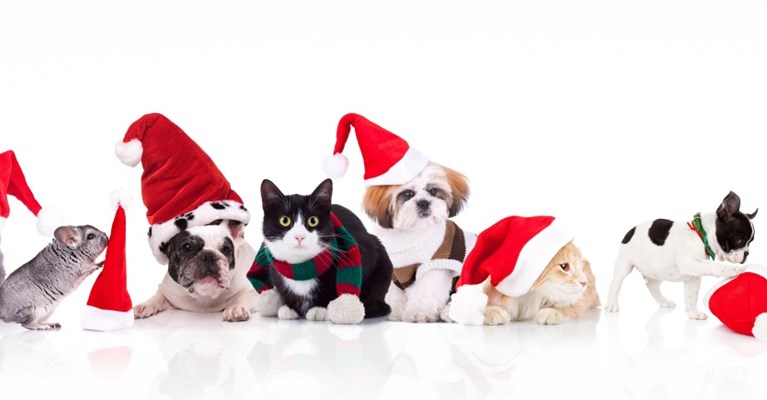 They're our best friends and snuggling companions all year round, so treating them to a present this Christmas is the perfect way to show our pups just how much they mean to us.
To help you choose something your pooch will love, we've put together the ultimate gift guide to the best Christmas gifts for dogs.
Christmas gift ideas for dogs
A cosy dog bed
Your furry friend will love you even more when they discover a new dog bed under the tree this Christmas.
This elevated pet sofa bed is ideal for dogs who need a firmer foundation, while this cosy mattress has a plush fabric interior to give your pet the comfy support they need.
Exciting toys
Buying your pooch a new toy is a great way to keep them happy and active during the holiday season.
This Webbex Long Legs Elf Dog Toy is perfect for your dog to snuggle or chew on, while this tug rope toy is great for dogs to test their strength.
Festive treats
It's not just the adults who love indulging in food during Christmas.
This Good Boy Meaty Treaty Advent Calendar for Dogs is a fantastic way to countdown to the big day, while these turkey, stuffing and gravy treats will give your dog their own taste of Christmas dinner.
A fancy collar
Upgrade your dog's street cred this year with a stylish new collar.
These dog leads will add a bright burst of colour to your daily walks, while this swanky tartan harness is sure to transform your pup into a fashion icon.
Doggy clothes and accessories
If your pet enjoys getting dressed up, Christmas is the perfect time to refresh their wardrobe.
Keep them dry but fashionable during wet weather with one of these incredible shower-resistant raincoats. Or, add some festive cheer with this Christmas Pet Fancy Dress Hat & Bowtie Set.
A new dog bowl
If your pet's food bowl could do with freshening up, treat them to a brand new one Christmas.
This grey and yellow sausage dog themed bowl is incredibly cute. Or, for an ultra-modern look, try this George Home White Bamboo Footed Pet Bowl.
Pamper products
At this busy time of year, grooming products to help your pooch relax are one of the best Christmas gifts for dogs.
Cleanse their fur with a luxury conditioner and soothe dry paws with a nourishing oatmeal nose and paw balm.
Things to consider when choosing Christmas gifts for dogs
Safety –Check labels to ensure they're dog friendly, and if you're buying clothes, make sure they fit properly without obstructing their movement, breathing, or vision.  
Cost – It's easy to get carried away at this time of year but remember you don't need to spend a fortune to show your pup you care, so set a budget in advance.
Be selective – While it might be tempting to buy a gift because it's trendy - if it's not suitable for your pet, it will be a waste of money, so keep your dog's personality in mind.
How to give your dog a Christmas present
Use dog-friendly wrapping paper – Buy plain or dog-friendly wrapping paper, but make sure they don't eat it.   
Keep it hidden – Keep your gift on a higher shelf rather than under your tree to avoid the risk of your pup sniffing it out before the big day.
Help them – You may need to open the present at one end to make it easier for your dog to paw open.
Choose a time – Giving your dog their gift at the start of the day may help keep them occupied, or you may want to wait until later if you feel they'll get over-excited.
Another fantastic way to show your pets how much you care this Christmas is to look after their health and wellbeing with Asda Money Pet Insurance.