Doggy Day Care: Where to Take Your Pooch Whilst You're on Holiday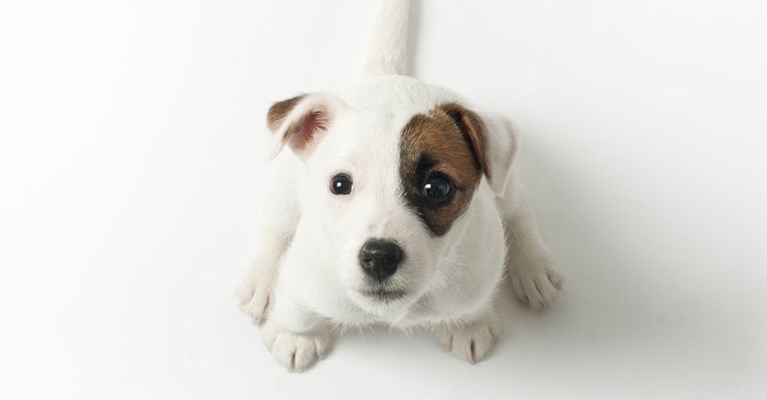 When booking a holiday, many dog owners are left with the decision of what to do with their furry friend whilst they're away. Although we'd all love to take them away with us, a hot climate isn't a comfortable place for many breeds. There's also a lot of organisation involved if you were looking to take your pet away with you, especially if you're going abroad, including microchipping, vaccinations and pet passports.
From putting your pup in a kennel to checking them into a luxury dog hotel, there are plenty of options when it comes to leaving them in the UK. Here at Asda Money, we've taken a look at some of the most popular options, giving you one less thing to worry about when booking your holiday.
Kennels


If you're thinking about leaving your furry-companion with a kennel whilst you're away, then there are a few details to think about beforehand. As well as being a cost-effective option, a kennel is a great place to go if your dog enjoys socialising and playing with others. Also, there are plenty of kennels around the UK, so even if you're booking a last minute holiday you should hopefully get your pup a place in one in no time. You should find out everything you need to know before leaving your furry friend there for a long period of time. After researching plenty of kennels it's strongly advised to go and take a tour of your favourite few, so you can see for yourself where your pet will be living.
You need to check out the atmosphere of the kennels, as well as the conditions and facilities that are available there. A good kennel shouldn't be overcrowded. Ask the staff how many animals they usually have boarding at one time, and how many staff are there too. The living and playing areas should look and smell clean, and your dog should have proper bedding and lots of water to keep them hydrated. You might even be able to bring your own home comforts such as bedding and toys, but check with the kennels beforehand. If the kennel's really high-tech, they may even have web cams set up so you can check in on your pup from a computer whilst you're away. It's worth taking your pup to your chosen kennel before your holiday, just for a night's stay, to see how they react and take to their new environment.
Without interrogating the staff, you should find out how they will handle different situations, such as if your dog won't eat, if they need medical attention or if they aren't settling in very well. Before taking your pet to a kennel, check with your vet to see if they need any vaccinations, as kennel cough can be a problem. Reputable kennels should ask for medical records too. The best tip when finding the right kennel is to use your gut and trust your own judgement. If the animals look happy and you feel good about the place, the chances are that your furry friend will too.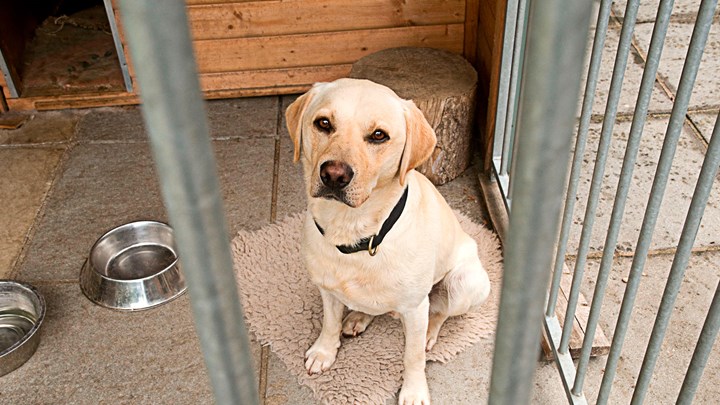 Doggy Hotels and Spas


If you're looking to splash the cash on your pooch, then you can opt to check them into a doggy hotel or spa whilst you're away. Although they may be a little more expensive than a traditional kennel, depending on how extravagant you want to go, your four-legged friend really will live a life of luxury.
The larger kennels mean that they'll have more room to run around, and they may even get the chance to enjoy much more, such as luxurious bedding, à la carte food and fabulous facilities. Many of these pet hotels also offer tons of extras, including grooming services, more walks and webcams so you can spy on them whilst you're on your travels.
There are also usually a lot less animals at these luxury hotels, meaning your four-legged friend can receive more one-on-one time with the staff. Lavish pet hotels also often have a member of staff who works through the night, keeping an eye on the animals as well as providing them with late night walks if needed. If you have a dog that needs lots of attention and who isn't used to being alone during the daytime, then a pet hotel could be the perfect option for you.
Pet Sitter


If your furry-friend suffers from separation anxiety, then a pet sitter is a great alternative. Although a pet sitter might cost more than a kennel, it's the perfect option for plenty of pets, or for older and more nervous dogs. There are two options when it comes to pet sitters; either having them stay at your home, or taking your pet to their house.
Having a pet sitter stay at your home whilst you're away won't change your dog's daily routine too much. Any stress they may feel with you not being there will be suppressed because they'll be in a familiar environment, with their own toys and furniture around them. If you're not using a friend or family member, then try to use somebody who has been highly recommended. It takes a lot of trust to let somebody stay in your home, so you don't just want to pick a stranger you've found on Google. Take the time to interview the pet sitter, and pick somebody who has been highly recommended on their reliability and honesty. Get references from previous employees, so you can find out more about their work ethic. If you're using a pet sitting service, make sure that they have a good reputation and the company is well established. As well as keeping your four-legged friend company, having a pet sitter stay at your house also means that your home is safe too, giving you the best of both worlds. 
The other option is to take your dog to the pet sitter's home. This is a great option as it gives you the best of both worlds; keeping your dog in a similar routine without having to open up your own home. Arranging an interview with them at their home is beneficial so you can see the conditions that your dog will be living in. The house should suit your dog's personality too. For example, if they like to run around a lot when they're at home, then the house should be spacious with a large garden. Don't forget to ask if there will be any more pets staying at the house at the same time, and then you can decide if they're the one for you.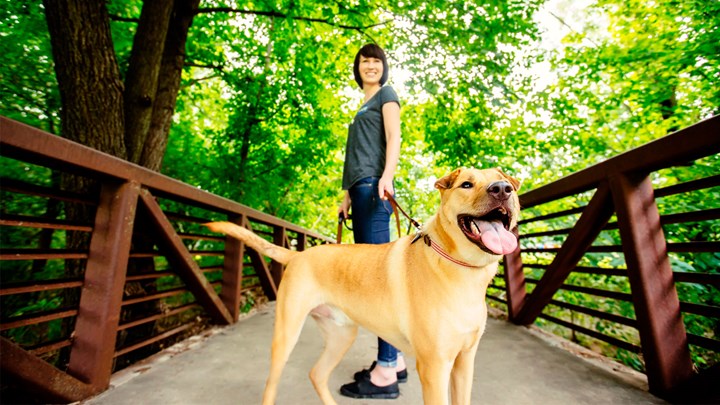 Friends and Family


The easiest and cheapest option when it comes to leaving your pet whilst you go away is to leave him or her in the safe hands of a friend or family member. As well as the bonus of your dog feeling happy and comfortable, you'll also be able to relax more on your trip, knowing that they're with someone you know.
If the sitter already sees a lot of your four-legged friend, then they should deal quite well with the separation, as they're being left with a familiar face. On the run-up to your holiday, try to take the dog to your sitter's house so they can familiarise themselves with their new setting. If you're only going away for a day or two and your sitter is simply popping in every day and night to check on your pooch, then this won't be necessary, but it's a good idea to invite your sitter around to your house every so often in the weeks running up to your trip.
Make sure your friend or family member knows everything that they need to know about your furry friend, from eating habits to their favourite toy. You'll also need to leave your sitter with a list of details, such as relevant phone numbers, their exercise and play routines, general information about their behaviour and anything else you think they should know.
Don't forget to make sure your pet has pet insurance before going away, so you can enjoy your holiday stress-free and not have to worry about your furry friend back at home.